18th Birthday Gifts - 33 Unique Ideas
Of all the birthdays, 18 is definitely one of the most exciting.
You're an adult! You're on your way to college! You can vote!
If a very special young person in your life is about to reach the magical age of 18, you'll want to find them the perfect gift to celebrate the occasion.
 But you might be wondering, what is the best gift to prepare them for all the new adventures ahead of them?
 If you're struggling to find a special present for that special kid, here are 33 fun and unique 18th birthday presents that they'll love to open.
#1 A Shirt That Proves They've Levelled Up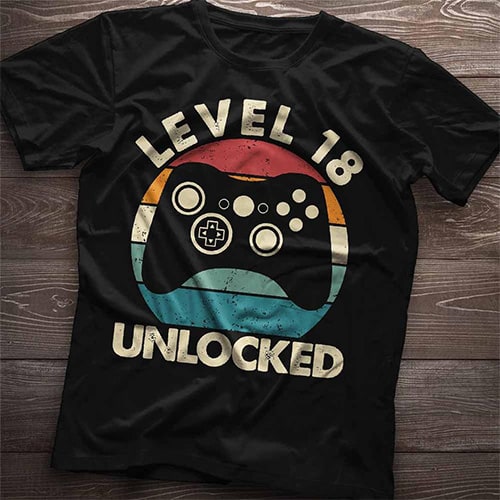 A perfect gift for the gamer in your life who's finally reached a new level: adulthood!
The "Level 18: Unlocked" design can be printed on a variety of different products, from tank tops to hoodies and everything in between! Choose from nearly 30 different colors as well.
All options are made to order and machine washable.
#2 This Mug That Exclaims That They're All Grown Up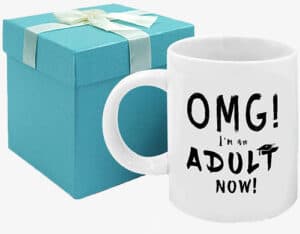 If "OMG! They're an adult now!" is exactly what you're thinking as you try to pick out a gift for them, this is a perfect gift to help express your feelings.
This 11 oz mug is made from a mix of high-quality bone china and durable ceramic. The long-lasting design won't peel or fade.
It's both microwave and dishwasher safe and it even comes in a gift box!
#3 A Bracelet With The Birthday Girl's Initial and Birthstone
A beautiful birthday gift that will remind her how special she is.
This 60mm expandable bangle bracelet comes with 4 special charms–a Happy Birthday cake, a number 18, and two pendants reminding her that she is strong, fearless, and beautiful–plus a Swarovski birthstone and her initial.
Bracelets are made of easy-to-care-for stainless steel that won't discolor and can also be ordered in 50mm, 55mm, and 65mm sizes.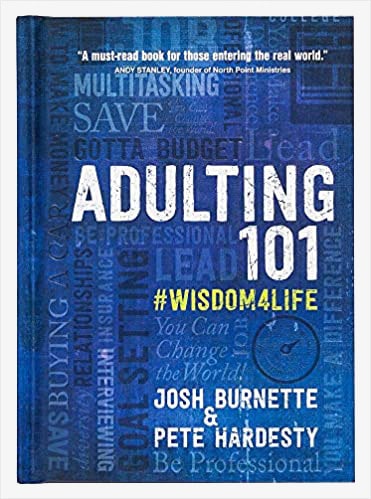 Because unfortunately, instructions on how to be an adult are not automatically downloaded into their brain on their 18th birthday.
Adulting 101: #Wisdom4Life has information on all sorts of important subjects that weren't on their high school schedule, like money management, finding a job, and navigating both professional and personal relationships.
This hardcover book offers 192 pages of clever, practical advice that'll help them to transition out of their teenage years with minimal growing pains.
#5 A Personalized Collage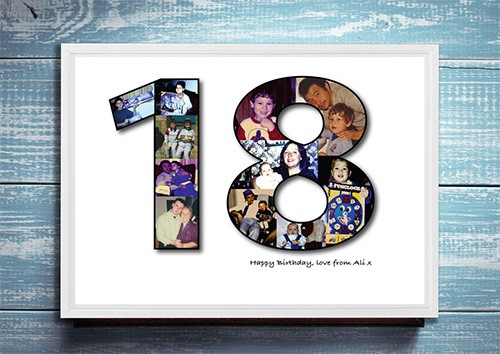 If you've got tons of photos together you want to immortalize why not organize those memories into an attractive sign they can display in their room!
Pick all your favorite pictures together–up to 100!– and the shop will organize them into a collage shaped like a number 18. You can add a personalized message as well to make this keepsake extra touching.
Choose from two different sizes and a white or black frame.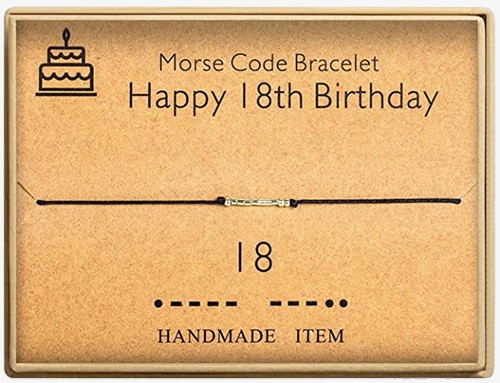 A totally unique piece of handmade jewelry, especially great for your favorite history buff!
This bracelet is small and subtle and designed to be worn 24/7, even in the shower!
The combination of "dots and dashes" that represent the number 18 in Morse Code is made from 14k gold-plated brass beads strung on a waxed cord.
Bracelet is adjustable from 6.3″ to 11″ and makes a great gift for either boys or girls!
#7 An Extra Special Makeup Bag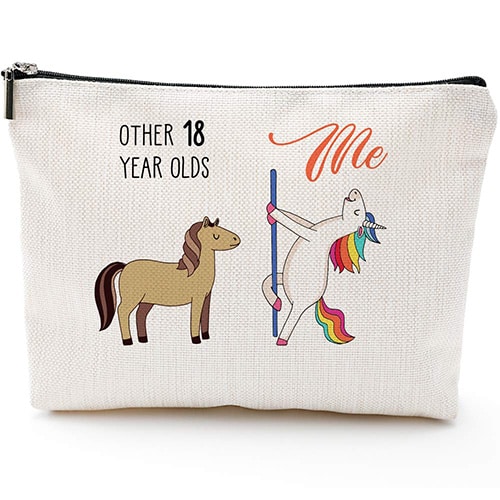 To remind your 18-year-old that she's a cut above the rest. This makeup bag is sure to get a lot of compliments!
It's an adorable way for her to carry around her makeup, pens and pencils, or anything else she might want to keep with her.
The design features a delightfully illustrated pony and unicorn sealed in with a waterproof coating.
The bag itself is made from 100% cotton and linen.
#8 A Customized Spa in a Box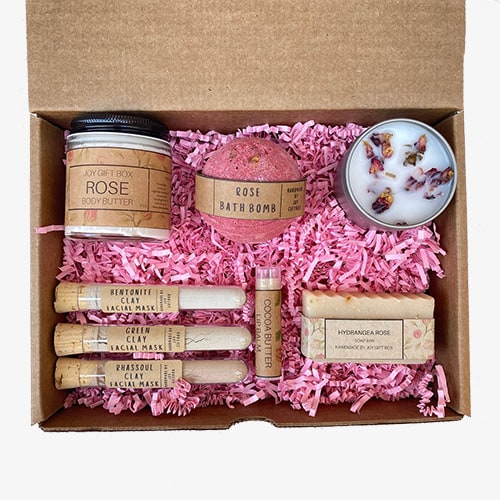 A perfect way for the birthday girl to unwind after all her birthday festivities!
This box features all kinds of self-care goodies: scented body butter, lip balm, a scented candle, a bar of soap, 3 different clay masks, and 2 bath bombs. Products are handmade with natural ingredients and you can pick a scent for everything besides the masks and lip balm and choose the color of the crinkle paper filler.
Available scent options are eucalyptus, orange, and rose.
#9 A Personalized Bottle Light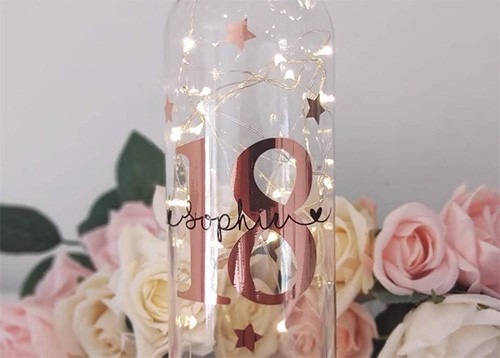 This gorgeous handmade light-up bottle is a fun, grown-up way to add a little extra light to her room, especially if she'll be moving into her first dorm.
The LED string lights give off a warm glow that's perfect for watching Netflix or scrolling through Instagram before bed.
Choose either Gold, Silver, or Rose Gold for the number 18 and star-shaped accents and add the birthday girl's name for a one-of-a-kind piece of decor.
#10 A Poster Letting Them Know Just How Much They're Loved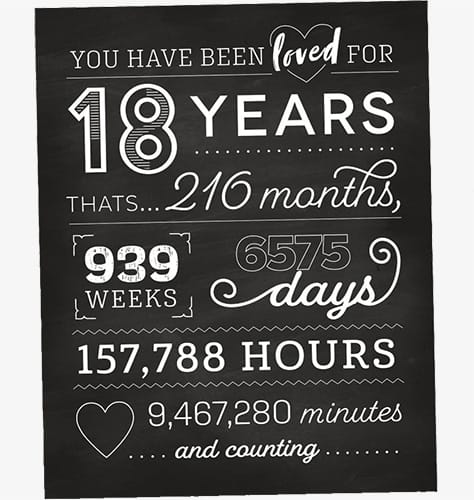 This is an especially touching gift for the 18-year-old whose about to move out for the first time. Any time they start to get homesick or feel a little unsure of themselves, this will remind them just how much they're loved.
This print is designed to look like it was drawn on a chalkboard and breaks down all 18 years they've been alive into months, weeks, days, hours, and minutes.
Available in 5″x7″, 8″x10″, 11″x14″, and 16″x20″ print. The digital download is available immediately, all you have to do is print it and put it in a frame!
#11 Or A Happy Birthday Sign All of Their Friends Can Sign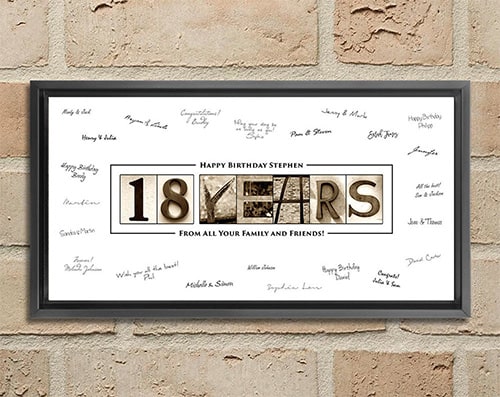 A great gift that can double as a birthday and going away present!
All images are the artist's own photographs. Add their name and a short quote, choose a color, black and white, or sepia finish for the photos, and then pick a size: 11″x14″, 10″x20″, 16″x20″, or custom dimensions.
Once you print it you can have up to 100 of their friends and family sign it to make it extra special. Now they have a reminder of their loved ones with them no matter how far away they may be!
#12 A Shirt To Let Everyone Know They're Still Working On Adulting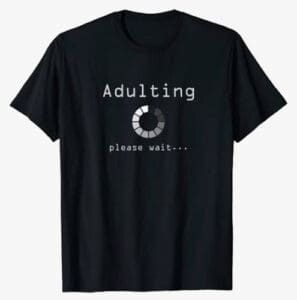 Like we said, that whole knowing how to navigate the adult world thing takes a little time.
These shirts, available in both men's and women's fits, are funny and make a great addition to any newly-minted adult's wardrobe. It might even be the conversation starter that introduces them to their new best friend!
They're made from 100% lightweight cotton and come in 5 different colors. Can be used as work out gear or everyday wear.
#13 A Birthday Tumbler Set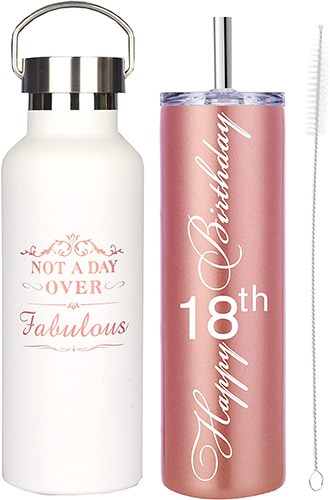 If the birthday girl is always on the move, she'll love these cute 18th birthday tumblers!
These pretty and pink tumblers might look delicate, but they're made out of shatter-proof stainless steel to keep up with an active lifestyle.
Thanks to the copper-coated double-wall design, her drink will stay hot or cold for hours as she bounces between classes, workouts, activities, work, and hanging out with friends.
Both tumblers hold 20 oz.
#14 This Comprehensive Guide to College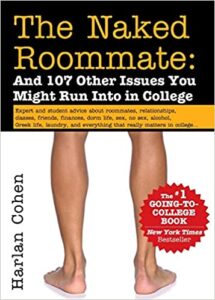 Starting college can be as daunting as it is exciting. The Naked Roommate will break down everything they need to know about freshman year.
Not only does it offer practical advice on everything from the financial and academic aspects to partying and dorm living, but it's also funny!
Each piece of advice has a story from a real college student to go with it, so the reader knows author Harlan Cohen isn't just making this stuff up as he goes along.
#15 A Wooden Birthday Card They Won't Throw Out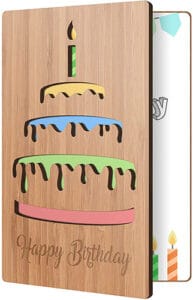 This is more than a card: it's a keepsake! Instead of throwing it out after a few days, they're sure to keep this one out on display.
Add a photo to the blank message area for a unique, DIY photo frame!
This card is made from bamboo wood and laser engraved with a birthday cake to reveal a fun, eye-catching colors.
#16 Some Humorous 18th Birthday Toilet Paper

For that almost-adult who still has a slightly immature sense of humor, give them a good laugh for their birthday this year.
Not only will you be returning the favor to your favorite jokester, but they'll have one less thing to add to their dorm move-in checklist! Plus it makes a great conversation starter with new roommates or floormates.
This toilet paper is also good for the environment! It's made from recycled paper and is even biodegradable.
#17 A Birth Flower Necklace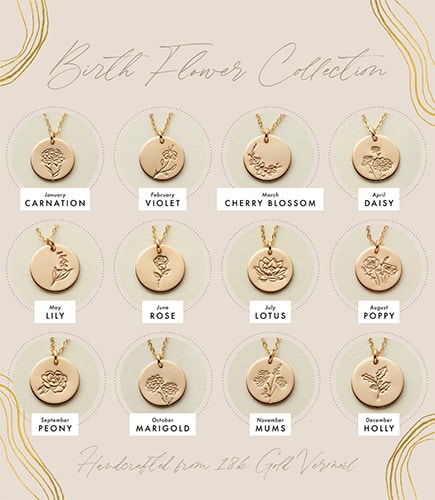 An elegant gift to welcome the birthday girl into adulthood.
Like birthstones, each month has its own designated birth flower. These pendants feature a minimalist line art flower engraving of her birth month's flower based on a hand-drawn design. 
They go perfectly with every outfit and are durable enough to wear every day.
Pendants are made from a hypoallergenic sterling silver that won't tarnish and plated with high-quality 18k gold vermeil.
#18 An Engraved Makeup Mirror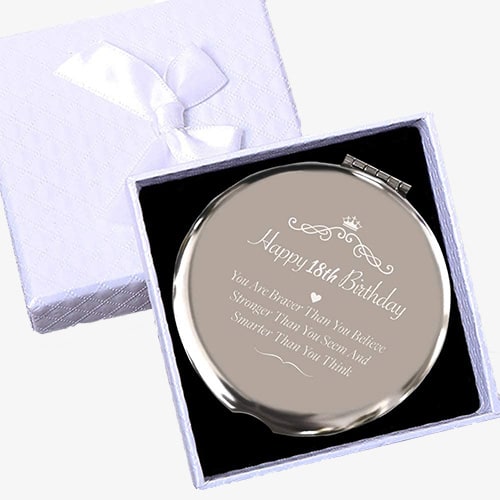 Whether it's prom, graduation, or just going out with friends, this pocket-sized mirror will help her keep her makeup flawless without having to wait in line at the bathroom.
This professional-quality stainless steel mirror compact comes engraved with a birthday message and an inspiring Winnie the Pooh quote that's applicable at any age: "You are braver than you believe, stronger than you seem, and smarter than you think."
The compact can open all of the way up to 180 degrees and includes a magnifying size so she'll be able to easily fix all of her beauty woes on the go!
#19 A Star Map of The Night They Were Born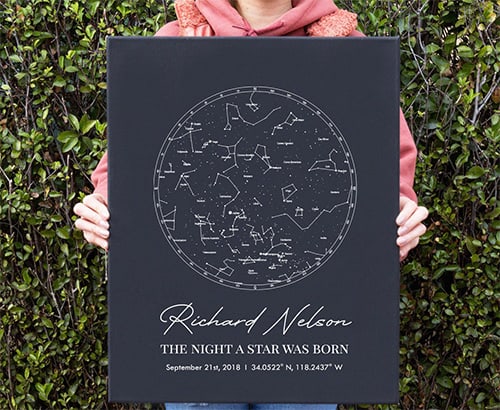 This canvas print is a great way to tell them you think they're stellar! This unique and aesthetically pleasing map of the stars will look great on their bedroom wall.
Just add their name, their date of birth, and the place they were born, and the shop will produce a rendering of the exact position of the constellations over that spot the night they were born. You can also choose additional fonts so the finished product best fits their sense of style.
The design comes printed on a black canvas in one of 3 sizes: 8″x10″, 11″x14″, and 16″x20″.
#20 Custom 18th Birthday Chocolates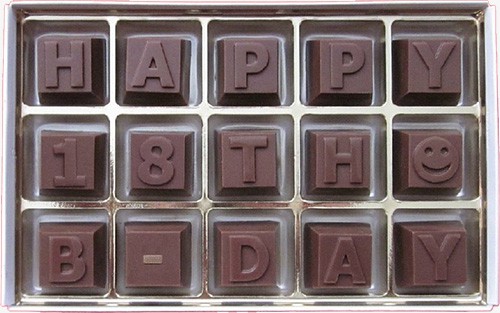 Who doesn't love receiving candy for their birthday? What makes these even better is that they'll be custom ordered and made by hand just for the recipient!
Since you can even have them shipped directly to their home, these are great to send to someone who doesn't live nearby to let them know you were thinking of them on their birthday. They'll even arrive packaged in a beautiful gift box.
Chocolates have a shelf life of up to 6 months.
#21 A Set of Coffee Posters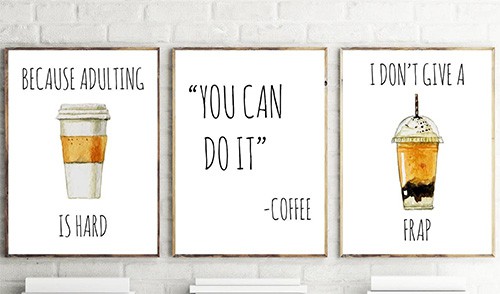 For the caffeine addict who practically lives in the Starbucks drive-thru lane, these are the perfect way to (pumpkin) spice up even the drabbest dorm wall. Take some of the stress off finding the perfect decor by gifting it!
The designs are printed on satin matte cardstock and made to fit 8″x10″ frames and are both funny and aesthetically pleasing.
#22 A Shirt That's Anything But Square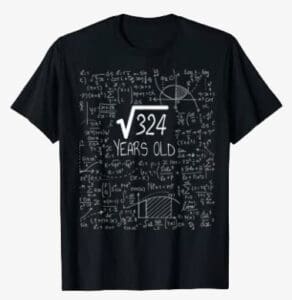 A funny and nerdy t-shirt for the square-root of 324-year-old mathlete in your life! This joke might be a little radical for some, but it'll be a great addition for someone who loves math humor.
If they're going off to college to study any kind of STEM, this shirt will be the smash hit of the math or engineering department!
These shirts are made from 100% cotton and come in 5 different colors.
#23 A Penny Keychain From Their Birth Year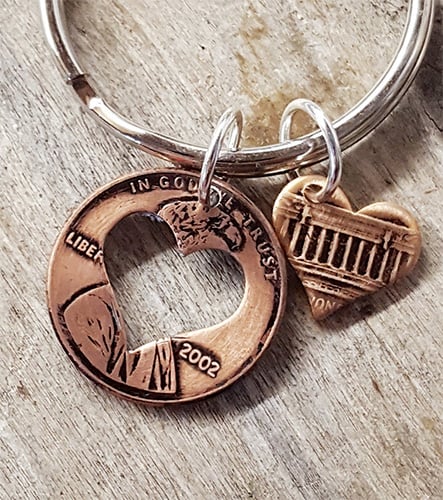 Show them how lucky the world is to have them with a "lucky" penny heart key chain from their birth year.
Available in either a vintage patina or a polished finish, this key chain features both the heart-shaped cutout and the penny with the recipient's year of birth.
This key chain is the perfect way for them to keep track of dorm or car keys, because staying organized is one of the hardest parts of adulting.
#24 A Mug For The Know-It-All
You know what they say: hire a teenager while they still know everything. If that sounds like the soon-to-be 18-year-old in your life, this mug is the perfect birthday present. Now when they're making their 3rd cup of coffee as they power through an all-nighter, at least they'll have something to laugh at.
The design is printed on both sides of the mug using a premium full-color sublimation imprint creates a vibrant, long-lasting design.
This 11 oz mug is both dishwasher and microwave safe.
#25 A Personalized Memory Book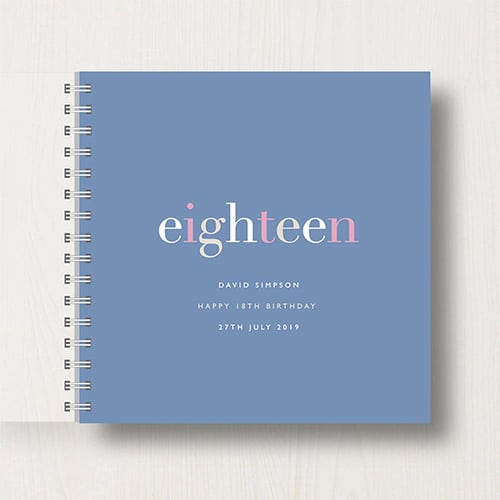 With everything coming up in this milestone year, they'll want a way to remember it. This is perfect for someone who loves keeping every moment and photo!
This memory book can be used as a guestbook, journal, photo album or, scrapbook. Choose from 6 different colors for the cover and add up to three lines of personalization text for names, dates, and personal messages.
The book contains 24 blank pages of unruled acid-free white card paper. An additional 12 pages can be added on request.
#26 Do Not Disturb - I'm Gaming Socks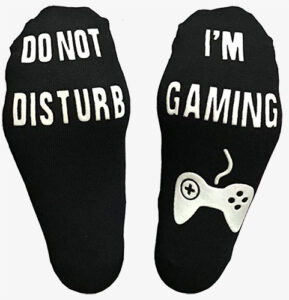 Just because they're technically an adult doesn't mean they have to wear boring socks forever.
These are fun to wear around the house or dorm on a lazy night in, or under a pair of boots to add a little bit of fun to their daily grind.
These socks are made from lightweight, breathable, stretchy material so they won't get sweaty no matter how many times they wear them–which will be a lot since these will probably be their new favorite socks!
#27 A College Survival Bag
So they don't have to lug an entire backpack around when all they need is a few things, or to make their grocery shopping more eco-friendly.
Not only will it help them reduce their plastic bag use, but it's made from materials that are good for the planet too! This bag is made of 100% high-quality organic cotton with a durable vinyl print.
Choose their favorite color from a dozen options for the design.
#28 A Custom Birthday News Bulletin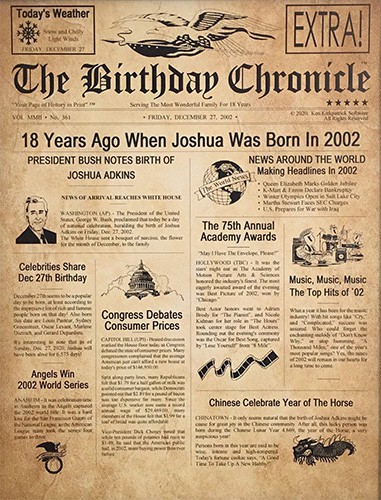 Now that they're ancient, this Birthday Chronicle poster will help them reflect back on how different the world was 18 years ago.
Designed to look like a vintage newspaper, this fun print contains facts like the price of various groceries when they were born, celebrities who share the same birthday, world news, academy award winners, that year's Chinese astrological sign, and much more.
This 8″x11″ sign can even be laminated and will make a great conversation piece!
#29 A Recap Book for Their Freshman Year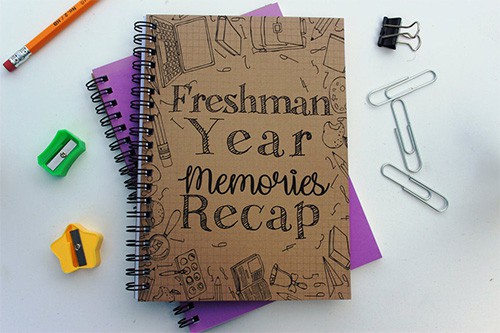 If your 18-year-old gift recipient is headed off to college, this spiral-bound book a great idea to help them remember their freshman year.
Not only can you choose from 9 different colored covers, but you can also select from a variety of different paper types: lined and unlined, white cardstock or brown KRAFT paper.
The line art gives it a unique retro look that'll make it an interesting conversation piece for years to come.
#30 A Comic Collection About How Growing Up Is A Myth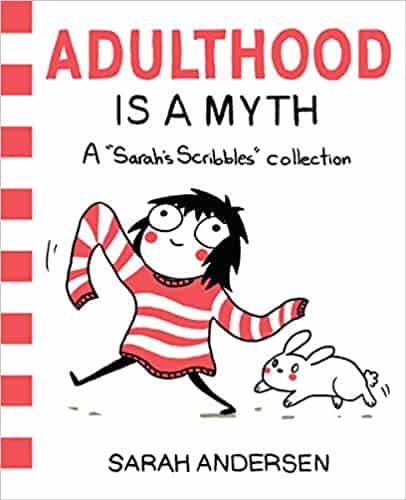 If the birthday boy or girl is overwhelmed by the prospect of having to "adult," Sarah Anderen's Adulthood is a Myth is a great way to remind them not to take this whole "growing up" thing too seriously.
Sarah Andersen's highly popular web cartoons capture all the awkwardness of being a young adult–relationships, self-consciousness, wasting precious hours on the internet– with painful, hilarious accuracy.
This compilation of some of her most popular comics is a great way for them to relax when "adulting" gets to be too much.
#31 A Sassy Personalized Mug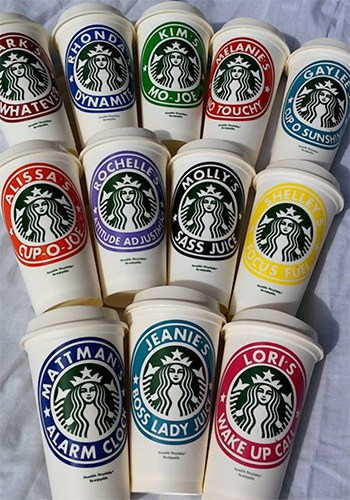 Help them get through those early shifts, morning classes, and all-night study sessions with one of these personalized travel mugs that'll keep their drinks warm and tasty.
Choose a color for the Starbucks motto from 27 different colors and add their name and a personalized message up to 18 characters on the top and bottom.
Each cup holds 16 oz– 2 standard cups of coffee–to help keep them going without adding to the local landfill. Plus they get 10 cents off their drink if they have the barista put it in their reusable cup!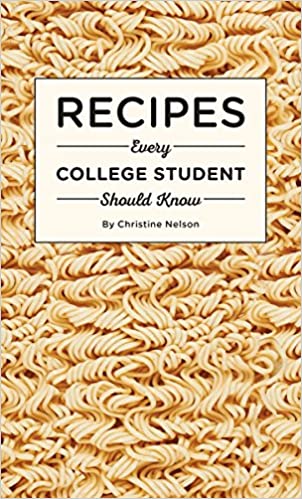 Because they're bound to get sick of dining hall food eventually, this handy little book of recipes is full of ideas for quick and easy meals and snacks they can make with even the bare minimum of kitchen appliances.
Recipes Every College Student Should Know also includes advice on things like nutrition and budgeting.
Not only will this book get them through college without having to live off of fast-food and vending machine fare, but they can use these recipes to save money and stay healthy through their entire young adulthood.
#33 A Ready to Vote Shirt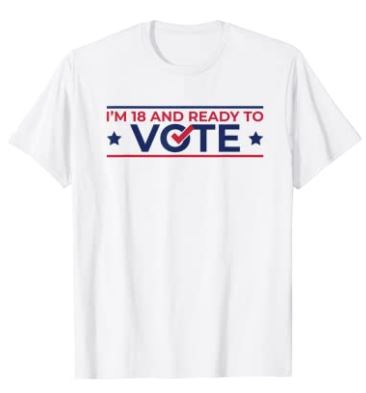 For the politically active young person who's most excited about finally being able to participate in democracy, this shirt will announce it loud and proud!
They can wear it on their way to the polls to let everyone know they're doing their civic duty.
 It's available in both men's and women's fit and comes in either white or heather gray. The white shirt is 100% cotton while heather gray is a 90-10 cotton polyester-blend.