29 Leather Anniversary Gifts for Her
Let's say three years have ​flown by since that amazing day that was your wedding. Well, a third anniversary can be an excellent opportunity to extend ​your post-wedding glow a little longer, since by that time your honeymoon period ​may have lost its luster.
Since you've accomplished a lot together over these past few years, ​it is important to take a step back and reminisces about all the wonderful moments together. Maybe you two aren't even the celebration type, so you just want to exchange a couple of gifts to commemorate such an occasion. 
We recommend you to enjoy your anniversary day together and, if there is room in ​the house budget, ​buy each other something special that will say a lot about you two as a couple. And for that, we have made this selection of  gifts to choose from to make this into a special day. So, let's look and find out what the 3rd anniversary theme is about and get inspired for those gifts!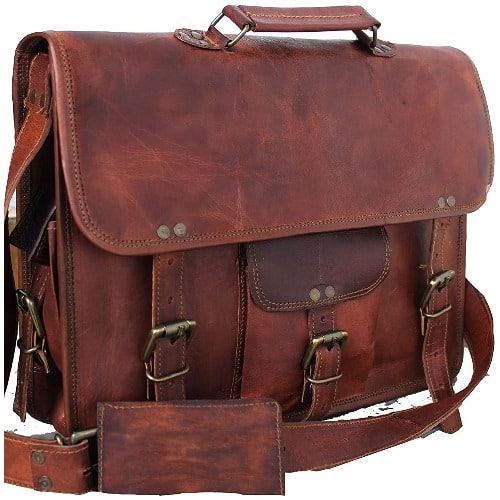 It may sound like a normal, simple gift. But for a woman that's beginning to build the foundations of her marriage, owning a decent briefcase gives them an emotional push in their professional careers.
This is an essential tool for anyone in the business world, and not only does a rich leather briefcase serve as a convenient and efficient way to carry work documents and supplies, but it also shows you're serious about your job and ready to dig in and work hard. 
#2 Leather Passport Holder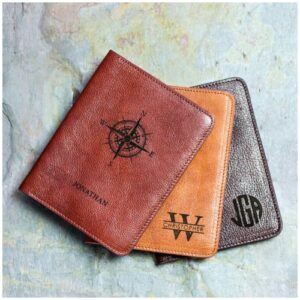 Build all you need to give your wife a special vacation, starting with this leather passport holder. This meaningful, personalized passport holder is made with full grain leather and it can be custom engraved with whatever you want.
It's an amazing way to commemorate an anniversary, and the message you put in (using one of our font styles or fully customize it with your very own handwriting), will make it all the more private for you too.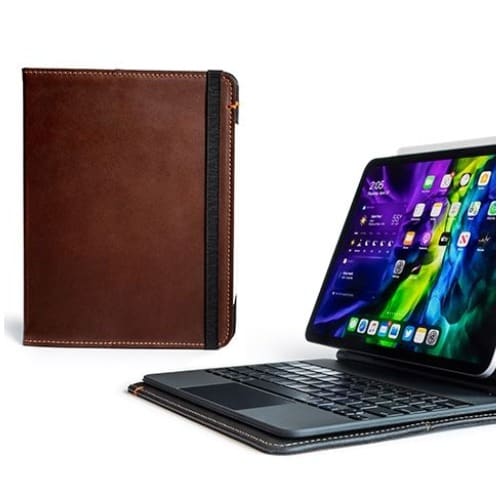 Give yourself and your wife a treat with that trip you know you both want to take. Even with the current state the world's at, Tripadvisor offers safe travel plans for couples who want to get fresh air in their marriage. Keep things fun with a trip and ensure more years of happy marriage with an escapade! 
#4 An Oxford Leather Case
Securing her electronics is important, but making it in a stylish way can give her an edge in her professional environment. Give your loved one a special gift with the Oxford case, with a design that is beautiful, luxurious and amazingly compact.
It has a durable all-leather cover designed to protect your iPad while easily being stowed for your daily carry. This case is compatible with the Apple Keyboard Folio and Apple Pencil 2, and even has a built-in self-propping stand! 
#5 Personalized Leather Tray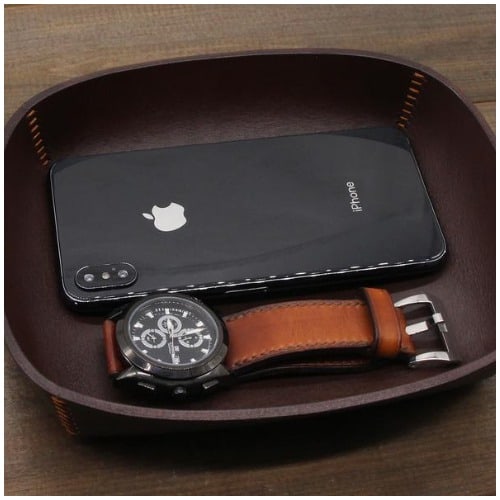 This personalized leather valet tray for your 3rd anniversary can be engraved with your vows, both you and your spouse initials or anything you wish. These classic pieces are equally good at home on as an entry table.
You can even put them in the bookcase, your desk at work or in the kitchen. Each one is handcrafted from 4 mm vegetable tanned leather, special for this occasion! 
#6 Leather Driving Gloves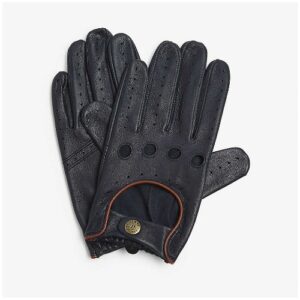 Invest in your wife's vintage aesthetic with these sumptuously soft driving gloves. They come with a branded stud fastening at the wrist, which gives them a classical style.
The pair is perforated for maximum breathability and crafted in quality leather for gloves that mold to your hands for a perfect fit. Give your marriage the grip it needs with these amazing gloves! 
#7 Brown Leather Manicure Set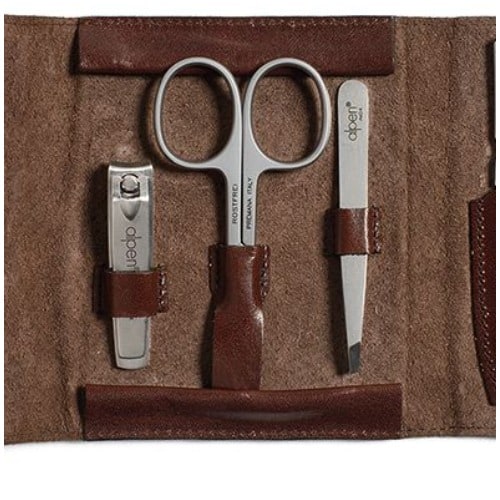 No matter where they're heading, women like to feel pretty with a crisp shirt, a slick jacket and polished shoes. But nothing beats having hands well-manicured! Ensure a well-groomed loved one always looks their best wherever they go with this personalized manicure set!
With a secure clasp fastening and hinge, this nine-piece manicure set is made from brown leather and stainless steel. Amazing to show your wife you know they care about themselves! 
#8 Fun Anniversary Wine Glass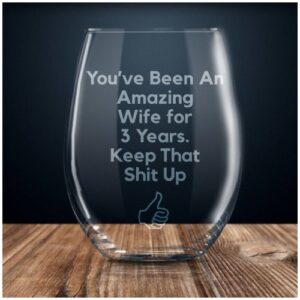 If you want to show your wife how awesome she is, there's no better way than with this hilariously funny and unique wine glass! This makes a perfect anniversary gift that will keep her laughing for years to come. Each glass holds 21 oz. of liquid, making them great for dinner parties, Weddings, bars, and banquets.
Although it is certain to put a smile on her face every time she reaches for it, remember to give her something maybe a little more serious if she's into that.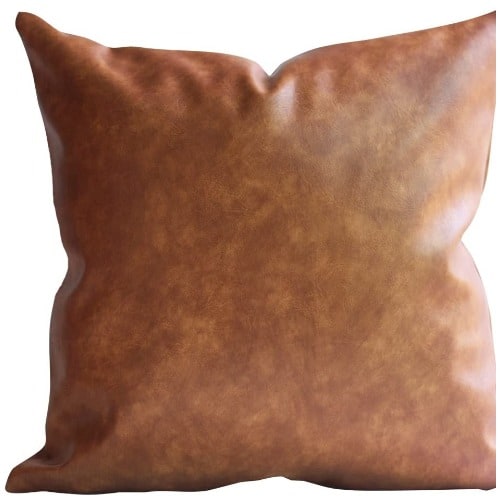 This leather pillow cover will add a classic and luxurious touch to your sofa, bed, bench, or nearly any space in the home you share with your loved one.
These pillow cases come in many styles colors, so you can choose the right shade for your individual style and match your pillows to your existing decor! Keep your house a home with this unique gift. 
#10 Photo Printing On Leather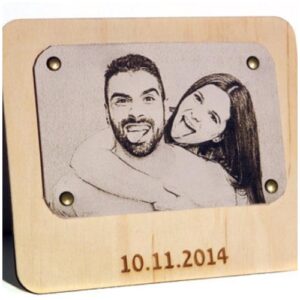 Everyone knows a picture speaks a thousand words, so what kind of message does one made out of leather? It is a statement you and your partner do, to cement your reputation as true outdoorsy types and lovers.
If you want your picture in a special, unique place, look no further than this rustic engraved leather photograph print. This gift features a beautifully carved wooden stand with a beautiful piece of leather mounted at its center.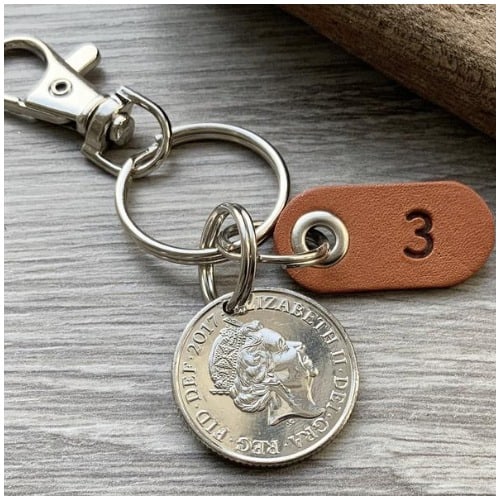 This one would make for a great and yet curious gift for a 3rd anniversary. This keychain has a British ten pence coin, which was minted in 2017, and a small hand stamped leather number 3 charm.
Although there is no room for extra personalization, just imagine someone looking at your loved one's keychain and seeing a coin and a 3 engraved on leather. It's certain to draw attention, and an amazing excuse to speak about how happy your marriage is. 
#12 Leather Weekender Travel Bag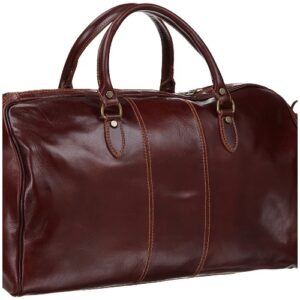 If there are work trips in her future, then every woman needs a ​sturdy weekender travel bag made from ​rich leather. This ​is a durable gift that will get a lot of use, and this Italian leather duffel bag has a waxed finish featuring floor-to floor zipper opening and double stitching.
With its reinforced top-handles and removable/adjustable shoulder strap, she will be both comfortable and professional whenever she takes those work trips!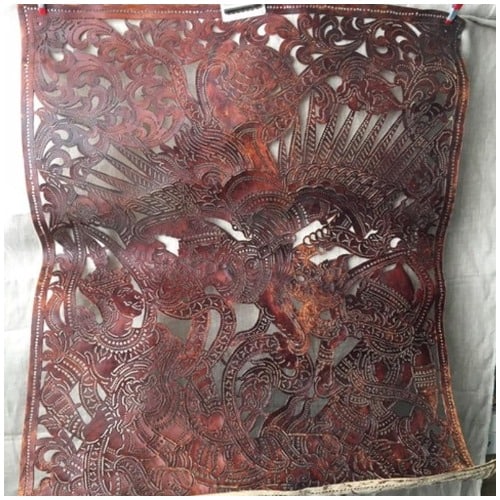 If your wife has an eye for the refined or straightforward good taste, then she surely can appreciate art. Leather is a material that lends itself so well to all manner of creative uses, that if you really want to show off this anniversary, getting your wife an art piece made from leather, you will give her the mes surprise!
There are a lot of art pieces out there, but we recommend this particular one as it has a clean cut and regal appearance!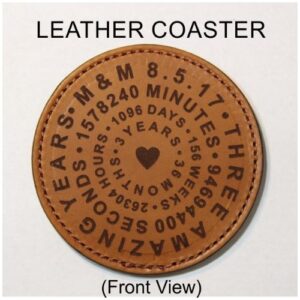 This is a double gift in itself. Men are messy, specially with their drinks, so you can give your wife this special leather coaster to both celebrate your anniversary and keep the house a little cleaner.
Besides, it comes with a nice message printed on it that shows how much time you have spent together in these past 3 years. Just a perfect gift! 
#15 Leather Office Chair Cover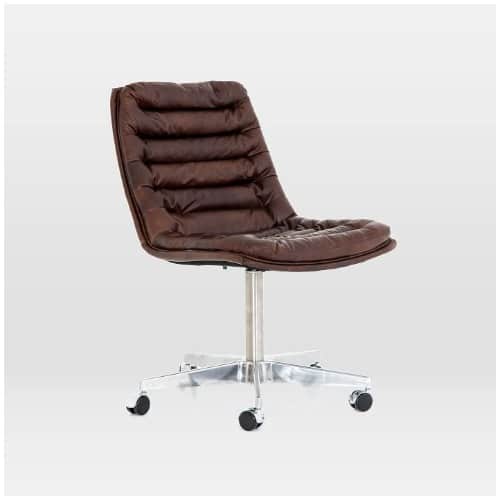 The right office chair makes a big difference in her work environment.
Perhaps she wants to refresh ​a drab office space with a sleek and well-designed leather chair, or maybe it is time to dispose of the cheaper plastic variety for a more ergonomic one. Whatever the reason, giving her this amazing gift will show her how much you love her and care about her back's well-being.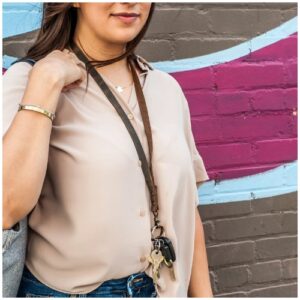 Leather makes an excellent material for a necklace as the cord, the pendant, or even both parts.
In this case, we are showing you this beautiful lanyard necklace that is sturdy and comfortable to wear, subtly beautiful and nice to have around your neck, making it something your partner will want to wear all the time. 
#17 Music Sheet Engraved On Leather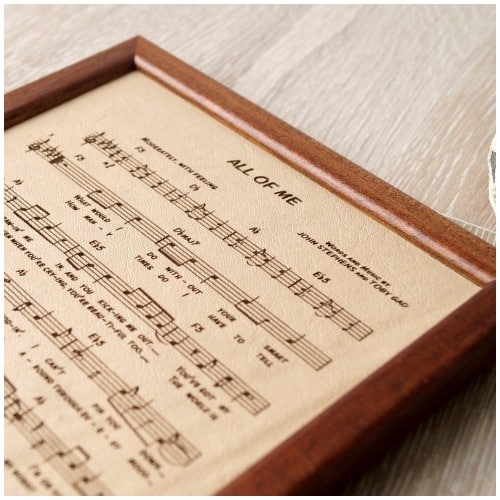 We already talked about the women who love art. What about the musician wives out there? Give her a beautifully crafted Music sheet, engraved on leather to make it special for your leather anniversary.
Choose her favorite music piece, either classical or modern, and give it to her framed as a way to show your appreciation for her passion. 
#18 Leather Sport Collectibles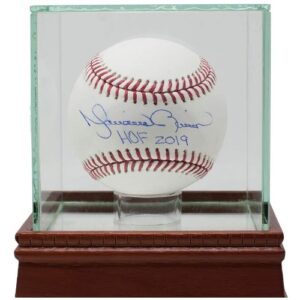 Now let's go for the sports fan wives! Any of them would be thrilled to receive an autographed ball from their favorite player, and it just so happens that baseballs and ​many basketballs are still made of leather.
So, game on! Choose the ball that would best suit your wife, search on the internet if there's one of them autographed by their favorite sportsman and there you go!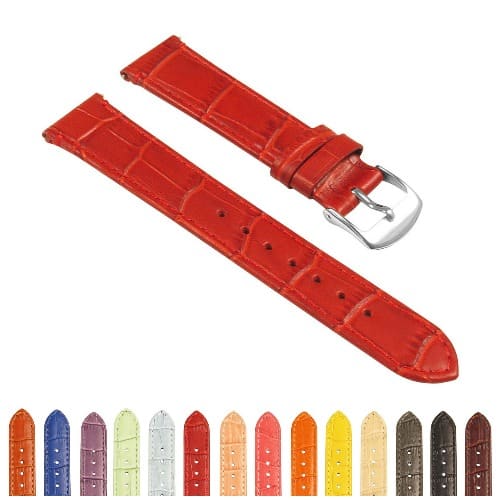 Picking up a new watch strap for your wife is one of those gift that shows you are a fan of details. It will not only help her feel better around her wrist, but it will also make her look even better.
And if you give her more than one, she can match each of her straps with any outfit! StrapsCo carries a wide range of leather bands for all leading smartwatch and classic watch brands. 
#20 Personalized Anniversary Card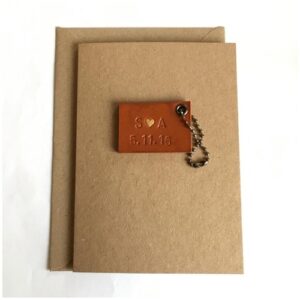 All gift should come accompanied by its own personal card, so choose one that reflects this third anniversary in the best possible ways. This personalized hand stamped leather card allows you to engrave your initials and the year of your marriage, so that special date takes the center on the card.
It's vegetable tanned leather with off cuts and acrylic paint, which makes it eco-friendly.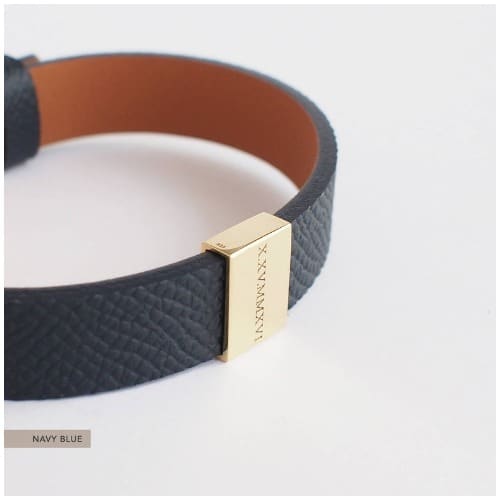 This bracelet includes your custom information engraved on silver charm, so you can put anything you want so your wife really gets a feeling of personality from it.
It's made from genuine leather from Italy, with a stainless steel button. Its leather strap comes in these colors: Black, Brown, Chocolate, Navy Blue, LV Black, Red, and Grey.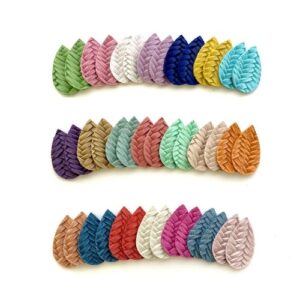 Leather might not be the most expensive material people expect for earrings, but it's durability and malleability have been used to make some beautiful and enchanting pieces of jewelry.
These particular design has a complex pattern that will make everyone go "WOW!" when they see her. It might be a little rustic, but it's like sticking to the classic and bold designs of old.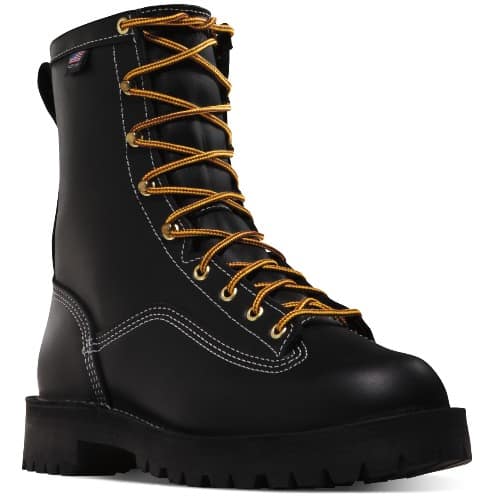 Leather jackets are the epitome of cool, and nothing tops them in either functionality or style.
You want to give your wife something to make her feel and look at the best wife, this makes them the perfect choice as a gift! While leather jackets are available in many colors and styles, the classic black is hard to beat. 
Leather boots are an incredible piece of fashion that can say a lot of any person for while they're wearing. And in the working world, providing great looks with comfortable foot protection for your wife is one of the best gift you can give her. No matter how your partner likes to wear their boots, though, they're sure to appreciate a new pair.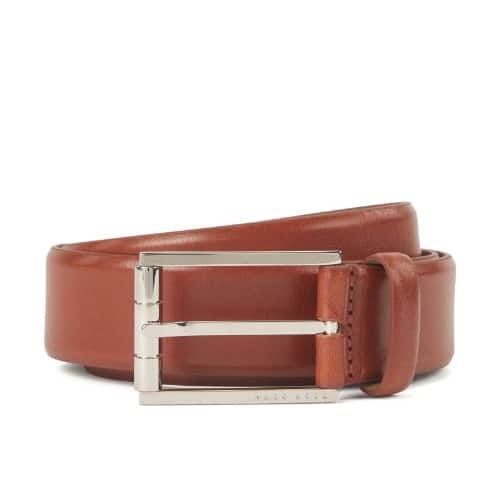 Everyone needs a belt, but we usually settle for ones that aren't anything to look at. You want to show your wife this anniversary is as important to you as it is for her? Get your significant other something that's both functional and glamorous with a high-quality leather belt.
Everyone needs a belt, but so many of us settle for ones that aren't anything to look at. This anniversary, get your significant other something that's both functional and glamorous with a high-quality leather belt.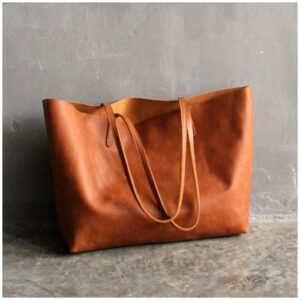 For your wife, there's no such thing as too many purses. So she will always be happy to get another to add to their collection! Styles, colors, and materials can vary, ensuring you have something that matches your partner's style and outfits perfectly no matter what they might be into.
We especially recommend this brown leather one, as it's both stylish and glamorous!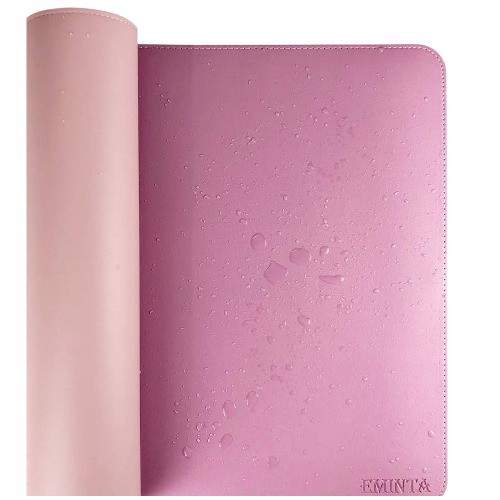 Show how important your wife's work is by giving her this leather desk pad. Made of durable PU leather material, which protects your glass/wooden desktop from scratches, stains, spills, heat and scuffs.
The new design sewing mats are more durable than the normal desk protector, which are more fashion for daily use! Perfect for both office and home.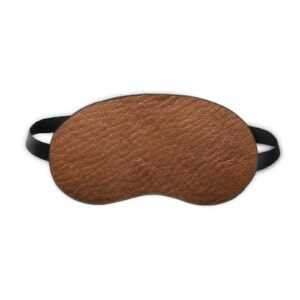 Give your wife a good night sleep with this leather Sleep eye. It has a good shading effect that puts no pressure on the eyes, allows you to blink freely, and doesn't touch her eye makeup.
It has an adjustable elastic band easy-to-adjust that won't tangle hair or snag pillow. Suitable for different kinds of occasions, but it's leathery material makes it perfect for this anniversary.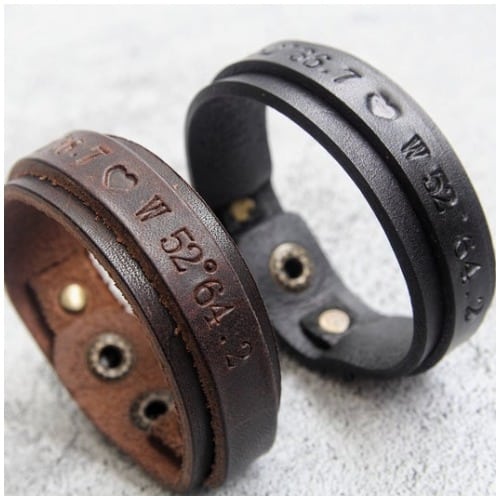 By this moment, we hope your relationship is at the step where you want it to be, Why not give your wife a symbolic commitment to each another? Try these leather couple's bracelets that, unlike a shirt or a jacket, can be worn basically every day, making it a constant reminder of your love.