33 First Birthday Gift Ideas For A Girl
First birthdays are a big deal!
Only 12 months ago, a teeny little infant who could barely see and wasn't even strong enough to hold her own head up came into the world, and now she's a small person!
She's walking and getting new teeth and probably starting to say a few words.
If you've got a little princess about to turn 1 in your life, you need to find the perfect gift to spoil her with! Here are 33 gift ideas filled with sugar, spice, and everything nice for the birthday girl.
#1 A Balance Bike Just For Babies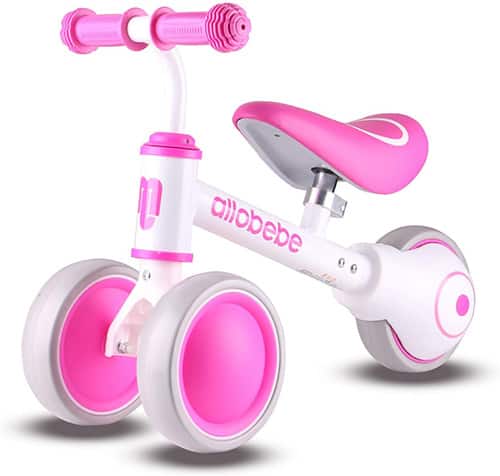 Toddlers are always on the move! Not only is this little pink bike cute and fun, it will also help her develop her motor skills.
Little ones push the balance bike with their feet instead of pedals, so she'll get more confident walking and eventually running! It has limited steering to prevent tipping and is easy to put together in just a couple of minutes.
The wheels are silent and it can be used inside or outside!
#2 A Miniature Playhouse Complete With Fairy Lights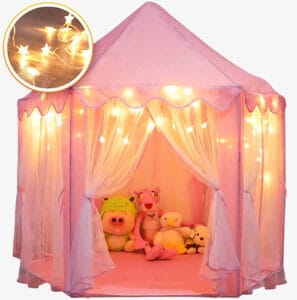 A playhouse fit for a princess!
This pink taffeta tent comes complete with LED Star Lights and is a fairytale come true! it creates a cozy little space for her to play with her stuffed animals, color, or just snuggle.
The taffeta is durable enough to outlast even the toughest warrior princess, and the tent is suitable for both indoor and outdoor use.
#3 A Personalized Wooden Name Puzzle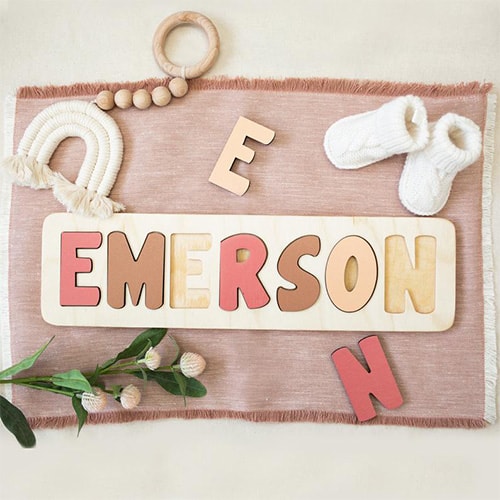 This gift is both fun AND educational!
Name puzzles help little ones start to learn name recognition and spelling while developing their fine motor skills.
This one is made from top-quality baltic wood and decorated with beautiful natural tones to make a great accessory to any nursery. The puzzle is decorated with non-toxic paint, food-grade wood sealer, and eco-friendly inks!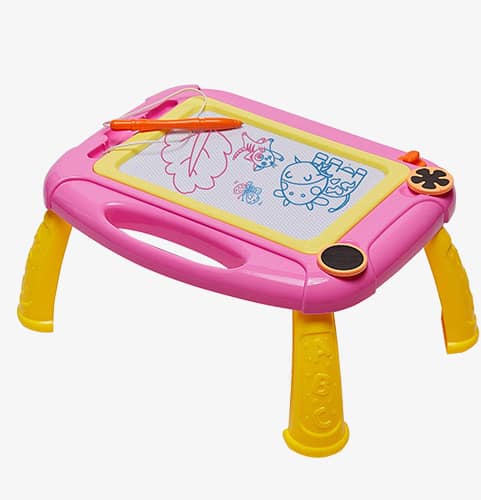 Some kids are born artists! This fun little table will help her explore her burgeoning creativity with no mess!
The board uses magnetism so your little artist can write, scribble, and draw without getting paint, marker, or chalk all over the house or herself!
Includes 4 color zones to make her creations bright and fun! It also includes magnetic stamps.
When she's done it erases with a swipe! Legs are removable to create different configurations as she grows.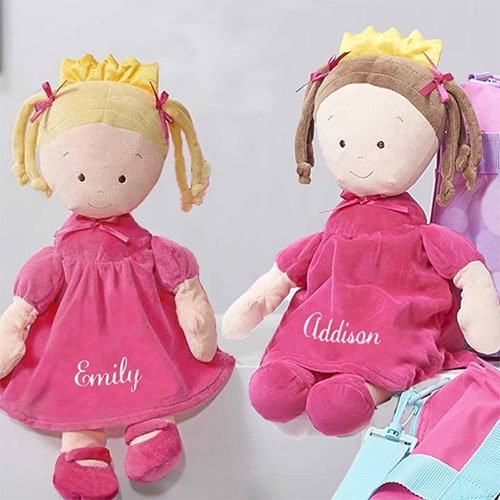 Dolls make great best friends, and these are extra special!
Not only are they entirely plush, instead of hard plastic that's less comfy to cuddle with, but her new doll's dress will come embroidered with her name! Each doll comes in a beautiful floral dress with matching tights, shoes, and accessories.
Choose from 4 hair colors, and then a font and thread color for the embroidery!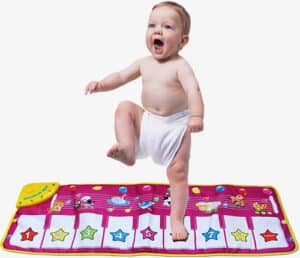 Maybe her talents lie in music!
This is a great way to expose her to music early on while developing her gross motor skills! Not only does it come with 8 musical notes (otherwise known as an octave), but it also includes 6 animal sounds!
The playmat can be set to different instruments so she can compose her very own silly symphony. Great for social play too!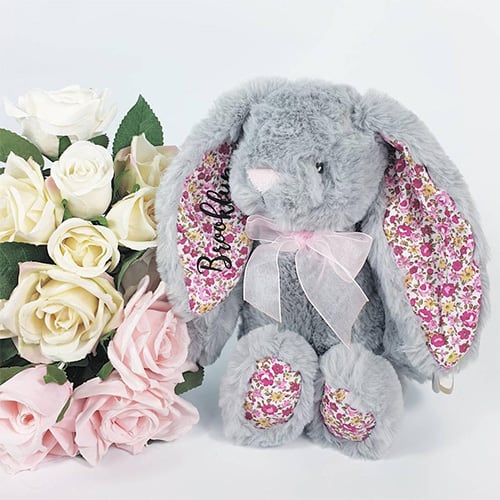 Perfect for the budding animal lover!
These 8″ bunny plushies are super soft and their long floppy ears have beautiful floral patterns that can be personalized!
Bunnies are available in white, pink, beige, blue, and gray. Lions and sloths with personalized tummies are also available!
#8 Her Very First Flashlight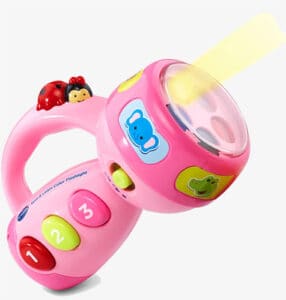 Perfect for helping her explore the world around her, even the dark corners of the closet and under the couch!
This flashlight has 5 different colored light beams that aren't too bright so she won't hurt her eyes if she accidentally looks directly at it!
It plays 50 different songs she can sing along to when she presses the ladybug! The flashlight will also teach her about animals and how to count to 3.
#9 A Personalized Picture Frame Box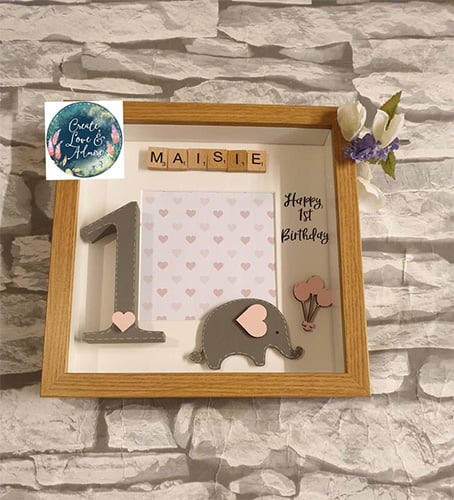 A sweet decoration to create a keepsake of her big day!
This picture frame is decorated with an adorable little elephant and balloons and comes with a custom birthday message! Plus it's personalized with her name using scrabble tiles for a charming, quirky touch.
The frame measures 9″x9″, Choose either a baby pink or a baby blue and gray color scheme.
#10 A Special Unicorn Birthday Outfit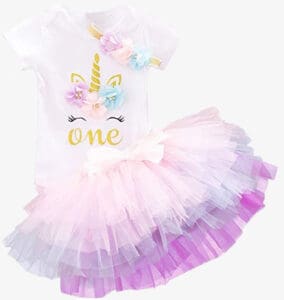 This fun and frilly outfit is the perfect way for the birthday princess to show off her celebration!
The set includes a romper with a unicorn design and a big number 1, a colorful tutu, and a flower headband! Choose from a variety of styles and colors.
This fashionable ensemble is perfect for both daywear and special occasions!
#11 Or A Personalized Doll Stroller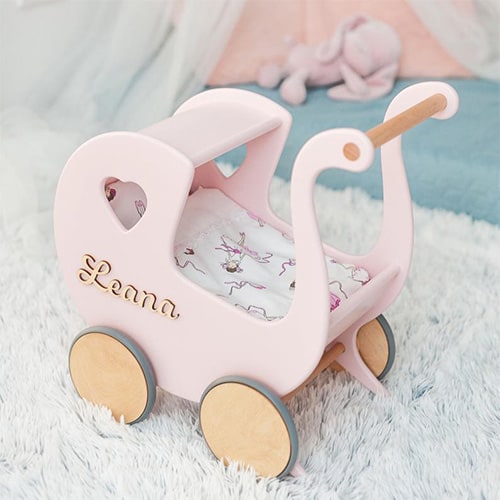 As she starts to get more serious about "caring" for her stuffed animals and dolls, she's going to need a stroller so she can take them all out on walks!
This beautiful hand-carved pram also serves as a walker to help her build her confidence in walking!
The pram is sturdy and built to last, but also elegant, and the rounded corners mean little ones are less likely to hurt themselves on sharp edges.
 Choose from 8 different colors for the pram and 9 for the accents, including the wheels and her name! It comes with bedding so her dolls stay nice and comfy on their outings.
It also makes for a great birthday photo prop!
#12 A Puppy Of Her Very Own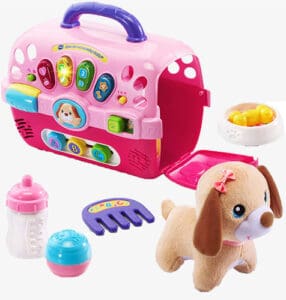 Don't worry, she's stuffed!
This toy pet carrier comes with a plush puppy and everything the birthday girl will need to take care of her: a brush, bottle, ball, bone, and bowl!
Not only will she learn the basics of pet care, but the various buttons will also teach her opposites, colors, shapes, letters, and music!
It's easy for her to carry around and comes in frustration-free packaging!
#13 A Spinning, Singing Alphabet Zoo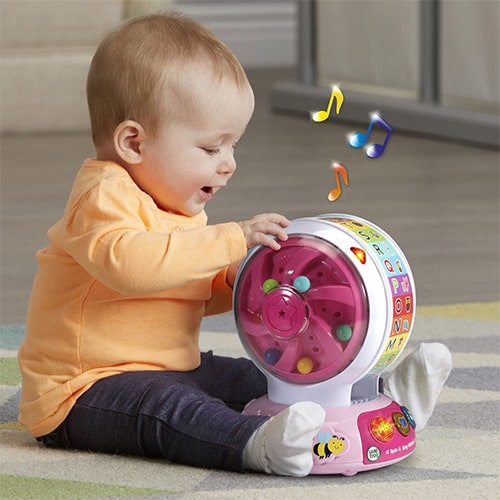 Toddlers love exploring new things, and right now, she's soaking up information like a sponge!
This fun interactive toy will help her start learning her ABCs and her animals! She'll also develop her motor skills as she spins the ball, pushes buttons, and slides a switch!
Each spin creates a dazzling light show and plays fun music! Can be set to three learning modes: animal, letter, and music!
It even comes with a set of AAA batteries to make mom and dad's job easier.
#14 Her First Tea Party Set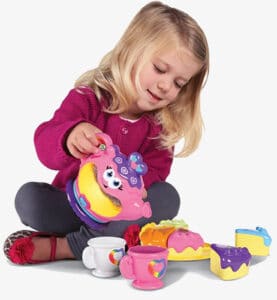 Help her throw her very first tea party with the musical rainbow tea set! Her new teapot will light up and start singing when she tips it over. The tea inside even moves realistically!
The 10-piece set includes 7 songs and over 50 phrases! She'll learn her colors, matching, and counting, and also manners and greetings!
Pouring tea and serving cakes is also great for developing her fine motor skills and mom and dad will love the frustration-free packaging!
#15 A Personalized Book Of Nursery Rhymes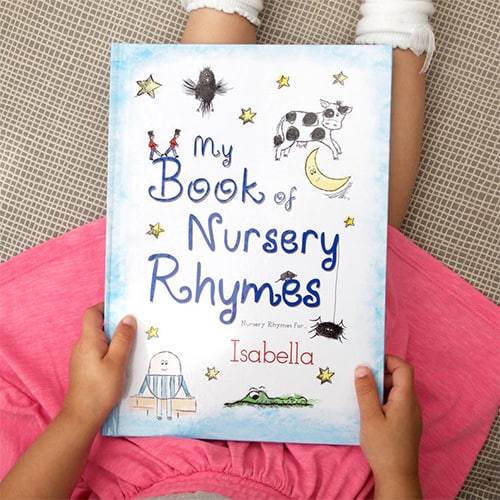 These classic rhymes have endured for generations. Now you can share them with your favorite little girl in an extra-special volume made just for her!
Not only will this personalized book display her first name on the cover, but you can also include a personalized message up to 80 characters and her name will be hidden in the illustrations throughout the book!
Choose from a softback, hardback, or classic green cover. You can also add a beautiful cream gift-ready box!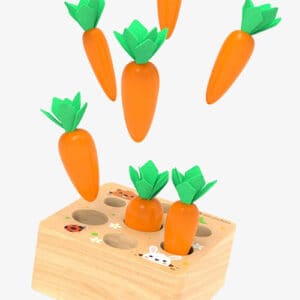 For the budding gardener!
Montessori toys are great for teaching all sorts of important life skills while nurturing children's independence and creativity!
These wooden carrots are all different sizes, creating a sorting puzzle! This game will teach fine motor skills, hand-eye coordination, and shape recognition!
Carrots are carved from natural New Zealand pine and finished with silky smooth, water based, non-toxic paint.
#17 A Special Birthday Plate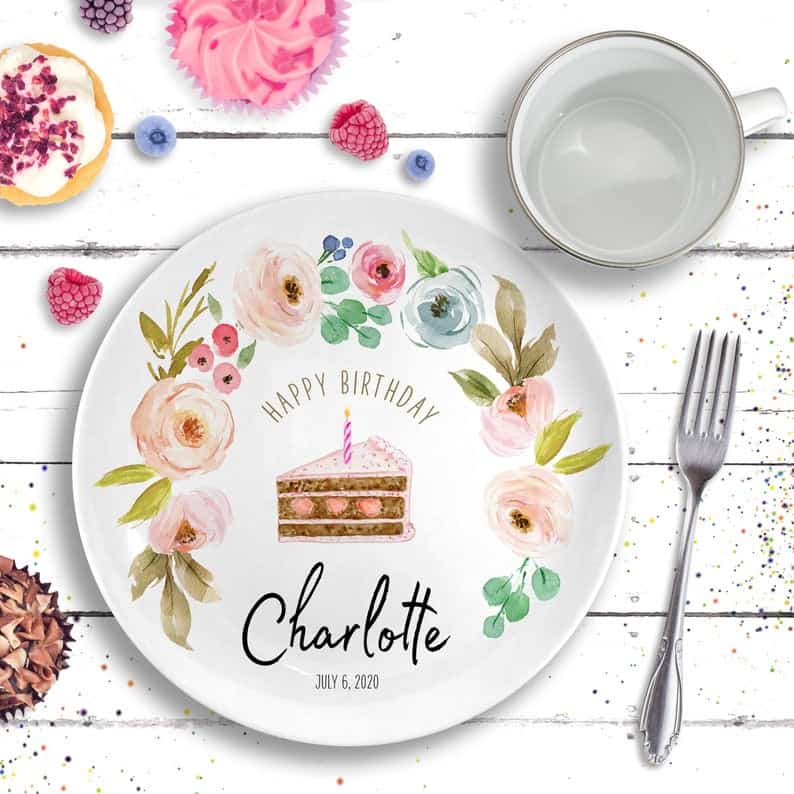 From her first taste of cake to all of her special birthday meals for years to come, she'll love getting to use her special birthday plate!
These plates are hand-crafted from top-quality ceramic with a heat-pressed design that will last a lifetime! It's personalized with her name and decorated with either a cupcake or cake slice in 4 pastel colors.
It's dishwasher safe, and you can also add a personalized mug to the set!
#18 A Buddy For All Her Adventures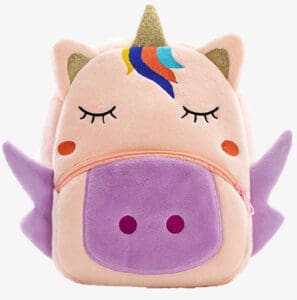 An explorer never leaves home alone! Or without snacks. Or an extra sweater, just in case.
This plush backpack is designed to be the perfect size for toddlers, and still able to grow with them!
She'll love getting to take her super cute new unicorn friend with her when she leaves the house, and mommy will love being able to take a few things out of her purse!
#19 Her Own Castle And Crown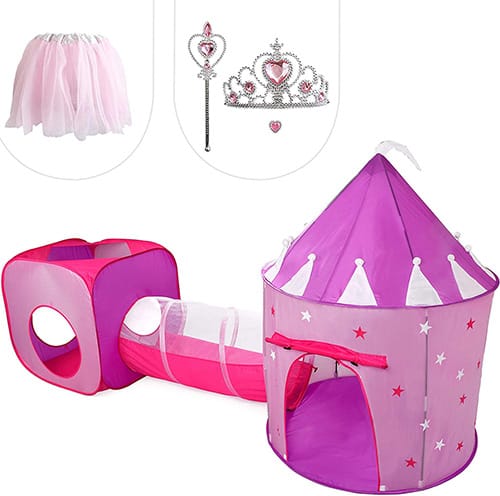 It's not just a tent, it's a whole kingdom just for her!
This Hide-N-Side Princess Play Tent includes a tunnel she can crawl through to help build her gross motor skills! It also comes with a tutu, tiara, and magic wand so she's ready to rule!
The stars are glow-in-the-dark too! It's easy to set up, designed for both indoor and outdoor use, and built to last for years of sieges and tea parties!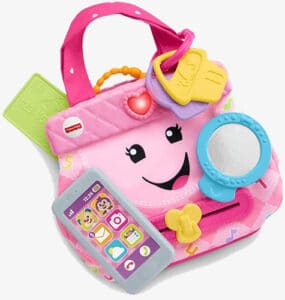 She's not quite ready to hit the town by herself yet, but this purse will help her take her very first steps!
This pink purse includes a rattle phone, compact mirror, credit card, clacker keys, and bead bracelet! She'll develop her fine motor skills by sliding zippers, hitting light-up buttons, and opening the handles.
She'll also learn colors, opposites, and even a bit of Spanish too! The purse plays over 50 songs, sounds, and phrases!
#21 A First Birthday Photo Collage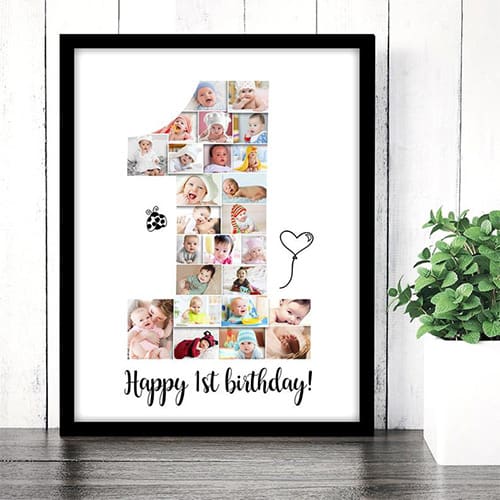 She's grown so much this year! A photo collage is the perfect way to organize all your favorite photos in one place and display them as a keepsake!
Add anywhere from 15 to 200 photos, and then add a custom message and select the font! You can also choose between 4 different border options and a custom size!
Collage arrives as a digital file you can print yourself and display in the frame of your choosing.
#22 A Book Of Disney Princess Bedtime Stories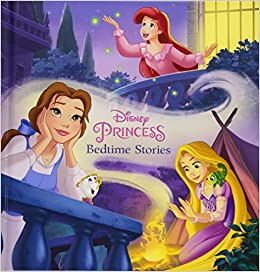 The perfect gift for any little princess! But if mommy and daddy love to visit a certain mouse, they'll be delighted to share these stories with their own junior royal!
This anthology features 18-brand new bedtime adventures with Tiana, Cinderella, Belle, Aurora, Rapunzel, Mulan, Merida, Pocahontas, Ariel, Snow White, and Jasmine!
Each story features those iconically beautiful Disney illustrations, and the gilded pages will make her feel like she's reading a book straight from the castle library!
#23 Her First "Piggy" Bank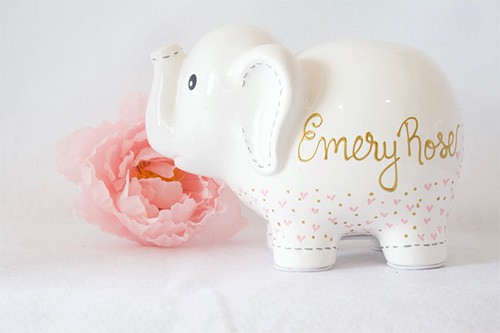 She might not have anything to put in it yet, but it will make a gorgeous addition to her nursery!
This elephant-shaped bank is painted by hand so no 2 are the same! Only the highest quality acrylic paints are used and then sealed with a special finish for extra protection.
Personalize it with her name and even her birthdate! You can also choose the paint colors of the text, dots, and hearts!
Include a personalized note and even have it gift wrapped!
Isn't she just a doll? This is the perfect accessory to show everyone!
These crocheted hats look just like Cabbage Patch Doll pigtails! Not only will she look plum adorable, but it'll keep her head nice and warm too!
Choose between 8 different "hair" colors and 17 different accent ribbons!
#25 A Personalized Scrapbook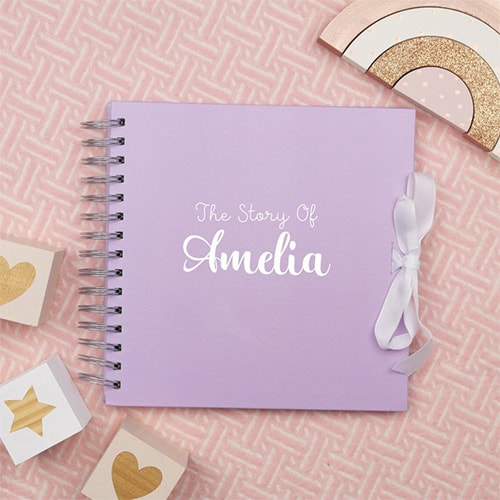 She won't remember these years, but this scrapbook will make it easy for her to look back on them!
This scrapbook is available in either 8″x8″ or 12″x12″ contains 80 pages for photos, anecdotes, and other keepsakes.
Choose from white, black, or Kraft brown pages. The cover can be one of 22 matte options or 8 metallics!
#26 Or A Personalized Sweatshirt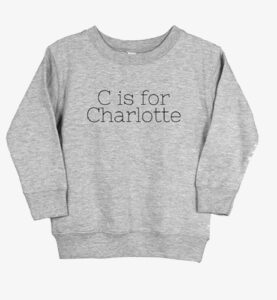 Warm, cozy, and educational!
This personalized toddler sweatshirt is a fashion statement that will also help her learn her first letter: the one at the beginning of her name!
It's great for a lazy day at home and makes for adorable pictures too! It's also machine washable and dryer safe so mom can easily keep it clean!
#27 A Personalized Cushion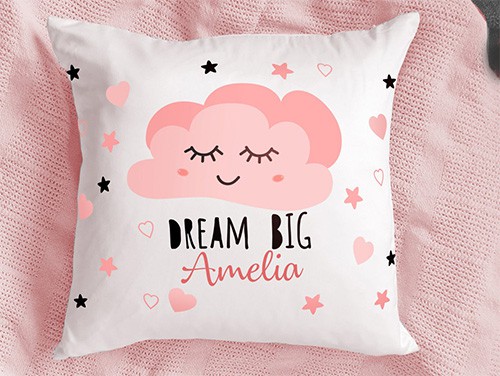 Now that she can start having pillows in her bed with her, this is a great way to add a personalized touch to her bedtime routine.
The sweet pink cloud design with her name is dyed directly into the fabric so it'll still be vibrant long after she's moved into a big girl bed.
Each one is made to order! Choose a soft white polyester cushion that feels just like natural cotton or a rustic beige linen. You can order just the cover or a filled cushion!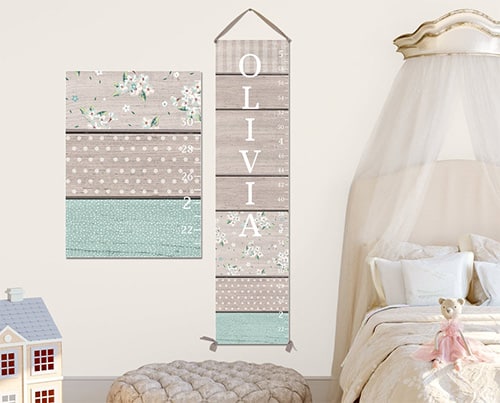 Look at how much she's grown in just the last 12 months, and think of how much she still has to go over the next 12 years!
This beautiful growth chart is an adorable way to track her growth for years to come! It's available in blush, lavender, or aqua with a rustic floral design. It can also be personalized with her name!
Choose between a chart that measures up to 5″2 or 6″2. It's made from museum grade canvas and grosgrain ribbon with wooden dowels. The design is printed with archival quality giclee inks.
#29 A Magical Steed Of Her Own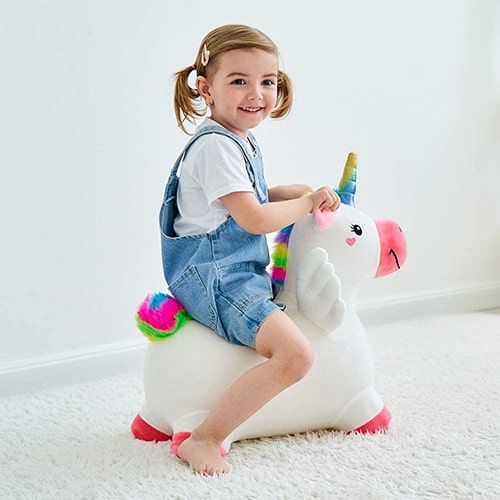 Little kids love to bounce! This cute and colorful unicorn friend will help her strengthen her muscles and improve her balance in the most magical way!
The body is made from durable, eco-friendly rubber and covered with a removable plush cover that can be washed so the unicorn stays looking fabulous!
Her new unicorn friend's legs are anti-slip and keep the bouncy toy from tipping over. Plus it's easy to inflate and deflate!
#30 A Splash Pad For Her Backyard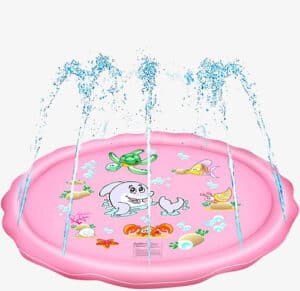 This splash pad will provide summer fun for years to come!
It combines a wading pool with a sprinkler for tons of wet and wonderful warm-weather fun!
The pink pad features adorable sea creature friends and measures over 5.5″ across, big enough for 2-4 kids to splash together!
The .4 mm PVC is more durable than other inflatable water toys and less likely to leak! It's easy to clean and store.
#31 This Sweet Set Of Bunny Pajamas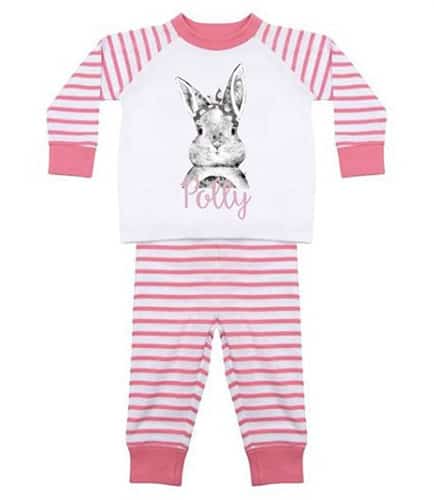 This set of jammies are sure to please!
They feature pink-and-white striped sleeves and pants and a beautiful black-and-white bunny illustration on the shirt. They're also personalized with her name for an extra special touch!
The sleeves and pants are made from soft cotton and the body is a silk polyester.
#32 A Book That's Both Inspiring And Educational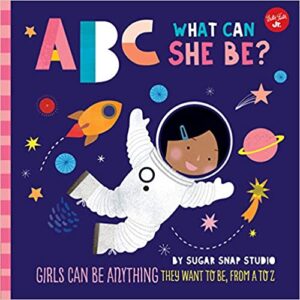 Today she's conquering her ABCs, tomorrow the world!
ABC What Can She Be? teaches little girls that they can be anything they want to be, from astronaut to zoologist and everything in between! Illustrator Jessie Ford renders all 26 careers in bright, eye catching drawings!
This book features girls of all different colors, shapes, sizes, and abilities in both traditional and nontraditional occupations, exposing your little world-changer to a variety of exciting, challenging careers that make a big impact!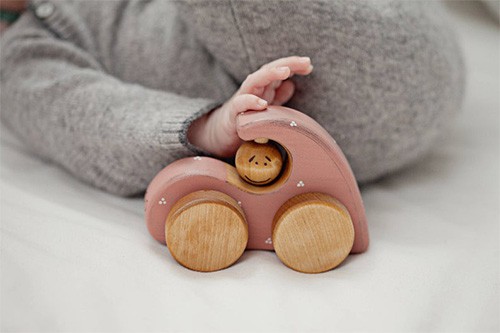 Who says only boys like cars?
This wooden car is made from natural, biodegradable materials that are safe for children of all ages! It's handmade from sustainably harvested Birchwood, painted with natural Milk Paint, and finished with food-safe linseed oil.
Each car is sanded to a satin-smooth finish and it can even be personalized to make it extra special.