27 Sweet 16 Gift Ideas for Girls
Being a teenage girl can be pretty rough. But through all the drama and school stress, at least she has her Sweet 16 to look forward to!
A Sweet 16 is more than just a birthday party: it's a coming of age celebration!
Now she can drive, she's starting to really look at what college she wants to go to…and most of all, for one day, she gets to be the center of attention and feel like a princess (because no one ever really grows out of that)!
To help her celebrate her special day, here are 33 amazing Sweet 16 gift ideas she's sure to love!
#1 A Custom Mirrored Jewelry Box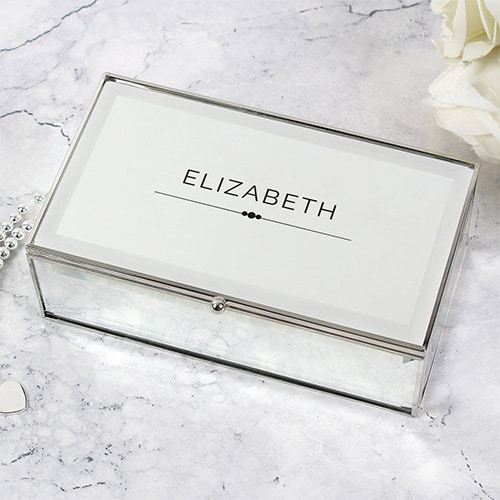 She's sure to get tons of new pieces for her jewelry collection this birthday. Make sure she has an elegant place to put them all!
This mirrored box will fit right in with any bedroom decor scheme! Each one is made by hand and made to order.
The inside features 3 storage compartments covered with black flock fabric.
Personalize with up to 12 letters!
#2 A Baking Guide For Teens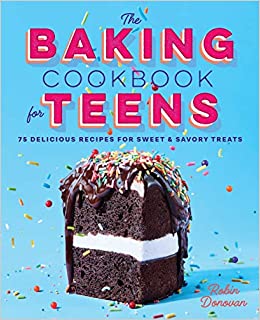 Perfect for the aspiring baker!
Baking is a fun and delicious hobby that she can use to relieve stress and express herself creatively!
This cookbook contains over 75 recipes from easy recipes for beginners to more challenging treats as she gets more experienced. It'll even teach her fundamental baking techniques!
Recipes are also grouped by occasions like pep rallies or birthday parties!
#3 Personalized "Sweet" Treat Stickers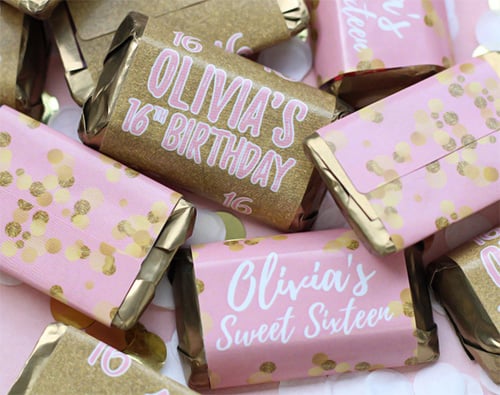 When it comes to giving gifts, you can never go wrong with candy!
Filling up a mason jar, mug, or small bag with her favorite mini candy bars is a great way to shower her with love, especially when you add these custom stickers!
They come in pink and gold glitter, white and gold glitter, or teal and silver glitter and are customized with her name!
They'll make a great piece of bedroom decor while she gets around to eating all of them!
#4 A Bluetooth Light/Speaker Combination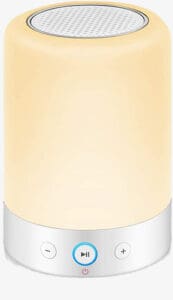 Every teen needs her privacy. Help make her room a haven she can escape to!
With the Bluetooth speaker, she can turn on her music and relax.
The default warm white has four different brightness settings, and there's also a red hypnotic light setting to help her sleep and a dynamic mood mode that shifts between literally millions of colors!
She can also double-tap the base of her light in a dynamic mood to lock it on one color! It fully charges in 3 hours and can run for 120 hours on the low light settings!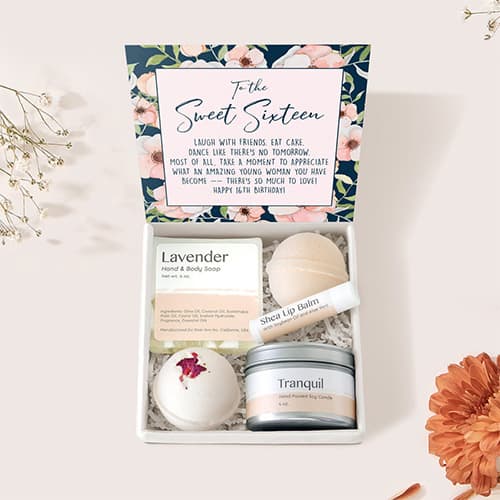 Perfect for unwinding after a long week or before a big event! This box will help her pamper herself and make her smell great!
The spa box includes a lavender soap and candle, a peppermint-shea lip balm, and 2 bath bombs–an orange-scented and a rose petal scented.
You can also add on a beautiful gold-plated compass necklace!
Spa products are made from all-natural ingredients.
#6 A Personalized New Driver Ornament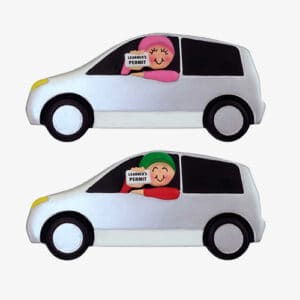 Like all of her other important milestones, getting her driver's license deserves to be commemorated on the Christmas tree!
This ornament is made from hand-painted polyresin that will lie flat against the tree for optimal display!
You can also personalize it with up to 3 lines of text, like their name, the date they got their license, and a congratulations message!
#7 A Personalized Birthday Tumbler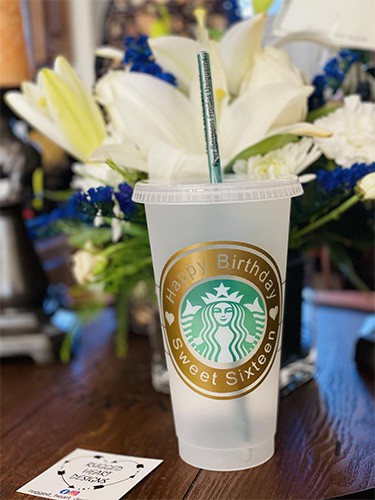 So she can enjoy all of her favorite cold beverages in style!
This 24 oz drink cup will help her save money on her drinks and reduce her single-use plastic consumption!
They're decorated with a professional-grade permanent vinyl.
Choose from 15 different colors for the Happy Birthday message around the logo and then pick a second color for her name!
#8 The T-Shirt Of The Finest Vintage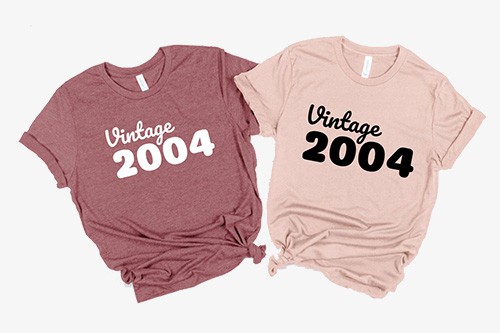 She can't drink champagne just yet, but this shirt will make her feel country-club fancy!
This ultra-comfortable Bella x Canvas t-shirt is made from 100% high-quality, soft cotton fibers. It comes with a tear-away label to make it the most comfortable t-shirt she's ever owned.
The "Vintage (Birth Year)" design can be printed in either black or white on your choice of almost 100 different colors!
#9 A Lucky Key Chain For Her New Car Keys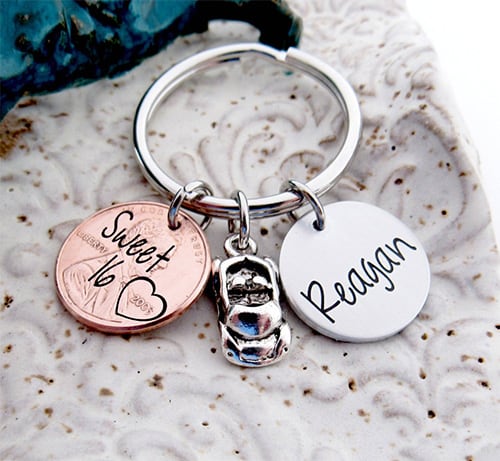 If she lives in most states in the US, she'll probably be getting her license soon!
This is a cute and fun way for her to always find her keys and carry an extra bit of luck to keep her safe on the road!
This keyring features a medallion with her name, a car charm, and a "Sweet 16" stamped penny from her birth year!
Each charm is professionally hand-engraved!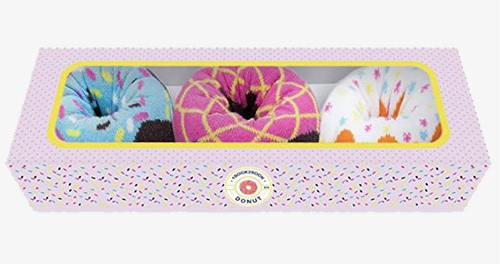 These are perfect for sleepovers or lounging around with friends!
These super comfortable socks are made from over 85% cotton and feature brightly colored, dessert-themed patterns.
They're delivered in bakery-style boxes with a see-through window and are rolled up to look like donuts!
Choose between a set of 3 or a set of 6. They're even moisture-wicking to keep her feet dry and comfortable.
#11 A Personalized Word Collage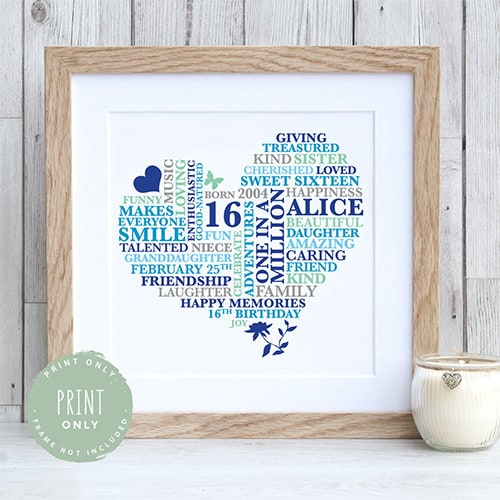 This will add a thoughtful, custom touch to her bedroom!
Not only can you choose from 15 different color schemes to best match her decor! Add up to 20 words to create a word cloud that expresses everything you love about her. It will also include her name and birth date.
If you don't see a color scheme that matches her style, you can even request your own custom palette!
Prints come in either 8″x8″, 8″x10″, or 11″x14″.
#12 A Mug Made For Royalty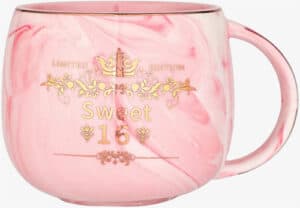 She'll feel like she's been invited to tea with the Queen every time she sips from this gorgeous mug!
Each mug has a completely unique pink marble pattern and features a gold rim and design that reminds her she's limited edition!
 This 13 oz mug is made from high-quality ceramic and is decorated with bright, durable ink.
Each one comes individually gift wrapped for your gift-giving convenience!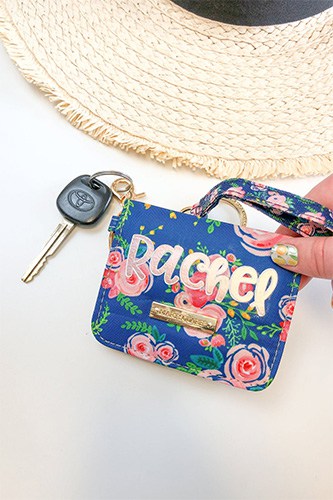 So she can keep her new driver's license in an easy to find the place!
The ID wallet comes in a variety of fun, floral patterns and can easily be slipped into a purse or backpack or worn on a lanyard!
It can also be personalized with her name or initials! Choose from 14 colors and 9 font styles for the lettering.
#14 A Personalized Wall Print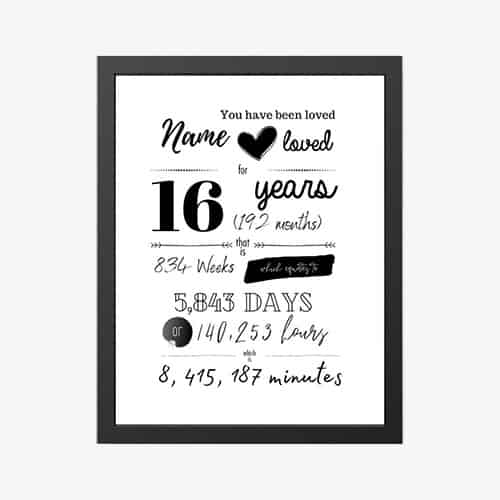 This is a sweet way to make sure she always has a reminder of how much she's loved!
This sign is personalized with her name and breaks down all 16 years of her life into the exact number of months, weeks, days, hours, and minutes she's been loved!
It's available in 2 sizes and you can choose from 10 different colors for her name!
#15 A Special Sweet 16 Goodie Box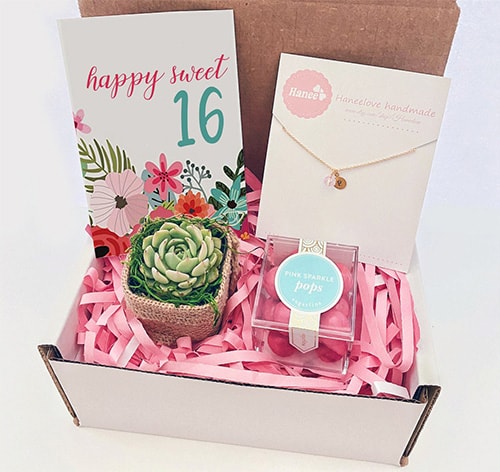 A great way to shower the special girl with love on her big day!
This box includes a card, live succulent, gourmet chocolate, and strawberry candy, and a necklace featuring her first initial and birthstone!
You can also choose add-ons: lip balm, bath bomb, manicure kit, hand cream, or essential oil!
This gift is both stunning to look at and filled with lots of love. What more could she ask for on her sweet 16?
#16 A Set Of Aromatherapy Shower Tablets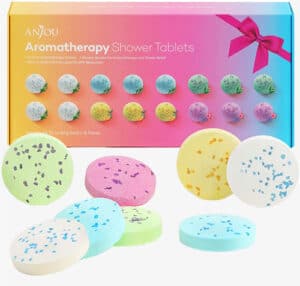 An easy way for her to get a little bit of pampering when she doesn't have time for a full spa treatment!
These shower tablets are like bath bombs that she can leave on the floor of her shower.
When the water hits them they release essential oils that mix with the steam to help her relax and make her shower smell great!
This set comes with 16 tablets in 5 scents: Eucalyptus, Lavender + Rose, Sweet Orange + Bergamot, Tea Tree, and Eucalyptus + Peppermint.
They're gentle on sensitive skin and won't damage plumbing or septic tanks.
#17 A Gift That Keeps On Giving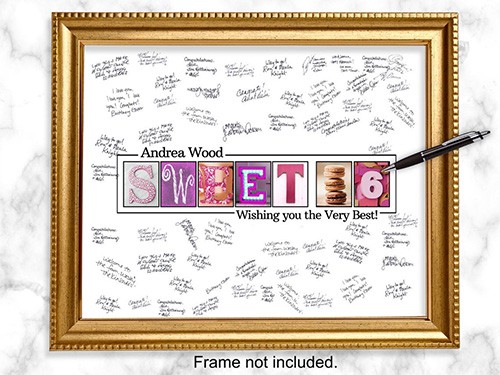 Not only is it a beautiful, fun piece of artwork for her bedroom, but she can have all of her friends and family sign it to create a keepsake of her party that she can cherish for years!
Personalize the sign with her name and a custom message!
It's available in 7 sizes, from 11″x14″ to 36″x48″. The image is high resolution for optimal printing quality.
#18 A Personalized Plush Bear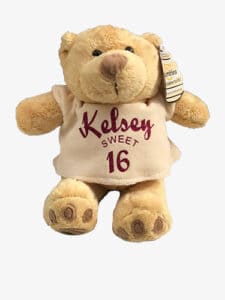 She might be too old to play with stuffed animals, but this sweet bear will add a cozy, personalized touch to her bedding!
This soft 12″ plush bear comes wearing a velour t-shirt hand-embroidered with her name and a Sweet 16 message. Choose from 9 different thread colors for the lettering!
#20 A Pearl Necklace With Her Birthstone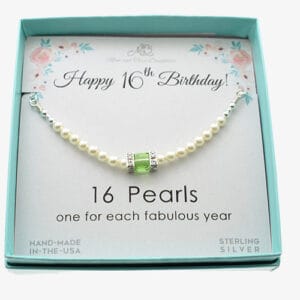 Because every woman needs a good pearl necklace!
This beautiful piece of jewelry features 16 pearls for her 16th birthday and her birthstone for an extra special touch.
The minimalist style makes it a perfect accessory to dress up any outfit!
Each one is handmade to order from sterling silver. Choose between a 16″ or an 18″ chain.
#21 Her Very Own Speed Limit Sign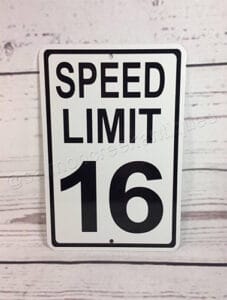 Perfect for a new driver! She can hang it in her room or over her new parking space!
This 16 MPH Speed Limit Sign comes in 9 different colors! Available in either 6″x9″, 9″x12″, or 12″x18″.
The sign is guaranteed not to rust and comes with pre-drilled holes for easy hanging!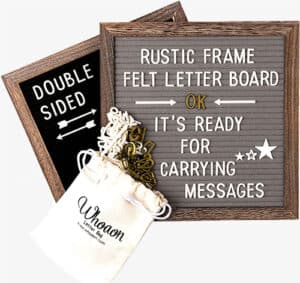 Letterboards are all the rage on Instagram! Perfect for adding a personal touch to her room or sharing her favorite jokes and quotes on social media!
These 10″x10″ felt letter boards come in a variety of colors from black to gray to pink with either rustic wood or barn wood frames!
Each one comes with a set of white and gold pre-cut letters, numbers, symbols, and emojis. Includes a set of cursive phrases, months, and days!
#23 Or A Personalized Make-Up Bag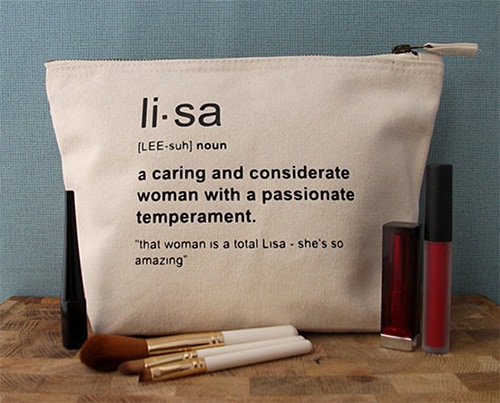 Behind the Name might have the official definition of her name, but only those who know and love her could ever sum up her true personality. Now she can carry those loving sentiments with her lipstick and blush!
You can choose the name and definition this bag is customized with! It comes in either natural canvas or black. Select white, black, rose gold, or matte gold text too!
This bag holds up to 3L and you'll get a proof to make sure it's perfect!
#24 A Lighted Make-Up Mirror
Perfect for the amateur make up artist, this will help her get every look just right!
This mirror comes with LED lights to make sure she has the perfect lighting while she's trying to do her make up. She can even adjust the brightness!
It also features 180 degrees of rotation so she can always find a comfortable angle.
It's a dresser mounted, so no difficult setup, and it's easy to travel with!
#25 A Personalized Earring Holder
Does she have a different pair of earrings for every day of the year?
This is a simple and cute way to help her organize them. No more searching for matched pairs as she fishes her studs out of a jewelry box!
Each earring stand features a lavender burlap screen for holding her studs. It's hand-painted with her initial for a personalized touch!
Other colors are available from the same shop, so you're sure to find one that matches her bedroom!
#26 A Jewelry Dish With Matching Jewelry Included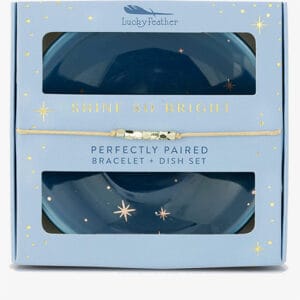 For the birthday girl who doesn't have a ton of jewelry, just a few pieces that she really loves.
This will help her display her pieces in style and add a brand new item to her carefully curated collection!
Choose from 6 different beautiful and elegant dish designs.
Each one comes with a subtle bracelet that will go with everything from the jeans and t-shirts she wears to school every day to her prom dress!
#27 A Selfie Light For Her Phone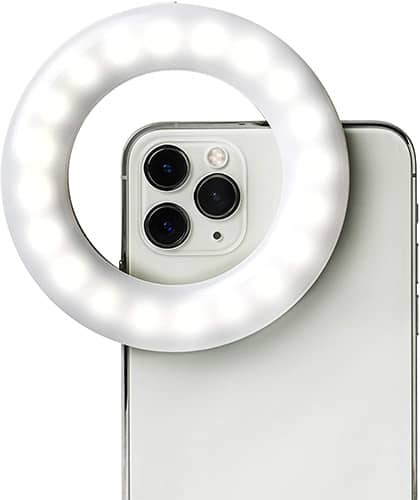 Perfect for the Instagram-lover! This will help her get the perfect selfie without unflattering shadows every time!
The LITTIL Selfie One light comes with an expandable clip so she can use it with all kinds of phones, tablets, and laptops. It has 3 brightness settings–cool, neutral, and warm–so she always looks on point!
The light is rechargeable so she doesn't have to worry about buying new batteries or her secret to killer selfies having a shelf life!