Gifts for Engineers - 33 Exciting Ideas
If you have an engineer in your life, you know that to find the perfect gift that will fit their curious and logical mind-set might be a really hard job. For this list, we focused on finding gifts for engineers that will fit their cool and creative personality without being too obvious!
We placed a high value on quality and thoughtfulness while working on this guide because we all know these analytical problem solvers can be hard to please. Without further ado, here's a list of 33 exciting gift ideas for the creative minds of engineers!
#1 A Wright Brothers Blueprint Tie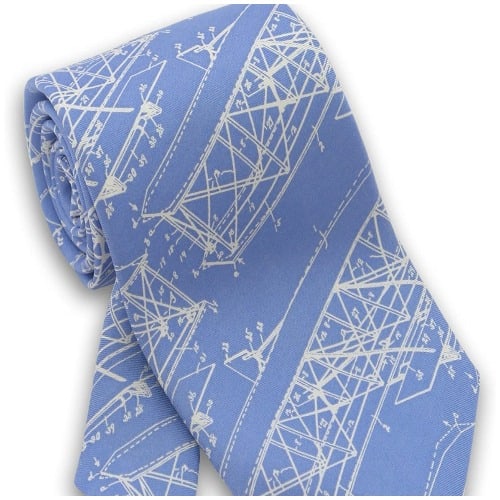 The Wright Brothers Silk necktie, inspired by the Wright Brothers 1906 U.S. Patent #821,393 which is printed on the back of the necktie. Can you be any more cool without wearing it? It doesn't only show how much they love engineering but also that they appreciate history!
#2 The Lego Technic RC Tracked Racer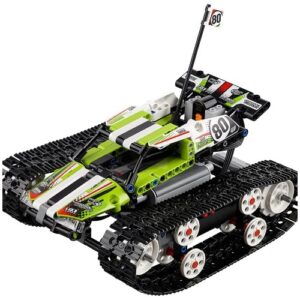 Any engineer will be ready to tear up the track with the Lego Technic RC Tracked Racer. It combines 2 experiences in one: A challenging build and a sleek, rugged RC car for racing excitement.
Spin, turn, clamber over obstacles and race at breakneck speed with this fully motorized, remote-controlled LEGO Technic RC Tracked Racer, featuring a lime-green, white and black color scheme with decorative stickers Give your friends an excuse to have fun with this gift!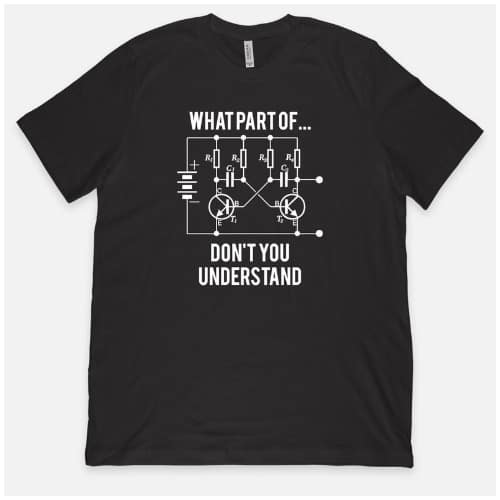 Sometimes giving them a funny gift that only other engineers will understand is enough to bring a smile to their face. Light their day up with this cotton t-shirt! They'll surely appreciate your eye for detail (even if you don't get the joke).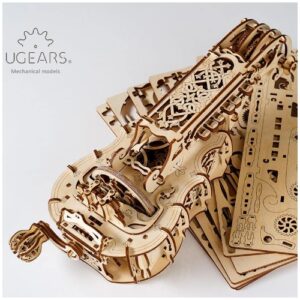 Inspired by the art of medieval craftsmen, the world's first mechanical musical model will become a genuine gem of the collection. It's an extraordinary mechanical model kit which is all-in-one: model for self-assembly, toy and fully fledged musical instrument. Just build it together with your friend and feel like Stradivari or a popular Hurdy-Gurdy star!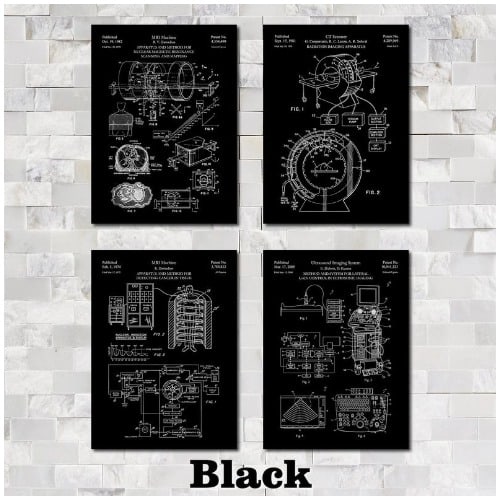 Why not give them something to hang on the wall of their office or living room! These patent posters are printed on heavyweight matte paper using archival pigment and reactive dye inks for high color quality and durability. They also come in several sizes and a variety of background options to choose from, so you can choose the perfect fit for anyone! 
This engineer's funny mug is sure to make your smile from ear to ear! We believe the best gifts are both personal and functional, and that's why this is a fantastic choice. They're crafted from the highest grade ceramic, and these designs are printed and sublimated under the greatest standard of quality. So, don't wait to order yours! 
#7 The Perfect engineer Ruler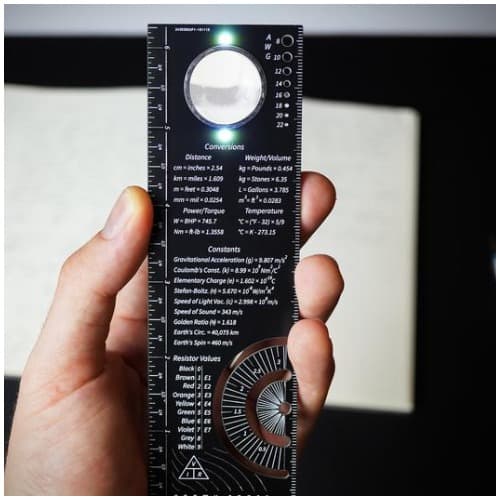 Imagine giving your friend a ruler incorporating a magnifying lens, dual-LED flashlight, spirit level, magnet, metric & imperial rulers, protractor, SMD and AWG size reference, resistor values, unit conversions, and the constants they find themselves needing but never remembering?. Made of the highest quality matte black printed circuit board, this ruler is one of our most useful gifts on this list! 
#8 A Nikola Tesla Engraved Quote Pen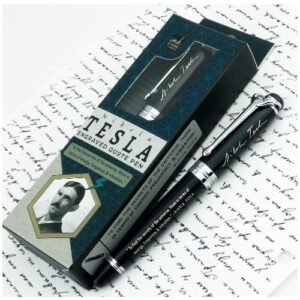 Nikola Tesla will go down on history as one of the greatest engineering minds of the 20th century. Everything this man worked on is still used as reference for incredible projects, and he has become a symbol of everything that stands right and correct for engineers.
With this Pen, and the quote it sports on it's side, no engineer will ever doubt their career is one of the greatest in the world! 
#9 An Engineer Sweatshirt
A super soft sweatshirt celebrating aerospace engineers is an incredible shirt for any girl in your life! Anyone with this sweatshirt will get compliments every time they wear this, as it actually looks better over time with more washes as the letters start to look more vintage. 
#10 Recycled Circuit Board Coasters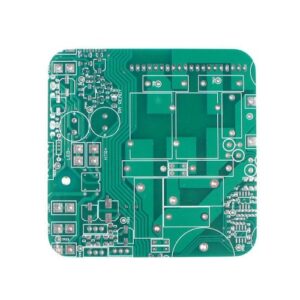 These geeky circuit board coasters make wonderful gifts and additions to anyone's home or office. They really stand out next to your computer, and are made from real circuit boards, so they are very strong and hard wearing.
They come in 8cm square and are hand washable, and you can buy them individually or by any number and design you desire! 
#11 A Book on Ancient Engineers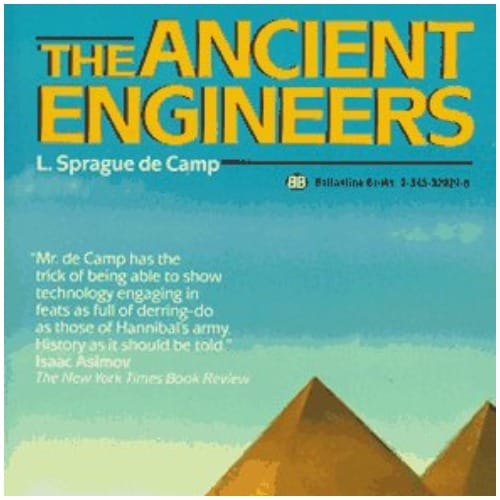 Studying history is important in any career, and engineering is not an exception. A reasonably scholarly but nonetheless accessible history of the great engineering feats of the human race up to the Renaissance, including a great chapter on Oriental architecture, a topic often neglected by such surveys.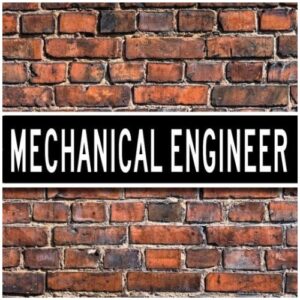 Mechanical Engineers will particularly love this awesome street sign! This will make the perfect piece for any engineer looking for a cool decor piece.
Made of premium aluminum and will never rust, providing years of enjoyment indoors and outdoors while surviving the test of time and looking great in any room, den, cave, or office! Personalize this durable aluminum sign with your favorite destination or customize it for a friend and gift it! 
This 3D pen is not only cool but unique! It supports two filaments and you can customize the drawing speed and temperature. With a patented ceramic nozzle and adjustable temperature design, this 3D pen is extraordinarily friendly and safe while drawing. The perfect gift for yourself, your friends, or your families!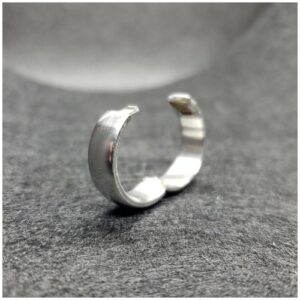 This engineering marvel is produced using the latest in 3D metal printing to make for optimal fit, and intricate geometries. This design overcomes the "fat knuckle" issue and is inherently safe, never to get stuck on your finger.
Whether it is in the workshop or gym, it can be easily removed and clasped to your belt, keys, or even water bottle so that it is never misplaced. The clasp allows for convenient removal and safe storage and it's made from cobalt-chrome, so they are ethically uncompromised.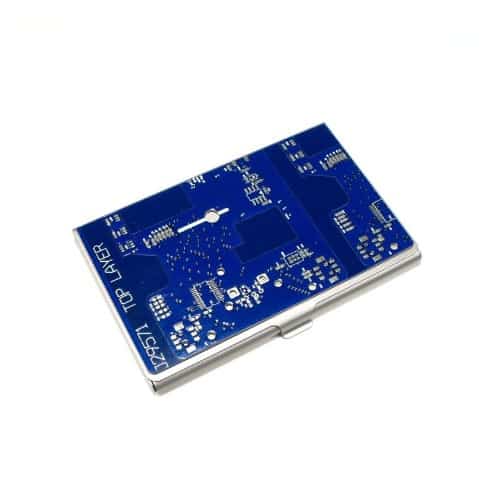 What's better to give to an engineer than a handsome laser engraved knife, with a rosewood handle and durable bead blasted in stainless steel? These lasting designs can handle any job you tackle, because every piece of wood is unique and the final engraved product ends up being different to any other.
The stainless steel blade comes with a partially serrated edge, and the closed length of the blade is 5″, while opened it reaches a length of
8-1/4″. 
Help you engineer friend giving them this washable and reusable face mask to protect themselves and their loved ones from Covid-19! These high-quality face masks are CDC-compliant and fully cover the mouth and nose.
They come with a 5 layer PM2.5 Activated Carbon Filter and, although they're not meant to provide medical protection, they're still neat and cool! Designed to fit comfortably and snugly and attach with adjustable ear loops, you won't be sacrificing their beauty for health! 
#17 A Circuit Board Case Holder
Case Holders are used for different things depending on the person, either for business cards, gift cards, or other essential carries such as credit/ATM cards, driver's license, and even insurance cards.
What we really know is that your engineer friend will find this not just a useful case, but also a nerdy one with a design that appeals to their line of work. Each card case features a real wood veneered and precision cut surface on a stainless steel body.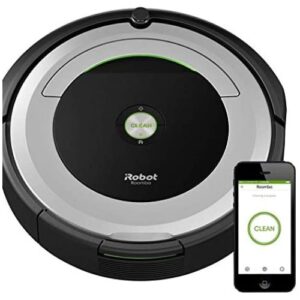 With a sleek, premium design, this iRobot Roomba 690 will complement the home decor of your Engineer friend. These Roomba include 1 dual mode virtual wall barrier for more control over where your robot cleans, 3 stage cleaning system and dual multi surface brushes pick up everything from small particles to large debris.
Any engineer will love the science that comes inside the Roomba's design, especially when they get to clean the mess they left after work!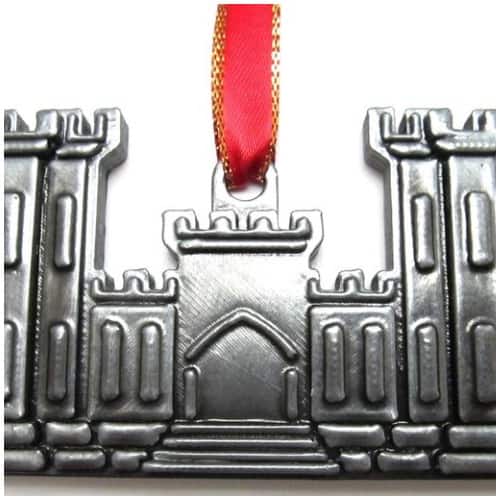 Show your Engineer pride with this antique silver premium resin 3d ornament! The ornament is 4 1/8" wide, 2 1/4″ high, and 3/8" thick and reflects the engineer castle, which represents a wide variety of engineer specialties!
There are different components on the engineer castle, which really brings the three-dimensional aspect to life and comes with a gold laced red ribbon that you can use to hang it up with.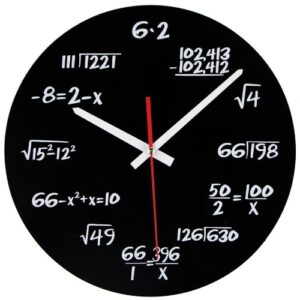 Help your engineer friend be more responsible with his time with this Decodyne Math Clock! This is a traditional wall clock with three-hand motion but with one important twist–its hours are marked by simple math equations.
To tell the time, you solve for the answer! A unique gift idea, the Decodyne Math Clock makes a fun present for an engineer to hang in his office, giving a specially geeky take to any living room!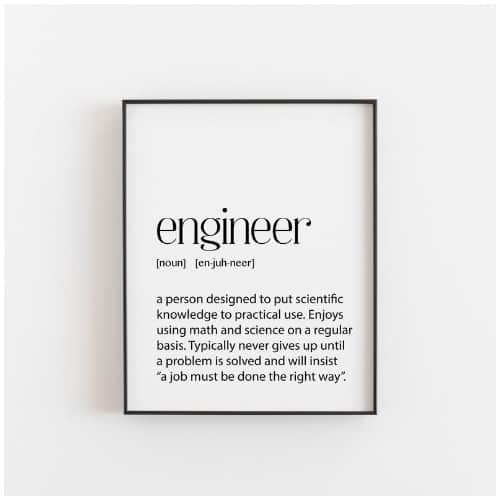 A Print for their walls that reflects everything they are and believe as engineers is the perfect gift for everyone! These special gloss papers have less bulk and opacity and are typically less expensive than dull & matte paper of equal thickness.
Besides, its gloss coatings reduces ink absorption, which give the sheet an excellent color definition. Help them define their workplace with this amazing and intelligent gift! 
#22 A Personalized Kitchen Tool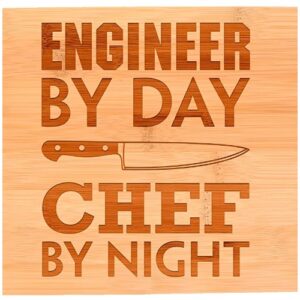 This bamboo cutting board makes a perfect birthday gift for an Engineer. It is pre-oiled for lasting durability and whether on duty or on display, this beautiful laser engraved cutting board is sure to please your engineer coking friend!
Besides, any engineer knows Bamboo is stronger than hardwood, easier on kitchen knives, and is more sustainably harvested than traditional hardwoods. And if he's not that great of a cook, this cutting board becomes the perfect kitchen wall decor. 
#23 An Engineering Graph Paper Notebook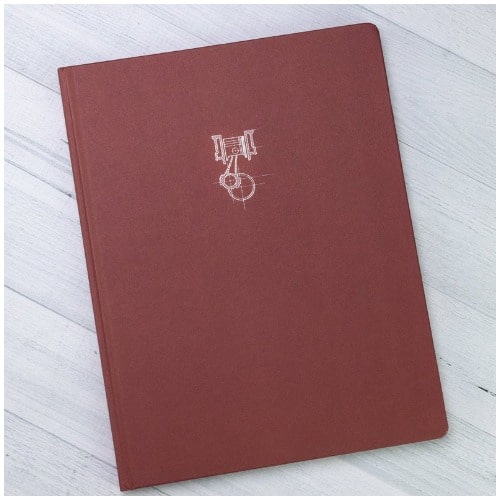 Help your engineer friend plan their prototypes, sketch schematics, run calculations or gather data in this clay red bound engineering pad. This Notebook was built in response to a special request from a prominent engineer and offer traditional green engineering grid paper in a lay-flat bound hardcover format.
The covers of these understated notebooks present an icon representative of a specific branch of engineering in silver foil, making it into an amazing gift for any type of engineer!. 
#24 A Cool Pair of Safety Glasses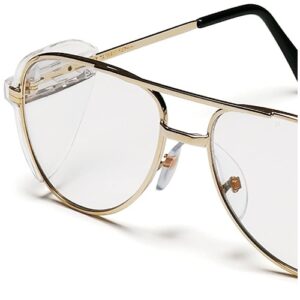 Now they can look cooler while working with these metal frames' aviator style safety glasses. The lenses are coated for superior scratch protection while at extreme conditions, and the body is constructed from a nickel-silver alloy to make it into a more durable buy. They're also available in fashionable styles and come with side shields that are permanently attached for extra protection.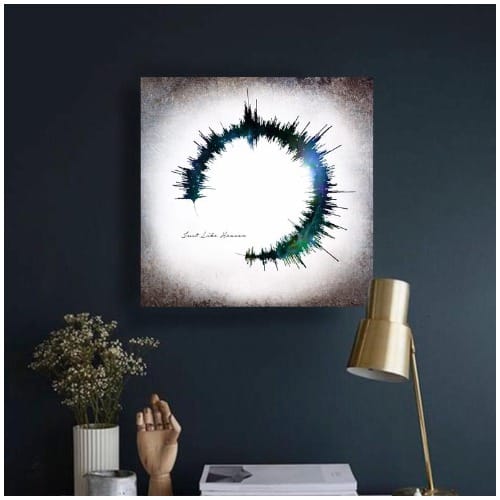 This is a Spiral Design custom sound wave metal print showcasing special words or sentimental audio you want to give to your special engineer friend! This print will be sure to add a modern style to your friend's home and transform you into his favorite gift giver!
With this completely custom and unique sound wave print, even the lover of modern art in your life will come to appreciate your taste!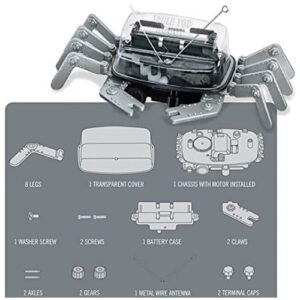 The Table Top Robot is a hands-on science kit that will peak the attention of any engineer. It teaches the basics of robotics by constructing a working robot crab that, when activated, scuttles under its own power and changes direction when it encounters an obstacle.
Imagine your engineer friend placing it on a tabletop to amaze their closed ones while the robot performs acrobatic tricks! No special tools or knowledge is required, which means even a sound engineer can take a turn at this little fella! 
#27 An Engineer Wood Sign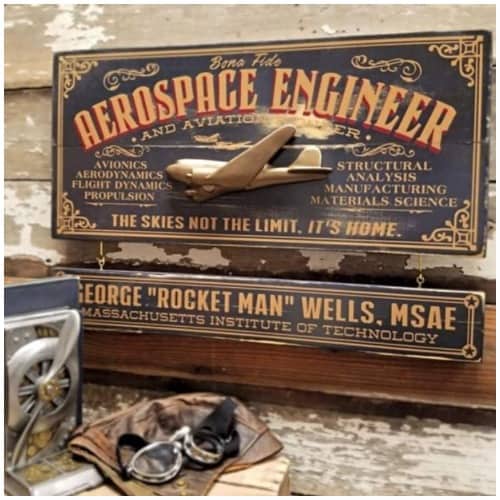 This incredible engineer wood sign is made with a distressed finishing and a three-dimensional relief of an airplane. Although mainly focused in Aerospace Engineer, this wood sign hearkens back to the Golden Age of aviation and thus, any engineer will feel drawn towards it.
It's multi-plank construction adds to the old world look and its unfinished back side makes a great place to sign with marker if given as a graduation or retirement gift. 
#28 Some Mind Teaser Puzzles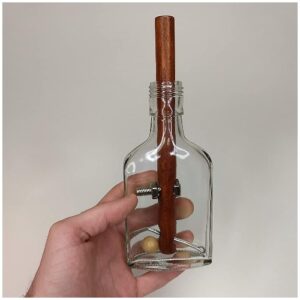 Test your engineer friend's skills and patience with these tricky puzzles! Designed to help practice focus and logical thinking, they can become the fun party games next time you're at a party! Just pull this one up and divide people into teams, asking them how they'd solve it and what approach to take.
Surely, your engineer friend will be the first one to figure it out, but the marvel of it, it's in the fact this is a particularly hard one to crack!. Find out who is the best master solver of the group! 
#29 Cries in Engineer Sticker If your engineer friend is a fan of stickers and puns, they'll surely enjoy this sticker! Each one is handmade and personally packed for extra protection, so you won't have a problem while unpacking them. Not all gift have to be useful, and as a side-gift or a small gag it'll bring a smile to his or her face! 
#30 An Electronics Exploration Kit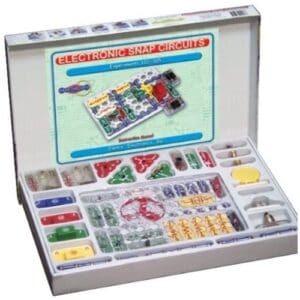 This snap circuit is an incredible exploration kit for electrical engineers. It comes with over 60 pieces to create 305 different electronic projects and all the pieces, which include snap wires, a slide switch, a resistor, a microphone, and capacitors, snap together easily onto the included plastic grid with no soldering required. As each piece is numbered and color-coded to make identifying them easy, it'll be a fun project to tackle with the children of the house. 
#31 The Strongest N52 Grade Neodymium Magnet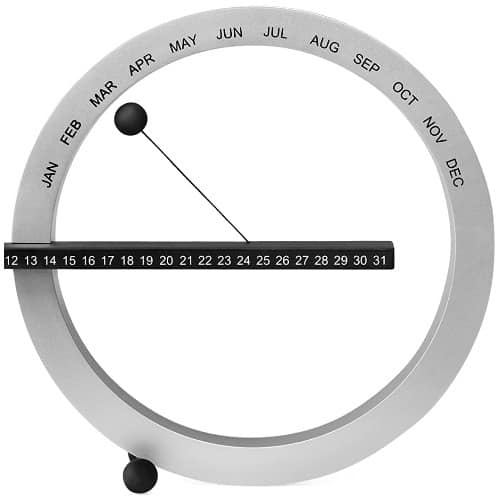 N52 grade is the strongest and the rarest neodymium magnet type among the existing ones (As any good engineer will know). Neodymium magnets of this grade ensure maximum sticking while being characterized with minimum sizes, which makes them into the perfect tools for those engineer enthusiasts of magnets!
Less than 5% of all neodymium magnets produced all over the world belong to this grade, with only a few manufacturers able to produce neodymium magnets, which will ensure this is both a unique and special gift! 
#32 A Small Perpetual Calendar
What's more geeky than a calendar….a perpetual calendar? First designed for the Museum of Modern Art in 1998, this smaller version of the Perpetual Calendar was introduced in 2008 to commemorate the 10th anniversary of its original design.
To use it, your engineer friend must simply insert the stand to place the calendar on a desk and move the magnetic balls manually to mark the date and month. Designer Gideon Dagan has developed numerous consumer and commercial products, all with an engineer mind into it's thinking.
This innovative designs have been exhibited in museums around the world, so it0ll be perfectly placed in your friend's desk! 
#33 A Galileo Thermometer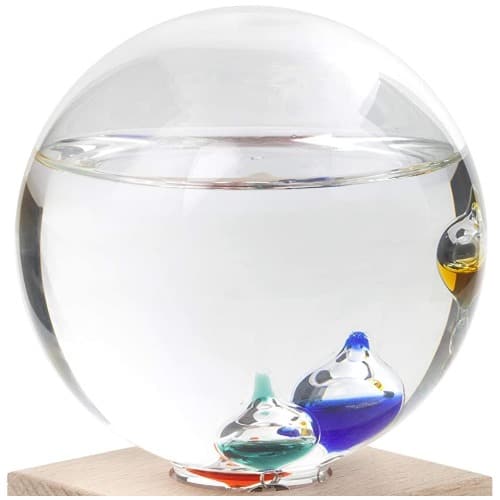 The finishing touch on this list comes from the mind of one of the greatest engineers in the world: Galileo Galilei.
These colorful globes rise and fall revealing the temperature of the room. Your engineer friend will wonder at the beauty of science, while these colorful globes rise and fall according to the temperature!