As kids, we all loved chemistry. The idea of being able to take some elements and turn them into other ones was completely incredible, and it drove a lot of us into the path of studying this amazing career.
However, Chemistry is not a very popular subject, specially when you search for chemistry-related gifts, so we can sometimes find ourselves in a conundrum while searching for something special to give to that loved one of us who loves the experimental side of science.
From children going to school to adults majoring in chemistry, sciences is a theme that's quite important for all of us.
For that reason, we spent our time building this special list off gift ideas for you, so you can deliver the perfect chemistry-themed gift to that loved one who deserves it. And, who knows? Maybe some of these will tease your interest and you could buy something for yourself!
#1 Periodic Table Pen Case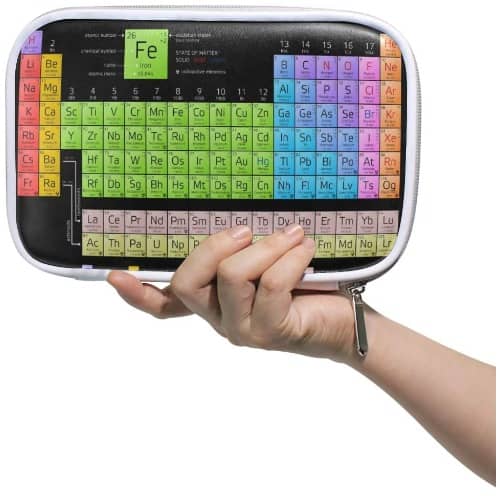 This periodic table pen case can be also used as a cosmetic bag, and it's an amazing first gift on this list. It's made of microfiber leather, a superior quality and durable fabric.
Its main compartment has a zipper and it can be easily fit in purses, school bags or backpacks! With its nice looks, this pencil case is both a solution to keep you organized and to show everyone else just how much you love chemistry! 
#2 Specialized Chemistry Goggles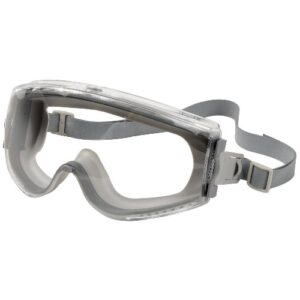 Another way to show your love is helping your special someone to protect their precious eyes. With these essential chemistry goggles, they won't have to worry about any kind of liquids or gasses getting into their eyes. These one are Ideal for students, professionals and teachers alike, as you can never be too careful while handling hazardous materials.
They are also very comfortable and designed to be long-lasting and durable, helping you feel safe while doing what you most love in the lab. 
#3 Chemistry Burp and Bib Set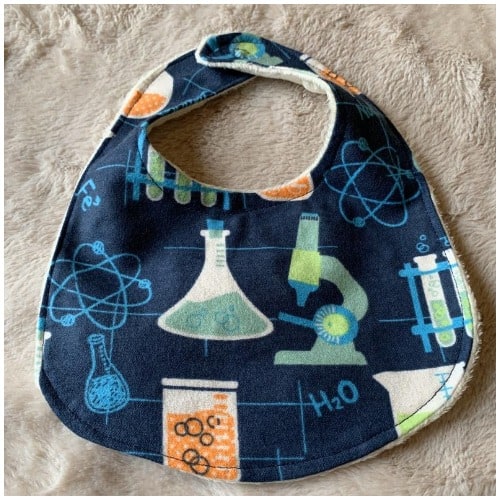 Science! This is the first thing we should make our kids fall in love with. And with this cute burp and bib chemistry set, it'll be easy to make our baby feel special.
On the side of the item offers the scientific patter, while on the other side there's a yellow, hypoallergenic fabric to keep your baby safe. The bib is 5.25 inches (13.34 cm) from neck slope to bottom, while the burp is 13.5 inches (34.29 cm) long. 
#4 The Photographic Card Deck of the Elements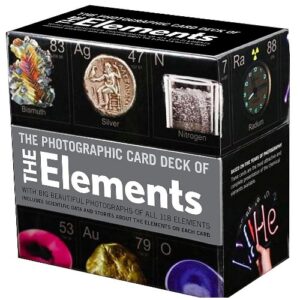 Another good way to make children love science or simply have something beautiful to look at when you need it. If you love chemistry, you'll love the Elements Card Deck! This mesmerizing memorizing aid for people age 10 to adult features beautiful photographs of all 118 elements on the periodic table.
It also comes with scientific facts on the back of each one, so that you can learn something new every time you play. The deck includes additional cards that explain the properties of the elements and suggest activities other than just the memorizing aid. 
#5 Caffeine Molecule Earrings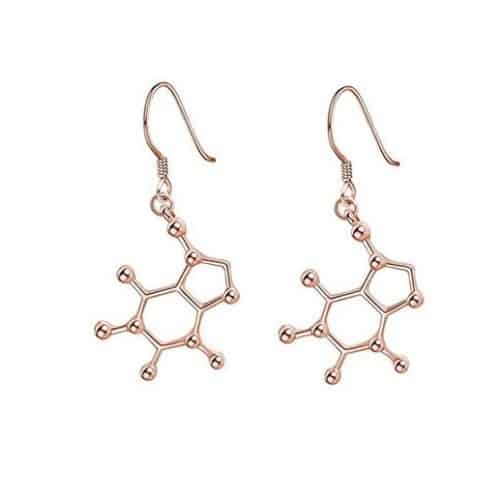 Loving science and loving coffee go hand-by-hand. If you know someone that thinks like this, help them show their love for caffeine with these funny and stylish caffeine molecule earrings. They feature the entire caffeine molecule, a joke maybe not many people will get, but those who do will find these earrings amazingly funny.
They are the perfect chemistry gift for your wife, girlfriend or daughter, and also come in various colors including rose gold, silver, and gold. 
#6 Chemistry Joke T-shirt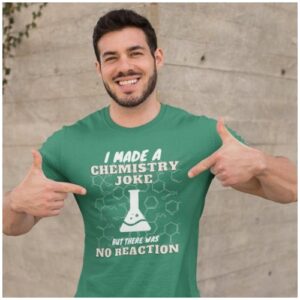 "I Made A Chemistry Joke, But There Was No Reaction". We're being honest here when we said that we laughed out loud when we found this one, so we decided to add it to the list!
This one will be great for your chemistry professor or teacher. It's also 100% Soft cotton fiber, and comes in different varying colors. 
#7 Chemistry Themed Holiday Card
Specially good for important dates, these unique periodic table cards are available as single greeting cards, or may come in packs if you want to give them to multiple coworkers.
This science Christmas card shows everyone your festive spirit, and holds inside a funny (and real) description of Holmium as a rare element first discovered in the Northern Hemisphere. It's fun, clever, and very stylish and sturdy! 
#8 Element Encyclopedia Book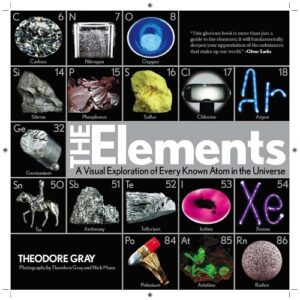 This one is amazing to have as an extra for the card game we mentioned before. When learning the periodic table, the best way is to have a visual image of each of the elements in question, and this book will help anybody master it with ease.
Thanks to its collection of pictures for all the 118 elements and its organized, sequential guide by atomic number, every element is represented by a big beautiful picture that closely represents it in its purest form.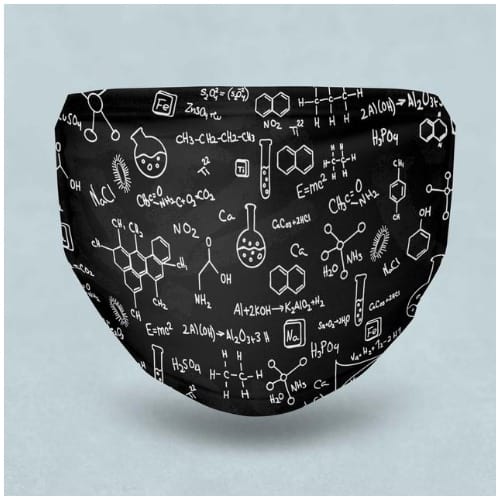 This 7 layer face mask comes with a 5 layer pm2.5 activated carbon filter, which makes it useful in this dire times we are currently facing, and that appear to be something of a new normal. But you can be stylish while also taking care of yourself, and this face mask probes it easily.
All you need is to put it on and everyone will know and understand your love or chemistry! Besides, you may also remove the carbon filter and use it just as a mask cover for other masks! 
#10 Periodic Table Leggings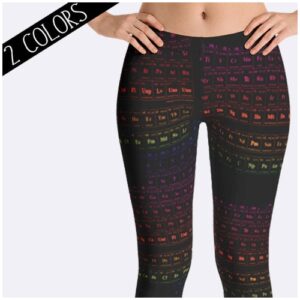 Let's go with some fashion now, shall we? With this stylish Periodic table legging, you can indulge in brilliant fashion! These brightly colored leggings are silky-soft, perfect to give your look an air of quirky, geeky and nerd charm. It's a clever way to refresh your wardrobe, and it will help you in class if you need to find certain elements!
They are also four-way stretch, which means the fabric stretches and recovers both on the cross and lengthwise grains. 
#11 Home Chemistry Experiments Book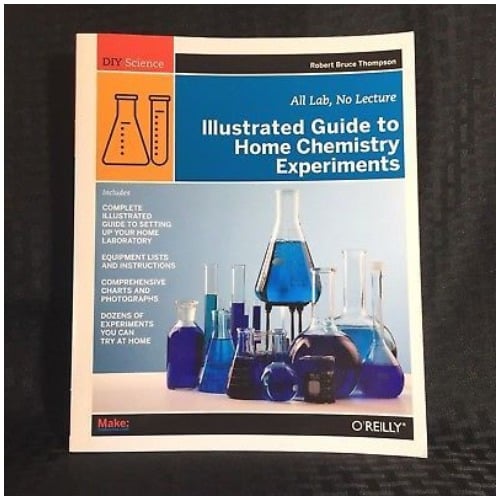 Studying chemistry can be hard, specially when you spend all day reading books and missing on the fun of practical experiences. If you want to give your children a better understanding of science, this home experiments book is perfect for the job. And it's not only for students; DIY hobbyists, and science buffs can use them too!
This one-of-a-kind guide explains how to set up and use a home chemistry lab, with careful step-by-step instructions for conducting experiments in basic chemistry. 
#12 Gold Yellow Dopamine Ring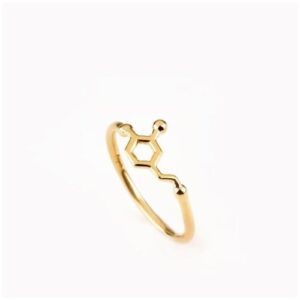 This cute little ring holds a chemistry symbol design, specifically the dopamine chemical structure. It's a minimalist piece that can go a long way well with the Caffeine earrings we mentioned earlier, perfectly complementing an already gift idea.
They're also handmade, made of gold and perfect for a marriage proposal. Don't hold back on your gifts! 
#13 Lip Balm Set: Undeniable Chemistry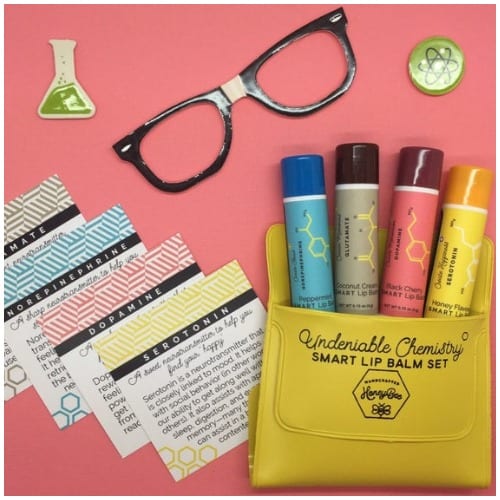 Another one that can show how much you know someone, specially science and chemistry lovers! This gift is perfect for the woman who loves both chemistry and looking nice.
It's a sweet treat for smart lips, and each set has 4 lip balms comes with different flavors matched with a specific neurotransmitter: serotonin, dopamine, glutamate, and norepinephrine.
If you don't know what do they do, it also includes a set of cards that explain why each molecule is so important. 
#14 Chemistry Cookie Cutters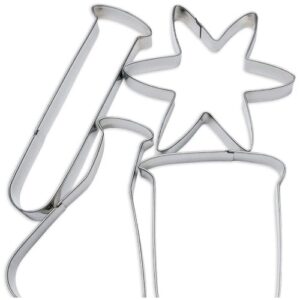 Bring some chemistry into the kitchen! With these fun and useful chemistry cookie cutters, you can add your spice of science to any dessert you make.
This set contains four different cutters, all shaped as different science objects: Test Tube, Atom, Beaker and Flask. It also includes a cookie recipe to make tasty, science themed cookies every time you can. It's dishwasher safe and won't rust, and that's always a plus.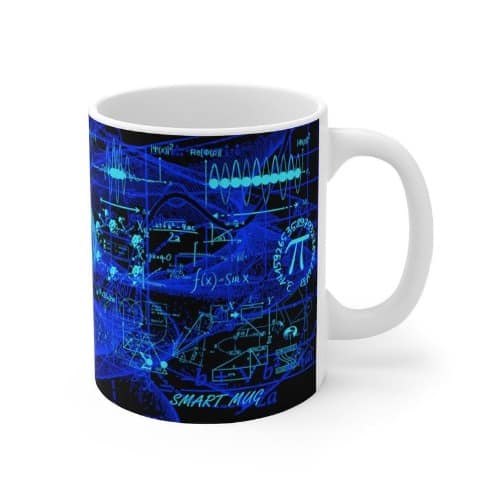 Perfect for coffee, tea and hot chocolate. This is a classic, durable white ceramic mug that comes with a twist: It's perfect for chemistry lovers! Its high-quality sublimation makes it even better, as it also has a shiny enamel finish. The mugs are made by professional sublimation printers.
They are thermally pressed to permanently merge the graphics so that they become part of the mug, meaning the image doesn't peel off, fade, or scratch off. 
#16 Molecular Gastronomy Starter Kit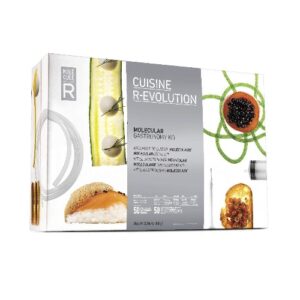 This DIY molecular gastronomy kit includes all you need to experiment at home with the molecular techniques seen on Top Chef.
This kit includes five measured food additives with specialized molecular tools, as well as a 50-recipe DVD from high-end restaurants, so you can give your family an incredible treat while you practice on your chemistry classes and hobbies! 
#17 Comic Book Fan Chemistry Hoodie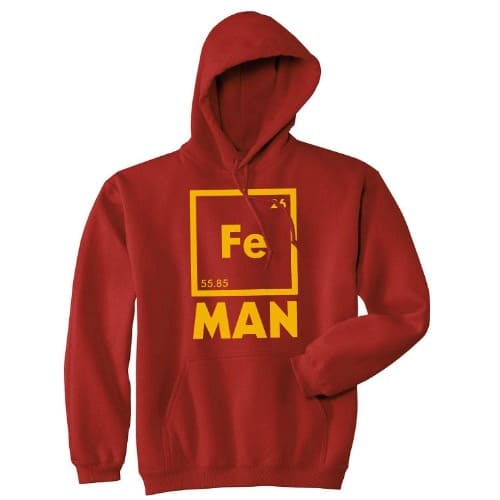 If you know somebody who is a comic book fan, specially a marvel one, why not give him or her a gift so that everyone calls them Iron Man? If someone you know love Marvel Comics and chemistry you can surprise them with this funny chemistry hoodie.
It is suitable for both guys and girls and features the element Fe (Iron on the periodic table). It's simple, yet humorous, and an inside joke that only the real chemistry fans will get. 
#18 Periodic Table Element Key Chain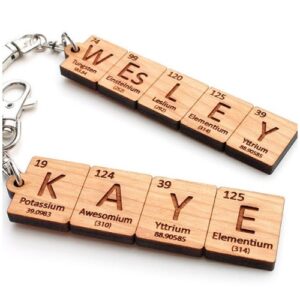 This is a pretty neat key clip that comes with personalized elements from the periodic table that spell your name! It's a perfect gift for science nerds or chemistry teachers or students.
You can attach this keychain to your backpack with its trigger clip that works great for about 3 or 4 keys. It's made of American black cherry wood, and designed and manufactured at the Nestled Pine Workshop in Lone Rock, Wisconsin.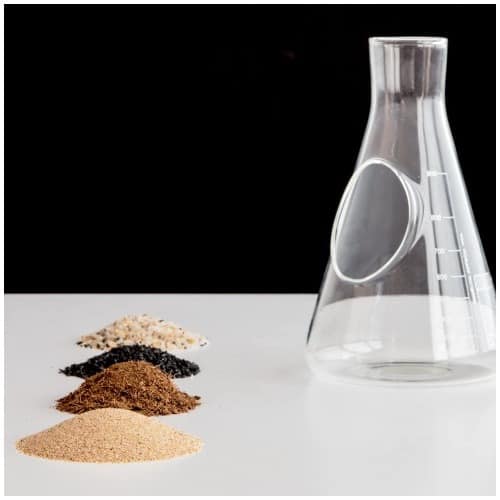 This is a unique chemistry gift for people who are also biology lovers. This terrarium is the perfect industrial home decor, made from an Erlenmeyer flask that's planted with freshly collected Dicranum Mood Moss.
It's an easy to care plan, perfectly suited for terrarium life. With a tapered shape like a lab flasks, it keeps moisture inside and reduces the need for frequent watering. 
#20 Science Lab Equipment Art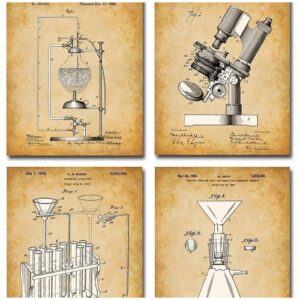 Sometimes, we don't know what useful gift we can give someone. But why not give them a piece of science history to hang on their walls?
These incredibly detailed and original pieces include four unique pieces of art, with illustrations that are sure to look great in any home, living room or classroom. They are also printed on crystal archive paper, which ensures it will last a lifetime. 
#21 A Nice Chemistry Dress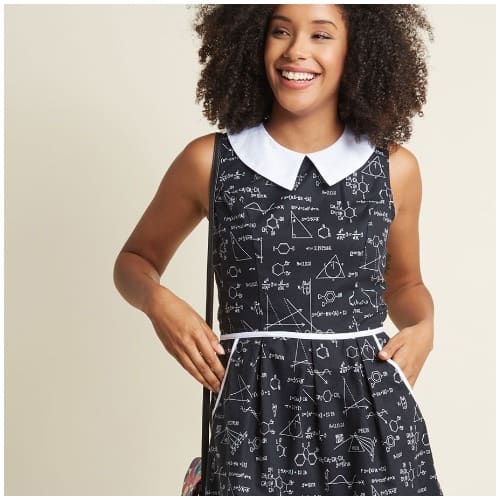 If you love chemistry, you should wear it wherever you go. A nice ensemble always earns attention, so this black A-line dress helps you tell the world how much do you love science in extraordinary style!
This dress features a lot of science formulas, a white-collar and hip pockets, for you to store your glasses or chemistry keychain. It's also made-in-LA frock, which truly adds up to an amazing fresh and geeky look! 
#22 Scientific Flask Glass Set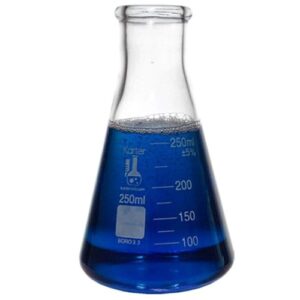 Sometimes, the direct route is the best route. So, why not give something chemistry related to that friend of yours? This flask set will help anyone do science outside the lab, which is perfect for students and teachers who like to experiment on new formulas regularly.
These flasks are of an exceptional quality, designed for very heavy duty and suitable for use at a home lab. 
#23 Special Chemistry Spice Rack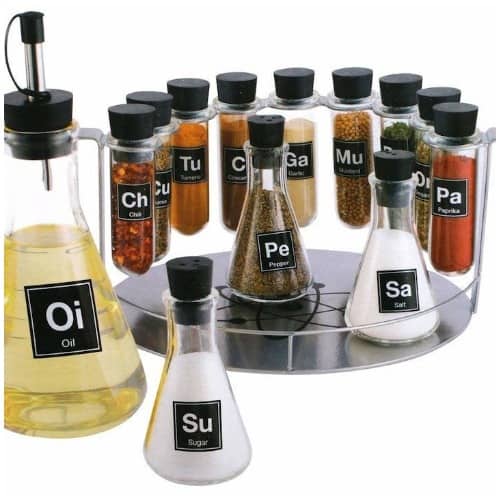 Bring the science into your kitchen, and not only with your desserts! The test tube spice jars and flasks in this chemistry spice set are both cute and handy, and will make you look like the best mad scientist while cooking! With this spice rack, you're sure to create many delicious science experiments in the kitchen.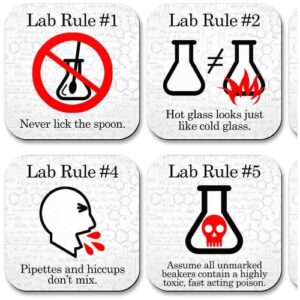 If you want to keep your tables clean and show your guests how much you are into science, with this six set of chemistry drinks coasters there will be no doubt. Featuring six different lab rules designs, these funny coasters are the perfect gift for anyone who works in a chemistry lab or simply loves their chemistry.
It's also presented in a handy drawstring gift bag to make them into an even more memorable gift! 
#25 Periodic Table Cutting Board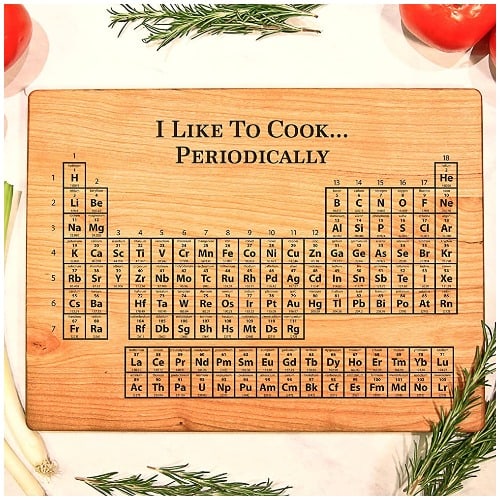 This "periodic table" cutting board is the perfect gift for that man or woman who is a science lover and also likes to cook. It's made of bamboo, which is stronger than hardwood and easier on kitchen knives. And is oiled, helping it achieve a more lasting durability.
Its perfect laser engraved frame makes it not only a cooking tool but also a piece of art, and is more sustainably harvested than traditional hardwoods. 
#26 Chemistry Themed Socks
Wear the elements everywhere you go! If you know someone who loves science but would'n wear something too scandalous on the public, give them a pair of these socks. The can wear them to work or class and no one will know they own them, but will feel happy knowing they do have them.
These socks feature various drawings of lab equipment, molecules and atoms, perfect for any science lover. And they are Unisex. 
Molecular formula cufflins are a great gift for chemistry lovers, and also to people who like to look dapper. They are handmade and well polished with thick strengthening clasps, sturdy and durable: perfect for daily outfits. It's trending style it's nice for personalized wedding, Valentine's Day or New year Christmas presents.