The term "paradise" tends to conjure up images of blue skies and seas, white-sand beaches, and swaying palm trees.
Going to the beach is the quintessential summer activity–even in landlocked areas, people flock to the nearest lake shore when the weather gets hot.
But while plenty of people like the beach as a friend, some people love the beach like a soulmate.
Whether they live there physically or just mentally, we're talking about those people who have the ocean on their mind all day every day.
If you know someone whose love for the beach runs as deep as the sea, these 27 cute and clever gifts will make your beach guy or girl feel a wave of gratitude.
#1 A Wall Print With An Ocean View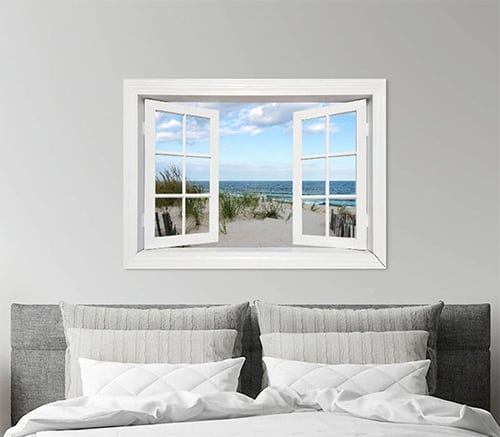 For the beach lover who lives nowhere near the ocean. Maybe you can't buy them their own beach house, but you can give them a view!
This photo of the sand dunes and the sea beyond is printed on canvas and placed in a kiln-dried wood frame made to resemble a window looking out at the beach.
A special protectant seal will make sure it looks breathtakingly real for years without succumbing to moisture or UV damage.
#2 An Extra Large Picnic Blanket With A Handle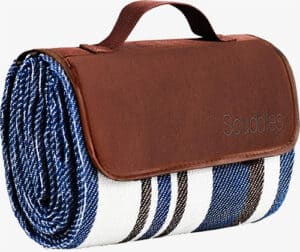 Sure they have plenty of beach blankets, but do they have one that's specifically designed to keep sand and water away from their food?
This blanket is made from three layers–a super-soft woven layer for sitting on, a sand- and waterproof PEVA backing, and a foam padding layer in between. Measuring 5'x5′, it also provides plenty of space to spread out on. 
It comes in a bunch of fun striped patterns, and even includes a built-in strap that makes it easy to fold up and transport without taking up space in their beach bag.
#3 A Map Of Their Favorite Beach On A Pillow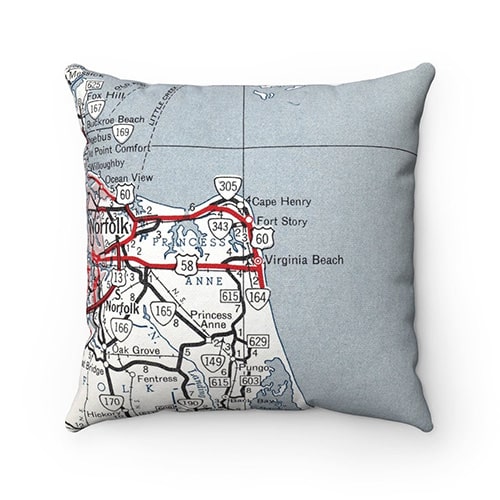 Whether their house is a few hundred feet from the ocean or a few hundred miles, this will be a great little piece of decor that'll make them feel like they're always in their favorite place.
The designs are copied from vintage maps. Some imperfections and fold lines even make it onto the print to add extra character to their room!
This shop sells map pillows for various seaside locales, but there's also an option to order a completely custom pillow of any location. ven if they call the smallest beach town home (or home-away-from-home), you can immortalize it for them on their very own pillow!
#4 An Attractive Beach Tote With A Built-In Beverage Pouch and Dispenser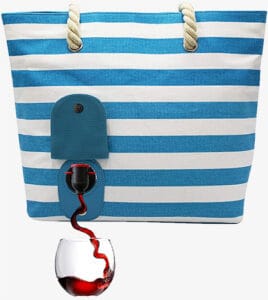 If their idea of paradise is sipping wine on the beach then this bag will make their life!
The PortoVino Wine Purse is not just a beautiful, high-quality beach bag. It contains a secret insulated pocket that holds 1.5L of the beverage of their choice! It can hold up to 2 bottles of wine and everything else they need for a day enjoying the sun, surf, and sand.
No matter what they like to drink while they sunbathe, this bag will help them keep a cool supply on hand without having to lug a cooler with them, and it comes with a dispensing spout for easy serving!
#5 A Personalized Beach Hat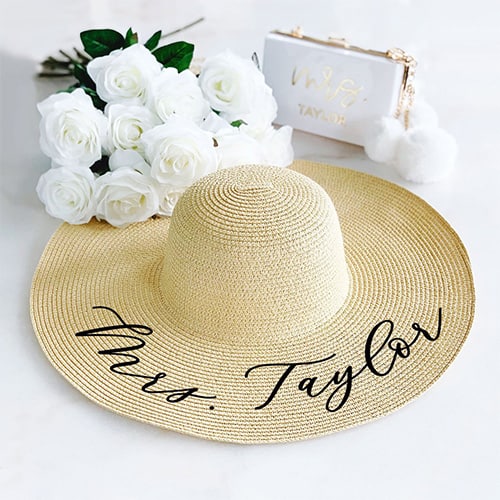 For the beach gal who doesn't love sunburn, this hat is a stylish addition to her beach wardrobe.
A big floppy straw hat is a great way to protect from harmful UV rays and look cute at the same time. 
This one comes in tan, white, or blush and can be personalized up to 15 letters (including spaces)!
#6 A Beach Chair for Their Book or Tablet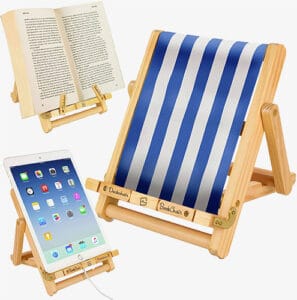 For the beach guy or girl who loves their beach reads!
This book chair will hold their book or tablet in an easy to read position so they can lounge comfortably while they read. No more stiff necks from straining to look at their page or screen from an uncomfortable angle.
The chair comes in a stripy blue and white pattern that fits in perfectly on the beach and includes page holders and a spot for the charging cable!
#7 Customized Beach Spikers Cup Holder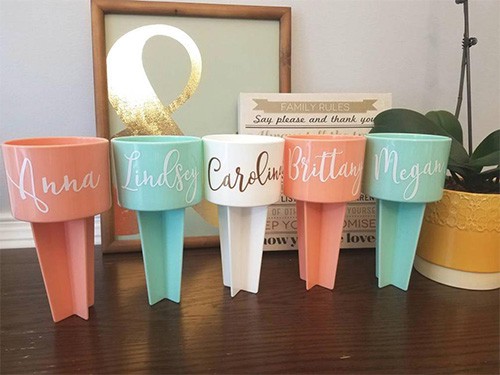 So they can keep their drink, wallet, or phone in easy reach without getting all sandy! No more having to rummage through their bag when they need to check a text or want to get a snack.
These are the original Beach Spiker and come on in dozens of different colors! You can then personalize them with a name, phrase, or monogram in a bunch of different fonts, colors, and styles.
Not only will these make their day at the beach even breezier, but you can show you were really thinking about them by designing their Spiker to perfectly match their unique taste and style.
#8 Their Very Own Mermaid Tail Blanket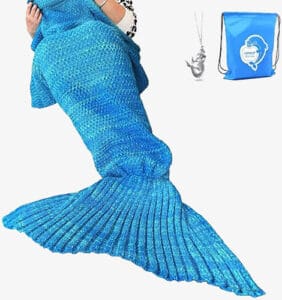 For the beach gal who spent most of her days in the ocean pretending to be a mermaid. Finally, a tail of her very own!
This knitted blanket is super comfortable and has an open back so it's easy to slip in and out of.

It comes in 9 colors and 2 different sizes, and each one comes with a mermaid charm necklace.
This is the perfect blanket for her to curl up in as she watches The Little Mermaid and Aquamarine for the millionth time.
#9 This Box Full of Beach-Themed Goodies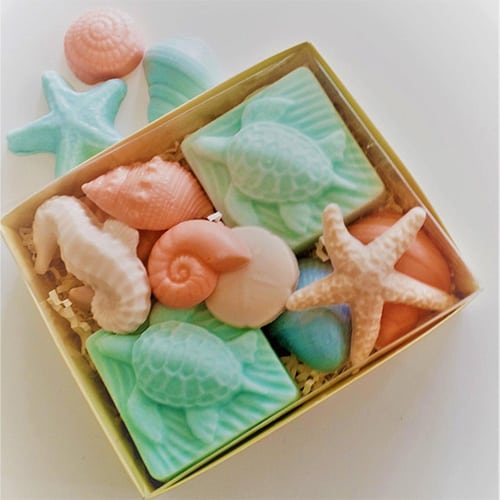 Why settle for one gift when this box comes with a bunch of things they're bound to love?
This assortment of beach-themed gifts will go great in any coastal themed house! It includes a mint-scented soy candle in a beautiful blue holder, a potted succulent, decorative shells, a nautical rope mug, a beachy Castelbel soap bar, and a wooden THE BEACH IS CALLING AND I MUST GO sign.
Makes a perfect housewarming gift, especially for a new beach house!
#10 This Picnic Basket With A Full Flatware Set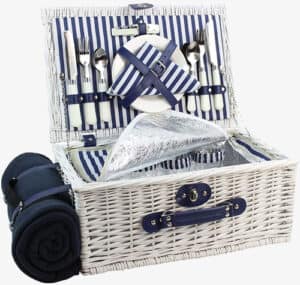 Turn their seaside picnic into a classy affair!
This classic wicker picnic hamper comes with an insulated cooler compartment that'll keep their food fresh.
It also comes with an all-in-1 bottle opener and 4 of each: plates, wine glasses, cotton napkins, and stainless steel forks, spoons, and knives. It even includes a fleece picnic blanket with waterproof backing.
The navy and white color scheme is the perfect nautical touch for a seaside meal!
#11 A Box of Sea Glass Soap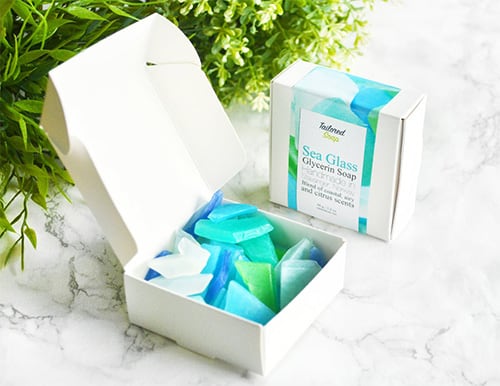 Now they can pretend that they're on the beach every time they wash their hands!
These handmade vegan soaps contain glycerin and coconut oil to provide hydration and are free of harsh sulfates.
Lightly scented with citrus, the soaps come in a mix of six beautiful colors that look exactly like real sea glass! Not only are they practical, but they'll add to the bathroom's overall aesthetic.
#12 This Beach Cottage Scented Candle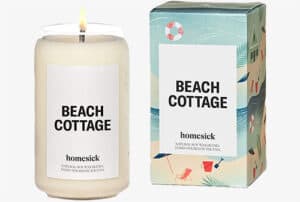 Even when they can't physically go to the beach, this candle will bring the beach to them!
This Homesick candle is made from an all-natural soy wax blend that's hand-poured in the USA. Burning this candle will help evoke the scents and memories of the beach with notes of sandalwood, marine, and sea air.
Even on the dreariest winter day, they can burn this candle and feel like they're back at their favorite place!
Burns for 60-80 hours.
#13 Or A String of Sea Glass Lights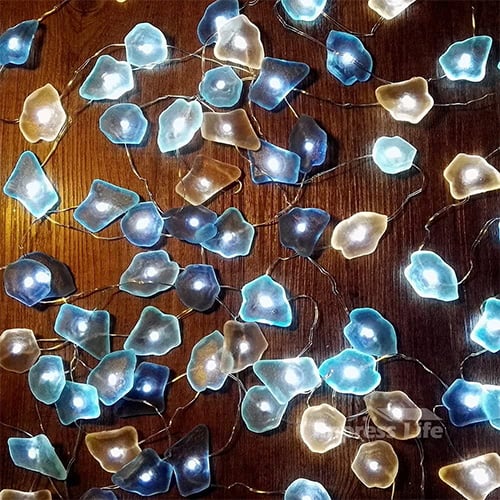 Whether they string these on their Christmas tree or use them to add a little bit of light to their back patio, these lights will add a fun, beachy touch to their home!
These versatile lights can be battery operated or plugged into an outlet, and the remote control feature allows for different dim and flicker settings as well as an automatic shut off option.
The pale blue light will gently illuminate any space with an almost ethereal effect and the abstract shapes of the sea glass are especially fun to look at. Any beach lover will adore the marine aesthetic these add to their home!
#14 A Great White Shaker Stand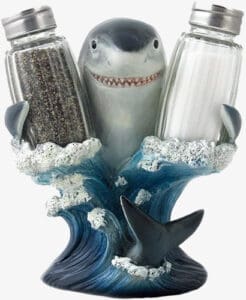 If your beach lover has a countdown to Shark Week, then their kitchen needs this accessory.
This shark statue comes with the salt and pepper shaker included and holds them up so they won't get lost in the clutter of the spice cabinet. Both the shark and the waves around it are painted with such detail they almost look real!
This fun little guy will turn your beach bum's kitchen counter into a miniature ocean and serve as a great conversation piece when they're entertaining!
#15 This Comfy Beach Bum Sweatshirt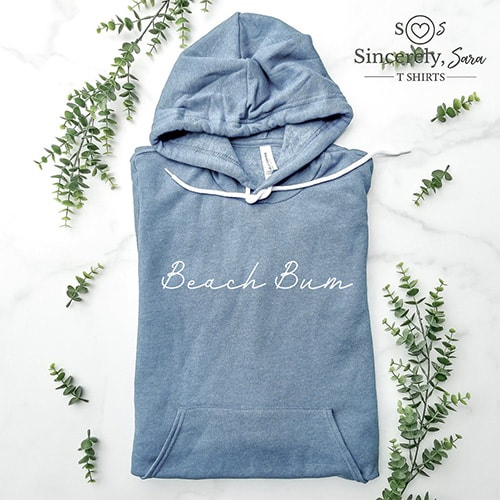 Because they have to get out of the water eventually, and when they do they'll love cozying up in this!
This Bella + Canvas sweatshirt is made from a super comfortable sponge fleece that's so soft it feels like wearing a cloud. A warm, dry cloud. The minimalist Beach Bum design is applied using a commercial-grade heat press.
Choose your favorite color from 7 gorgeous different shades.
#16 A Set Of Beach Themed Wine Charms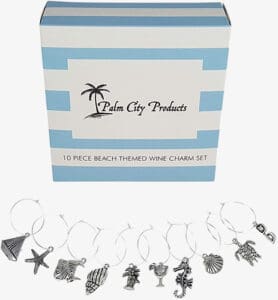 For the host or hostess with the mostest who knows the only thing better than a party is a party on the beach!
No matter where they're entertaining, these cute little wine charms will add a touch of seaside charm to the event, and make sure no one mixes up wine glasses.
These come in a set of ten and include all kinds of cute little sea critters and beachy trinkets.
#17 Some Personalized Tea Towels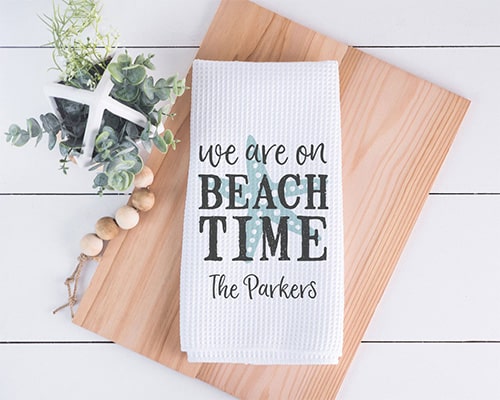 Perfect for the beach lovers who are always taking it at an easy pace, even when they're not on the beach.
The waffle weave of this towel creates little pockets that catch the water and make it super efficient for drying. "We're On Beach Time" is printed over a cute teal starfish. Pretty and practical!
Add their name to give it an extra homey touch.
#18 A Set Of Sea Glass Windchimes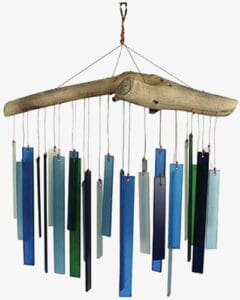 Nothing says "welcome to the beach" like sea glass and driftwood! If they have an outdoor space they love spending time in, these wind chimes will add a soothing aural ambiance and a little coastal charm.
These wind chimes are handcrafted with sandblasted glass and found wood. Each piece comes out completely unique!
#19 A Himalayan Salt Lamp With a Coastal Touch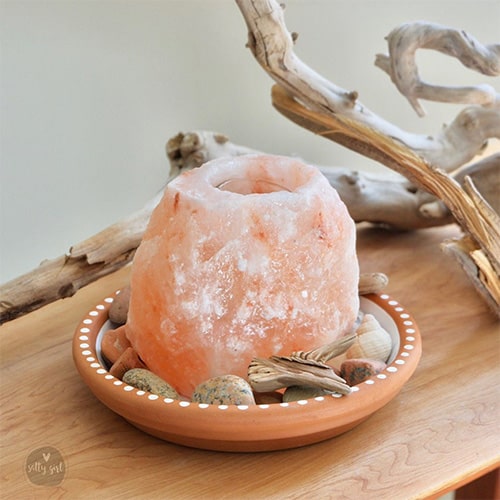 Help brighten up their home with this fun handmade light fixture!
Himalayan Salt Lamps cast a warm, soothing glow that gently illuminates without being overly harsh or bright. This one is hand-carved and then presented in a hand-painted terra cotta dish with salmon-colored shells and driftwood pieces from the coast of Maine.
This little coastal themed lamp will help put a smile on their face when they can't go to the beach themselves and can help improve sleep by limiting bright light exposure before bed.
#20 This Sign That Expresses Their Displeasure With Seasons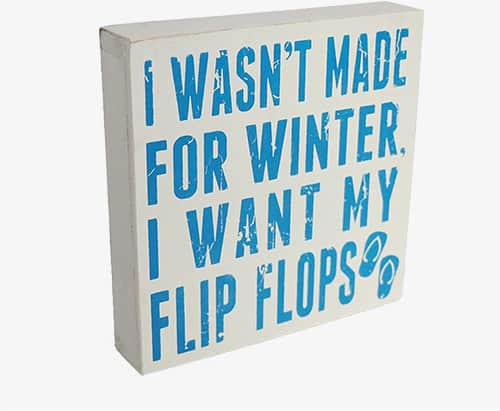 For the beach lover who wishes they could hibernate from September to May.
This box sign can free-stand on a desk or mantelpiece or be hung on a wall. The blue and white color scheme and distressed edges go perfectly with any seashore decor!
Or they can display it in their office so their coworkers know not to start any conversations on the weather.
Wherever they hang this humorous little sign, it's sure to cheer them up enough to get through those cold, beach-free months.
#21 This Beachy Case For Their Phone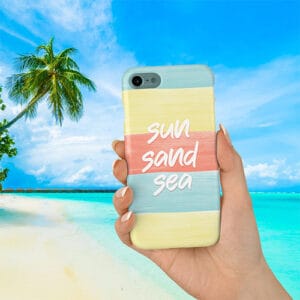 Looking for a gift for a young beach bum? Since they always have their phone with them no matter where they roam, this case will help them carry the beach with them anywhere!
This case comes in either a lightweight "SLIM" version that won't make the phone too bulky or a "TOUGH" version with extra padding.
The fun pastels will brighten up even the dreariest of days. With the "sun sea and sand" design, they'll always have their personality on display!
#22 This Candle That Captures a Little Piece of the Ocean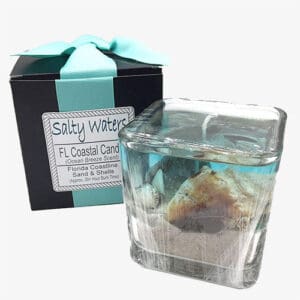 This is a gift that the transplanted Floridian, or anyone who has a special place in their heart for the Sunshine State, will adore.
This candle is made with real sand from New Smyrna Beach and seashells from up and down Florida's Atlantic coast. The transparent turquoise gel wax looks just like water, creating a window to the ocean floor.
The candle is scented with "cottage ocean breeze" and comes already packaged in a beautiful gift box for your convenience.
#23 A Pillow That Knows Life Is Better On The Beach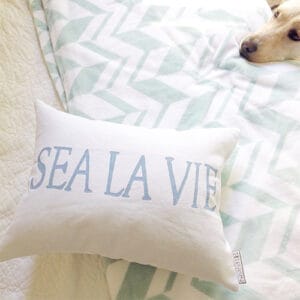 For the beach lover who's never sea-n an ocean pun they didn't love. Or your ocean-loving Francophile!
The "Sea La Vie" pillow goes great with other coastal decor, but it's also minimalist enough to fit in any home.
The design can be handpainted in almost 20 different colors on either a white or natural canvas pillow. There's also an option to print in white on red, navy, light blue, or gray canvas.
The pillow is stuffed with a high-quality hypoallergenic poly-fil.
#24 A Custom Watercolor Of Their Beach House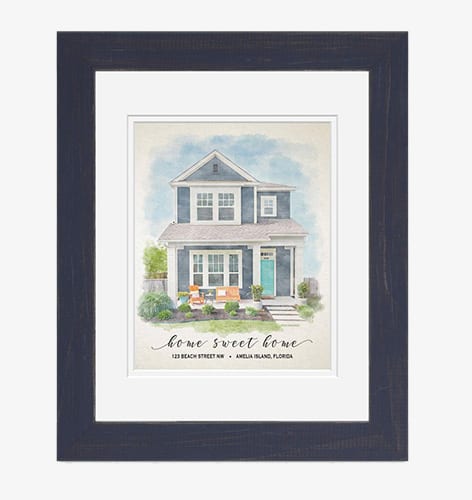 Whether they've just moved in or it's been in their family for generations, this is a heartwarming way to celebrate their love for the beach!
All you have to do is submit the house's address and the artist will create a digital watercolor print. You can even ask for objects to be added or removed in the finished product and add a personalized message.
Available with or without a frame in 6 different sizes, or a digital file that you can frame yourself.
#25 This SeaShell Monogram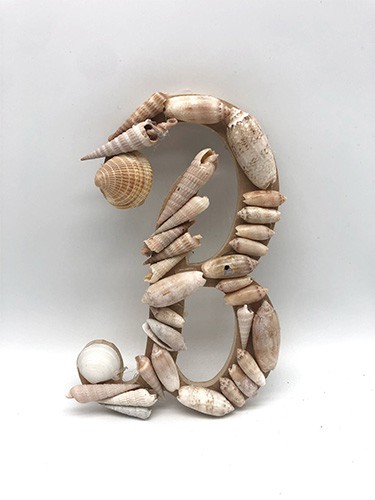 This custom-made piece is a great way to personalize all their beach-themed space.
These monograms are made with shells hand-collected in Myrtle Beach, SC.
Each one is made to order, so the unique blend of natural shells means that each one is unique and your gift will truly be one-of-a-kind!
Choose from either a 6″ or 9″ letter. These are great to get for the beach lover who lives with roommates to hang on their door or over their side of the room.
#26 A Mug For The Seashell Collector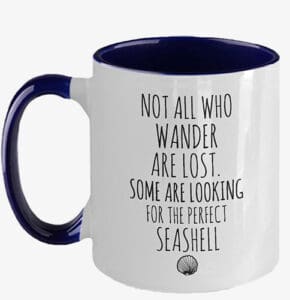 The beach is not for rushing: it's for going with the flow and taking your time.
If you have a beach bum in your life who takes that to heart, this is the perfect mug for them to sip their coffee from as they watch the sunrise over the ocean.
This high-quality ceramic mug is available in either 11 oz or 15 oz capacity. The 11 oz mugs are available with an accent color on the inside and handle in navy, pink, or black.
The design will never fade and the mug is dishwasher and microwave safe.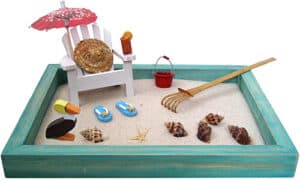 If they can't skip work to go to the beach, bring the beach to their desk!
 Zen gardens are used for meditation, relaxation, and mindfulness practice. What better way to help them relax than to transport them to their happy place in the middle of their stressful workday?
This handcrafted hardwood box is 8″x10″. It comes with white sands and anything else they could need to escape to the seaside, including a lounge chair, a drink, flip flops, and seashells.