21 Gift Ideas For Outdoorsmen Under 50$
Ahhhh the great outdoors. Or the horrifyingly scary outernet. All just a matter of perspective.
You might not understand why your friend enjoys spending their free time living like it's Little House on the Prairie and hunt or fish for their own food, but you want to support them right?
Then you looked into all that outdoorsy stuff and–yowzas!–realized that communing with nature can be pretty expensive!
So how do you show your love and support for them and their hobbies without breaking the bank?
We've scoured the internet for you and found 21 awesome gifts for the outdoorsmen in your life, all under $50!
#1 Or A Mug For The Mountain Man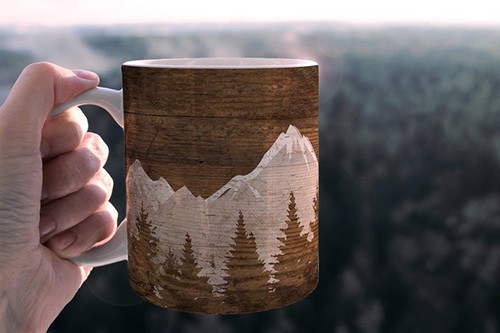 He can't climb those peaks until he gets his coffee, but he can still take them in at the same time!
This rustic mug might look like it's carved from wood, but it's actually 100% ceramic with a high-quality printed design.
It's both microwave and dishwasher safe, so he can get to the mountains quicker without having to fuss over it.
Best of all, it costs less than $16!
#2 This All-In-One Tool Built For Any Occasion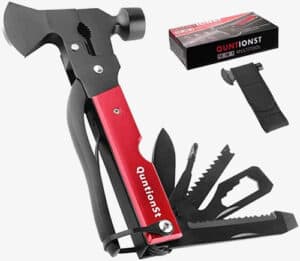 Anything can happen in the woods. Even the most experienced outdoorsman can find himself in a sticky situation. With this tool in his belt, or backpack, there's no situation he won't be prepared for!
This Quintionist Multi Tool Axe includes 16 functions in one easy to carry tool: flat jaw pliers, regular pliers, a wire cutter, a hammer, an axe, a plier handle, a spring, a tail lock, a knife, a bottle opener, a file, a slotted screwdriver, an assorted hex wrench, a fish descaler, a wood saw, and a Phillips screwdriver.
It weighs less than a pound, comes with a sheath for easy carrying, and costs less than $20!
#3 A Set Of Pint Glasses For The Skier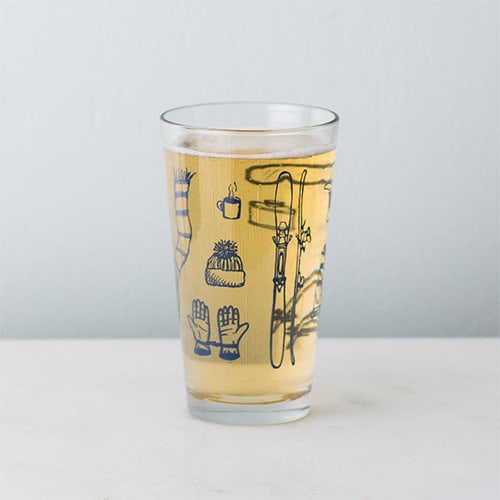 Maybe your outdoorsman is the sporty type. The snowy and sporty type.
Whether he prefers downhill or cross country skiing, if his idea of the perfect ending to any adventure is a tall glass of beer, we have the perfect idea for him.
This handmade glass holds 16 oz. The screen-printed design is available in either red or navy, and it's dishwasher safe!
This set of 2 glasses is available for only $30!
#4 A Pair Of Waterproof Socks That Are Unbelievably Comfortable
There are few sensations more unpleasant than wet socks. And for someone who spends a lot of time in non-climate controlled environments, this can very quickly become an unfortunate problem.
Sure there are lots of waterproof socks out there, but a lot of them feel like wearing a pair of plastic bags on your feet.
Good news! Randy Sun has created waterproof socks that are fast-drying and breathable! The three-layer design prevents water molecules from getting in and lets internal moisture escape as it moves. The heel and toe are reinforced for extra padding and comfort.
Available in 17 colors, these socks cost between $20-$45!
#5 A Pocket-Sized Water Filter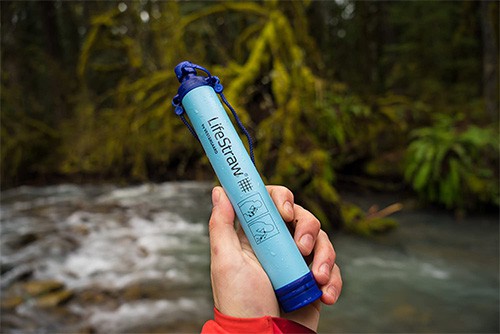 When exploring the great outdoors staying hydrated makes all the difference between an exciting adventure and an emergency. But just because water is natural, doesn't make it safe to drink.
So your outdoorsman has a few options: lugging around large, heavy quantities of water, stuffing a bulky purifier into his bag, or drinking all of his water with bitter-tasting iodine tablets. Or, you can help them easily stay safe and travel light with a LifeStraw!
Weighing only 2 oz, this tiny water filter surpasses even EPA filter standards. It filters particles as small as .2 microns and removes a minimum of 99.9999% of waterborne bacteria and 99.9% of waterborne parasites. And it's completely chemical-free, does not require batteries, and has no moving parts.
Each one filters up to 1000 gallons, and you can get up to 3 without breaking $45 (1 will only run you about $18)!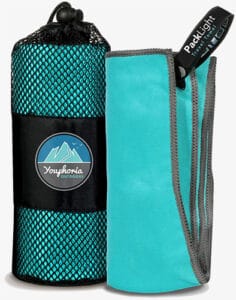 When he's exploring the great outdoors, packing light is the best way to go. That means he's only going to have room for one towel if that.
A normal towel can take up a lot of space, never fully dry between uses (which will make everything else in his bag damp), and end up smelling musty.
Youphoria's PackLight travel towel fixes all of these problems easily! Made from microfibers, it holds up to 5 times its weight in water and dries up to 5 times faster than a normal towel!
Plus it rolls up nice and tight, making it easier to pack in a cramped bag. It's also mildew resistant so it will stay odor-free!
Includes a carry bag and a hanging loop that can easily snap onto a towel rack or even a branch! Available in 3 sizes, 10 colors, and for less than $20!
#7 A Backpack That Becomes a Camping Chair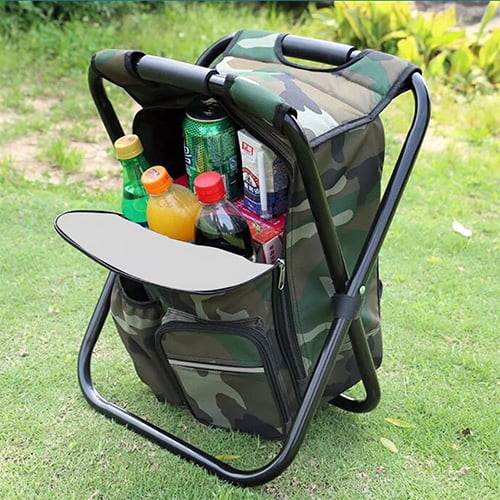 Easy to carry everything he needs for a mountaintop picnic and then not have to sit on the ground to eat it!
The CAMPORT Camping Chair Backpack weighs only 3.3lb, but is strong enough to hold 331 lbs!
It comes with dozens of pockets to hold everything he might need from water bottles and wallets to a camera or power bank. It also includes an insulated cooler bag!
It then opens up to create a sturdy, comfortable seat! It's made from durable, waterproof fabric and costs $49!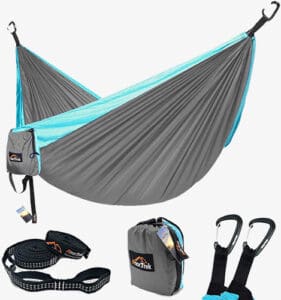 If you love your friend, but don't know how anyone could bear sleeping on the ground, help gift them a comfier sleeping arrangement on their outdoor adventures!
This camping hammock is easy to carry and set up, and makes for a super comfortable experience when sleeping in the great outdoors!
It's made from a lightweight but extremely durable 210T parachute nylon. Each tree strap (includes 2) is triple stitched, 10′ long with 18+1 adjustable loops that each holds 600 lb. It also includes 2 carabiners with 2,645-pound ratings.
It also comes with an easy-carry backpack! Available in 7 colors and 2 sizes, this hammock costs under $32!
#9 A Cool Glass For That Rare Inside Drink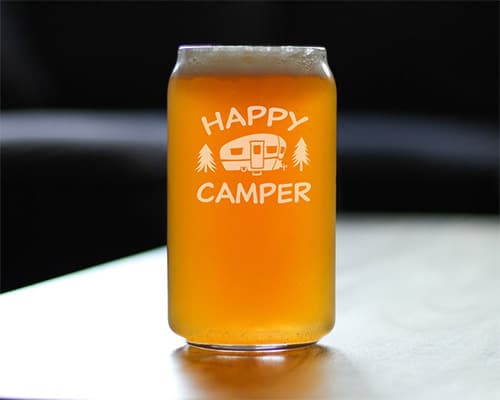 A great gift for the hiker or camper in your life to keep in his indoor residence! It's a little bit classier than drinking straight from the can but feels just as casual!
Bonus, this "Happy Camper" pint glass holds 16 oz to a can's 12 oz! The design is engraved by hand and will never wear off. It's dishwasher safe, perfect for everyday use.
And best of all? It's less than $20!
#10 A Pair of Light Up Gloves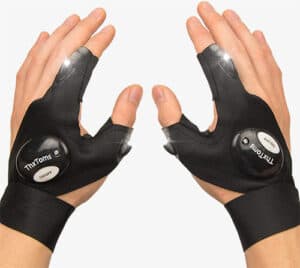 For those overnight trips in the great outdoors. Sometimes, a situation crops up where you just need two hands and a light. But what if he's out there on his own?
These gloves feature a bright LED light on both the thumb and pointer finger of each hand. They're lightweight and flexible, so he'll barely even notice he's wearing them! The adjustable elastic keeps them secure and stretches to accommodate most hand sizes.
The battery is easy to replace so he can keep these around for years of camping trips to come! A set of both right- and left-handed gloves costs less than $13.
#11 Some Wall Art To Make His House Feel More Like His True Home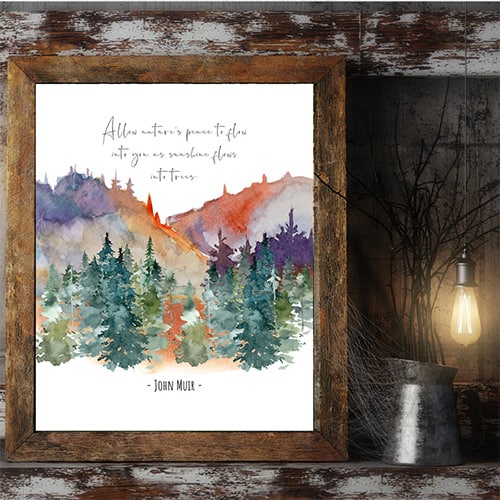 Unfortunately, running away to live in the woods full time is just a little bit impractical. The good news is, wherever he spends most of his indoor days, this cool painting will make him practically smell those pine trees and feel the sun on his skin.
This watercolor art print features a quote from Scottish-American naturalist and "Father of the National Parks," John Muir. It's a great way to add a bit of color and the great outdoors to even the smallest, drabbest cubicle.
It comes in 4 sizes on premium paper, and is even available as a magnet! Prices start at under $12 and stay under $35!
#12 A Waterproof Floating Bag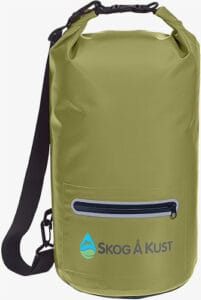 Perfect for the outdoorsman who's drawn to water like a fish!
The Skog A Kust DrySak is made from heavy-duty 500-D PVC so when they say it'll keep out all the elements, they mean it! The watertight seams and roll down top provide extra protection to keep all of your belongings dry.
It also includes a splash-proof outer pocket to keep his smaller essentials easily accessible. The zippers feature a reflective trim that's easily visible at night, and the adjustable arm strap helps him easily carry it anywhere. It can also be attached to a boat or kayak and float along beside him!
Available in 20 colors, a 20L bag costs less than $27!
#13 A Bottle Cap Holder That Will Go Swimmingly With His Decor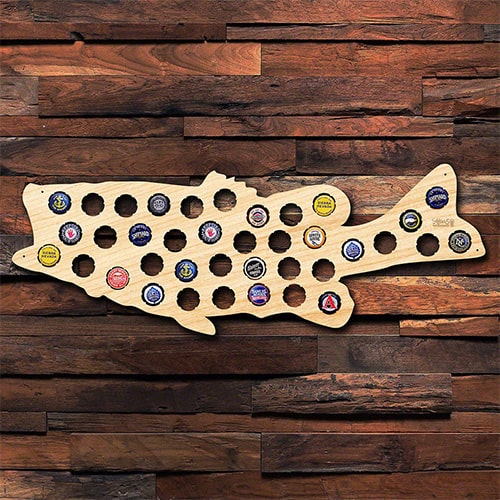 Perfect for the guy who loves fishing and drinking beer. Now he can commemorate his fishing trips by saving his bottle caps on this hand-carved bass beer cap holder!
The fish beer cap map measures 24″x9″ and features pre-drilled nail openings. It can hold up to 38 bottle caps!
The natural birch finish costs just under $40, and you can add a dark walnut stain for just $10 and still stay under budget!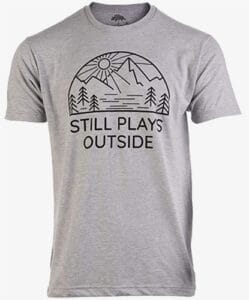 Spending a lot of time outdoors is a bit of a novelty for adults, but when you think about it, that used to be the dream as a kid! This t-shirt proudly declares that he hasn't completely grown up.
This shirt is made from 100% ringspun American-grown cotton woven in a fine Jersey knit. They're both designed and printed in Ann Arbor, Michigan with premium inks that are vibrant, durable, and crack-resistant.
Great for both daily wear or when he's going camping, it costs less than $15!
#15 A Firestarter Gift Jar
Is there anything better than curling up next to a fire on a camping trip? He can roast s'mores, tell scary stories, or just enjoy the warmth.
This jar is stuffed with all sorts of dried plants and a cinnamon stick so they have plenty of fuel for their fire (even if the weather's been wet) and it will smell great too! There's also a pack of 5 firestarters and a pack of matches so they can get it going with ease!
They're also made from recycled jars, which is sure to please the ecologically conscious.. Each one costs only $20!
#16 A Campsite Storage Line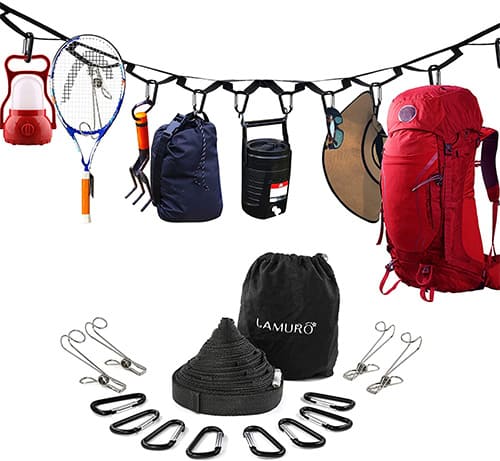 The best way to keep his campsite organized! This non-stretch nylon strap features 19 loops and can hold up to 150 lbs!
No more worrying about ants or other little critters getting into his snacks, and he can keep his more valuable items where they won't get dirty or damaged. It includes 8 carabiner hooks and 4 clothespins to easily hang everything up, then the loops stop it all from sliding to the center.
It's easy to set up and can be used horizontally between 2 trees or hung vertically! Best of all, it costs less than $19!
#17 A Tree Carving Tumbler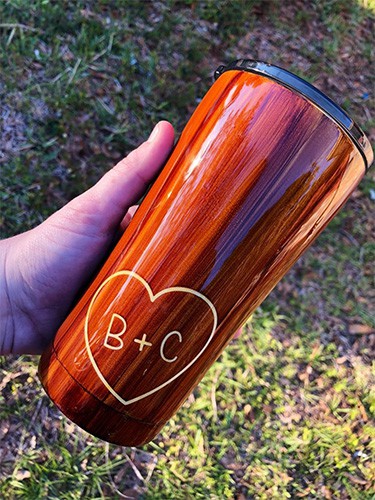 For your outdoorsy sweetheart. Even if you haven't gotten around to carving your initials into an actual tree, now he can carry a miniature one around with him and stay hydrating while he braves the elements!
These tumblers are made from durable stainless steel but are sealed with a special FDA-compliant clear coating that protects the decoration and gives it a smooth, glass-like finish. It even comes in 14 different sizes and styles!
Add a name, monogram, or a romantic set of initials! Available for less than $45!
#18 A Journal To Record His Hiking Experiences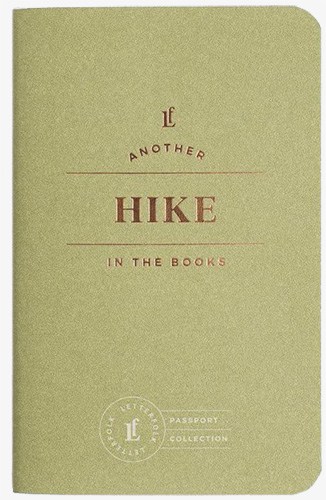 These adventures will make great stories to tell his grandkids someday… as long as he can remember them!
This Hiking Passport is a great way to start! It's a pocket sized journal complete with 20 entry pages where he can record the details of each hike.
Each entry page includes prompted sections to help him remember the details, and is followed by a blank page for photos and other keepsakes!
There are also 8 bonus pages for checklists, bucket lists, and other fun activities! Best of all, it costs under $10!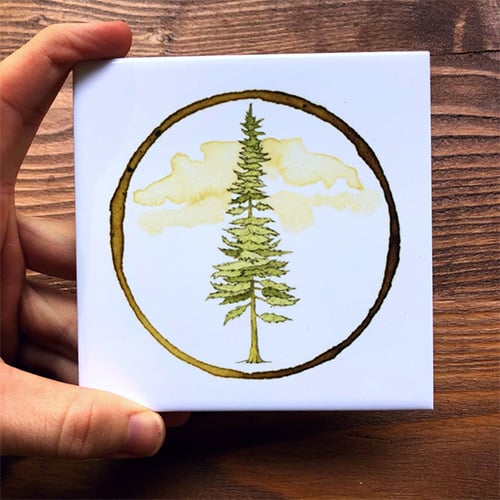 Counting the rings on a tree stump? Cool! Counting the rings his city-slicker friends left behind on his furniture? Not so much–just because he spends a lot of time outside doesn't mean he's completely uncivilized!
These tile coasters are printed with an original watercolor painting of a pine tree painted inside of an actual coffee ring. It's then transferred onto the tile using a sublimation process that produces bright and vivid colors!
Coasters have a cork backing that keeps them from sliding around and scuffing up his table. Available for just $10 each!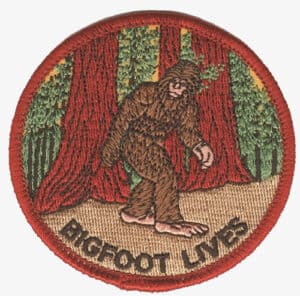 Perfect for the guy who maybe spends all that time in the woods in the hope of catching Bigfoot? At the very least, he definitely believes in the possibility of sasquatch!
This iron-on patch is easy to apply to a jacket or backpack, whether to take on his adventures with him or for daily use! It's sure to make him laugh, and makes a great conversation starter.
If you're really on a shoestring budget, this one's definitely a perfect option: it's only $4!
#21 A Pair of Wooden Mountain Cufflinks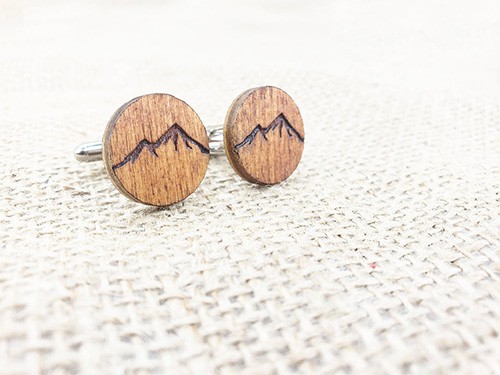 A great gift for the mountain man who cleans up nice!
These wooden cuffs feature a simple line art silhouette of a mountain and are simple enough to complement any suit.
They're made from sustainable wood, carved, sanded, and stained by hand. The design is laser engraved and will never fade!
A set of cuffs costs only $19!