Gifts for Music Lovers — 27 Unique Gift Ideas
Life without music is like an unsharpened pencil — it has no point. Imagine Jaws without the theme song. And what would a wedding be without the Bridal March or first dance? Everyone likes music, but then there are people who love music. 
The people who narrate their everyday activities in improvised songs or spend hours scouring Spotify to find new bands. Ever struggled to find a gift that strikes a chord with that person who is always recommending a song you just have to listen to? 
Whether they're a singer, a musician, or just an enthusiast, here are 21 unique gifts that are sure to make the music lover in your life sing with happiness.
#1 A Waterproof Bluetooth Speaker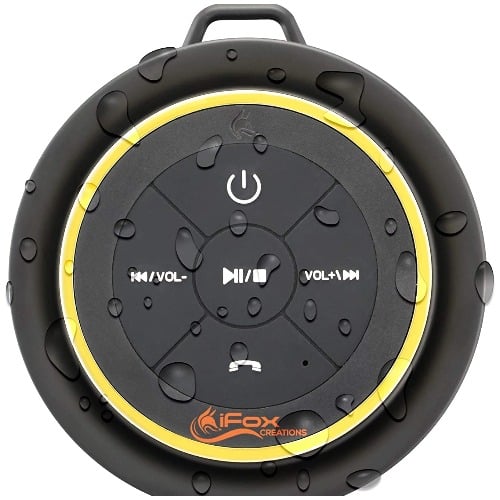 Perfect for the shower virtuoso in your life! The iFox iF012 suctions to any smooth surface like tile and glass and pairs easily with any device in under 6 seconds. It's more than just water-resistant–it can be fully submerged up to 3 feet. The battery life is up to 10 hours and fully recharges in under 3 hours. Most importantly it has a great sound quality so their squeaky clean concerts will always be perfectly in tune. 
#2 A Wooden Headphone Stand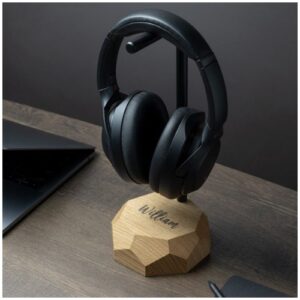 So they never lose their headphones when they want to listen to their tunes. This handcrafted headphone stand will keep them above all the desk clutter and ready to use. The base is made from your choice of oak or walnut and can be engraved with their name, initials, and even a logo.
The stand holds any size of headphones. Plus, every time you purchase one of their products, the shop plants a tree. Good for your favorite audiophile and the planet!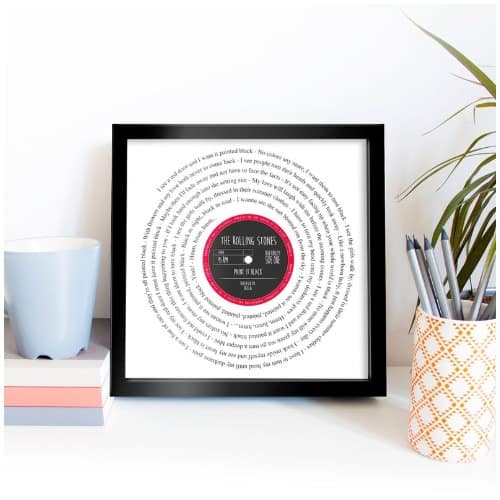 Great for the music lover moving into their first dorm, new apartment, or just overhauling their old decor. This personalized print displays the lyrics to their favorite song in a vinyl record design with the title of the song and the name of the artist in the center.
If they're a songwriter, you can even enter their lyrics in the personalization box for an extra special gift. Otherwise, just enter the title and artist and the shop will source lyrics themselves! Choose the recipient's favorite color from dozens of options, and even add their birthday or age. 
#4 A Do-It-Yourself Journal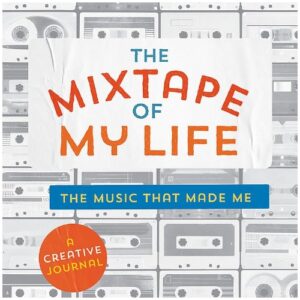 A great gift for the music-loving journaler in your life. The Mixtape of My Life is a guided journal of prompts and questions to help them reflect on the music that has shaped their life. It includes questions like "What was the first record you owned?" It has spaces for them to draw their favorite album covers or draft their perfect road trip playlist.
A great conversation starter, or just a way for them to look back on the important moments in their life and the soundtrack that went with them.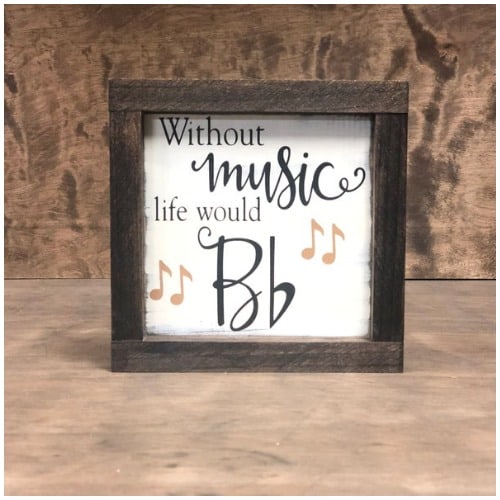 If the only thing they love more than their favorite soundtrack is a good pun, then this wooden sign will be the (piano) key to their heart. The hand distressed paint gives it a rustic and homey look. The sign is available in 3 sizes and two color choices: heirloom white with charcoal lettering or charcoal with heirloom white lettering.
Finished with 2 coats of clear matte lacquer for easy dusting so it always looks sharp. 
#6 Some Music Note Bookends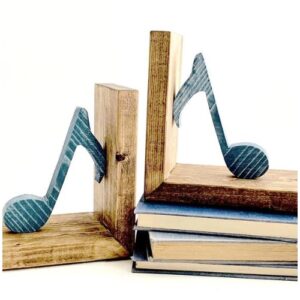 A perfect way to help your favorite musician keep all of their songbooks neat and tidy. Or for all those thick music theory books that the college music major in your life needs for class.
Made from sanded pinewood, the bases are stained a light chestnut and the music note accents are stained navy blue for a fun pop of color. Your order includes a set of two bookends. 
#7 A Sticker To Jazz Up Their Outlet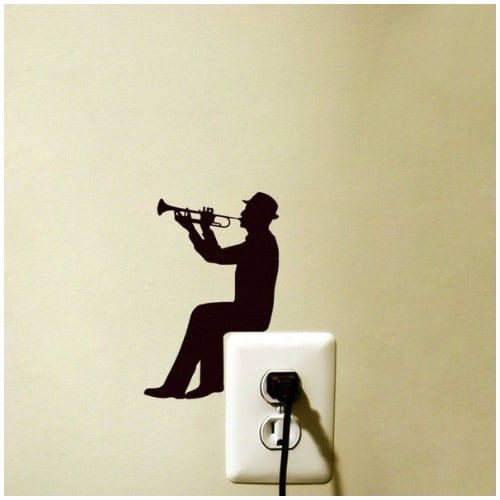 Great for the Louis Armstrong fan in your life! They can stick this silhouette of a trumpet player over their light switch or outlet covers to add a bit of personality to any room. Choose from either a soft, flocked velvet or high-quality waterproof vinyl.
Also, great for electronics and easy to remove. You can even order it facing the opposite direction with just a quick note to the seller. Measures 6″ H X 3.8" W. 
#8 A Book That Explains Why Humans Love Music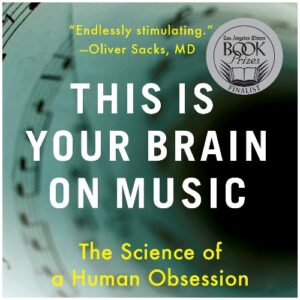 For the inquisitive types. Written by a former rock musician-turned-neuroscientist, this book explores the connection between our brains and music and argues what your music enthusiast probably already knows: that music is fundamental to the human species. Daniel J. Levitan reveals how to get good at music and why it gets stuck in our brains and our hearts.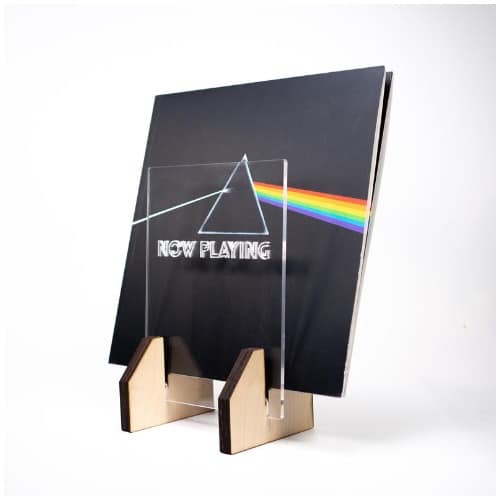 For the music lover who prefers listening to their tunes the old-fashioned way. Help them keep track of where they put their record sleeve down, so they're not fumbling around for it when they want to switch soundtracks with this record stand!
The base is carved from birch and the acrylic screen is laser engraved with "Now Playing" or any custom message up to 35 characters. It even holds up to 4 record sleeves, so they can make an old-fashioned playlist. 
#10 A "Rise And Shine" Coffee Mug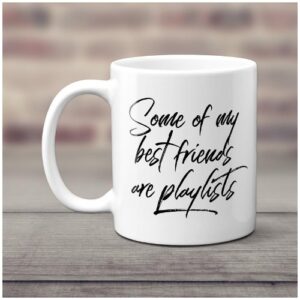 Great for the audiophile who likes music, coffee, and, like, three people. This 11 oz "Some of my best friends are playlists" mug is 100% dishwasher and microwave safe and won't fade, no matter how many times they wash it. Each mug is made to order and shipped in recyclable foam. 
#11 A Custom Beethoven Lego Figure
A great collectible item for the classical music aficionado you love. This miniature Beethoven is made from Lego pieces and even comes with his own little quill! You can have him made into a keychain or bag clip, so they can carry him with them to their recitals for good luck or wherever they go. There's also an option to include a gift box! 
#12 A Musically-themed Pillow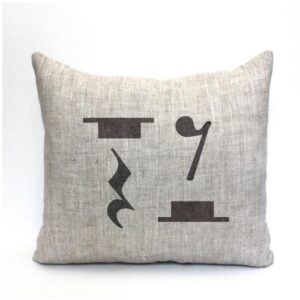 If they dream of rocking out with their favorite band or gracing a Broadway stage every night, this is the perfect accompaniment to their sweet dreams. The pillow is made of 100% linen and the design is printed with a distressed effect for a cozy rustic look. Plus the insert is made from synthetic down to be more friendly to allergy sufferers. 
#13 A Cozy Musical Print Throw Blanket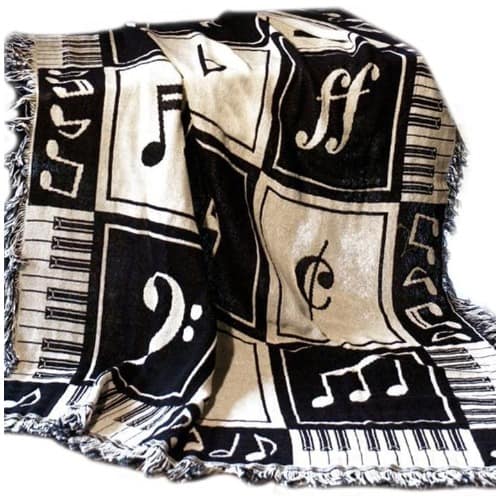 A subtle musical accent to any bedroom or living room, no matter what the decor patterns. This piano-patterned 2-layer tapestry blanket is made from 100% cotton. It measures 40″x60" and is machine washable. It'll keep your music lover's body as warm as their favorite sonata keeps their heart. 
#14 This Book Of Little-known Music History Facts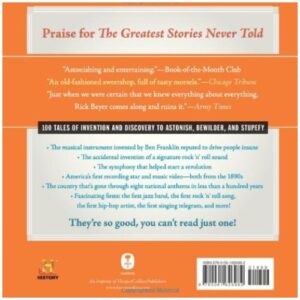 For your favorite music historian. "The Greatest Music Stories Never Told: 100 Tales from Music History to Astonish, Bewilder, and Stupefy is chock-full of fascinating tidbits about every genre of music from every era. These fun facts are sure to surprise even the most hardcore music trivia collector. 
#15 Fun Music-themed Stationary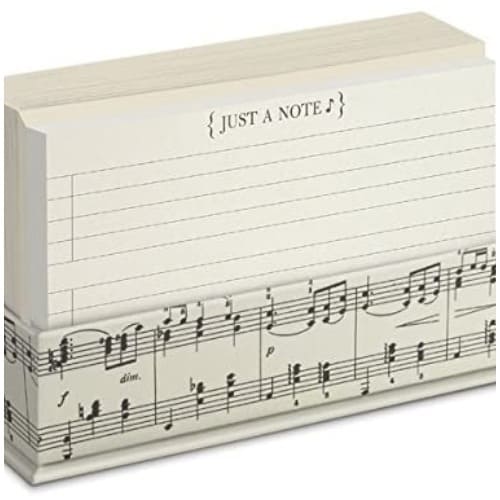 Great for the person who still likes to send a nice handwritten note. These cards are printed to look like staff lines and come in an adorable storage box designed to look like sheet music. This set contains 50 note cards and matching envelopes. Notecards measure 5.626" x 3.5". 
#16 A Musical Puzzle Cube
Music lover doesn't know what to do with their hands when they're not strumming their guitar? This will be their new favorite thing to fidget with! Now they can feel like they're practicing their music when they're stuck at their desk pretending to work or count it as "studying" for their music theory test. It's even made from eco-friendly materials! Order it here: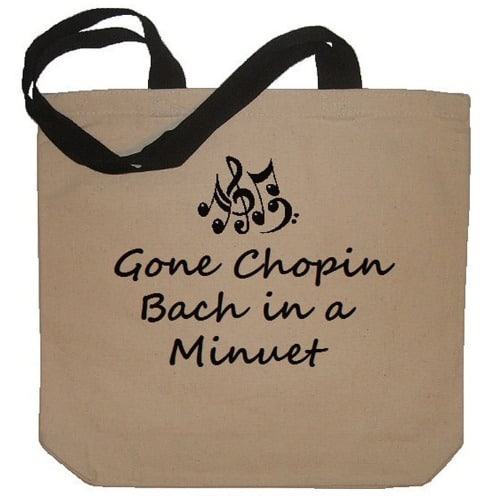 It's always a good idea to base your gift ideas on which one has the best pun. This bag is great for anyone who's always lugging sheet music around, or just appreciates some clever wordplay–any fan of classical music is sure to get a chuckle when they see it! The bag is made from 100% cotton canvas and is great for the environment. 
#18 Printed Schematics Of Their Favorite Instrument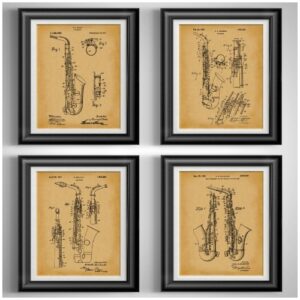 A great way for any amateur musician to jazz up their workspace with a hint of their passion (because all work and no playing makes Jack a dull boy). This shop makes diagram prints of almost every style of instrument, and they're available in 6 different colors. Printed on Polar Matte Paper, or can also be purchased as a digital file for immediate download at a discount. 
#19 These Guitar-shaped Hooks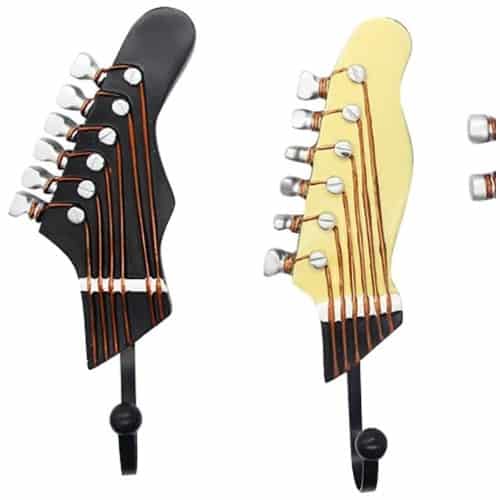 So they can welcome their guests into their home with a hint of their personality, whether they play acoustic or electric guitar. Also, great for bedrooms! These guitar-shaped hooks are made out of a sturdy blend of metal and resin, come in a set of 3, and hold up to 25 kg of weight.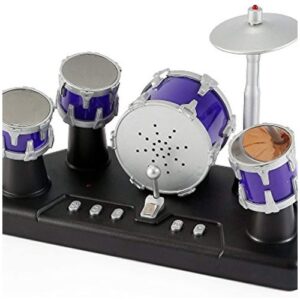 Know someone who's always drumming their fingers on their desk? Now they can do it in style with this electronic miniature drum set! Each drum has a unique sound and each tap will cause a light-up effect. They can even record their new drum solo to show off to their friends and family. It's a gift that really can't be beat! 
#21 A Set Of Guitar Teaspoons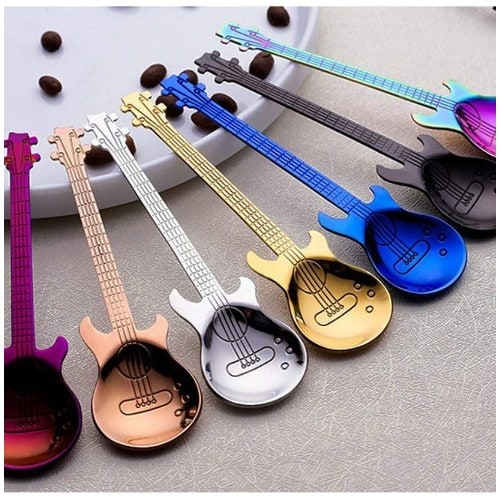 Add a little pizzazz to their pantry! Each of these seven guitar-shaped teaspoons comes in a different fun color. They're made from high-quality stainless steel with a mirror polish. The spoons are super durable and won't rust, and they're super easy to wash so your music-enthusiast can use them from everything. 
#22 A Soundwave-engraved Cutting Board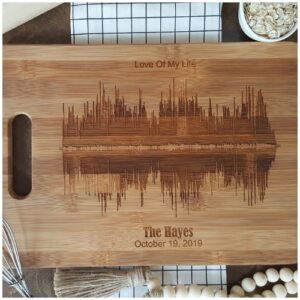 Do they sing while they cook like a Disney Princess? Add this to their kitchen equipment! Just input the name of their favorite song (the shop will take care of converting it into waveform) and any other personalization text you want. These cutting boards are made to last with high-quality, eco-friendly bamboo and come in a white gift box for your gifting convenience. 
#23 This Classy Piano Wristwatch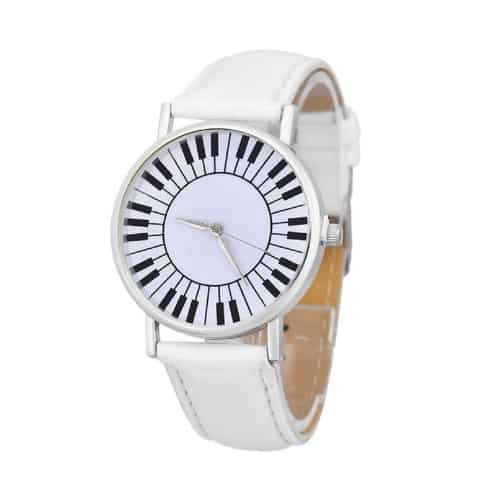 Help them keep time with this gorgeous handmade accessory. The analog clock face is decorated with a piano keyboard and comes attached to an elegant white faux-leather band. This is simple enough for them to even wear it with even their most formal outfits, and will serve as a conversation starter to any other music lover who happens to spot their subtle accent piece. 
#24 A Good Pair Of Bluetooth Headphones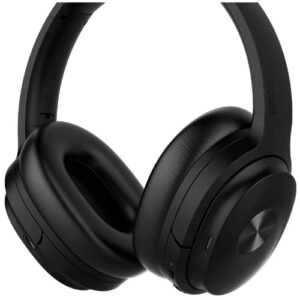 If they love listening to music as they do chores, these are must-haves. These COWIN SE7 headphones are not only noise-canceling so they can tune out the world and focus on their work, but they're Bluetooth enabled and come with built-in Alexa voice control. No more fumbling to change the music with wet hands when they're doing dishes. Plus they have a 30-hour battery life. 
#25 A Kit For Their Guitar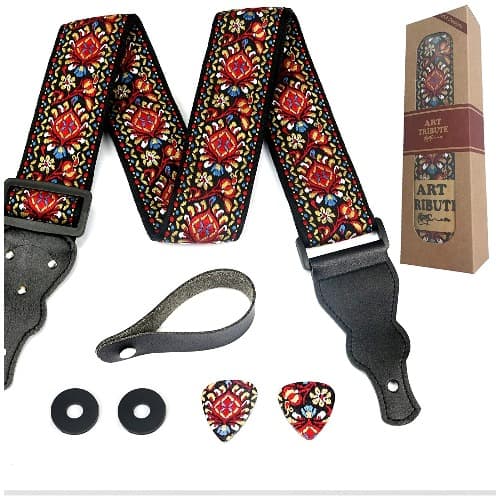 For the guitarist in your life, no matter how experienced. These woven guitar straps are high quality and come in fun vintage-inspired patters. They're fully adjustable so any musician no matter how tall or tiny (yes even kiddos) can play with these. Each purchase includes 2 guitar picks, strap locks, and strap buttons, so they'll be ready to play in style. 
#26 This Guitar-patterned Sock And Bow tie Combo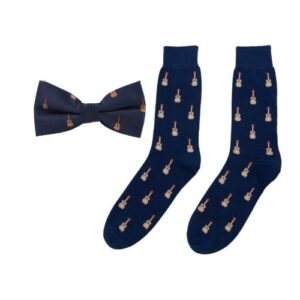 So he can dress up in style, his style. This set is handmade in Australia. The socks are made from high grade combed cotton and the tie is 100% microfiber. A great way for him to show off his personality even at the most high-strung formal events. Care instructions included.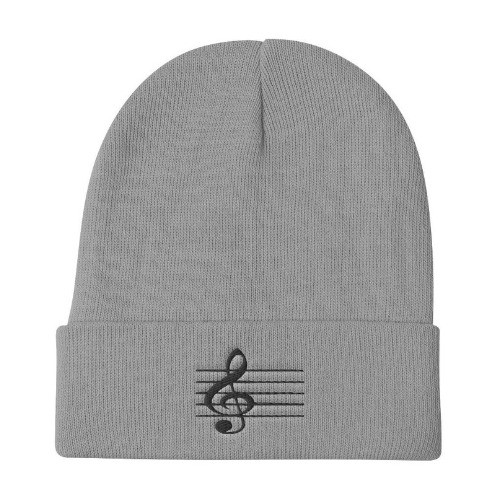 If they've always got music on their mind, this cozy hat will help keep their ears nice and warm. It'll also save them the treble of having to do their hair on those cold mornings when they really don't want to leave their bed. These beanies are made from a cotton/acrylic blend and come in 6 different colors.