25 Gift Ideas for The Beatles Band Fans
The Beatles was an English band formed in 1957 by John Lennon, Paul McCartney, George Harrison, and Ringo Starr. The quartet released albums that sold so well that they started to be known as the best-selling music act of all the 20th century. 
However, the group was announced to have broken up by McCartney in 1970.  Because of this, it's hard to fin someone who doesn't like The Beatles, which in turn makes it harder to find good, original gifts about this legendary band to any die-hard fan of the group. 
Although they haven't performed together for over 50 years, their loyal and newer fans continue to find ways to support them and keep their legacy alive.
From listening to their official releases to buying merchandise to celebrate the success of the historic group.
And none of these changes the fact their music continues to touch peoples lives. This list is made so that you can find that special, personal gift for a Beatles fan that will make them happy as a walrus in a yellow submarine.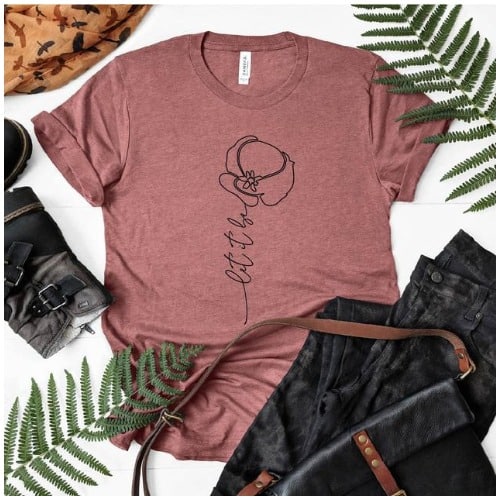 This kind of shirts have been around for a while now, and almost every single person has one stored inside their closet. But that's what makes them so special; having a shirt with the title of your favorite band's final album will make every other Beatles fan that crosses your path acknowledge you as a fellow lover. 
#2 The Beatles Autographed Album LP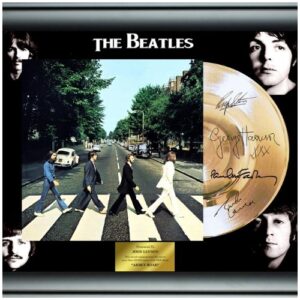 Autographed merchandise will always be something loyal fans crave. And now, there's a limited supply of signed Beatles' merch that makes it even more special to gift away.
Imagine the face of your best friend when they receive a signed LP album! It will most likely make an impact in their life and your friendship! 
#3 Themed Charm Bracelets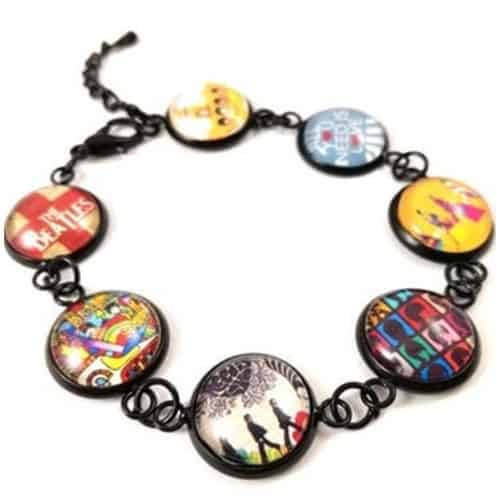 Charms are similar to collectibles, with the only difference being that you can wear them wherever you want! Another plus to charms is that you control how many you will place on your bracelet.
You can add several Beatles-inspired charms, like guitar picks or albums on the bracelet, and then give it to someone who loves the band as much as you do! 
#4 Blackbird Illustration Art Print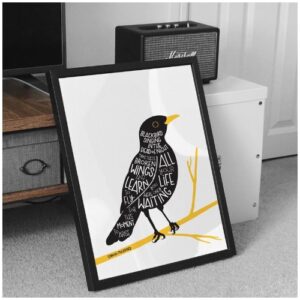 Having the Beatles's lyrics around you is a nice way to keep many memories close to you. Some of their lyrics are so passionate that they will also serve as a reminder to other fans you know.
For instance, Blackbird is said to have many interpretations, including "black girl" in the context of the civil rights conflict in the US around the 1960s.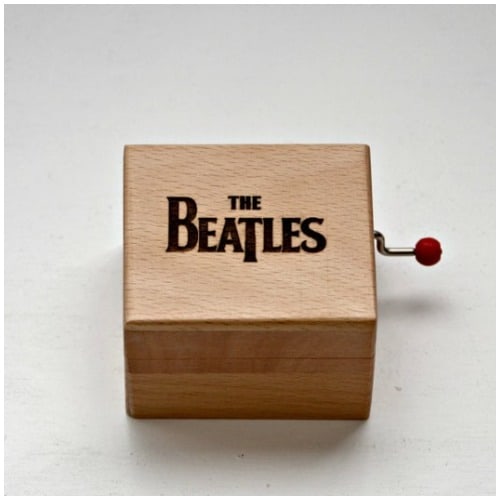 Music boxes have been on the rise recently, with many people getting some custom ones for themselves. With selections ranging from lullabies to your favorite songs, having Beatles themes recorded on your gift has never being so easy.
Picking a special song will make it a more personal gift, as it will always feel good to sleep to the tune of your favorite song. 
#6 Beatles-Themed Pint Glasses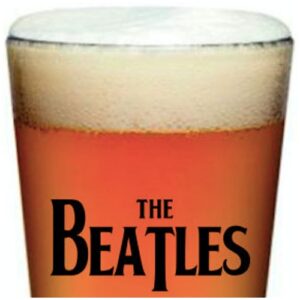 If you give your friends a Beatles-inspired pint glass (Specially those who love partying), You might have found the perfect gift! You can also help them plan a Beatles-inspired party to celebrate and enjoy their favorite band's music and achievements.
This is the perfect gift for those who love drinking too! Imagine sharing a glass of beer while talking about the Beatles using your Beatles-inspired pint. 
#7 The Beatles Lego Mini figures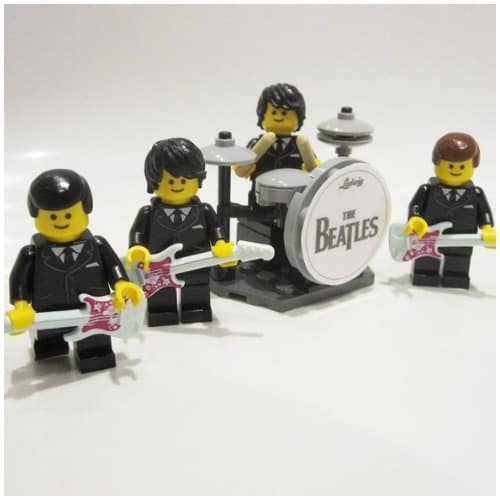 Lego's figurines have been around for a while now. The likes including Star War also have official merchandise partnered with Lego. The Beatles are no exception to this.
The Lego figurine may just be the perfect gift for not only Beatles fans but as well as to those who love collecting Lego! 
#8 The Beatles Vinyl Record Wall Clock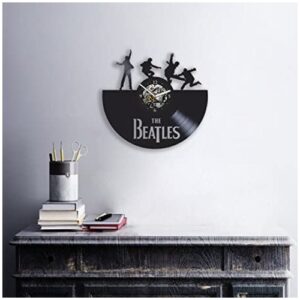 Vinyl records are in no way cheap, especially if they are in limited supply and high demand. Gifting your friend with a Beatles' vinyl record clock may not be the same thing but it will also be something they will appreciate. Not only will they have a Beatles-inspired device, but it will also look cool hanging on their wall.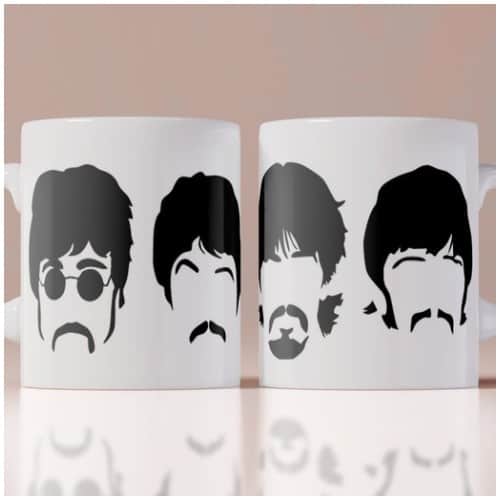 Similar to pint glasses, giving someone special a Beatles mug may just make their day better. However. Rather than bonding over a glass of beer, you will be bonding over a cup of coffee or tea. This is the perfect gift to give to your friend who loves both the Beatles and drinking coffee or tea in the morning!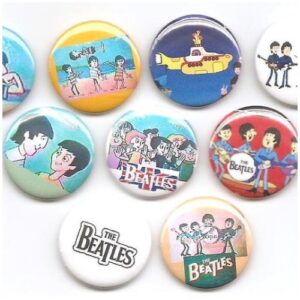 Pins may seem old, but it will forever be an iconic collectible. People can show it off by placing it on their bags or simply keep it as a prized possession in the safety of your home. You can buy this for your friends and family who prefer simpler gifts!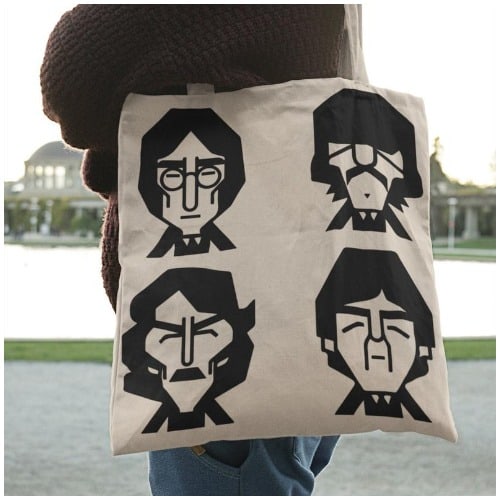 Tote bags are always a go-to gift idea, especially for women. The size is just right to carry around the necessary things they will need for the day.
Having the Beatles design on the bag will amplify the aesthetic of the bag. Who knows, maybe your friend will also carry around her Beatles merch with her!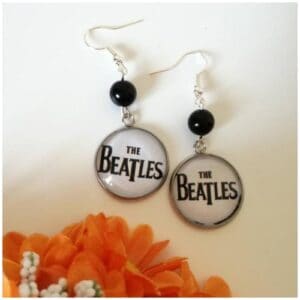 Earrings are another go-to gift for your female friends! A lot of women wear earrings as a form of a statement of their personality and style. Giving your friend a Beatles themed pair of earrings will show off her love for the band! There are various earring styles you can choose from. 
#13 John Lennon Signed Poster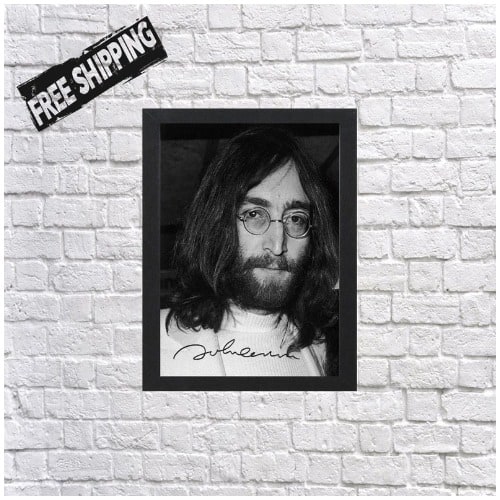 No one can go wrong in giving a John Lennon signed poster. The singer-songwriter passed away in 1980 which makes his signed merchandise even more valuable.
There is now a limited supply to Lennon's signed posters which makes it hard to find. However, giving it to your closest friend will be worth all the trouble.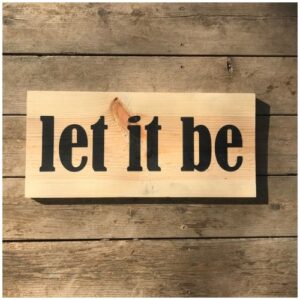 The Let It Be wood sign is the perfect gift for your friend who loves the Beatles, simple furniture, and likes the rustic look. Let It Be is the title track of the band's final album which will forever serve an important chapter for fans as well as the band members. 
#15 Beatles Themed Guitar Picks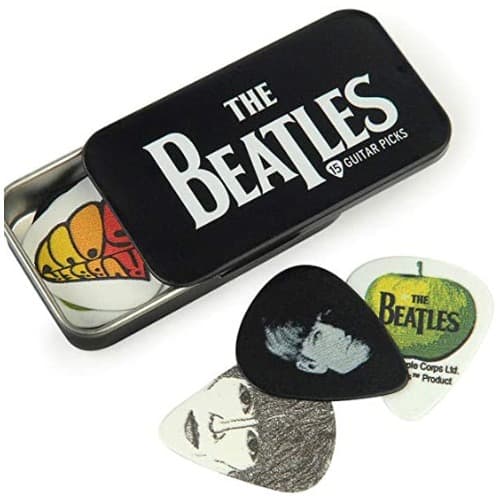 The Beatles guitar picks are probably a must-have item for every Beatles fan. Particularly collectible picks where the name of the band, the members, and their songs as well as the faces of the members are engraved on it. This will be the perfect gift for all fans of the band despite being older or younger. 
#16 The Beatles Trivial Pursuit Game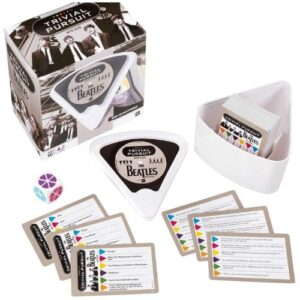 The Beatles Trivial Pursuit Game is the perfect gift for your friend who loves the band as well as playing games! Through this game, you and your friends can gather around a table and play to your hearts' content while talking about your favorite songs from the band! 
#17 Limited Edition Happy Socks Yellow Submarine Pack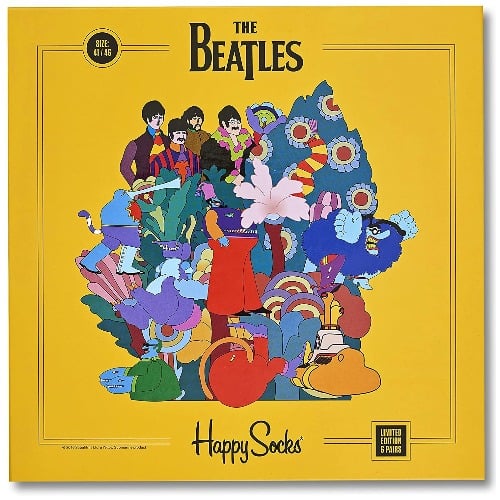 The Beatles teamed up with Happy Socks to produce a limited edition pack of socks for fans! This is a great and valuable gift for your friend who loves collecting official Beatles merch. It may be harder to find and a lot more expensive to purchase but having to give it as a gift to someone special will be worth it.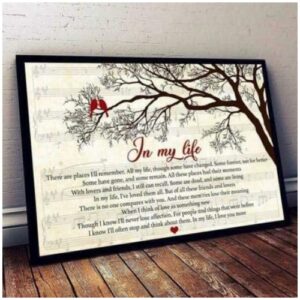 Giving lyrics plaques to your friend who is a big fan of the Beatles may just help them reminisce about their memories.
By giving them lyric plaques, they will have the chance to decorate their house with lyrics that remind them about the past or any particular event. This will also give them the chance to satisfy their aesthetic needs. 
#19 Yellow Submarine Tea Infuser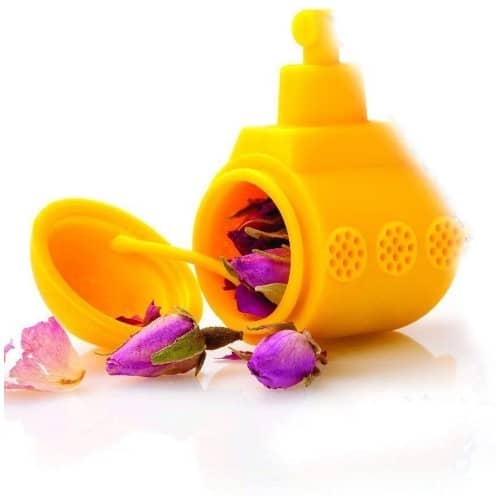 The Yellow Submarine tea infuser will be the perfect gift for anyone who loves drinking tea as well as the Beatles's song!
With the cute appearance, it will look appealing to anyone that even those who aren't familiar with the band will appreciate the gift. It also helps it stands out from other tea infusers out there. 
#20 Yellow Submarine Mini Bass Guitar Statuette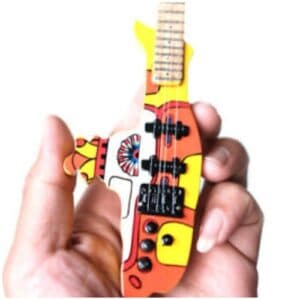 The small statuette will be the perfect gift you can give to any Beatles' collector there is! Made based on the song Yellow Submarine, the reminiscent appearance will look the best on your friend's shelf filled with other merch he or she has of the Beatles!
It also helps the size of the statuette is only 10 inches making it easy to store. 
#21 The Beatles Biography Book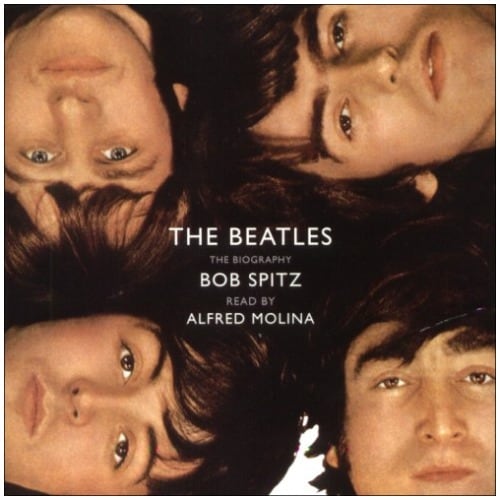 Any Beatles fan will appreciate being gifted a Beatles Biography Book. Luckily there are different media to choose from. The book can be bought as an e-book or an audiobook which makes it a more versatile gift to give.
This will also be a great gift for newer fans who are looking for ways to get to know the band even more. 
#22 Fab Four Miniature Guitar and Drums Set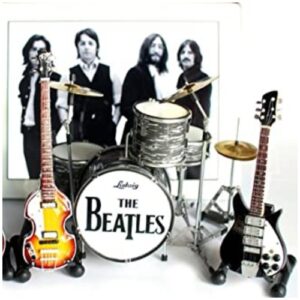 This is another gift perfect for those who are collecting the Beatles merchandise! The set consists of two guitars, one bass guitar, and a drum set.
Since it is a miniature set, it will also sit safely on the comfort of your friend's shelf with his or her other Beatles merchandise! This is also a great partner for the Yellow Submarine mini bass guitar statuette! 
#23 The Beatles Complete Chord Songbook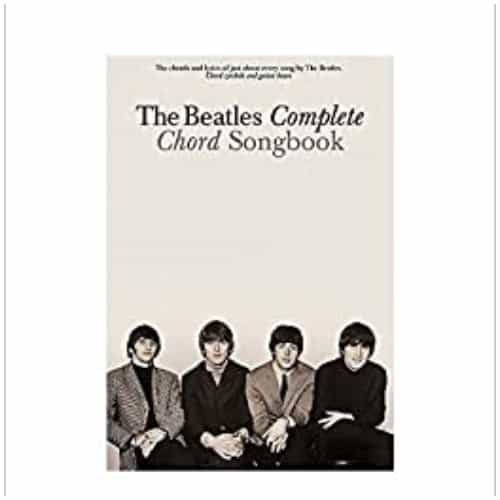 Your musically talented friends will love this gift! The collection features all the songs the Beatles have put out. It also helps there are different media you can buy to give to your friend. The songbook is available in Kindle, as a paperback, spiral-bound, and as sheet music! 
#24 Abbey Road Anniversary LP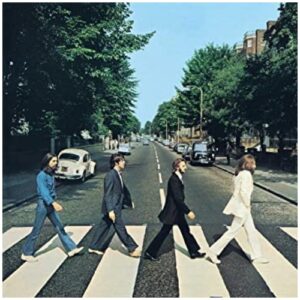 Any anniversary merchandise is valuable; the Abbey Road Anniversary LP is no exemption to that. Abbey Road is the eleventh studio album by the Beatles and it was released in 1969 by Apple Records.
You can buy an LP that is already used, new, or a collectible for your friend. However, if it is too expensive, the anniversary album can also be purchased as an MP3 or through streaming. 
#25 The Beatles Framed Film Cell Presentation
A framed film cell presentation is another collectible for the shelves for your friend who loves collecting the Beatles merch! It can also be displayed on your friend's desk table at home or the office.
This will be a special gift as it contains a black and white photo of all four members of the band as well as their logo. 
#26 George Harrison Mini Guitar Model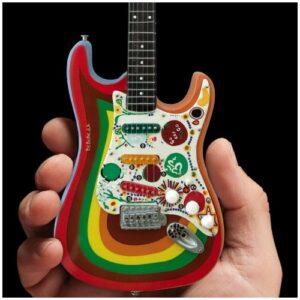 This is another gift for your friend who loves collecting the Beatles merch! The mini guitar model can also be displayed on your friend's shelf where he or she places all the collectibles they have.
With its 10-inch frame, the mini guitar will be easy to keep safe and to store. It also helps it is a George Harrison guitar model! 
#27 The Beatles Drum Logo Baseball Cap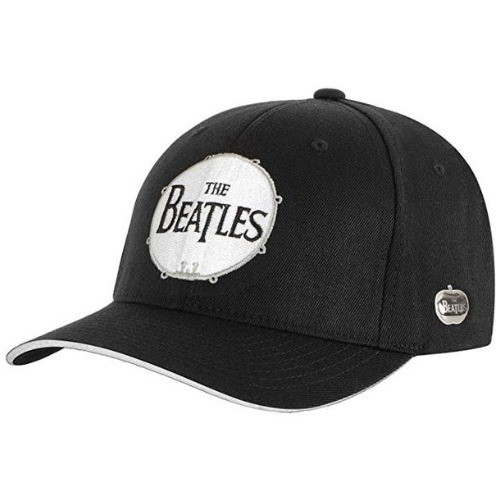 No one can ever go wrong with giving a baseball cap! It helps if the baseball cap's design is of the Beatles' drum logo. You can give this to your friend who loves wearing caps, male or female! The adjustable snap back is also a plus in case the cap doesn't exactly fit your friend's head.