Ski Gift Ideas Under $50 - 27 Unique Ideas
Skiing has to be one of the best winter sports out there, whether you like downhill or snowboarding more. It's such a fun activity, and it's nice to have some gifts for your next adventure that will make everything go smoother.
This article will walk you through some of the best under $50 gifts that you can give to anyone who spends time skiing in the winter months, whether it's your spouse, parent, grandparent, sibling, or friend. These gifts will not only make your skiing more enjoyable but also keep you safe, warm, and stylish at the same time.
Most music-loving skiers have an assortment of tunes on their smartphones. The small and inexpensive Bluetooth speaker makes it easy to stream your favorite playlist from a phone, tablet, or computer.
You can use it beachside, trailside, parkside, or Poolside. The speaker will bring savage sound and will keep you entertained as you listen to music.
Ski socks are a big deal and with good reason. Ski socks need to fit snugly and securely on your feet, so they don't fall down while you're maneuvering on slopes.
If you're looking for extra comfort and durability, look for socks made from merino wool-these hold up longer than other fabrics. It features over the calf height and has a closeout.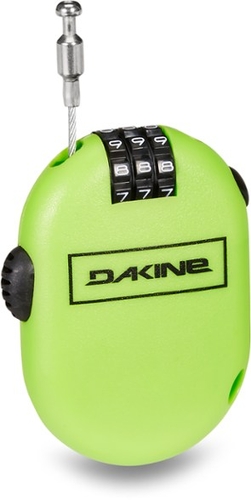 The Dakine Micro Lock is compact, light, and very simple to use. It's also extremely affordable which makes it a great gift for anyone who skis or snowboards regularly. Its size means you can easily fit it in your pocket when not in use.
This device allows you to set a three-digit combination and it locks with 30 in. retractable cable.
This balaclava is perfect for adding warmth while keeping you cool. Made with LavaWool, it keeps you comfortable without overheating. This fabric allows sweat to evaporate quickly while keeping body heat in so you feel warm without feeling hot and sweaty, which can lead to dehydration. In addition to that, it has a 4-way stretch fabric for mobility.
If you're having trouble getting up a hill or are worried about slipping, these ice shoes are for you. They easily strap on to any pair of normal shoes, and they offer great traction on slippery surfaces.
They are an essential gift item for skiers and snowboarders who spend a lot of time on frozen lakes and ponds or where there's a chance of running into black ice.
These USA maps fit easily in a backpack and help you keep track of where you've been when on a big trip. You can scratch off each region as you go along, or keep it on display at home to remind yourself of your accomplishments.
A great gift for any skier who's into getting out there and exploring. The map is printed on 170gsm silk art paper and measures 17 inches x 22 inches.
If you're looking for a gift for skiers, these waterproof gloves are an excellent choice. They can keep skiers comfortable while they enjoy their favorite activities. These gloves feature water-resistant construction to ensure warmth and dryness on wet days.
It has an adjustable drawstring closure and elastic wrist cord to prevent cold air and snow from creeping in.
Ski boot bags are simply huge plastic bags for storing helmets, jackets, and boots when not in use. The bag offers side-entry zippered storage to keep items separately.
It is made from premium water-resistant polyester and has padded lumbar back support. It also has carrying handles and reflective piping on the side to make it visible to skiers.
Do you want to give your friends a gift that's both practical and fun? The Stoked Roasters Organic Instant Coffee is a perfect gift for him or her. It comes packaged in such a neat little box and it will give them a reason to celebrate every morning. This coffee is 100% Certified Organic and comes in a dark or medium roast.
A neck heating pad can keep you warm on a cold day and is an excellent gift for skiers. These heating pads are heated from the inside, making them super-efficient to operate.
It has 3 temperature control adjustments and will cope with different weathers. Moreover, it is made from fabric DuPont cotton materials that are skin-friendly and comfortable.
Get creative with these adventure goggle picture frames. It's a great way to showcase your favorite ski pictures while you are out on a trip. The clear cover protects them from snow and water and makes it easy to access your pictures when needed.
Whether you want to show off how well-traveled you are or how many friends you have, these frames would be an interesting gift for any skier.
A glass with a map of the resort is an awesome gift for someone who loves to hit up different mountains. This glass shows all of their favorite runs, how far they are from each other, and even tells them how long it'll take to get to one area from another.
In addition to showing off some local geography, a ski resort map glass makes an elegant gift and conversation piece.
Honey Stinger Waffle Boxes are a great gift idea for skiers and snowboarders who are always on the go. The delicious waffles can be eaten as a snack and it is included with 16 individually wrapped waffles.
It's convenient, delicious, and healthy. Waffles provide a great source of carbs to fuel you while skiing, they are also tasty and easy to eat with one hand.