Yoga Gifts — 33 Unique Idea
Yoga began as a spiritual practice in ancient India, but today it is practiced all over the world for its mental and physical health benefits. Chances are, you know and love someone who's into yoga too! 
A great way to show them you care is to support their hobby with a yoga-themed gift! 
Whether they're new to yoga or have been practicing for years, if they attend a yoga class once a day or once a week, here are 33 unique gifts that the yoga practitioner in your life will love!
#1 An Illustrated Tote Bag
A purrfect gift for the yoga-loving cat parent in your life! This tote bag is made from 100% organic fair trade cotton and digitally printed with cute kitties doing yoga poses. Best of all, it's a pun! 
The design also includes sunglasses, cacti, and sombreros because they're doing "hot" yoga! It comes wrapped in 100% recycled tissue paper sealed with biodegradable tape and an illustrated thank you note!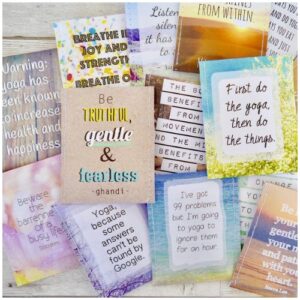 Because the only thing more relaxing than a good yoga session is a nice cup of tea! Each delicious tea bag comes in an individually handcrafted paper envelope with an inspiring quote and eye-catching design.
They come in sets of 8 or 16 and are available in English Breakfast, Earl Grey, or an assortment that includes Breakfast, Earl Grey, and a mix of herbal and chai flavors. Each set can come in either a small paper gift bag or loosely wrapped in tissue paper. 
#3 Natural Yoga Mat Cleaning Spray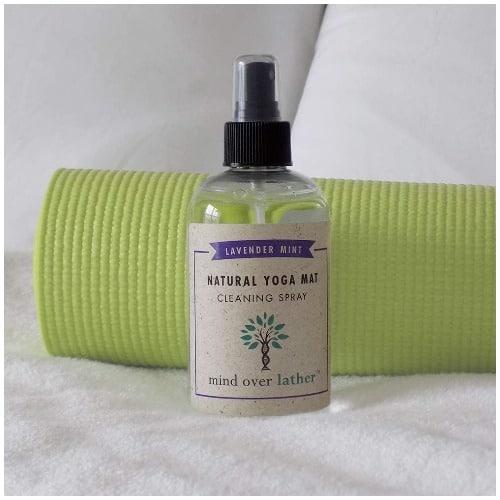 This Mind Over Lather spray will keep their yoga mat fresh and clean! Made from distilled water and witch hazel, it also includes lavender, mint, and eucalyptus essential oils to make their mat smell lovely without leaving behind a slippery or sticky residue.
It's all-natural and can be used to remove odors on practically any surface (even their dog between baths)! 
#4 A Set of Yoga Pose Dice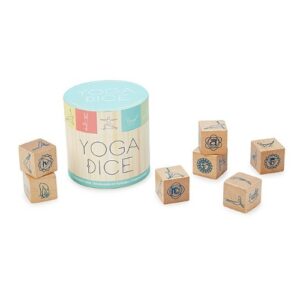 These are great for helping them vary their daily yoga routine! The set comes with 7 six-sided dice that display a different yoga pose on every side. Literally thousands of different combinations are possible, so they don't get stuck in a rut doing the same routine every day!
The dice feature seated, standing, balancing, and twisting poses for all skill levels. 
#5 A Yoga Mat Featuring Their Favorite Picture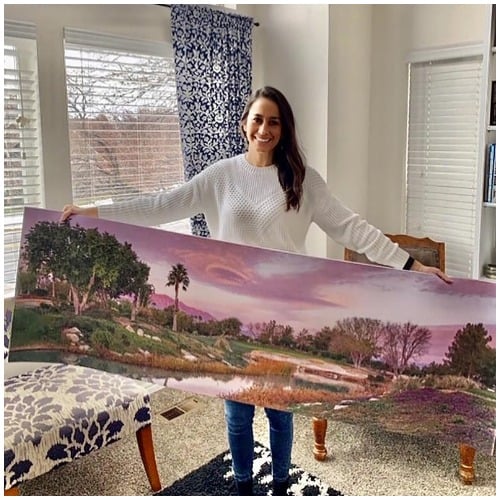 Lots of places can personalize a yoga mat with a name or monogram, but this Etsy shop will design a yoga mat based on their own personal photographs or logo! Choose a photo of their favorite vacation spot, piece of artwork, or even their pets or kids! The artist also has his own photographs you can choose from.
This yoga mat will be a truly one-of-a-kind gift that's sure to be extra touching because it was made just for them. These mats are lead- and heavy metal-free. 
#6 This Pair of Non-Skid Yoga Socks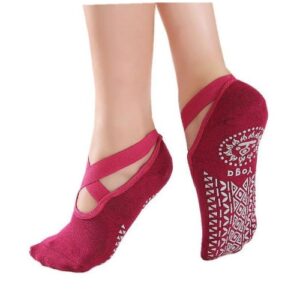 Yoga can be tricky enough without having to worry about sliding around. These socks have silicone grips on the bottom and ballet-inspired elastic straps that will keep the socks on their feet.
The combed cotton has a hollow fiber structure that helps to regulate temperature and manage moisture and dirt. The full cushioned sole helps to prevent blisters too! These socks will help keep their yoga practice comfy and safe! 
Perfect for the yoga fan who's also a stress baker! These cookie cutters come in a set of 4: Corpse Pose, Easy Pose, Tree Pose, and Warrior Pose. They're great for cookie dough, fondant, or modeling clay.
Each cookie cutter is made to order with eco-friendly materials. You can even pick from 8 different sizes, from as small as 1.5″ up to 5″! 
#8 A Yoga Anatomy Coloring Book
This coloring book not only provides a relaxing activity, but it will also teach them what each yoga pose does for their body! Massage therapist Kelly Salloway goes through the joints, muscles, and bones used in each yoga pose, and provides black and white illustrations that the reader can color to help remember their location.  It even comes with 32 flashcards for them to quiz themselves with! 
#9 A Desk-Sized Zen Waterfall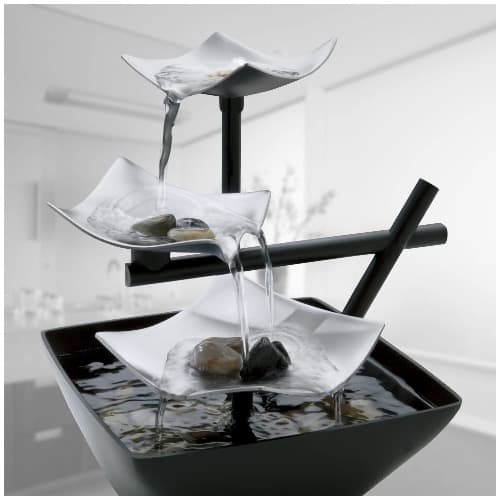 If they have their own at-home practice space, no matter how big or small, this miniature waterfall will make their practice space even more zen. It's even illuminated to cast a gentle, calming glow over their practice.
It's easy to put together, and once they fill it with water and plug it in the constant circulation from the pump will keep the water clean and algae free for them to enjoy! 
#10 A "Plants & Yoga" Pot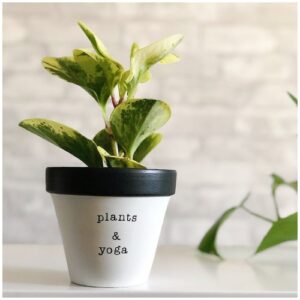 For the yogi and plant lover! This hand painted terracotta pot is great for succulents, herbs, or cacti. It's available in either white with a natural clay trim or white with a black trim.
The minimalist design will go with any office or living space! Terracotta pots are great for houseplants because they help provide nutrients and prevent root rot. 
#11 A Personalized Yoga Bag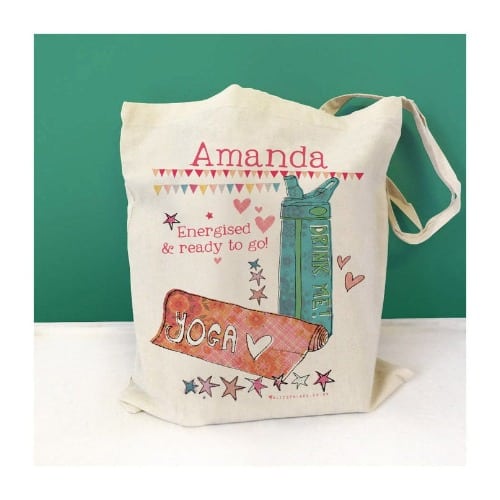 This cotton canvas bag is great for them to carry around their workout gear, or anything else they need when they're on the go! It comes printed with a whimsical design featuring a water bottle and yoga mat, along with the recipient's name and a personalized phrase. The bag is also easy to fold up and store when not in use. 
#12 A Downward Dog Yoga Shirt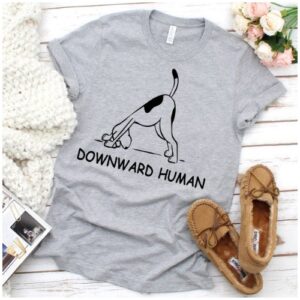 This shirt is perfect for those dog parent yogis or anyone who appreciates a good play on words! It features a dog in the downward dog pose– only the capture reads downward human!
Choose from white, black, light heather gray, or dark heather gray. The shirt is both stylish and super comfortable, so they can wear it while they're doing yoga, going out with friends, or just hanging out at home with their fur baby. 
Magnetic poetry kits make a super fun and entertaining gift for people of all ages! This set contains over 200 yoga-themed words that they can mix, match, and rearrange to write letters, poems, or jokes on their refrigerator for their family or roommates to enjoy. They make a great dorm or locker accessory and are sure to be a hit at parties!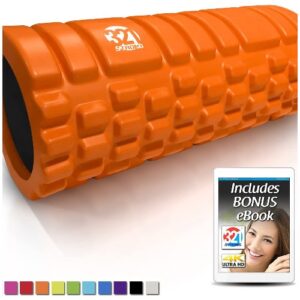 This is a great tool used by athletes of all types to stretch overworked and strained muscles during warm-ups or cool-downs. The raised massage zones mimic the feeling of a massage therapist's hands, without having to spend the money or time to get a massage!
Incorporating some foam rolling into their daily yoga practice will help keep their muscles even more flexible, so they can go about their day without stiffness or soreness.
Especially great for beginners who are still getting used to stretching that much. It even comes with an e-book for more helpful tips! 
#15 This Fun Handstand Tank Top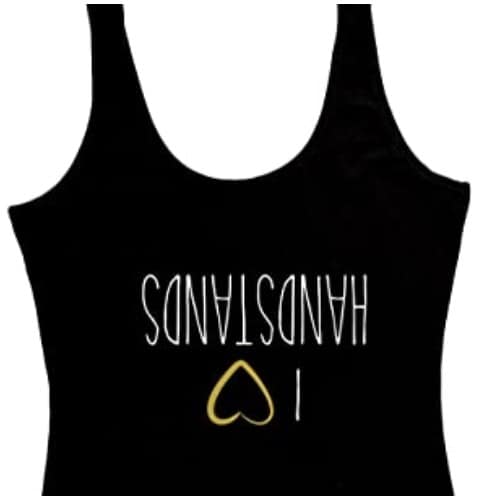 This exercise tank top is specifically designed to wear during yoga, and it comes with a cute yoga joke! If you can find them upside down more often than on their feet, this is the perfect shirt for them.
It's made from 95% organic cotton and machine washable. Available in white, black, or gray. This tank top is sure to be the hit of their yoga studio! 
#16 A Quirky Piece of Home Decor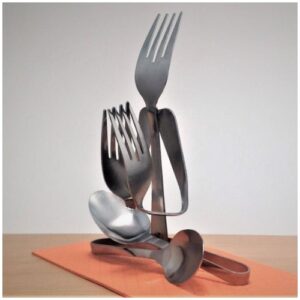 This fun little piece of art is sure to be a conversation starter! Any yogi will love having it in their home to kick off conversations about their favorite hobby. It's made from upcycled stainless steel forks to serve as a reminder that not all old and used things are a waste. The piece is hand-welded with stainless steel wire and stands about 5″ tall. 
#17 A T-Shirt For When They're Not Particularly Zen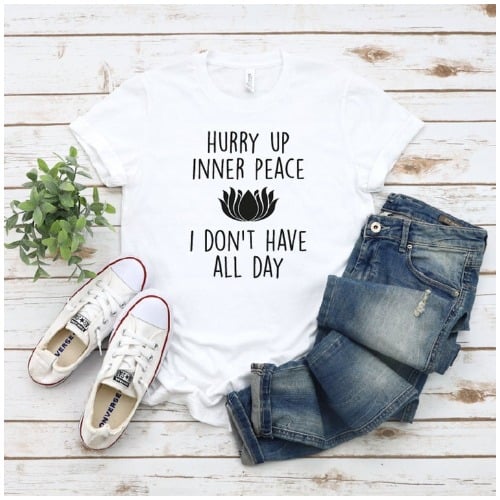 Even the most practiced yogis have those days when inner peace feels…elusive, to say the least. This is the perfect wardrobe piece for days like that!
So that even when they're not in the most relaxed mood, a little of humor (and yoga) will help add a little levity. These shirts are Bella + Canvas brand, so they're extremely comfortable, and come in 12 fun colors. 
#18 A Water Bottle With A Built-In Filter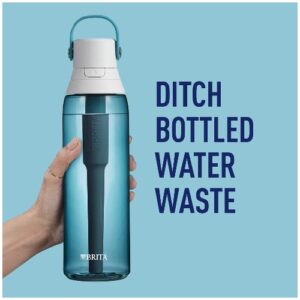 Perfect for them to stay hydrated while doing their yoga practice! The bottle holds 26 oz and helps to filter out the taste of chlorine to make even their tap water taste refreshing.
This water bottle includes a one-handed push-button lid and a carrying loop to make it easy to use on the go! It's also durable, BPA free, and dishwasher safe. Available in 6 different colors! 
#19 A DIY Paper Sculpture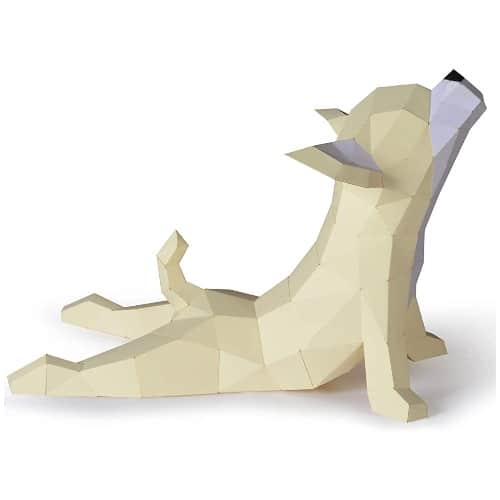 This is a great gift for the yoga-lover who's also into crafting! The end result is an adorable chihuahua doing the upward facing dog pose. This kit includes 45 card stock pieces that are pre-cut and perforated.
They can be easily put together with school glue or double-sided tape. When it's finished they can display it in their home or office for a piece of decor that will make everyone who sees it go "aww!" 
#20 A Weighted Eye Pillow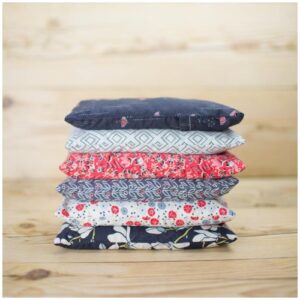 These are great to use as a hot or cold pack for natural relief from any stiffness, soreness, or strain caused by their yoga practice. These eye pillows are filled with flaxseeds, which hold their temperature longer than other materials like rice or barley.
The oils also create moist heat when warmed which helps relieve pain even more effectively than dry heat. Pillows can come unscented or with lavender for added stress relief. Covers come in 6 different patterns and can be removed and machine washed. 
#21 This Adorable Dinosaur T-Shirt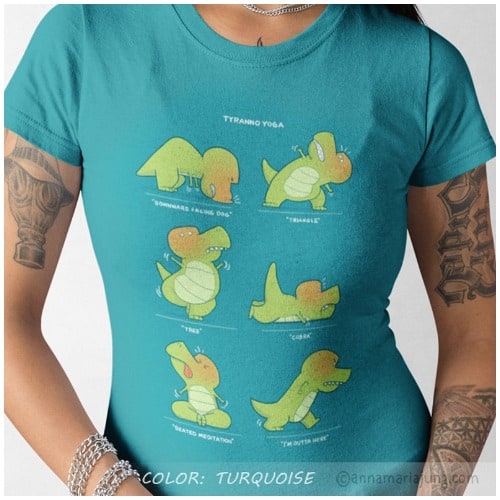 This silly shirt is sure to be a hit no matter where they go! It'll go over especially well with beginning yogis who feel like they still haven't quite got the hang of all the poses. Each shirt is printed to order using high-resolution direct-to-garment printing technology.
Choose your background color from black, charcoal, navy, deep royal, turquoise, red, sport gray, or kiwi green. This shirt is available in both women's and unisex fits. 
#22 This Hand-Stamped Spoon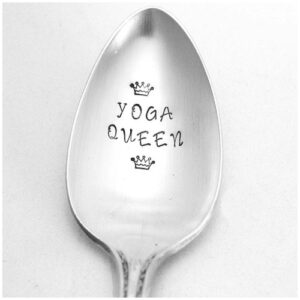 Officially crown them as the "Queen of Yoga" by adding this fun custom piece to their silverware drawer. Each piece is in beautiful vintage condition and hand stamped, so they are perfectly imperfect and one of kind!
This design is available as either a teaspoon, dessert spoon, or soup spoon. It comes in a paper gift bag with a pattern identification card.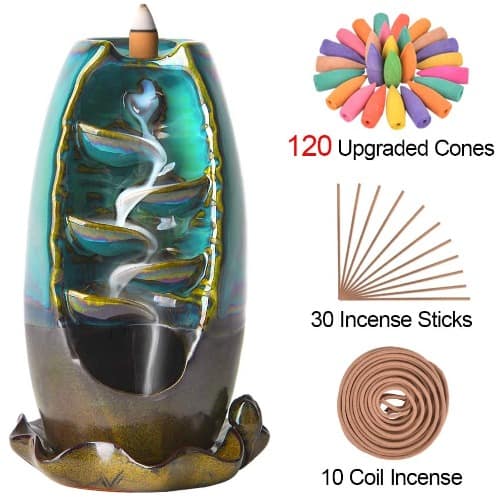 Another great way to add some ambiance and additional relaxation to their private practice space. This waterfall burner can be used in five different ways with either incense cones, sticks, or coils, even all at the same time!
The burner comes with 120 cones, 3o sticks, and 10 coils in 7 fragrances: Jasmine, Lavender, Rose, Green Tea, Mint, Sandalwood, and Osmanthus. Clean easily after each use by flushing it out with hot water! 
#24 A Set of Adorable Animal Coasters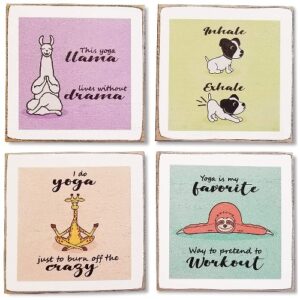 Put a smile on their face and protect their furniture from condensation rings with these cute pastel coasters! They come in a set of 4, and each one features a sweet illustrated animal friend doing yoga and a witty joke!
The coasters are made from rustic wood and come in a matching holder with twine for when they're not being used. They make a great housewarming gift for your favorite yogi! 
#25 A Mindfulness Spa Box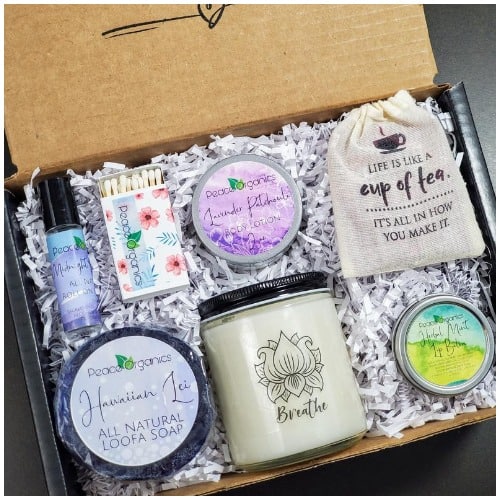 This is the perfect gift to help them wrap up their meditation with a bit of self-care! All boxes come with a natural soy candle, a jar of body butter, a bath bomb or loofah soap, lip balm, perfume, tea and sweetener in a muslin bag, a box of matches, and a gift card with a personalized message from you!
Choose your candle scent from over a dozen delicious options! There's even an option to add a wooden sign for them to hang on their wall. 
#26 This Set of Eco-Friendly Yoga Blocks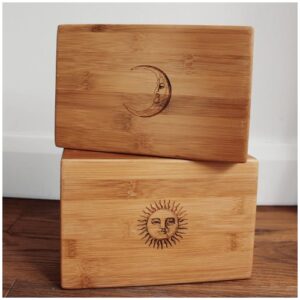 Yoga blocks are used to help improve the practitioner's form by adding stability and support. This set is made from sustainable reclaimed bamboo and engraved with stunning and original Sun and Moon carvings.
These blocks are made from high-density material for extra support and feature a beveled curved edge for comfort. They're also durable and scratch-resistant!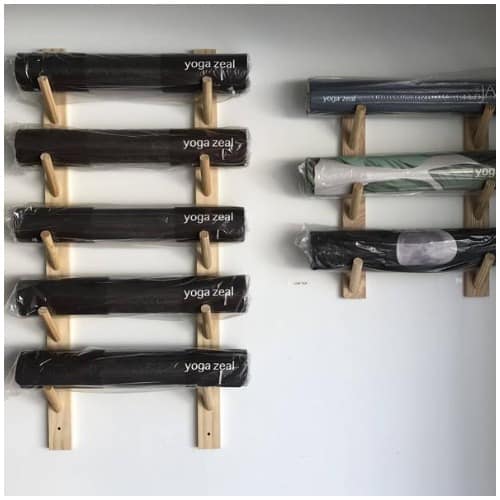 Perfect for the person whose short on space, or the person who has more yoga mats than they know what to do with! This yoga mat racks can hold 1 mat or up to 20! They're made from pine wood and simple enough to go with any decor scheme. They even include the necessary nails for easy installation. 
#28 A Book On The Art Of Laughter Yoga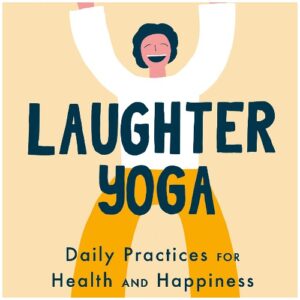 Turns out, laughter really is the best medicine! This book will help them enhance all the mental and physical health benefits of traditional yoga with laughter! Dr. Madan Kataria combines voluntary laughter–a type of laughter that is not in response to humorous stimuli–with yogic breathing to help reduce stress and enhance mood, among other benefits.
Anyone who practices yoga for the health benefits will be fascinated by this innovative new practice! 
#29 A Towel Mat for Hot Yoga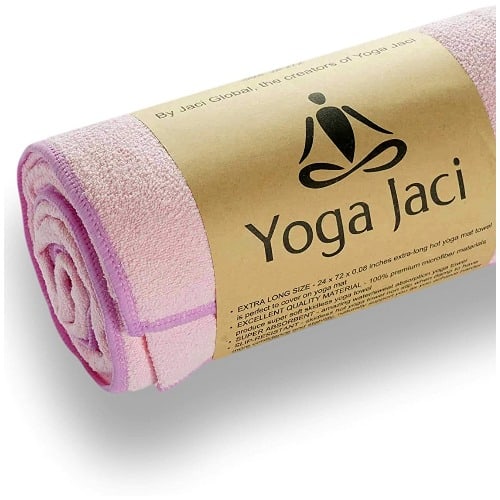 Is your yoga-lover specifically a hot yoga fan? Then you've finally found the perfect gift for them! Yoga mat towels go over regular yoga mats during hot yoga to keep them clean and dry.
Not only will this microfiber towel wick away the sweat and keep them dry, but unlike other towels, it won't slip! It's also large enough to cover their entire mat! It's machine washable and comes in 5 different colors. 
#30 This Set of Sloth Wine Glasses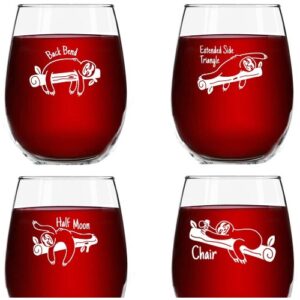 These are an adorable gift for any wine-loving yogi! The wine glasses come in a set of 4 and each features a cute little sloth doing his best impression of a different yoga pose!
These 15 oz glasses are dishwasher safe and made with a chip-resistant edge. The design is printed with durable organic ink that won't chip or fade even after years of being run through the dishwasher. 
#31 A Cute And Cozy Sweatshirt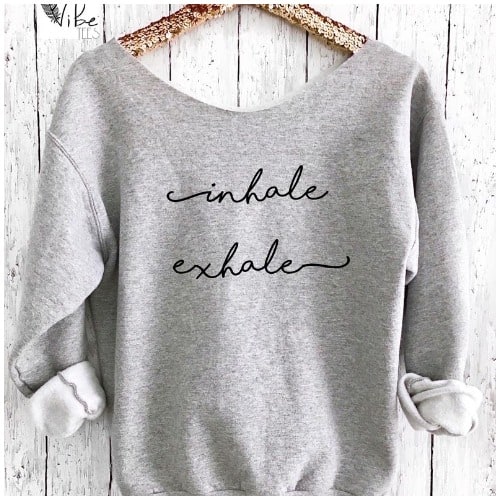 A stylish and practical gift they can throw over their work out clothes when they're headed to the studio on a cold day! This extra-long sweater falls below the waist, so they can really wrap themselves up in its comfort, and features a fashionable raw edge.
This sweatshirt comes in white, pink, or gray and is also available as a racer back tank top or t-shirt.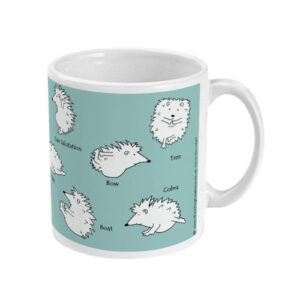 Not all critters are built for yoga, but it sure is adorable to watch these roly-poly hedgehogs give it their best shot! This 11 oz mug features line art hedgehogs in their best approximations of yoga poses against a pretty pastel background– choose from 4 different colors!
It's also microwave and dishwasher safe. Whether your yoga-lover is enjoying a cup of coffee to get them going before a morning class, or sipping some tea to unwind at the end of the day, this mug is sure to put a smile on their face!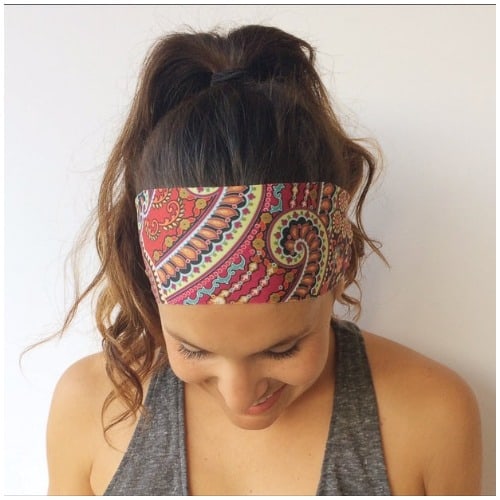 For the yogi with long beautiful hair, this gorgeous headband will keep it out of their face and free from sweat all while looking great! These Wild Abandon headbands are specifically designed for movement, so it'll stay in its place no matter how intense the practice gets.
The single-layer nylon is moisture-wicking and easy to wash, so they'll always feel fresh and clean both before and after their work out. Headbands are tapered in the back to mold to the wearer's head for maximum comfort!