Gift Ideas for Boaters Under $100 - Top 27 Unique Ideas
Life on a boat is a real escape. The moment you got off the boat and get detached from the land, you feel some sense of relief and a total getaway is real. Instead of everyday life anxieties, your mind gets busy focusing on the wonders of creation- sun, skies, waves, ocean, and sea breeze.
Aside from having a great escapade, boating also brings a great benefit to your health. Let's admit it, life in the city where the hustle never sleeps sometimes causes unnecessary fears and worries and soon will stress you out. Having a break in between is an ideal way to get through it all and preserves our sanity. Thus, boating is a good activity that does wonders for your life.
If you are a boater yourself or if you have family members and friends who enjoy the life of sailing on a boat, the list of items below especially curated for them will surely satisfy their needs and will get them more excited to sail on. Choose the kind of gift that perfectly suits the taste of your loved ones and amaze them with these affordable yet functional items.
This is one big proof that one is a proud boater. Hang it on your wall at home or make it a hanging decor in your yacht or boat to feel the vibes of the sea. It is a decorative lifeguard which adds a nautical chic to your space.
This is a unique and affordable find that guarantees a quality material since it is made of high-quality rope, foam, and cotton covering for added protection. It has 2 colors to choose from, red and blue, and comes in different sizes.
This is a good way to greet your guests with this Mediterranean nordic wooden decorated welcome sign. Or can be a perfect gift for your friends and loved ones who are boating enthusiasts.
Get clearer views as you enjoy the sunset or sunrise with these waterproof binoculars. It is also fog proof, shockproof, and even floats on water because it is compact and buoyant. This features the classic 7x magnification and 50mm objective lens combination for a great nautical observation.
It is also made of high quality fully multi-coated lenses and a rugged design. It has a non-slip and ergonomic rubber design and neck strap to make the binoculars easy to carry and use. It is a suitable gift for your loved ones who are sea navigators. A true value for money item that is very useful.
This is a perfect outdoor backpack to bring all your essentials while sailing. Since it is insulated, it guarantees to retain the temperature of your food and drinks.
It has enough space for your necessities and has side pockets for additional compartments. It is also leak-proof and is lightweight but made of heavy-duty, durable fabric that does not easily tear or scratch. Proven a quality material due to its added high-quality zipper and adjustable shoulder straps that are comfortable to bring because of its padded section at the back.
It is multifunctional and comes in 4 styles to suit your personality. it is an ideal anniversary gift for the couple who loves to sail on together since it has 2 pairs of tumblers and huggers.
Picnic is not only for green grassy land but also perfect for the blue wavy ocean. Prepare your picnic menu and have your cheese orderly placed on this revolving wooden cheese board. It has 4 assorted pullout cheese tools that fit snugly into magnetic slots on the side of the board.
Its handles are made of durable rubberwood and the tools have stainless steel working heads. It is an ideal gift for boating enthusiasts due to its mariner design and will surely be useful during picnics on the boat.
Whether you display it at home or play with it, this nautical-themed chess set is a perfect gift for boaters. Its pieces are dolls dressed in brightly colored sailor costumes with a chessboard that's ocean-designed.
The wood is durable and is made of high-quality wood, easy to carry for travel, and is intact due to the brass clasp as a secure lock. It is a fun game to be played while sailing or docking time at ports to buy some essentials.
Safety is always our primary concern wherever we are. Thus these flashcards are essential items to keep for your loved ones every time they go on sailing. This is a perfect reminder you can give to them as part of their safety protocol thus a perfect gift for them to show your love and concern.
These 56 full-color plastic cards make learning easy as it covers all the main subjects detailed in the CT Safe Boating Certificate. It can be also used for a fun guessing game too.
These signal flags are great for emergencies as it features high visibility distress signal with their vivid red and black color. Each pack comes with 2 SOS flags that are made of PVC so it is waterproof and long-lasting.
It has an easy attachment since it has 4 angled buttonholes so it secures the lock. It is an ideal gift for your friends or family members who are boating enthusiasts as you equip them to be always prepared for emergencies and ensure safe travel.
Perfect for gatherings, this boat-designed bowl will surely surprise your loved ones who are boating enthusiasts. With its creative design that is inspired by a boat, it can be a great container for that home-cooked specialty menu.
Since it is made of wood, it prevents the risk of breakage and is a durable piece for the kitchen. It can also be brought along as you and your friends sail together and enjoy a feast of food on the boat.
It already comes with a salad server which is a perfect pair for the bowl as you serve your guest with that yummy pasta.
Upgrade your boat and make it more luxurious with this decking carpet. It comes with a variety of colors and designs to choose from and has good cushioning, shock resistant, heat insulation, chemical corrosion resistance, and nonabsorbent.
It is safe and durable because it is not easy to be deformed, to be torn, or damaged. It is multi-functional as it can be used as a boat, pool, and garden flooring. The best gift for your loved ones who own a yacht or boat and who wants to transform it and puts some touch of luxury.
This complete compliance kit is a perfect gift for boaters to ensure safety while sailing in times of emergencies. It has a day and night beam that lasts for hours and is visible up to 10 nautical miles.
It also has an audible marine whistle for an audible signal and a daytime orange signal distress flag which both comply with the USCG requirements. The package already includes batteries and guarantees safe and is easy to use. Replace those flares and let your loved ones use this instead.
Be always ready with this complete emergency Marine Boat kit. It is a full range of boat tools with a case that is waterproof and floats in the water. It is also rust-resistant and so it ensures durability and can be used for a long time. Save your money for some mechanic fees as you can work it on your own with this tool.
This is also versatile since this is not only useful during the sailing time but even in any work needed to be fixed at home. An ideal gift for dads and other male loved ones who are boaters and love fixing things.
This slim and stable-designed dehumidifier helps to remove moisture from the air and protect important supplies and equipment in small spaces. It is energy efficient with a 70-watt heating element which consumes minimal electricity.
It is a silent operation and is designed for a 24 hours operation. Strength and durability are ensured because of its neutral beige polycarbonate housing. Very ideal to use in an area with moisture built-up such as boats making it a perfect gift during holidays for your boater friends and families.
Safely dock your boat and experience the smooth action and moderate stress with this line rubber. It has a progressive tension design which means that the further it stretches, the greater its return force. It has a maximum stretch of 16″ before the line limiter safely stops further stretching.
It has a patented internal line limiter which is UV resistant and thus protects the internal part. Can be a great idea for gifts to friends whose life is spent boating as they usually sail and dock once in a while.
This is an excellent gift to boater friends and loved ones to ensure safety during emergencies and will surely take them to far places without worries. This tool serves as a backup in case there are failures in the navigational system.
This tool is used to measure the angular distance between two visible objects, the most common sextant navigation points are an astronomical object and the horizon. It is full-sized and has sunshades, but no optical magnification to help you find dim celestial bodies.
To keep you up to date with the latest marine activity, this handheld waterproof radio is a very essential thing to bring along for boaters. It is built rugged, waterproof, and is submersible for up to 30 minutes at 5 feet.
This is preprogrammed with NOAA weather channels which is helpful during severe weather as it will warn and alert you to any local or national emergencies. It has triple watch mode channels 16 and 9 for a signal while you listen to the selected channel.
It has a large and easy-to-read LED screen for messages and is rechargeable. Show your care to your boater loved ones and give them this perfect gift for any occasion.
It is made of polyester with a UV-resistant PVC coating that makes it a safe and convenient way to hold valuables when leaving the dock or boat. It has a tight Velcro strap which assures security attachment over the bench seat and is easily removed.
It also has 2 zippered mesh storage pockets on the front, 2 stainless strains on the bottom, and 1 water-resistant pocket for storage of valuables ensuring enough spaces to carry essentials. An ideal present for those who frequently sail and enjoy life in the ocean.
This real lifesaver will surely be appreciated by your boater friends as a gift from you during a special occasion. It has graded sizing to ensure a perfect fit for a wider range of users.
It features an ergonomic wrap that contours to the natural shape of the body allowing optimal comfort. The shaped torso provides a secure and comfortable fit without the tight and restrictive feeling. It also has large top-loading front pockets for secure storage.
An ideal gift for someone who loves fishing and sailing as it provides optimal storage for valuables of boaters. This bag is designed to maximize the unused space in the boat for more storage.
It features removable interior dividers that reduce sagging and allow you to separate stored items. Its 7 external pockets provide space to store smaller items like fire extinguishers, sunscreen, keys, and phones.
It can also be easily installed because of its buckling nylon strap and supplemental Velcro strap. What is great is it is ventilated on both sides to prevent moisture buildup which causes mold and mildew growth.
A perfect gift for female friends who love water adventure and prefers both comfort and style in shoe wear. This shoe is versatile for in and out of water adventure as it is lightweight but is built for explorers.
The upper features quick-drying, breathable mesh and has spots for water to escape and an anti-odor sock liner thus making it perfect shoe wear for paddle-and-hike activities. It is also convenient to use as it has minimalistic but strong lace for one-pull tightening for easy on and off.
Weather is unpredictable so sailors must be always ready and on the check for a possible weather update. This barometer is an ideal gift for your loved ones during special occasions and it will be very useful during their boating adventures. This is packed with features that are logical and easy to read color screen layout.
The forecast icon reacts to changes in barometric pressure which provide a forecast for upcoming weather in the next 24 to 48 hours with reasonable accuracy. Equipped with an atomic clock, time is set automatically via radio and in synch with the U.S. atomic clock for the utmost accuracy and automatically sets adjusts for daylight savings time.
A full-year magazine subscription will surely surprise your boater loved ones as you present it to them as a gift for their birthdays. It will surely be a very helpful and informational guideline during their water trips and adventure.
It also comes with a digital edition which is can be conveniently accessed through smartphones. The subscription also features an automatic renewal program.
Its waterproof feature makes it an ideal gift for friends and loved ones who love to sail on. Since it is waterproof, it is a perfect buddy for relaxation in outdoor and indoor activities.
It is made from tech cloth, soft and skin-friendly fabrics that have double stitch which ensures maximum strength and durability. It is easy to clean with just a damp towel and is non-pilling. You can choose from 2 colors brown and grey.
Ensure the safety of your loved ones while they go sailing with these heavy-duty grab handles. It is polished with marine-grade stainless steel that is made for easy grip while riding on a yacht or boat.
It is easy to mount anywhere you want to attach it and is heavy duty so it assures security even with tight handling. Show your care and present this as a gift to your friends and families who love water adventures.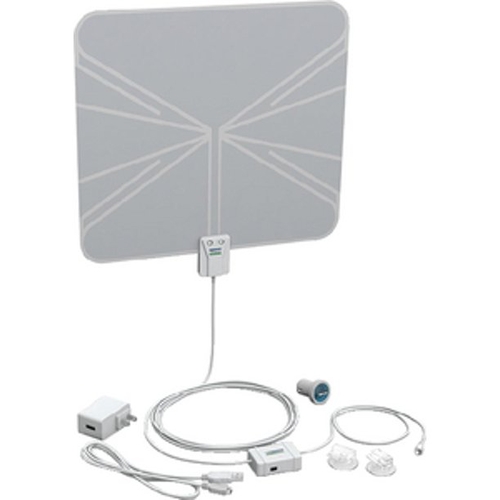 Boost 100% of the signal and maximize channel reception with this Tv Antenna. It is designed with revolutionary Clear Circuit Technology to ensure the best over-the-air viewing experience possible. Watch your favorite TV program with this full uncompressed 1080p HD while navigating the sea.
This is best suited for areas within 15 miles of broadcast towers and thus can be a perfect gift for your sailor friends who love to watch their favorite TV program onshore.
This large umbrella has UPF 50+ protection rating, side flaps, and wind vents which makes it a perfect umbrella for all-weather protection. Its rugged canopy is made of 210 D polyester which assures durability and has protection against over 99.5% of UVA and UVB rays.
Its telescoping pole has a reinforced tip held in place by a locking mechanism ensuring a stronghold and comes with bells and whistles for emergencies. There's no other umbrella as functional as this so this will surely be appreciated as a gift on special occasions to loved ones who enjoy boating and outdoor adventures
The knife is a very useful tool anywhere so you should have a durable one. This knife features 1075 carbon steel, tough micarta handles, and MOLLE-compatible sheathes which ensure versatility and durability.
This is an everyday essential tool that can be handy and having an ideal fixed blade guarantees functionality. To ensure safety, it has a nylon sheath to house this sharp-edged knife. A great surprise gift for outdoor adventurers and sea explorers.
These glasses provide ultimate eye protection against the sun's rays making it very ideal for outdoor activities such as fishing, hiking, and any extreme sports. Its nylon frame provides comfort to the eyes and has a nonpolarized polycarbonate lens that protects the eyes from dangerous UV rays. An ideal gift on any occasion for couples who are adventurers or sailors and who love spending time outdoors. Best for a couple who loves to wear matchy-matchy.
Conclusion
This wide variety of unique finds will satisfy the needs of your friends and loved ones who love outdoor activities and ocean trips. Send smiles and warm the heart of your loved ones as you pick your favorite item that suits them well with these functional and versatile essentials.
These giftable items will surely make their sailing convenient, memorable, and enjoyable as they experience the same comfort as their home with their fully-equipped yacht or boats. Ahoy mates!