27 Gifts for Cheerleaders
Looking for the perfect gift idea for a cheerleader in your life? Anyone who knows one of them knows these energetic acrobats work hard to put on their shows! Si, if you want to give them a gift as a way to recognize their accomplishments, look no further!
It doesn't matter if you're looking for something for the entire team or as a congratulatory idea — we've got you covered! Check this list we made for you and let your own cheerleader go wild!
#1 This Eat. Sleep. Cheer. Sack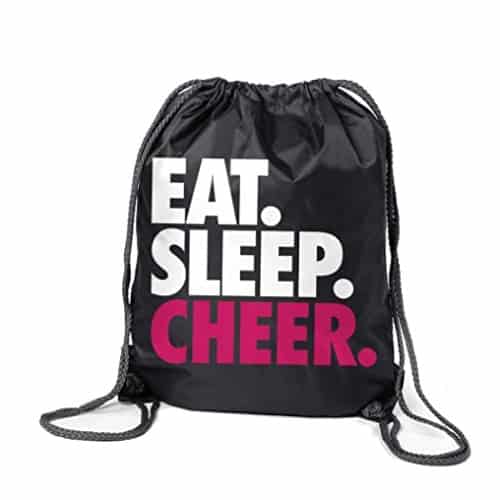 This sack deserves a thunderous round of applause! It has a world-class colorful design, which is a favorite amongst cheerleaders everywhere!
This particular sack has a durable fabric, sleek design, and color matched drawstring closure. Any cheerleader who wears it will own the competition and share their passion for cheerleading! It can also be worn as a backpack, carried over the shoulder, or held by the tough and sturdy drawstrings! 
#2 A Custom Cheerleading Necklace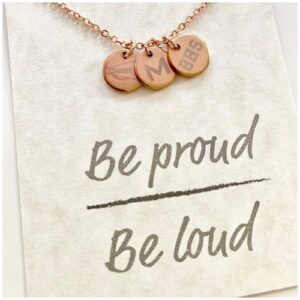 This is a personalized cheer necklace that you can choose to have made in rose gold-plated stainless steel or gold-plated stainless steel, which makes it dainty and perfect for everyday wear!
You can choose up to 3 discs per necklace, and personalize them how you like! Whether it's an initial, school abbreviation, a megaphone, the possibilities are endless! These would make super cute team gifts for the end of season!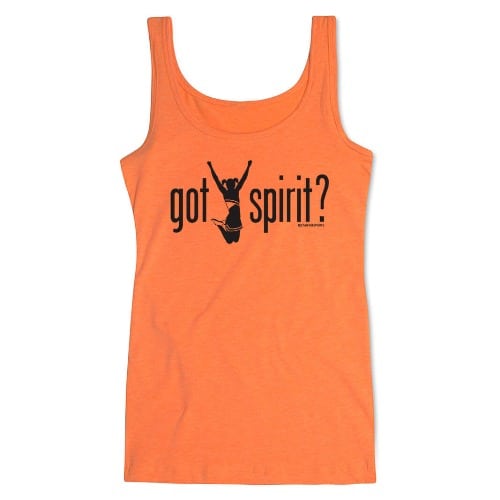 Isn't this "got spirit?" athletic cheer tank top the perfect lightweight, soft tank top for spring and summer? It's a gift that cheerleaders will love to proudly wear, helping them stay comfortable all spring and summer! Again, another great gift idea for any cheerleader or the whole squad to show their dedication and love for this incredible hobby! 
#4 A Cheerleading Charm Infinity Bracelet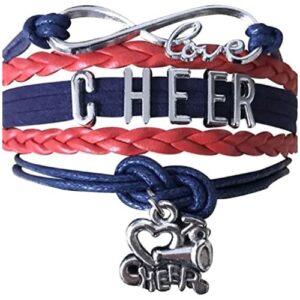 Cheerleaders will love showing off their team spirit together by wearing these Sportybella Cheerleading charm bracelets! These Cheer Infinity bracelets come in over 20 team colors to make the perfect gift for Cheerleaders, teams or coaches! It's also adjustable from 5 inches to 8 inches, featuring a sturdy adjustable clasp to hold it in place and easy to get on and off. 
#5 An Incredible Cheer Bottle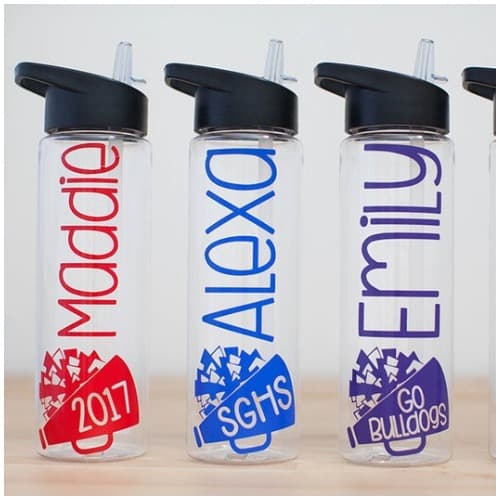 This is a24 ounce water bottle customized with a cheer graphic and name. Is an amazing personalized gift. The bottles are made of BPA-free Tritan and have a straw inside. And their customization is done with high quality adhesive vinyl, which is rated for outdoor use and is waterproof!
You can choose practically any color combinations, particularly on the smoke (dark gray) bottle, although the lighter design colors show up better on this bottle. 
These popular Heart With Glitter cheer socks are perfect for talented cheerleaders! From elementary and high school to collegiate and professional cheerleaders, athletes of every level are going to want a pair of these socks! Grab yourself a pair for that special someone and help them prepare to dominate the competition in style! 
#7 A Set of Cheer Hair Ties!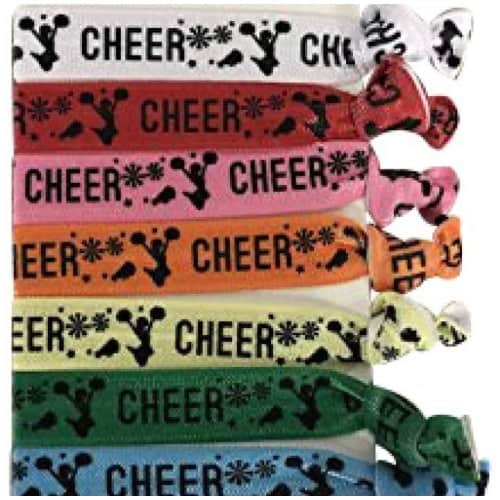 Help them spread and express their pride for cheer with these pink, black and white cheer bows for hair! They can fold over these elastic hair ties made with no crease ribbon that doesn't pull, dent and damage the hair. Absolutely adorable, your friend will be in a hurry to show it off to their friends and family! 
#8 A Personalized Cheerleading Print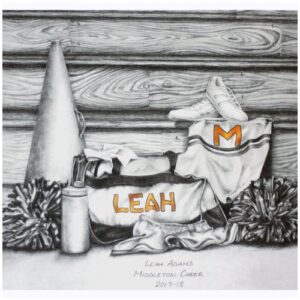 Give your cheerleader friend something to remember her eBay times! Each print will have the cheerleader's name hand drawn onto the bag and the team's name, initials or mascot drawn onto the shirt! These prints make great gifts for college and high school seniors and are perfect for senior night and end of season banquets.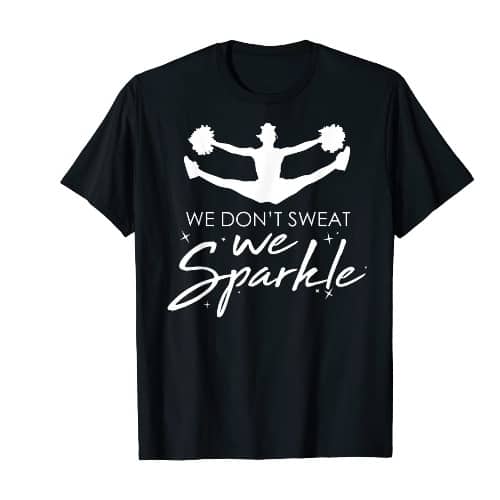 Whether you are looking for the perfect Christmas gift, celebrating a birthday, or supporting your favorite sports team, we have you covered. What are you waiting for? Give them this custom T-Shirt with the personalization you want and help them show the love for what they do! 
#10 A Cheerleader Ornament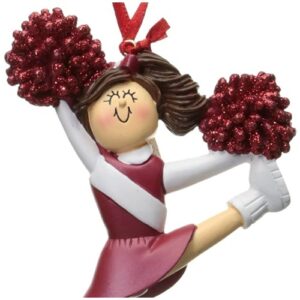 Enjoy this exquisite cheerleader ornament and give it to someone who truly deserves it. This beautiful design will be treasured for years to come, and can be easily personalized with a Sharpie or pen. It includes ornament string for hanging, and is made of high quality resin material to last for years! 
#11 Personalized Makeup bag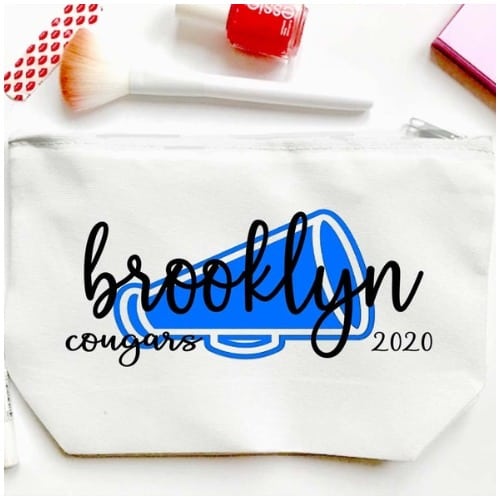 Give her something to fill with all the goodies she'll need for the Perfect Girl Getaway! This makeup bag is an adorable flavor for team awards or recognition nights, as the bag is bright and vibrant as cheerleaders are meant to be! These bags are sturdy and splash resistant, great for a weekend tournament or stowed in an athletic bag!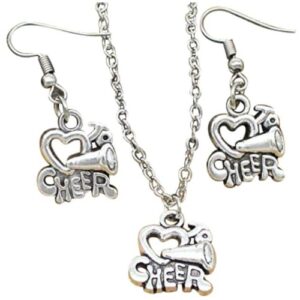 These pretty yet expensive love to cheer earrings makes a great gift when you have a birthday, holiday, competition or other special occasion coming up for the Cheerleader in your life! Whether for a friend, daughter, girlfriend, cheer mom, or teammate; anyone will love them!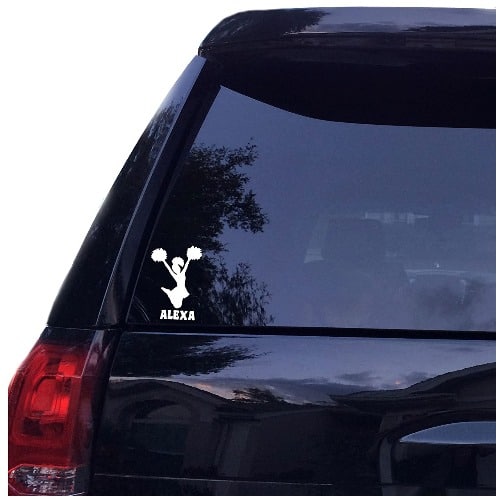 This is a special Cheer Girl personalized decal. They can be placed on car windows, body of car, laptops, cell phones, video game hardware, glass, tile, flat metal, painted wood or any other smooth surface! Incredible to show in any place what this woman is really made of: cheerleader material!
#14 Cheerleading Wish Bracelet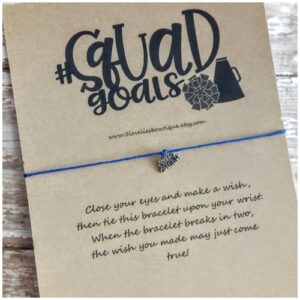 This charm bracelet makes the perfect gift! They will fit any age and have a special meaning: simply tie the hemp cord bracelet on your wrist and cut off the excess! Each charm bracelet comes attached to one card with a poem and is enclosed in clear gift bags.
#15 Cheerleading iPhone X Case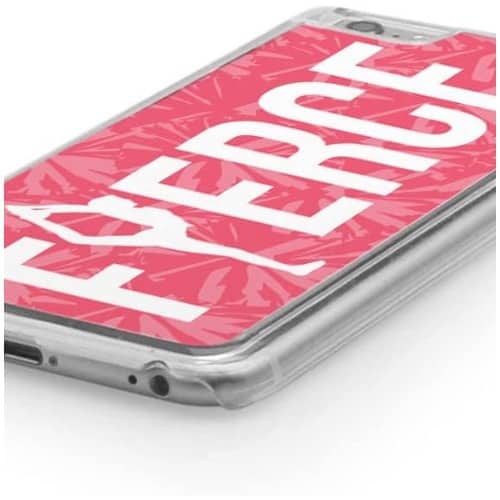 Show off your pride with this awesome cheerleading iPhone case! It doesn't matter if your cheerleader friend is heading to practice or hanging out with friends at home, she'll never be too far from the cheerleading action with this awesome iPhone case. If you're looking to add a little of that signature cheerleading style to your life, this super sleek phone case is a great place to start!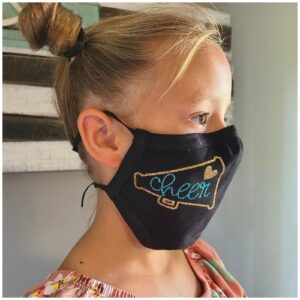 This is the perfect mask for those still wanting to be cute and support their squad while being safe during a pandemic! The adult mask loops around the back of your head and neck to give your ears a much-needed break, but the kids' one is an adjustable mask that loops around the head for the perfect fit as well! 
#17 Cheerleading Car Magnet
This Cheerleading Girl Silhouette cheer car magnet is perfect for any cheerleader, coach, or fan! You know how much cheerleaders love what they do, and now they can show off their passion wherever they go thanks to this popular and high quality cheer car magnet!
The durable magnetic backing makes this awesome Cheerleading Girl Silhouette magnet perfect for indoor AND outdoor use!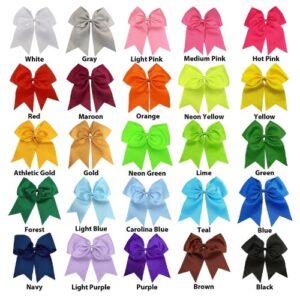 Spirit bows are perfect for girls, teens, women sports and fashion and are great for holding back hair! They are especially useful for hard movements where the hair might become a problem for cheerleaders. These sports bow measure 6-7 inches from top to bottom, with extra large classic cheer bows available in tons of awesome colors! 
#19 Cheerleader Cute Girl Sandals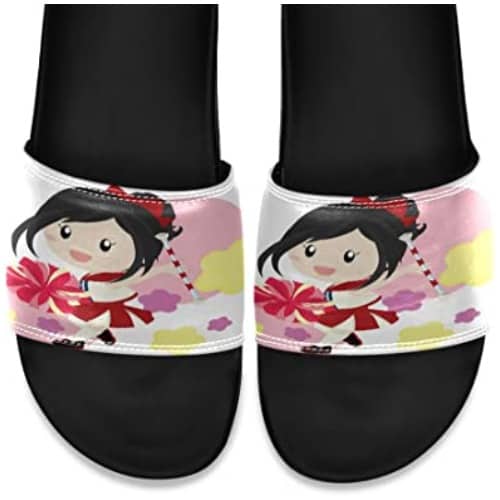 This kind of footwear is designed for the active urban lifestyle of cheerleaders. They offer lightweight, comfort and durable slides and house slippers combined with the fashion design and unique pattern of a cute cheerleader. Their post-game routine just got extra-comfortable with a pair of these!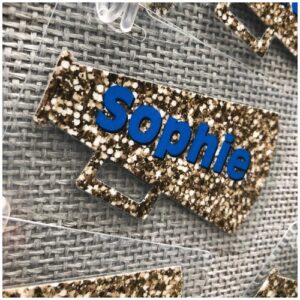 This adorable ID tag can be customized to your specifications, including the name, just initials, phone number, team name, you choose! Colors can be changed, and its bling appearance is a printing effect available in; green, blue, pink, purple, gold and red. 
#21 Mini Cheerleading Pom-Pom Keychain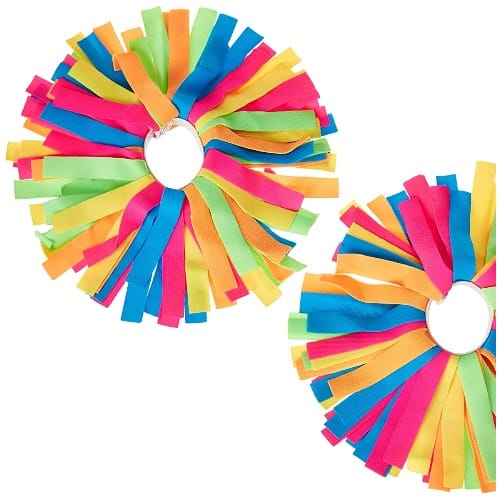 Cheer loud and proud with the Lewis N. Clark Pomchies Pom! Your friend can use their Pomchies Pom ID to tag team luggage, bags, purses and keys, or wear them in their hair, wrists or ankles. They are available in dozens of multiple color combinations for your sporting events, offering a unique ability to coordinate all of your team's bags and items! 
#22 Cheerleader Survival Kit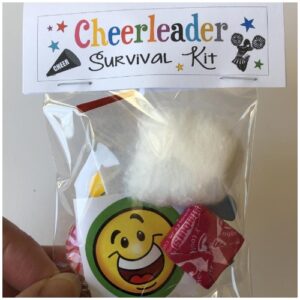 What do you get for that person who has everything prepared?! These cute, silly little bags are sure to bring a chuckle to any recipient, especially cheerleaders! Add to the top of a gift, leave in your friend mailbox and let them know life is about being happy too!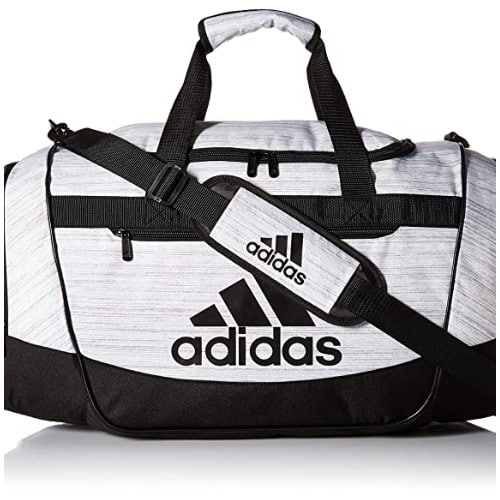 This Duffel has everything a cheerleader is looking for in a bag. The main zippered compartment is roomy enough to stash your gym clothes or cover you for a long trip. Now with a zipper on the front of the bag for extra storage. They can store almost anything they'll need to cheer people up and still have some room for more!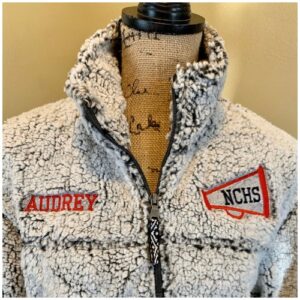 What a great way to outfit your team or treat your favorite cheerleader! This soft Sherpa pullover works for a great wardrobe staple and is the perfect gift for your favorite person! They're also unisex jackets, super soft, and come in 8 colors.
#25 Cheerleader Pillowcase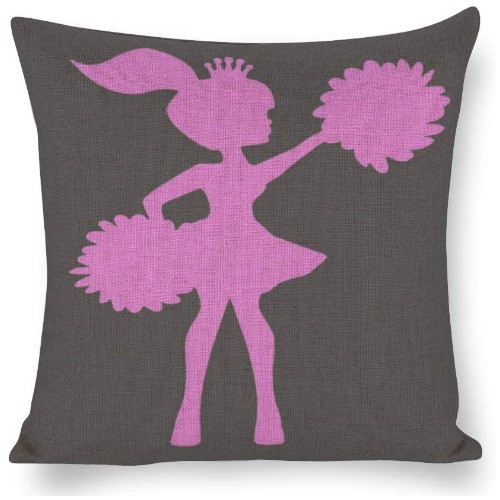 We want athletes to be able to show team spirit, so the perfect way to do it is with custom sports accessories for girls. We just love accessorizing traditional sports attire, and we think those accessories enhance the whole sporting experience.
Decorate your bed or couch with a cushion in these 18 × 18 geometric pillow covers, and augment the unique style of your room in an instant!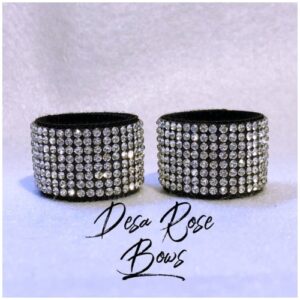 These are perfect to add a little bling to the double french braid look or small pigtails. You get 2 cuffs in this listing, and they attach via a hair tie on the inside of the hair cuff as well as two elastic strips to tie it on securely *3/4" cuffs have only an elastic.
#27 Cheerleader Night Light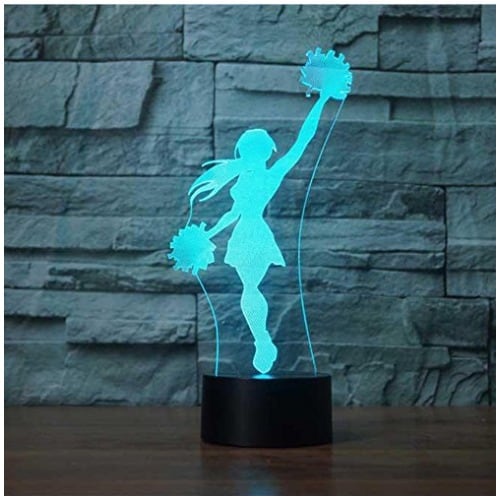 This night light offers a 3D vision effect, especially in the dark or while taking a photograph. It's PMMA acrylic is not glass, making it strong, hard, high toughness and not at all fragile. It's very low heat-conductive and it will not be hotter after long time working, so you can keep it on for as long as you want!