Panda Gifts - 31 Gift Ideas for Panda Lovers
Pandas! The fluffiest of bears. Who doesn't love them, specially kids? These cute, fuzzy guys have been stealing the hearts of young and older people since forever. Originally from China, pandas are a breed of bear very different from their grizzly or polar cousins: Instead of roaming the wilderness or hunting for food, Pandas live a quiet, easy life eating bamboo and napping all day.
Since the nineties, Pandas have been popular in kids TV shows and regular paraphernalia, with tons of merchandising to choose from… which makes it even harder to choose a special gift for someone.
Because all of this and more, people love Pandas! And, if you want to gift someone else (Or even yourself) with some Panda-themed paraphernalia, don't seat! Here on GiftNerds we will present you with 31 fantastic ideas for Panda-related gift, all of them chosen for different special occasion, so that you can pick the one that's better for you or anyone else. Embrace your love for pandas with these amazing gift ideas!
#1 A Cute Little Panda Shaped Necklace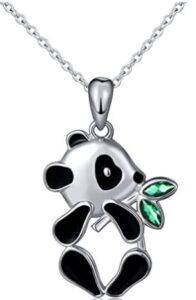 Who wouldn't love to have a Panda with them everywhere they go? With this cute little panda shaped necklace, which pictures our cute fella eating some bamboo, everyone will ask you where you got it.
And its beautiful design comes in different shapes, so picking the perfect one is very easy!
#2 Panda Cell Phone Purse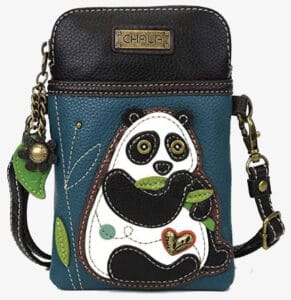 With that necklace on, you've got the Panda style on you. Now it's time for your cellphone to be stylish, too!
With this Panda cell phone purse, your phone will show everyone how much you love pandas! It also converts into a wrist clutch, purse or cross body bag making this bag so simple and comfortable.
#3 Sleeping with Pandas Comfortable Fleece Blanket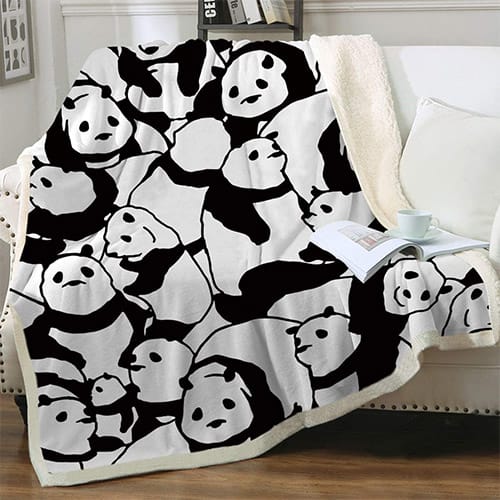 Pandas, pandas, pandas everywhere! This great fleece blanked is perfect to use when cold nights come, or while watching TV with your loved one.
If you give it away, your friends can use it while reading a book on a couch, watching a movie or at fireside chats with their families in the cold winters to come.
#4 Cute Ceramic Coffee Mug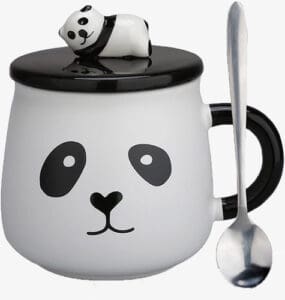 Drinking coffee and loving Pandas. There isn't a better combination! With this cute little ceramic coffee mug, you can mix the two things you love the most!
If watching Pandas was already a relaxing sight, now it'll be even more. It's also made of high quality ceramic with a smooth surface and solid cute body with its own cup lid! What else do you want?
#5 Panda Head Night Light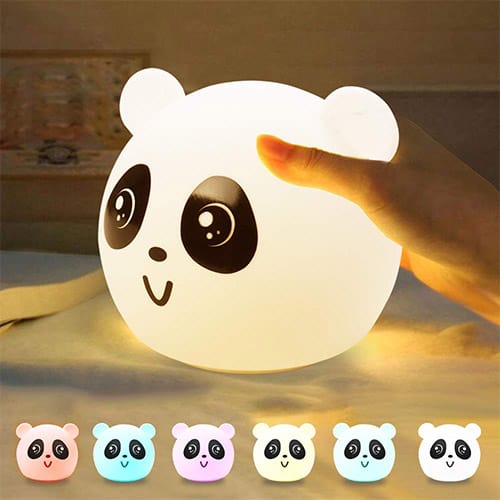 If your children are afraid of the dark, these cute Panda head night lights are amazing to light their rooms for.
They don't only provide fresh ambient light to any room, its design is cute and pretty, a perfect combination for your child. It also has 7 modes of color change, plus a fixed color mode including warmer and stronger for breathing exercises.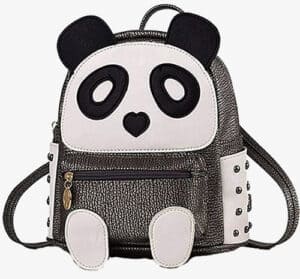 Backpacks are really important for children in elementary school or high school, but these Panda backpacks can be worn by anyone, even adults, too!
It is also beautiful streamlined outside and fully lined on the inside, with silky fabric and high quality materials. If you want to feel stylish going into college or work, don't miss the opportunity with one of these.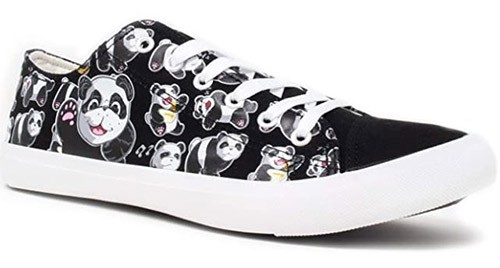 Building the perfect Panda attire is difficult, but an important part are the shoes.
With these Panda bear sneakers, half your panda outfit will be ready to go! And they're not only cool and very original they are also quite comfortable. Because everyone likes pandas, but only the most dedicated fans have panda sneakers!
#8 Spectacle Holder Carved out of Wood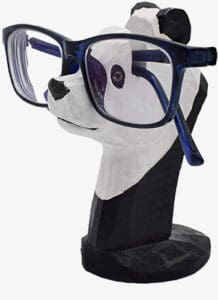 A spectacle holder is always useful, but make it a panda themed spectacle holder and it'll just transform it into a whole new gift!
Besides being a hit with children, its elegant design carved out of wood gives it a new level of elegance. And, if you give it away to someone who doesn't wear glasses, it's a neat decoration for the living room, bedroom or any office! This one is a must!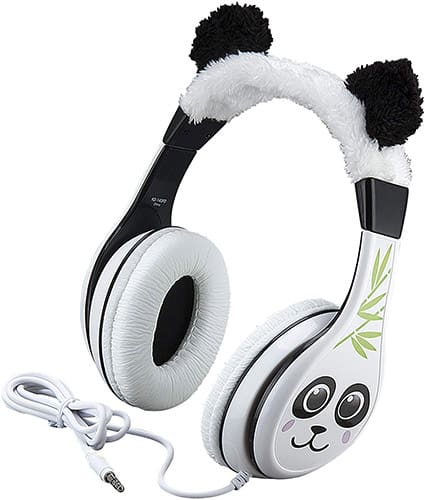 Wear the panda style mixed up with your own music with these incredible panda headphones!
Its slick design makes them perfect for boys and girls alike, and its quality gives out an impressive sound mixing. Listen to your favorite panda song with them! And, they come equipped with an adjustable volume limiter to provide a safe listening experience for children.
#10 "Coin-Stealing Panda" Piggy Bank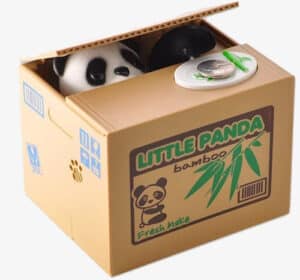 Cute pandas providing cute, safe fun. What else can you ask for?
If you place any coin on top of the panda money box, the adorable panda will pop up and take the coin with them, going back inside in one swift move. It's great and cute present for people who love adorable animals! 
#11 Earrings with Crystals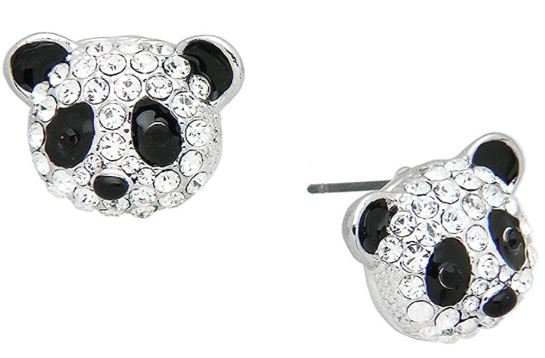 Earrings are an amazing gift for women, specially for those who love pandas!
These panda earrings with crystals are it only elegant and sophisticated, they're also crafted and encrusted with genuine sparkling crystal rhinestones, which makes it cute and not heavy at all. Wear them on any occasion and be the envy of your girlfriends!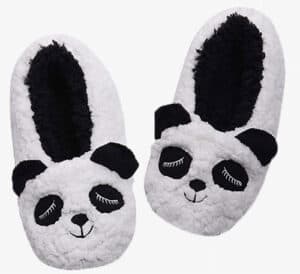 Slipper equals comfy outfits. But when you add panda themed slippers on the table, who would resist?
These little guys will keep your feet hot even in the coldest of nights, and a foam-padded sole on the thick and soft bottom ensures comfort and durability… but most important of all: they'll make you look cute at sleepovers!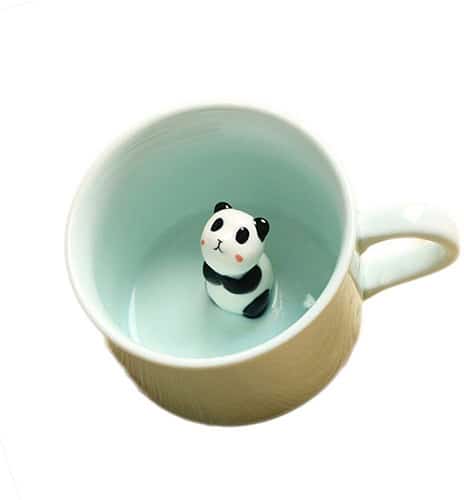 Another mug, but this time, it has  little surprise hidden inside it: a cute panda!
These hidden panda mugs are great to bring a smile to anyone you give them to, and specially for children who enjoy their hot cocoa every night. Don't miss the chance to fin these little fellas!
#14 Sterling Silver Earrings
These incredibly cute panda earrings are, so pretty and comfortable to wear that you won't even notice you have them on you!
It has a comfortable weight and It's the perfect gift for any occasion! It's also made with 925 sterling silver which is tarnish resistant, hypoallergenic and does not contain any allergic elements. Perfect even for children!
#15 Supersoft Rainbow Blanket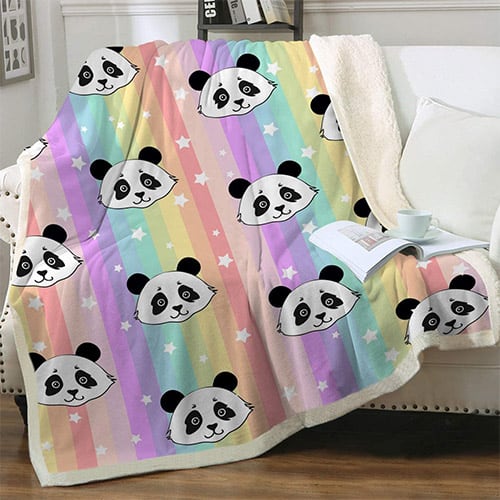 This supersoft rainbow blanket is specially good as a gift for small children.
Its pattern is cute, the fabric makes it super comfy and it's an excellent present for any boy or girl who loves the colors of the rainbow and pandas so much. It's also polyester sherpa on the inside, which makes it extra warm!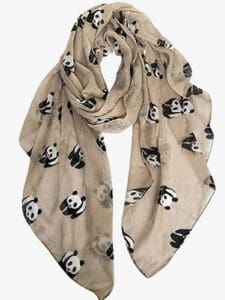 A scarf never goes out of style, and with this cotton scarf with a panda pattern on it, you will never go out of style either!
The fabric on this scarf makes it specially soft, and with winter coming along, it'll be an excellent gift for any panda lover. You can also wear it as you please; as a Head Wrap Scarf, around your waist, like an Infinity Circle Scarf, anything!
#17 Panda Animal Stuffed with 100% Cuteness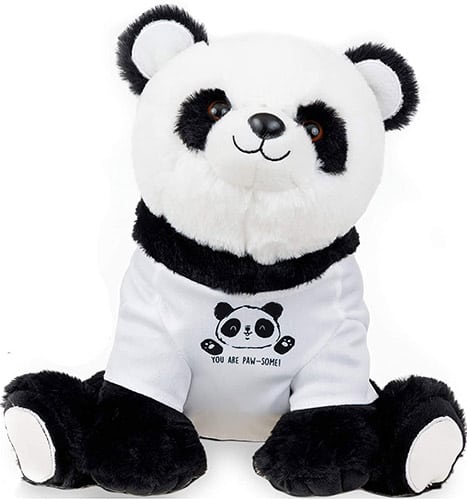 Stuffed animals are another thing small children love.
They provide security and comfort to them, both in day and night, and with this stuffed panda with 100% cuteness, any child would feel both happy and secure just hugging it! It's also hypoalergenic, which makes it specially safe for all children.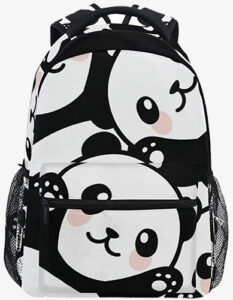 A panda backpack is something any child could want.
These backpacks come with multiple pouches designed to keep all inside them: school tools, food, drinks and even other smaller bags! Besides, going around with a cute panda on your back will surely draw the attention of all you children friends.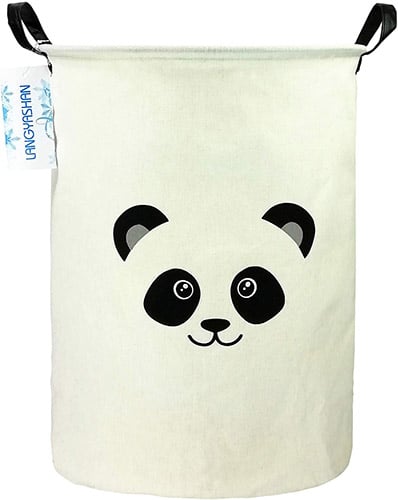 Laundry time can be extremely boring for children, but if you are thinking of building good habits on them, buying them these cute panda laundry baskets is an amazing choice.
It'll make them want to g around carrying one of this, which will prove to be of help whenever laundry time comes around!
#20 Chala Striped Tote Bag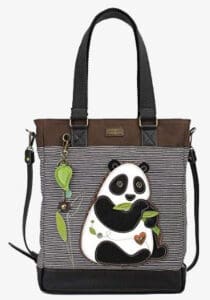 Striped tote bags are amazingly popular this year, but giving away a chala striped tote bag with panda motives will make you the best giver on the party!
Give it to that friend of yours that loves sporting tote bags everywhere they go and you'll be doing them a favor!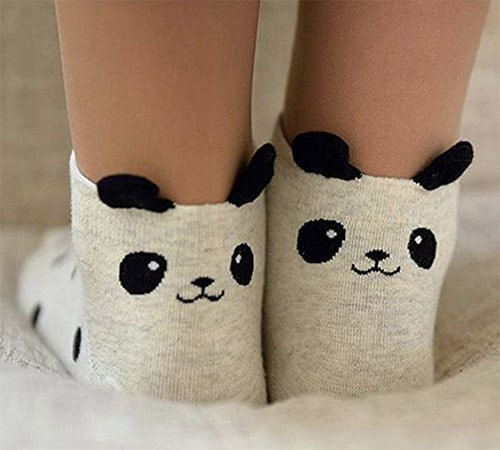 Wearing socks and wearing pandas? Count me in!
These comfortable and cute panda ankle socks are the kind of present you can give away on any occasion, mix them up with the panda sneakers we spoke about before and you'll be rocking the cutest outfit ever! They also have space for your little toes, making them look even cuter!
#22 Crystal Ball Night Light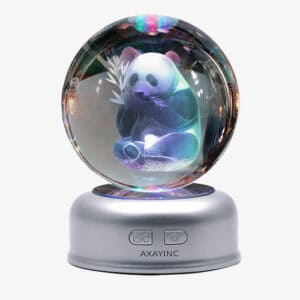 Another night light, but this one has the panda inside it!
We already mentioned how important these night lights are for children, but they can be a great therapy for adults, too! Children shouldn't be the only ones allowed to have cute things! In this case, a holographic 3D panda laser image floats in the middle of the crystal ball. This one is a must!
#23 Small Crossbody Purse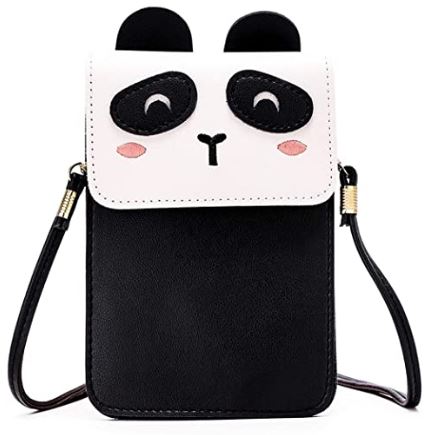 Wearing cross body purses is stylish, but having one of them with cute panda designs will make them even better to wear!
This purse will become your option to go to whenever you are going out with your friends! It also comes in varying colors, designs and sizes, giving you enough space to choose from!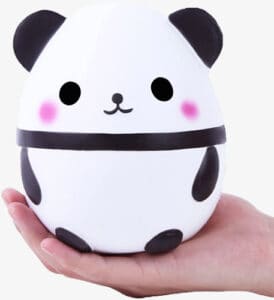 Stress relief is very important nowadays, specially with the whole quarantine and global pandemic thing gong on.
These cute stress relief toys with panda designs will help anyone pass through hardship without worrying too much, which makes them into an excellent gift! Besides, its environmental protection material will make sure no panda gets harmed if it gets disposed of.
#25 Laid Back Panda Necklace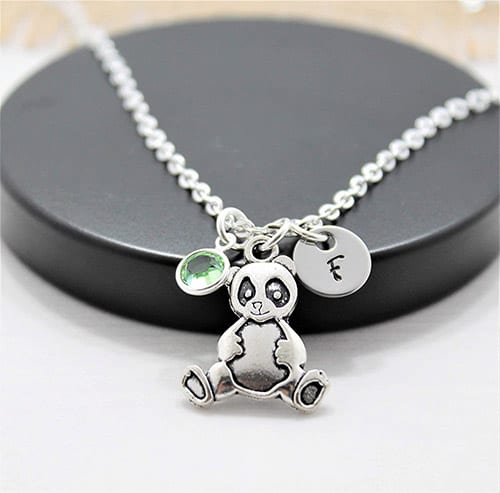 Another necklace, another opportunity to share your love for pandas!
This one in particular shows how laid back these cute animals are, and how you feel about your day! Give them away to that friend of yours that have a simple way of looking at life! You can also pick personalized initial letter to make it even more persona!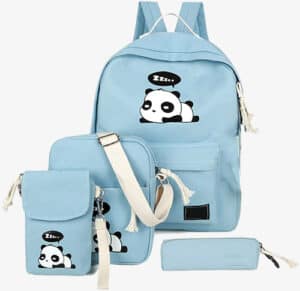 A set of bags? With panda designs on each of them? What a wonderful gift!
This Panda bag sets are incredible to give away, specially if you give one to each of your group of friends That way, you'll all be wearing the same bag, looking fashion and loving pandas!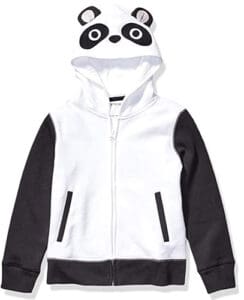 Zip-lock hoodies come in many designs, but picking up a panda hoodie will make you stand out in any crowd!
Building a perfect panda outfit is only possible with one of these, the sneakers and socks we have already mentioned. Transform yourself into a full panda lover! It includes a kangaroo pocket to carry important stuff like your cellphone.
#28 Ceramic Panda Sake Set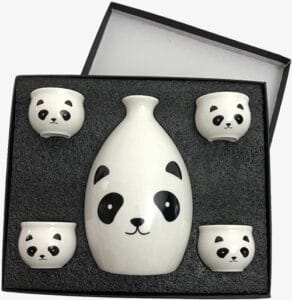 Drinking sake can only be done with a traditional ceramic sake set.
But if what you want is to have the most original sake set, then you can't go wrong with this one! Cute little pandas holding your sake is something not everyone can presume to have, so what are you waiting for? Give one of this away!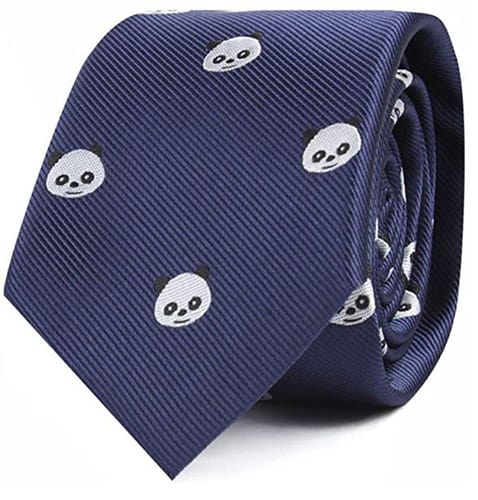 A Neck tie can only be cool if you choose one with the perfect design and, as we have already established on this list, you can't get wrong anytime you choose panda patterns!
The fabric is made from a 1200 needle count which is higher grade than the usual 960 needle count most companies use. This Pandastic neck tie will help anyone stand out looking stylish and, well, pandastic!
#30 Cute Stuffed Panda Boy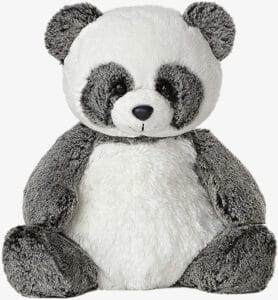 Here comes the panda hug train! This adorably cute stuffed panda boy will become the perfect partner for your children to play with, or that special gift you want to give to a very important person in your life.
It's also made with high quality materials and lock washer eyes for safety, so that you won't have any problem cleaning it. The whole package!
#31 Eco Friendly Water Bottle

We can't end this list without going through the eco-friendly route with this cute water bottle.
It's not just that it's made from safe stainless steel, which will make it durable for years, but it also has this convenient flip cap and straw to make it easier to drink from it. It can hold up to 20oz, the perfect size for any beverage!