Giraffes! Some of the weirdest, yet most curious and originals of all animals around the world. Theses long-necked beasts roam the plains of Africa, eating fruit from the tallest trees in order to keep themselves healthy and protect themselves from dangerous predators like lions and crocodiles.
Although they're a sight to behold in Africa, Giraffes have gotten themselves inside popular culture all around the world. This isn't a surprise, as they're one of the most exotic animals around the world. So, if you have come to love them, this is your chance to find amazing Giraffe-themed gift for you, your friends or anyone who finds them as interesting and cute as they are.
#1 Giraffe Shaped Toilet Paper Holder

Having a giraffe in your house as a decoration is always a good idea, but why not have it giving you a helping hand in one of your most dire moments?
This cute giraffe shaped toilet paper holder will not only provide you with what you need during your personal times, it's also a nice icebreaker in any house reunion. 
#2 Giraffe Wine Bottle Holder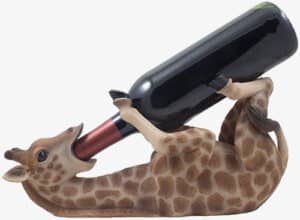 A giraffe that shares your own tastes is the best kind of giraffe. And this cute and original giraffe wine bottle holder is the perfect example of shared taste, as Its design is not only original and funny, it's also practical and does the job: to keep your wine bottle in one place, next to your own giraffe!
#3 Elegant Bottle Stopper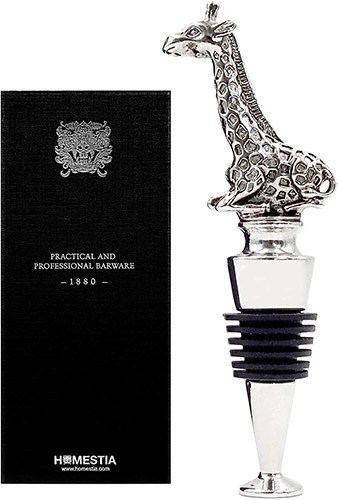 This elegant bottle stopper with a giraffe theme says it all about you: you like stylish, elegant and useful stuff, and you also love giraffes.
This bottle stopper isn't just a fine addition to your growing giraffe themed collection, it's also a nice thing to have in plain view in your living room or study to show everyone your good tastes.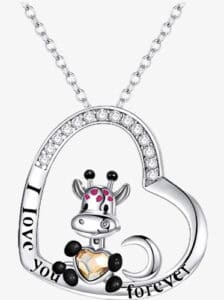 Take your love for giraffes anywhere and wherever you go! With this cute giraffe necklace, everybody will know you love giraffes – as much as they love you!
Its small design and cute pattern is perfect to wear with almost anything in your wardrobe, even for special or romantic occasions! This one is a must!
#5 Motivational Wall Decor Gift
This is an incredible and on-point wall decor for any special person in your life. It doesn't just say a lot about you – it also says a lot about your way of thinking, how much you enjoy living every day to the fullest and how important is the person you're giving this present to.
All in one small-framed package!
#6 "It's Been a Looong Day" V-Neck
Everybody loves puns, and giraffe puns are always the funniest! With this specially funny v-neck long dress, everyone will know you're in a good mood and a fun person!
Wear it when shopping or visiting friends to get some good laughs out of them. It's just too funny! Besides, if you give it away, remember to give it with a looooong hug!
#7 Beautiful Giraffe Necklace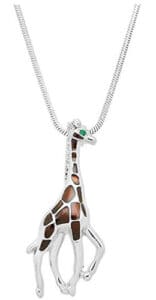 Another giraffe necklace, but this one is a little more formal than the other one we mentioned.
It's amazing how it matches with any elegant or cocktail dress in your closet. And as a gift, this is an excellent present for just about every occasion: a birthday, Valentine's Day, an anniversary, Easter, an engagement – it works for just about every occasion!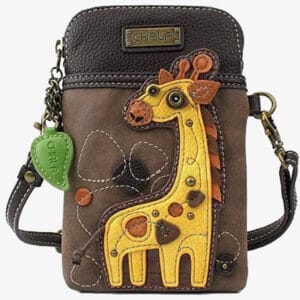 Give your phone the same stylish look you are wearing with this cool phone purse. Besides, this bag has two compartments: an external one for your keys, wallet, headphones or passport and a main zippered one to safely store your cellphone.
Care for your phone, your style and your looks, or give it away to anyone who needs fashion style!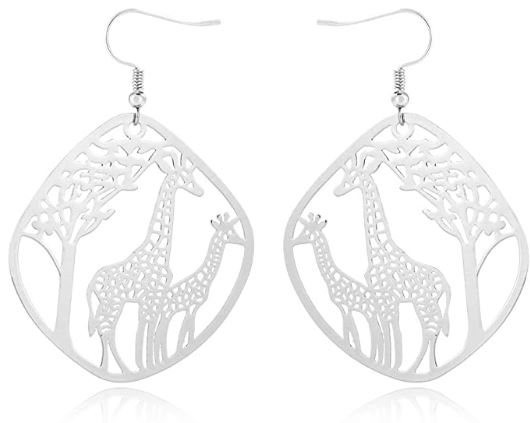 Not everything has to be flashy or shiny to be pretty. With these minimalistic giraffe earrings, you or anyone you gift them to can look stylish and cute – even if they're not that big!.
In turn, they are also made of stainless steel, so you don't have to worry about buying a new pair soon enough. 
#10 Enticing "Ask Me About My Giraffe" T-Shirt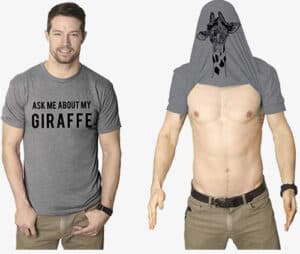 Another pun-related attire! Because there's always room for jokes, this "Ask Me About My Giraffe" T-Shirt is perfect for that friend of yours that is always making jokes and fooling around.
They are also made of cotton, which makes them very comfortable, and come in varying colors, so you can choose the perfect one to give away!
#11 Beautiful Teardrop Necklace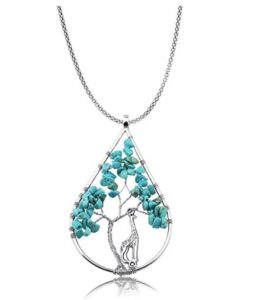 Necklaces are IN on all the seasons. This one, however, has a teardrop design, which makes it even more special to give away.
Think about whomever you're giving it too (specially your lover) when buying it, and it'll surely come to mind as an excellent gift for Valentine's Day, a birthday or even an anniversary celebration!
#12 Stainless Steel Water Bottle

If there's something we all know is that we never have enough stainless steel bottles.
Maybe you're buying another one for yourself, or you need to find something special to give away as a last-minute gift; no matter the occasion, these always come in handy for anyone – specially giraffe lovers!
#13 Night Light - Giraffe in 3D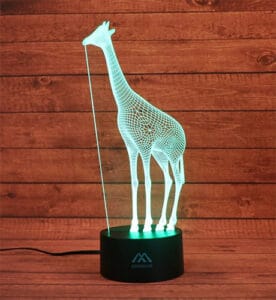 Night lights have evolved a lot since the 90ties, but certainly the 3D ones are some of the most pretty one.
This  Night Light with a Giraffe in 3D design is perfect for kids or adults, as it offers both security in its light projection as it is a fun design to look at. Don't let it get away!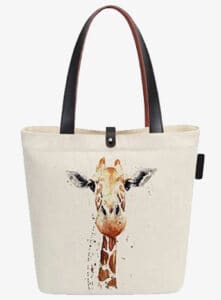 Bags, bags, bags! Everybody needs a couple of them, and pairing that with a love for giraffes isn't really hard. So, why not go for this giraffe art tote bag?
It's simplistic yet elegant style makes it an easy pick, not only for casual wear but also for going shopping and more!
#15 Minimalistic Soft Cotton Hat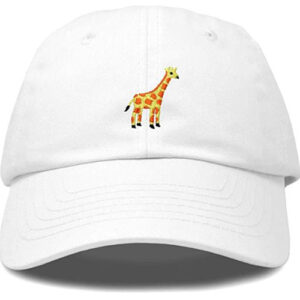 Minimalistic things to accompany your every outfit are always well-received.
These caps in particular are very cute and come in many colors and designs, and can be worn to match not only your wardrobe, but also your love for giraffes. And as a gift? Who doesn't love to get a soft hat? They work better as a last-minute present!
#16 Giraffe Trio Zip Pouch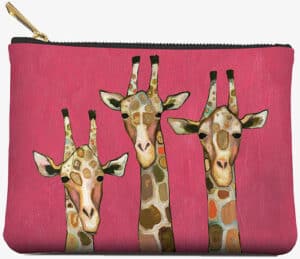 A Zip pouch is always good to have around, as it allows you to keep all your tiny bits like keys, lipsticks and earphones in place.
And having a giraffe-themed one? That's just a double win! These giraffe trio zip pouches are amazing, come in different colors, and are just a stylish gift to give away!
#17 Coffee Mug with a Tiny Giraffe Inside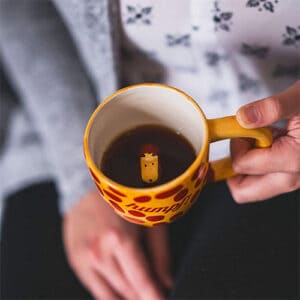 Everybody loves coffee! And mixing it up a little with this cute mug with a tiny giraffe inside will make coffee time even more relaxing.
Its design isn't at all invasive, and with its bright colors and small giraffe in the middle, this gift will make anyone happy to drink from it – and not just coffee!
#18 Salt & Pepper Holder Giraffe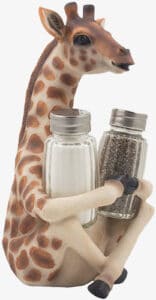 Keep your spices sorted out and in one place with this cute salt & pepper holder with a giraffe theme!
This one will go amazing with your wine bottle holder, making any kitchen into one sort of giraffe paradise where everyone can feel comfortable! Its design is also very cute – this giraffe won't let your spices go away!
#19 Giraffe Figure Wind Chime
Wind chimes are percussion instruments, but they are also used as decorations in windows and close to doors.
Their sound is calming and soothing, and they are usually a sight to behold.  However, this one is framed with little cute giraffes that would give you the sense of being in Africa, surrounded by musical animals.
#20 Handmade Wooden Spectacle Holder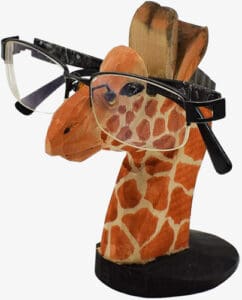 Spectacle users know how hard it is to keep them in one safe place. Why not ask your little giraffe friend to hold them for you?
With this incredible handmade wooden spectacle holder, your passion for giraffes will also become something useful for you or that person you want to gift a special gift to.
#21 Parent and Child Matching Aprons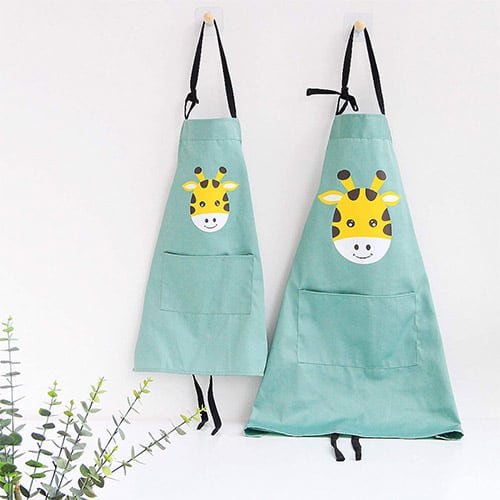 Let the love for giraffes flow through all families! With this parent and child matching aprons, you can give any giraffe loving family an excuse to cook and look cute together!
The smooth fabric on this cotton linen aprons makes them soft and comfy, an excellent combination for cooking, and they come in many colors and designs!
#22 Heart Shaped Giraffe Figurines

Heart-shaped giraffe figurines. Who doesn't love them?
This cute little fellas not only show how much you love giraffes (And how much they love each other), you can give one of these away to that special someone in your life to let them know how important they are for you!
#23 Origami Giraffe Shaped Earrings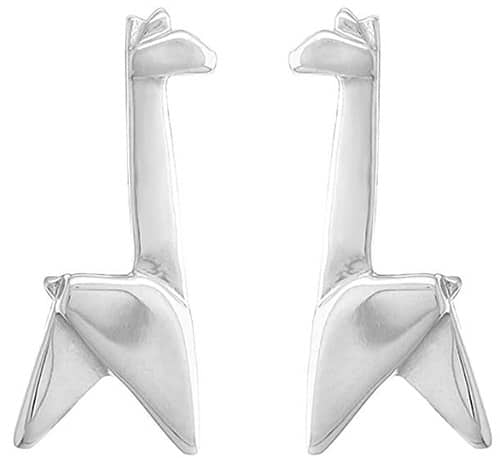 Another gift that can go very well with the giraffe necklaces, these cute origami shaped earrings go along with almost any outfit girl can wear.
Besides, there're tutorials online that can teach you how to fold one of these fellas out of any paper sheet, so they are also a great idea for some fun times doing origami!
#24 One Piece Giraffe Pajama

Onesies! A one piece giraffe pajamas is all you need to be the life of the pajama party!
And these are not only cool looking and cute, they are also cotton line, which makes them very comfortable for those winter nights, when all anyone should want is a warm giraffe hug!
#25 Stainless Steel Drinking Cup for Hot & Cold Drinks

As we have mentioned before, having a stainless steel bottle always comes in handy.
But with these, specially designed to contain both hot and cold beverages, that special someone will never again have a problem storing your drinks! And having cute little giraffes on them just make them all the more cute!
#26 Mommy and Baby Giraffe Wood Figure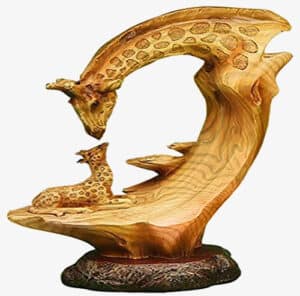 Giving away these cute mom and baby giraffe wood figures will surely draw some tears for the people getting them.
An incredible gift for a woman who just became a mother, this wooden figure embodies all the love a woman may feel for their child in a simple and small gesture.
#27 Artsy Giraffe Earrings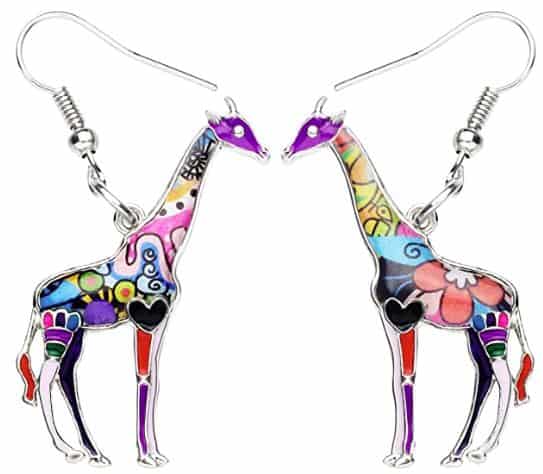 Finally, these artsy giraffe earrings close our list of gift.
These original colored earrings reveal a part of you and whoever is wearing them that just yells "I'm artsy and I love it! Made of pure stainless steel, these guys will last forever in anyone's ears, and make them look cool!