Don't you think Pet sitting also deserves the same respect we give to babysitting? Yes! Definitely! After all, pets require the same amount of time and attention your baby may need. So, if you gift your babysitter a sweet gesture of gratitude, then why not your pet sitter? To take care of a pet in its own home by a stranger is not easy. Maybe that's why the PSI or Pet Sitters International launched a whole campaign in 1997 to get this word introduced in the Random House Dictionary.
Some people still confuse pet sitting with dog walking. They are not the same, and even the PSI's 2020 survey says they are separate services. Providing caring is the main role of a pet sitter. Also, taking care of the pet in the owner's home makes it challenging.
So, pet sitters can come under the most important yet underrated professionals list. But, gifting them for their services may help create a sense of respect and gratitude. It will uplift their morale and make them feel important as they should. So, let us find out the best gifts you can give to your reliable pet sitter or dog walker for taking care of your naughty pet every time you are away.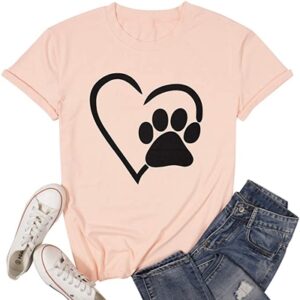 While motivating the pet sitters, you must let them feel our affection. So, this t-shirt will serve as a symbol of love between the pet and the sitter. You can gift this t-shirt and let your sitter showcase the power of love towards the pets. The paw print t-shirt has a great textile composition, making the sitter comfortable even during long hours.
They can use it as casual or leisurewear as it offers both style and comfort together. The symbol of a dog paw with a heart perfectly justifies the job. It also shows how valuable the service of the pet sitter is. The sitter may sometimes become the ideal companion after you, so the t-shirt depicts the bond rightfully.
This is where you can get it from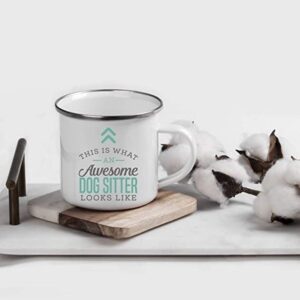 Cups may be among the most common products that people choose as gifts. It is easy to select, and it is useful for everyone. That is why it never disappoints anyone. But, often, we can see that it becomes too common for a gift. So, when you want to gift a cup that makes the pet sitter feel special and valuable, it has to be special.
However, the 'awesome pet sitter' coffee mug proves to be an excellent choice for a gift. It is different from other mugs in its composition and a few features. The cup is ceramic from the outside, but it encases a stainless-steel tumbler from the inside. So, when the sitter follows the quote written outside, she can see her face in it because of the steel cavity's reflection. That will make your pet sitter feel enlightened every time she pours some coffee into the mug.
This is where you can get it from
What can joyfully poke your pet sitter more than a notebook that is funny and praises the work? This notebook states all qualities an ideal hard-working pet sitter would own. It presents a small chart that lists the qualities and other requirements.
So, if you gift this notebook to your sitter, that would boost her morale every morning. The notebook can go with any age group or gender. Moreover, the plain and simple appearance would not miss to please the receiver. It is not a costly notebook, and you can find it online at cheap rates that start from $9.
This is where you can get it from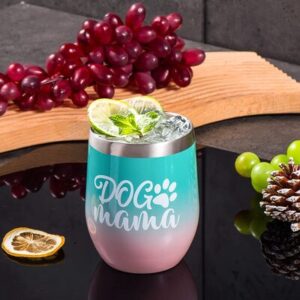 If you own a dog and hire a pet sitter for the dog, it is needless to say that the dog will form a deep bond with the sitter. Over time, you might even call the sitter dog mama. And the name will surely justify her efforts also.
So, the dog mama wine tumbler is an excellent gift choice for such a pet sitter. It is a steel tumbler that has multiple uses. It has an attractive design that shows dog mama written along with a paw symbol. So, every time she pours in something, it will remind her of the bond she shares with the dog. Moreover, the tumbler is not meant just for wine.
This is where you can get it from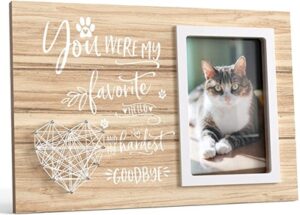 Irrespective of whether you own a dog or a cat, losing a pet creates a void that we can never fill. However, your grief is not limited to you; the pet sitter shares the same pain. Imagine playing and taking care of a lovely pet for the entire time you were away and then losing it suddenly. It saddens the mind and hurts badly. But that does not mean you cannot share the sympathy and reduce it to some extent.
Gifting a pet memorial picture frame may be ideal for sharing the grief and expressing gratitude for the valuable service together. It is a handmade wooden frame with a quote that truly implies the pet's memory. The pet sitter can mount it on a wall to always keep the memory fresh.
This is where you can get it from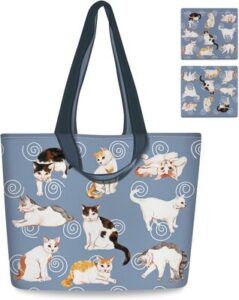 A tote bag can be a simple and easy way to thank your pet sitter.   It is a utility product and can showcase your gratitude through generous quotes. It has a quote that is thanks to the pet sitter for all they do. The tote bag has a large capacity to carry the books and other stuff the sitter wants while spending time with the pet.
It has a stable double stitch that is durable and strong. This tote bag is made of polyester material and is waterproof as well. So, even if your pet spills water or liquid, the sitter's belongings would be safe. Moreover, the bag is also machine safe.
This is where you can get it from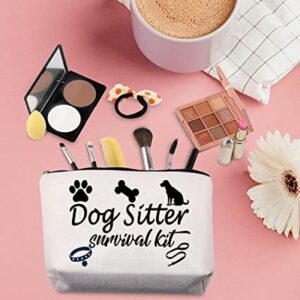 Being a dog sitter may not be so convenient all the time. Your dog sitter may have to sacrifice many of the personal regimes. Cosmetic and personal care is among them. So, this cosmetic bag is perhaps the perfect gift you can give her.
It will help her carry all the essential hygiene products during working hours. It is made of polyester fiber and has a metal zipper which makes it durable. It has a large carrying space of 23.5 cm x 17 cm, in which she can carry daily life items, such as a cellphone, headphones, sunglasses, keys, etc., besides holding the cosmetics.
This is where you can get it from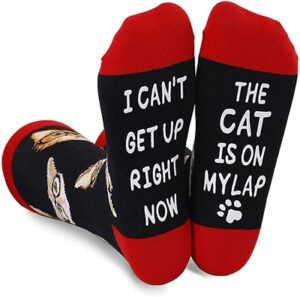 Socks are among the best choices for pet sitter gifts. These ZMART Cat Socks have funny sayings like "I CAN'T GET UP RIGHT NOW. THE CAT IS ON MY LAP." So, when your pet sitter wears it, everybody will know that she is a pet lover. Also, it comes in different designs that range from dogs to horses. So, she can wear it to spread the word to the world with adorable designs.
Since these socks use 80% cotton, 17% polyamide, and 3% spandex, it ensures they are soft, stretchy, and comfortable with breathability. Also, the materials won't allow the socks to shrink even in machine wash.
This is where you can get it from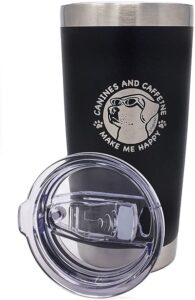 A tumbler with the quote saying, 'canines and caffeine make me happy' may just make you laugh when you prepare your coffee every morning. This coffee tumbler may be just the ideal gift you can give to your pet sitter.
The quote signifies the two things that the morning is incomplete without. It is a thermally insulated tumbler that also comes with a lid. It can easily fill 20 ounces of any beverage other than coffee.
This is where you can get it from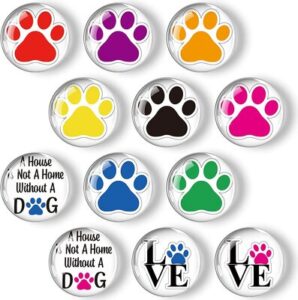 A magnet may seem like a small item to gift somebody. But, when the magnet says that 'pet sitters rock,' it is an ideal gift option. This magnet is a perfect way to display the love for pets.
It displays a dog's paw in the front as well. Moreover, this oval magnet fits perfectly on a vehicle, refrigerator, and other surfaces. So, your sitter can display what she does everywhere she goes by this small oval magnet.
This is where you can get it from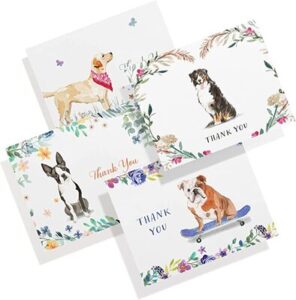 This simple way of gratifying your pet sitter may just be the gift you seek. A thank you card like this would make your pet sitter feel valuable. It has a large size of 8.5×11 inches which displays 'big thanks to a great pet sitter.'
This is where you can get it from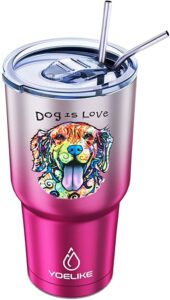 A tumbler goes well with all occasions as a gift. But, when you want to gift it to your pet sitter, the Yoelike Dog is Love Tumbler will be the best option. It offers a capacity of 30 ounces that is vacuum insulated.
This cup is a durable product that is made of stainless steel. Moreover, it comes with a lid that completely seals what's within. So, if you gift it to your pet sitter, she can carry the beverage without any chance of spilling while playing with your dog.
This is where you can get it from
The pet might leave you forever, but the memory stays with you forever. The loss of a pet is also disturbing for the pet sitter. But a wind chime might bring good memories to mind.
This wind chime features a paw print and showcases sentiments on both sides. It is 18 inches long with 4 musical tubes and a drop pendant with a paw print.
This is where you can get it from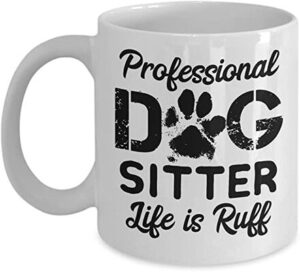 A glossy white mug that says 'Professional Dog Sitter' will make your pet sitter feel worthy. It is a ceramic mug that features the design on both sides.
It uses a special printing technology that ensures the cup will not fade due to regular use. It is perfect for coffee, tea, or even hot cocoa. The pet sitter can use it without worrying about any scratching or fading.
This is where you can get it from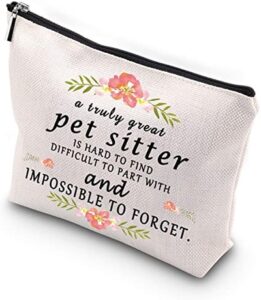 When your pet sitter leaves after rendering quality services, you must consider gifting her something useful. A cosmetic bag like this will come in handy wherever she goes. So, it can be a thoughtful choice for a going away gift. It has enough space that fits in jewelry and makeup items.
This bag is made from superior grade canvas that has a marble print. It is scratch-resistant and durable with a sturdy gold zipper. Moreover, your pet sitter can carry things without worrying about any water spillover as it's water-resistant also.
This is where you can get it from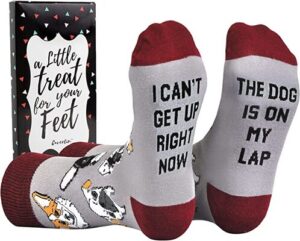 These socks are cute and yet show sentimental value towards your pet. You can gift your pet sitter these socks, which says at the bottom, 'Life Is Better with A Dog.' So, whenever she walks, it gives this message to the world.
These socks use three materials in various proportions preventing them from shrinking. It comprises 80% cotton, 17% polyamide, and 3% spandex.
This is where you can get it from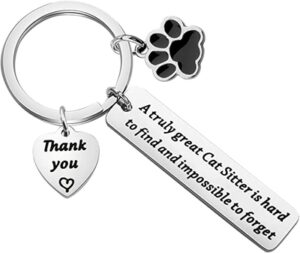 This silver-colored stainless-steel keychain may be your cat sitter's an ideal token of gratitude. This keychain is lead-free and nickel-free. That makes it hypoallergenic so that anyone can use it. It doesn't rust or tarnish to remain in the same color.
This is where you can get it from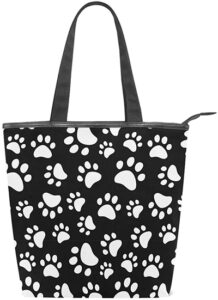 It is a high-quality canvas bag with a charming design to win your pet sitter's heart. It has multiple pockets with a large capacity main pocket. This tote bag is a perfect choice for grocery shopping, school books, gym, etc. If you gift this bag to your pet sitter, she can display her pet love every time she goes out.
This is where you can get it from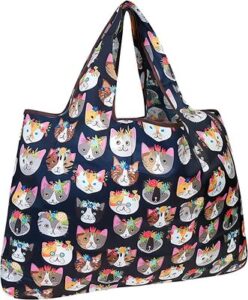 If you own a cat and think you should gift something to your cat sitter, this tote bag is perfect. It is filled with cat pictures that will showcase her love for her profession every time she steps out. It is a canvas tote bag that is lightweight and durable.
This is where you can get it from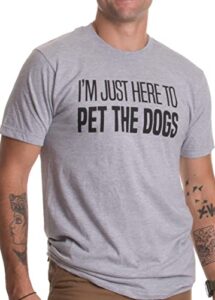 It is a t-shirt that your pet sitter will love to wear. This t-shirt is made from 90% cotton and 10% polyester. That makes it super comfortable in all weathers. So, your dog sitter will always feel comfortable while taking care of your dog.
This is where you can get it from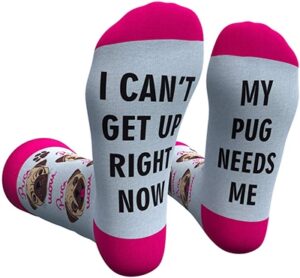 With this humorous quote on their bottom, these socks will make your dog sitter laugh. These socks are comfortable and are available in sizes from 6-12 shoe sizes. So, you can choose them according to your sitter's size. They come in attractive colors, which will win your pet sitter's heart.
This is where you can get it from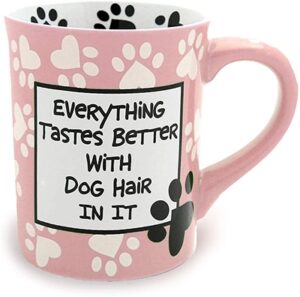 It is a statement that will make your dog sitter die of laughter. This cup will always remind the sitter about the inseparable bond with your dog. This stoneware mug will easily serve 16 ounces of any beverage. Also, the light pink color with dog paw prints will make every morning filled with joy.
This is where you can get it from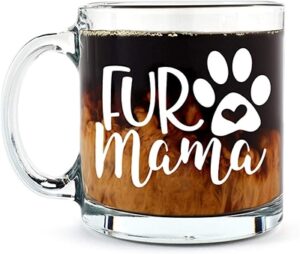 It might be the perfect title for your pet sitter if you own a furry pet. This cup displays fur mama written in huge with a paw and a heart. It is made of transparent glass that will show what you have poured inside.
It has a 13 ounces' capacity with a premium smooth, scratch-resistant glass finishing. It is lead-free and does not involve any ceramic.
This is where you can get it from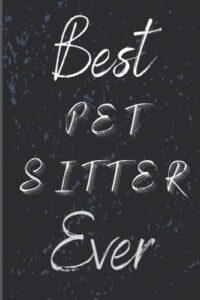 This 120-page journal is a unique appreciation gift with a beautiful design and matte cover. It has an acid-free interior paper stock that you can use for multiple purposes. You can gift this to your pet sitter to make her feel the best pet sitter. It has a stylish and thoughtful design also.
This is where you can get it from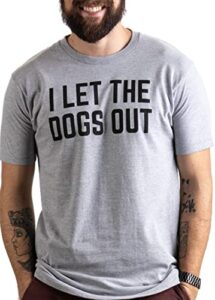 This funny t-shirt will surely make your dog sitter laugh every time she takes your dog for a walk. It is a V-neck t-shirt that is available in 3 attractive colors. It comprises 50% Polyester, 25% Combed Cotton, and 25% Rayon. It is imported from the USA with quality inks and smooth, silky outer lining.
This is where you can get it from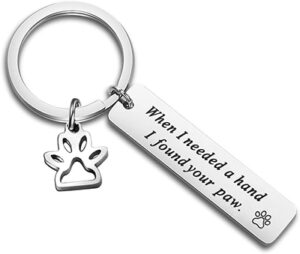 These sweet words will fill your pet sitter's heart with joy when you gift this to her. It might be the best possible gift option under $10. It is made of 316L stainless steel, suitable for every skin type.
This is where you can get it from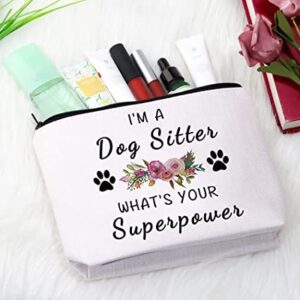 This perfect-sized makeup bag is made of durable canvas material that is easy to clean and resistant to dirt and abrasion. It is lightweight, durable, and comfortable with space to accommodate all the cosmetic items in one go.
You can gift this bag to your dog sitter and let her carry her makeup items with ease.
This is where you can get it from
Final Words
Finding suitable gifts for your pet sitter is not a challenging task. You can easily find them online through stores such as Amazon, Etsy, etc. Making sure that the gift is useful for your sitter is important. So, once you decide what to buy, selecting the one that fits your budget is not a daunting task. The gifts mentioned above will help you with it. They will surely boost the morale and trust of your pet sitter.