27 Turtle Gift Ideas — Fun Ideas for Turtle Lovers
Turtles are one of nature's coolest creations baby sea turtles instinctively find their way back to the sea as soon as they hatch; they carry their homes on their backs, and they breathe out of their back ends. Plus, they're pretty dang cute! Who wouldn't love these little guys? 
If you are a turtle enthusiast (and we're not surprised if you are) you may feel like you've seen every turtle-themed gift under the sun. But no matter what your budget or who you're shopping for, here are 27 fun turtle gifts that will leave your favorite terrapin lover shell-shocked!
#1 A Turtle-shaped Planter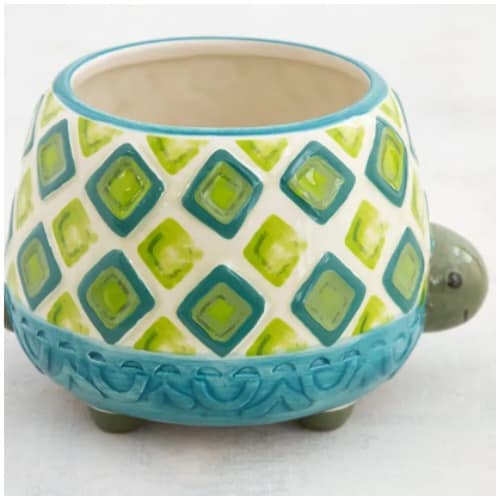 If your loved one is a fan of all types of green things, from the leafs and trees to our reptilian friends, they'll love growing their own houseplant in this hand-painted ceramic planter. 
With his friendly face and playful pattern, this guy is sure to liven up any desk or coffee table you put him on. It can even fit most 4″ plants, so you can have a small, beautiful garden in your home!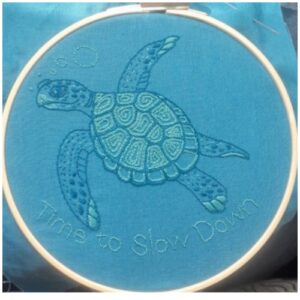 Having a turtle-loving friend can also mean to have good and relaxing afternoon, specially if both of you consider getting a beginner embroidery set.
This special kit comes with the design preprinted on any fabric of your color choice, an embroidery needle, threads and a guide to the 8 basic stitches you both will need to know to complete the project. You can also choose to include a 7″ bamboo embroidery hoop as well!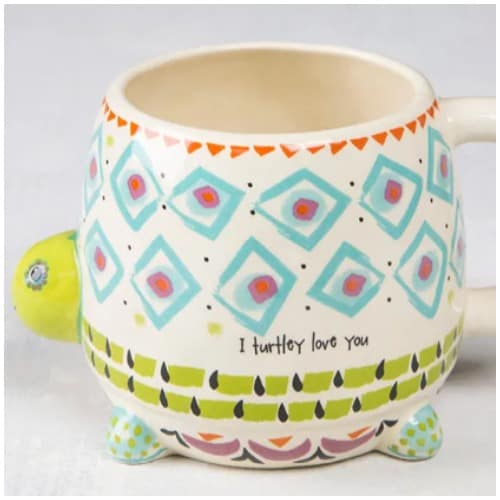 There is only one thing anyone is allowed to love more than turtles: a nice cup of coffee!. This hand-sculpted turtle mug is the perfect mix of both the cuteness of the turtles and the strong taste of coffee.
It will help you loved one's beverages of choice to leave them a feeling of warmth and fuzzy inside. This particular mug holds 16 oz (0.6 kg) and is dishwasher safe! 
#4 Turtle-shaped Coasters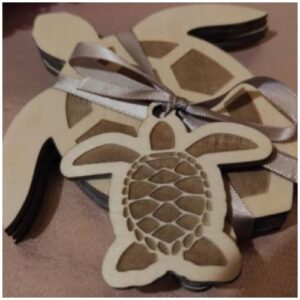 Even if they already have more mugs than room for them, you can still enhance the drinking experience of your loved ones with a set of laser-cut wooden turtle coasters.
Now they can really kick back and relax without worrying about rings on their furniture! Choose between a set of 4 or a set of 6, and natural wood or gold paint. 
#5 A Ceramic Palette And Brush Rest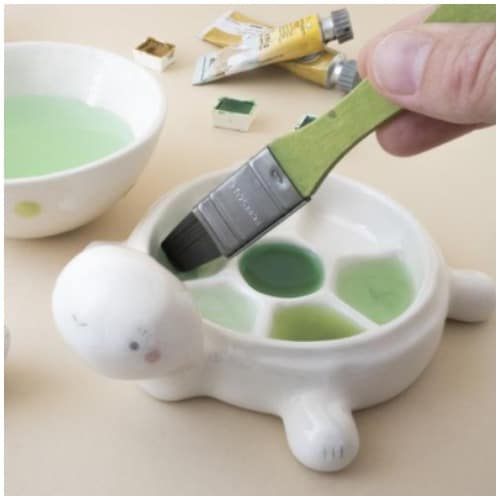 If your turtle-lover is also a painter, they'll love this two-piece ceramic set, handmade in Italy. The larger turtle opens up to become a painter's palette, and the shell can be used as a water bowl to clean brushes between colors, while the smaller turtle acts as a holder for a single paintbrush.
Plus, the materials are non-toxic and food-safe, so they can also be purchased as tableware! 
Imagine making your loved one the happiest by giving them a chance to help real-life turtles! If you want to go this route, consider helping them virtually adopting a sea turtle hatchling. Of course, this is a purely virtual transaction through the World Wildlife Fund's species adoption.
WWF offers three different packages, ranging from $25-$100, and all adoption levels receive a photo, adoption certificate, and a species card. Higher levels include other goodies like plushies, reusable bags and gift boxes.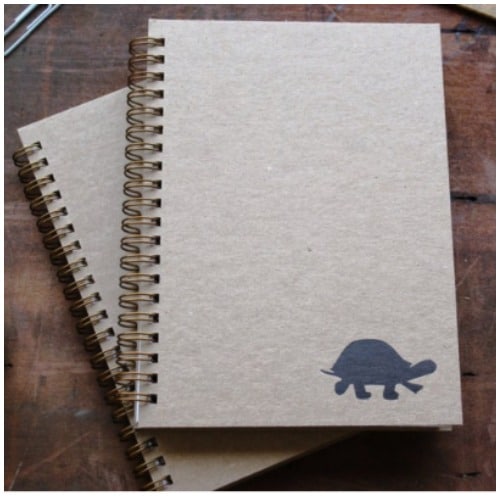 If you're giving a gift to a student, a journalist or just someone who likes to doodle a lot, this hardcover journal is sure to make their note-taking more enjoyable.
The turtle sketch is printed on the chipboard cover using an antique letterpress, and all 4 paper options are made partially or 100% recycled pulp. Journals are made from scratch, and the location of the turtle sketch may vary from journal to journal. 
No one has enough plants, and maybe your friends like the idea of growing their own plant out of the back of a turtle! It is easier than the actual upkeep of maintaining a turtle alive, and it just looks cute!
You can help them add a little extra green to their home with this sweet turtle-shaped pot, that even includes a charming pun that's sure to make them crack a smile. 
#9 A Sweet Turtle-shaped Treat
Let's say your turtle-lover is has a major sweet tooth. Then, these turtle gophers might turn out to be their new favorite thing! Made in Savannah's Candy Kitchen's in Georgia, these turtle gophers are made with Georgia pecans, Southern-style caramel, and milk chocolate.
This gift box comes with 40 mini turtle gophers, individually wrapped into a golden window tower gift box for extra pizzazz. 
If your turtle fan loves a statement piece, this decorative dish will add a pop of color and a fun accent to their decor. Whether it ends up holding candy, jewelry, potpourri, or some decorative stones, this bright blue beauty is sure to spark a conversation and a lot of compliments. 
#11 A Wristlet Made From Recycled Sail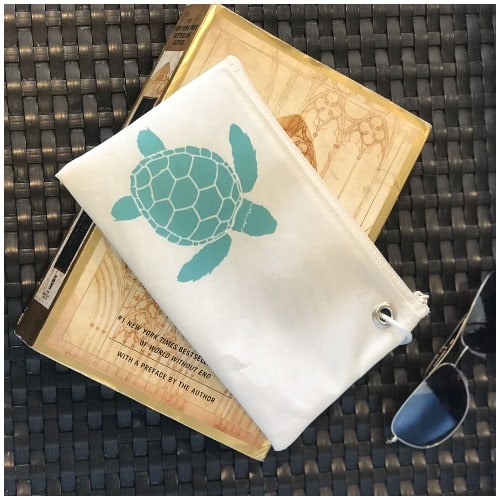 When your love of the sea runs as deep as your love for turtles, this might just be their new favorite accessory. Made from recycled sails, this bracelet features a bright turquoise sea turtle print, and it has just enough room for them to easily carry their phone, keys, and wallet for a day on the beach or the boat, without having to keep track of a large tote bag.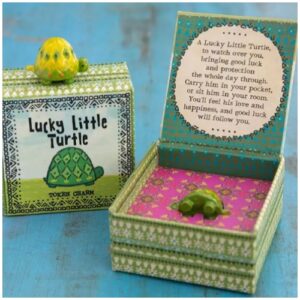 Any day we see a turtle, that's our lucky day. And if your loved one believes in a little of magic, they're sure to be charmed by this gift!
The turtle good luck charm, which measures about 1″ around, is made of paper and resin and comes in a keepsake box with a whimsical poem printed on the lid. They can leave it on their desk before a big presentation, or even carry it in their pocket on big days.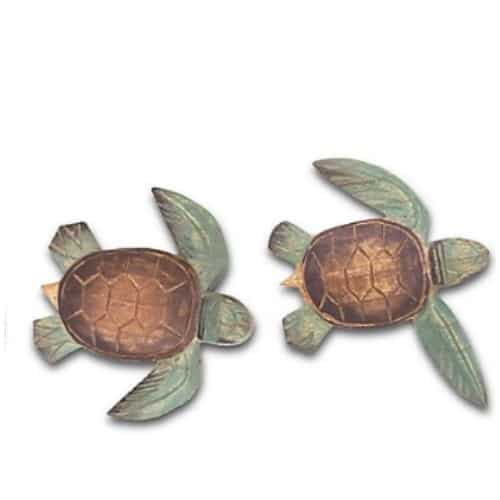 If your friend is looking to liven up an empty wall at their new place, what better way to show off their personality than by displaying their favorite animal for everyone to see?
These hand-carved, hand-painted wooden turtles are designed to look like they're swimming against the wall. Perfect for a beach house, but just as delightful even miles away from the nearest shoreline. 
#14 A Pair Of Turtle-shaped Candles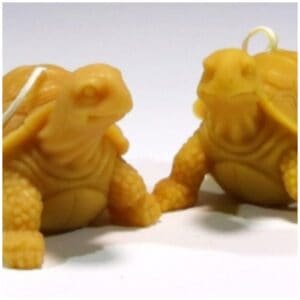 Having a friend that's constantly burning candles in every room of their house is nice, and they're surely going to love these little guys. This pair of turtles are so detailed they look like they might just crawl away!
They're hand-poured and made from 100% natural beeswax with a cotton wick, and they smell like honey. Beeswax candles won't drip and are smoke-free. 
#15 Fun Turtle Crew Socks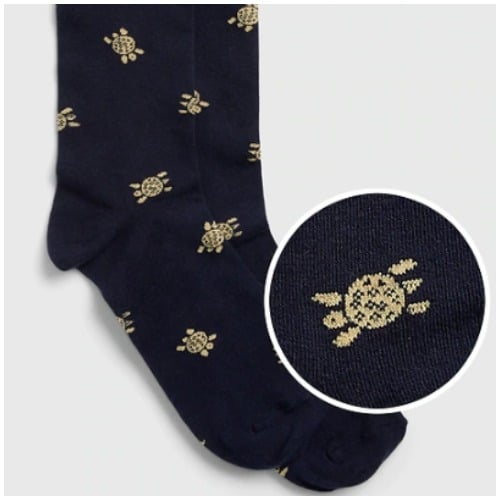 If your turtle lover has a day job but still likes to show off their personality in subtle ways, they won't have to wait until casual Friday to don these crew socks.
Navy blue with gold turtle accents, these are tame enough to look professional, but will still bring a smile to any turtle nerds face anytime they slide them on. Say goodbye to the Monday blues! 
#16 Personalized Turtle Word Art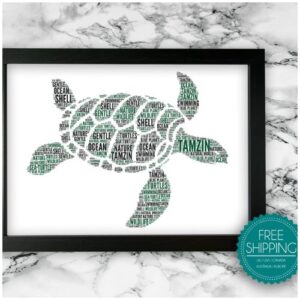 Let's say your turtle nerd is also a word nerd; then this custom turtle word cloud print will be the perfect way to show them how well you know them. It's so easy to customize until it's just right, that it comes in 4 different sizes with a choice of 2 different frame colors, and you can even pick their favorite colors for the text.
You can choose to simply insert the recipient's name into the sample words, or list as many words as you want from a happy birthday message to their favorite poem.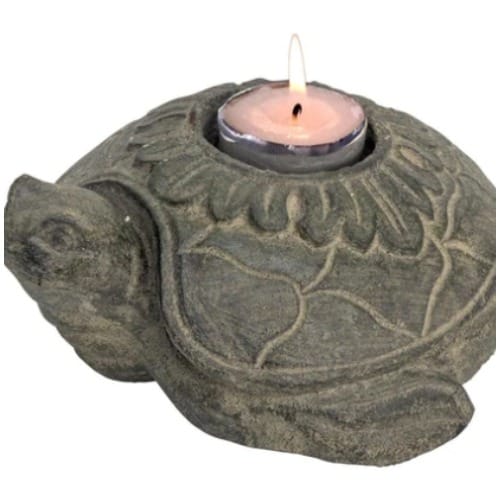 For the candle lover who doesn't want to see their turtle melt away to nothing, this volcanic stone tealight holder is sure to last, plus they can swap out scents whenever they feel like a change of pace.
This statue is sturdy enough to be used outside, great for someone who likes to entertain al fresco. A citronella candle can even be used to keep mosquitos at bay. 
#18 Reusable Glass Straws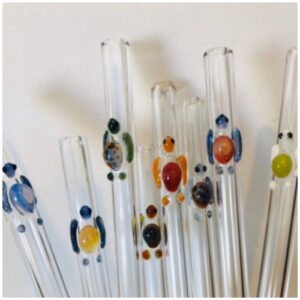 If your turtle lover is committed to living a more eco-friendly lifestyle, help remind them who they're doing it for by gifting them these reusable glass straws.
The dainty, colorful glass sea turtle accents are handmade so no two are exactly the same! They can be ordered either straight or bent, and are dishwasher safe and hypoallergenic.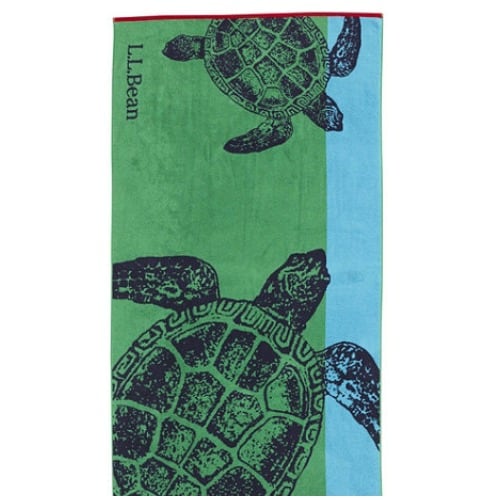 Being a bigger beach bum than a sea turtle s hard, so make sure the next time your loved one spends their day at the beach relaxing in style on this comfy sea turtle beach towel. Measuring 3′ by 5'8 (1.73 m), they'll have plenty of room to spread out and sunbathe.
It's also super absorbent and fast drying so every time they hop out of the water it'll be dry and ready to get them dry and warm too. Can also be monogrammed up to 10 characters!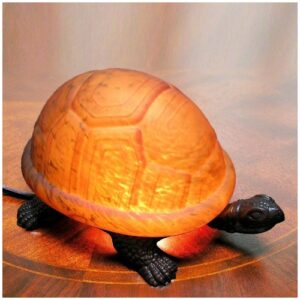 If their face lights up whenever the word "turtle" is mentioned, this is the perfect gift to light up their office, bedroom, or living room. The amber dome gives off a warm, cozy glow that is gentle enough to be used right before bed, great for readers who just need to stay up to read one more chapter. Grab one here: 
#21 A Custom Engraved Cutting Board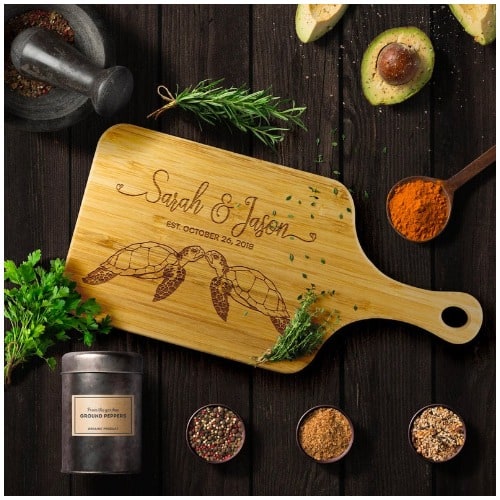 For your friend who loves three things: turtles, food, and their significant other. If your turtle fan has a wedding, engagement, or anniversary coming up this will make a wonderful addition to their kitchen.
These organic bamboo cutting boards are made to order and FDA approved. They come in two sizes, with or without a handle, and can be personalized with the happy couple's names and special date. 
#22 A Case For Their Shell-Phone
If their phone is practically glued to their hand (probably looking at pictures of cute turtles) this case will show off their personality to anyone who walks by without even having to interrupt their tweeting.
It's available for iPhones from the iPhone 4 all the way up to the iPhone 11 and features a pattern of some of the cutest turtles you'll ever see. 
#23 Personalized Turtle Notecards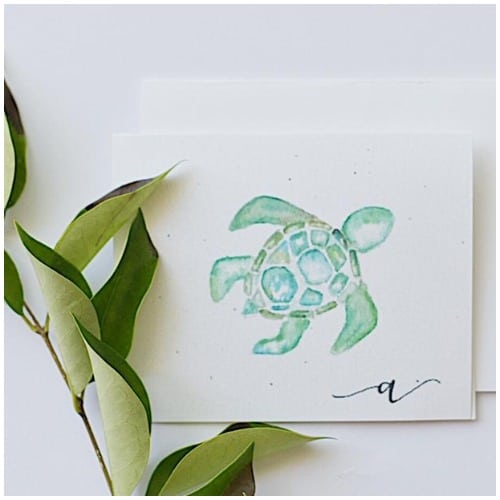 Sending out handwritten thank you notes and birthday cards is still a thing, and if your turtle loving friend does it, they'll definitely thank you for these notecards.
They feature a gorgeous watercolor illustration of a sea turtle on card stock and can be personalized with a name or initials. They come in a set of 10 and include 10 perfectly sized envelopes, and come packaged gift-ready.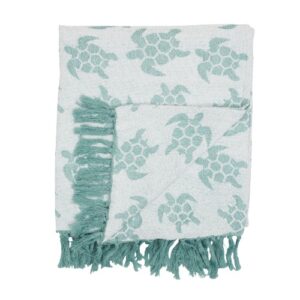 Even if your turtle fan can't curl up in their own shell when the going gets tough, they can curl up in this cozy chenille throw blanket at the end of a long day.
The turquoise sea turtle pattern is woven from yarn-dyed cotton and finished off with a 3′ fringe. This blanket will fit right in anywhere a turtle lover calls home, but it adds an extra comfy bit of flair to any existing coastal-themed decor. 
#25 A Snazzy New "Shell" For Their Luggage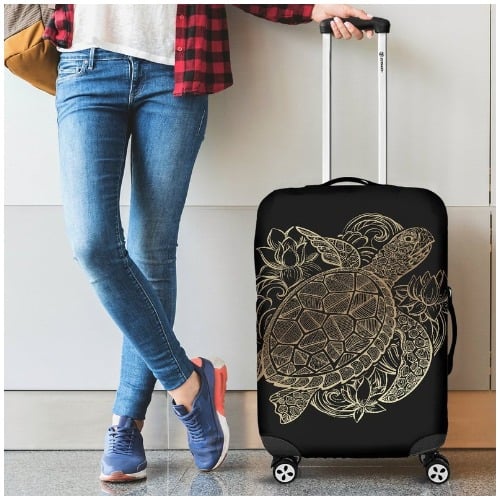 For the turtle lover who wants to roam the seven seas just like the sea turtle. Not only will this protect their luggage from getting scuffed up or opening mid-transit, but it will also make it much easier to find at baggage claim.
The cover is designed to fit snugly and is durable and fade-resistant, so they vibrant gold turtle design will remain visible for many journeys to come. Find it here: 
#26 These Turtle Wine Glasses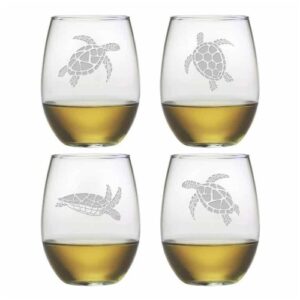 For the turtle fan who knows how to slow down at the end of the week with a nice glass of wine. These stemless glasses come in a set of 4, just in case they come out of their shell and have some friends over.
Each sand-etched sea turtle is slightly different, and–bonus!– they're dishwasher safe for easy cleanup. Plus the gold bottoms make them look extra classy.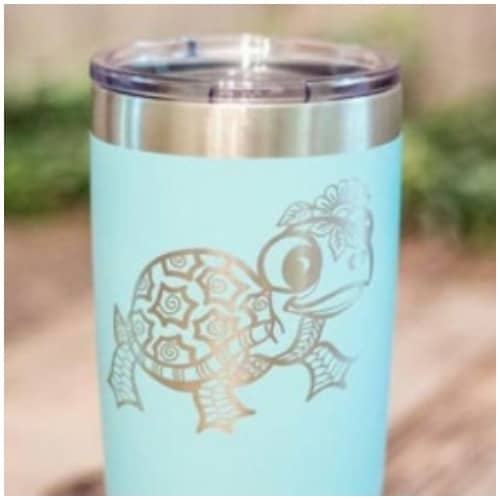 If they don't have the luxury to move at the same pace as their favorite critter, this tumbler will add an extra pick me up to their morning caffeine, so they can really get moving. This stainless steel cup comes engraved with an adorable cartoon turtle and is available in 14 different colors and 2 sizes (20 oz (0.76 kg) or 30 oz (1.13 kg)). Double-walled insulated, and BPA- and lead-free!