Gifts for Bird Lovers - 25 Unique Gift Ideas
A little bird told us someone in your life has a passion for our feathered friends. Maybe it's the sweet singing, or they just wish they could have their own pair of wings, but something about birds makes their heart soar.
If you want to help them feather their nest with some avian goodies, but feel like other early birds have already got them everything ornithological they could ever want, it's your lucky day! 
We've been keeping an eagle eye on the internet, and we've found 25 unique gifts that will make the bird lover in your life happier than a seagull with a french fry.
#1 This Clever Wooden Puzzle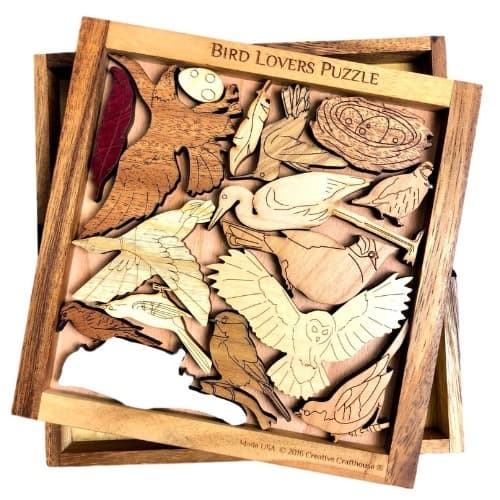 For the puzzle master in your life. They'll have to be smarter than the average bird brain to get all of these feathered friends back into their aviary! This Bird Lovers Puzzle challenges the player to fit all 11 birds, a nest, an egg, and a couple of feathers backs into the 7"X7" frame.
It's made from a mix of laser-cut hardwoods like mahogany, oak, maple, and cherry, and can be engraved with the recipient's name or a special message. 
#2 Colorful Bird Earrings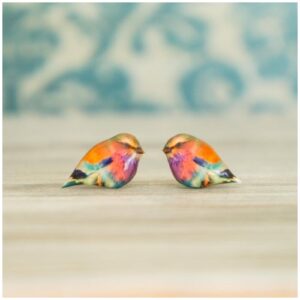 A perfect accent to any outfit and occasion. These adorable little songbird studs feature a bright blend of colors coated in resin to create a glass-like finish. Each item is made by hand and to order and arrives in a gift box.
Bonus, they're made of surgical steel and are nickel-free, perfect for someone who has trouble finding fun earrings that don't irritate them. They'll practically be able to hear the bird song!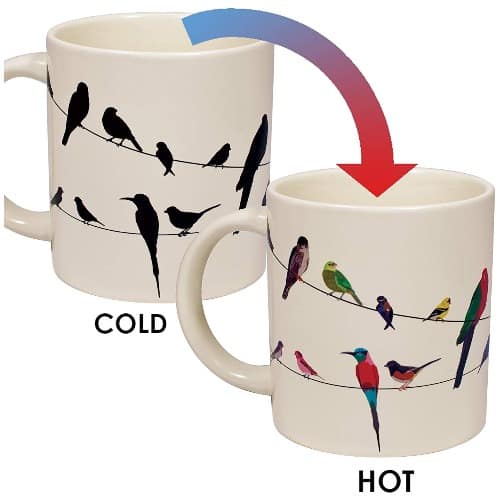 So they can sip their coffee while enjoying their morning birdwatching. When this mug is cold, it shows the elegant silhouettes of birds sitting on a telephone wire.
But just add a hot beverage and watch 18 different species of birds appear! The 10 oz mug is microwave-safe and even comes in a fun gift box. 
#4 This Hilarious Field Guide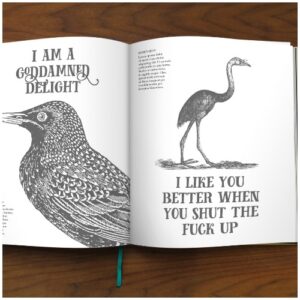 Based on the popular Twitter account, this book is sure to make your favorite bird lover hoot with laughter and earn a coveted spot on their coffee table. Effin' Birds contains more than 150 pages of classic, monochrome plumage art accompanied by sometimes naughty but always hilarious quips. It also pairs John James Audubon's most impressive artwork with equally impressive advice on modern living.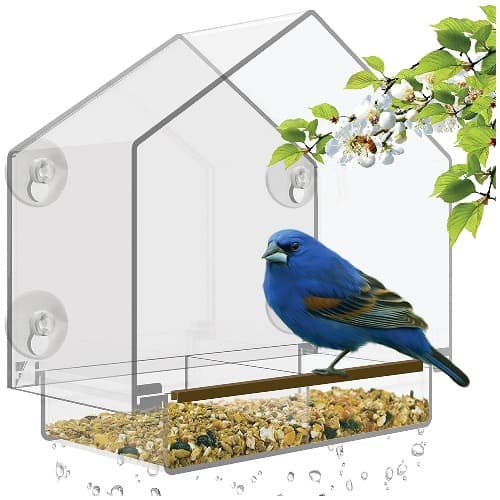 For an up-close and personal birdwatching experience. This birdhouse/feeder combo is made of clear acrylic and suctions right to the window, so they can enjoy their local bird friends without having to get out their binoculars.
Not only is it super easy to clean, but the company promises a lifetime "strongest suction cups guarantee" so they can stick it on and enjoy years of easy birdwatching. 
#6 A Super Fancy Birdhouse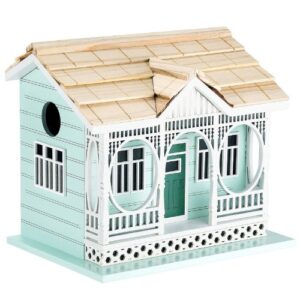 .. Without a super fancy price tag! These pinewood birdhouses are tiny versions of classic home architecture. Your favorite bird lover can watch their backyard friends settle down in a Country Colonial, a Golden Craftsman, a Savannah Cottage, a Lake House, or an Ocean Bungalow.
Designed to be catching to the eye and comfortable to the birds with ventilation, floor drainage, an unpainted interior, and a sloped roof to protect from the elements.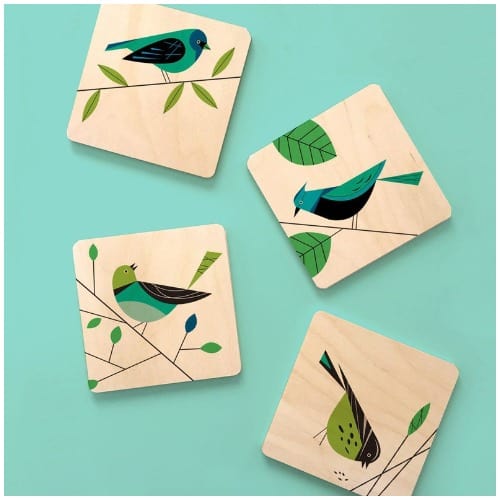 So they can add a splash of color and mid century modern flair to their decor while keeping the drink rings off their furniture. These beautiful coasters are made-to-order from sustainable Birchwood with cork pads to prevent slipping. They're also water- and fade-resistant, so they'll last for years to come. Grab a set here: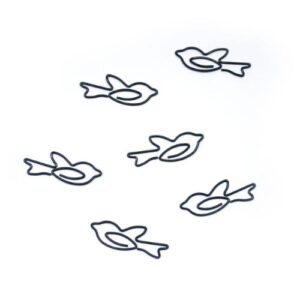 Perfect for their desk, office, or pencil case! Help them keep their papers from flying all over the place with these tweet little clips. This set is $12 for 100 clips, enough to last them several months. Choose between white, black, or brown. No matter what paperwork these little guys end up perching on, they're sure to bring a smile to your bird-enthusiast's face. 
#9 A Charming Welcome Sign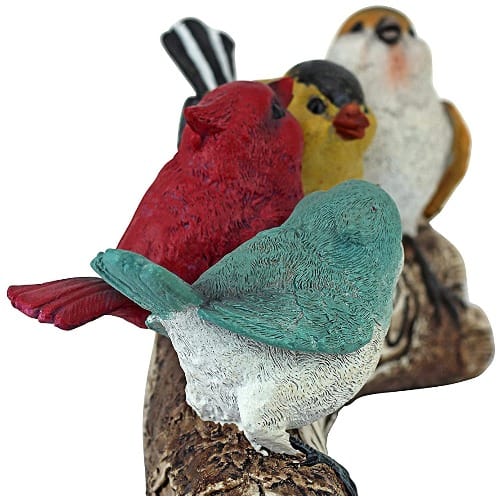 If their home is wherever the birds are, these cheery little feathered friends are the perfect way for them to welcome their guests. They're hand-cast from real crushed stone and quality designer resin and then hand-painted. A UV resistant finish will preserve their bright colors whether they are kept inside or outside. 
#10 A Clock that Chimes in Birdsong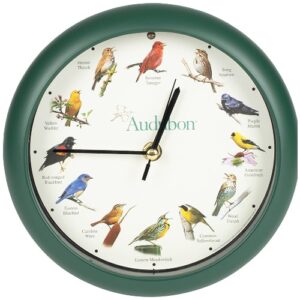 Because it's always birdwatching time in their home! This 8″ clock is officially licensed by the National Audubon Society. Instead of numbers, each hour features the picture a different North American bird, and when the hour changes, they'll hear that bird's unique call instead of a boring chime. Worried about waking them up in the middle of the night?
A light sensor deactivates the song feature when the room is dark! It even includes bird facts on the back of the packaging.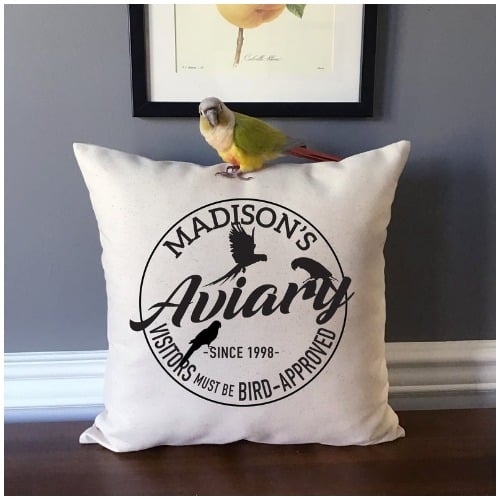 Especially great for the bird-enthusiast who has some feather babies of their own. This comfy pillow will proudly welcome guests to their "aviary" and inform them that they must be "bird approved."
Personalize with their name and a custom year, whether it's the year they first became a bird parent or their birthday (because, let's face it, they were born to love birds!) Their personal aviary logo can be printed on either a 16″x16″ or 18″x18" cotton canvas cover.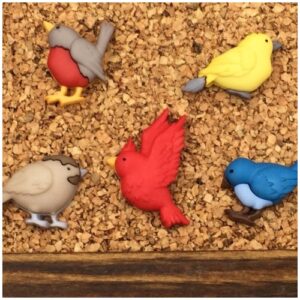 Whether they're pinning up Christmas cards or important reminders, they'll love to have these little songbirds perched on their corkboard. All five feathered friends are handmade and attached to standard-sized push pins. They're also available as magnets to keep their photos and A-plus report cards from flying off the fridge. An excellent choice for your bird-loving teacher friends! 
#13 Personalized Chickadee Notecards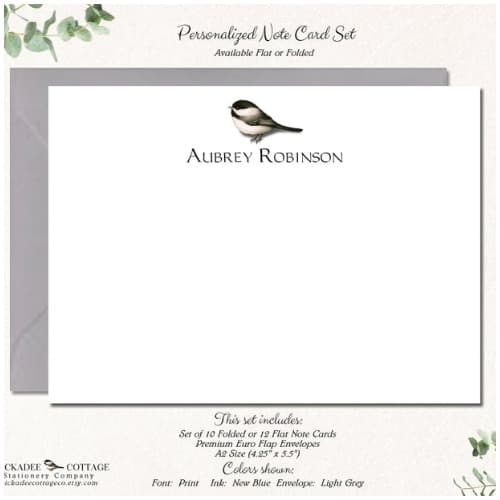 For the bird enthusiast who loves stationery and sending handwritten notes. These notecards are printed on smooth 110lb cover stock paper, feature an adorably illustrated chickadee over the personalization, and are available in either a set of 12 flat cards or 10 folded cards. In addition to adding their name, you can choose from almost 50 ink and envelope colors and a print or cursive font. 
#14 High-quality Monocular Telescope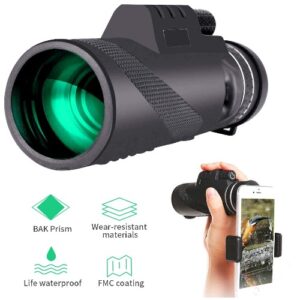 For the serious birdwatcher. This monocular telescope allows them to see 12 times further with its light-gathering 50 mm objective lens. The special BAK-4 prism and FMC lens produce high resolution and high contrast images while reducing chromatic aberrations and ghost images.
It's produced with water-resistant materials to make it waterproof and fog-resistant. The telescope even includes a mobile phone mount and tripod, so they can take high-quality pictures to share later! 
#15 A Bird-Themed Paper Crossword Puzzles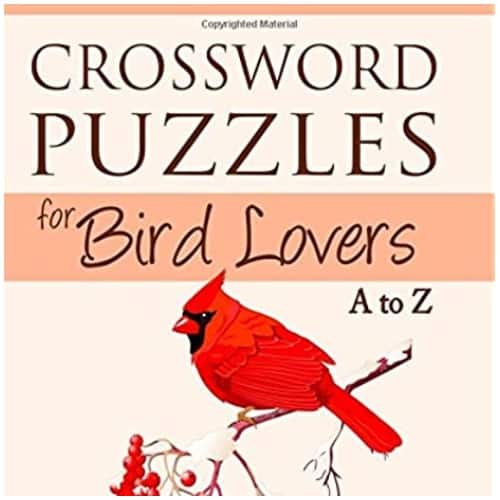 A fun activity to keep them occupied while they watch the local birds peck at their bird feeder. They'll probably even learn some fun new bird facts as they work their way through the puzzles! The puzzles are accompanied by illustrations of birds to add extra interest. It's even small enough to be easily carried around in a purse, so they can take it with them when they're on the go. 
#16 A Handcrafted Candleholder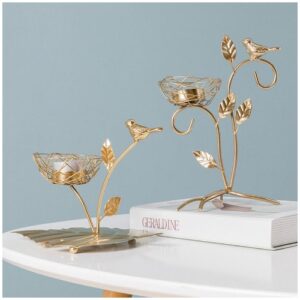 For the bird-loving candle fan. These wrought-iron candleholders are designed to look like elegant trees with dainty birds perched on them, but are actually sturdy enough to be used inside or outside. Choose from five different but equally stunning designs. No matter what their decor scheme, these candleholders will make a beautiful addition with a subtle hint of their favorite critter. 
#17 Paint-by-sticker Book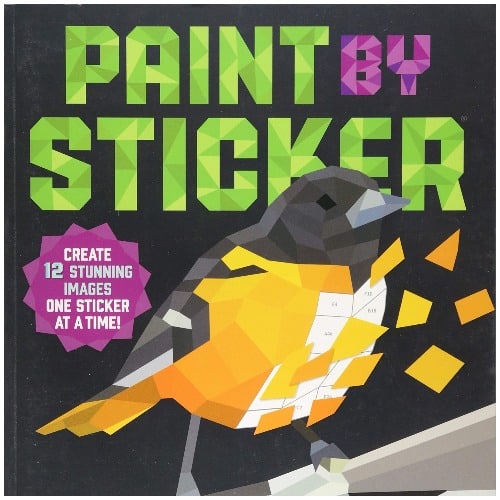 A fun and relaxing activity for the crafty bird lover in your life! This activity book comes with 12 images that they put together one sticker at a time. It's even less stressful than an adult coloring book–no need to stress over the perfect color and it's nearly impossible to accidentally color outside the lines– and the geometrical cut of the stickers creates a 3D effect.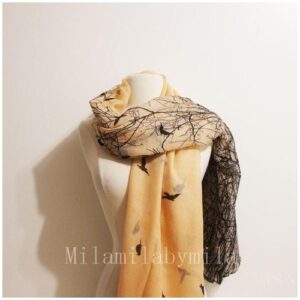 Made from high-quality viscose and chiffon, this scarf can add a warm and fashionable flair to their favorite fall outfit but is still light enough to use as a beach cover-up. The design features the silhouettes of birds resting in and flying above a tangle of branches. It's available as either a regular long scarf or an infinity loop scarf and in 5 different colors.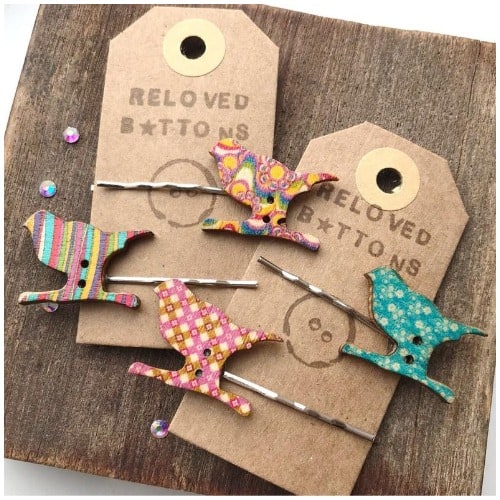 A perfect accessory to add a little pizzazz to your favorite bird lover's daily hairdo! These bird-shaped hair clips are handmade from wooden buttons and come in a variety of fun different patterns. They come in sets of 2 on a hand-stamped card. Choose whether they'll be worn on the left or right (or one of each) and whether you want the pair matched or mismatched.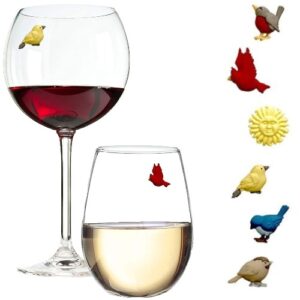 For your bird-enthusiast who always has guests flocking to their nest, these are a perfect host/hostess gift! These cute little bird magnets are perfect to pass out at parties and other get-togethers so no one mixes up wine glasses. They're especially great if they've got a lot of stemless wine glasses that won't work with normal wine charms, and they won't make an annoying "clink" sound by knocking against the glass.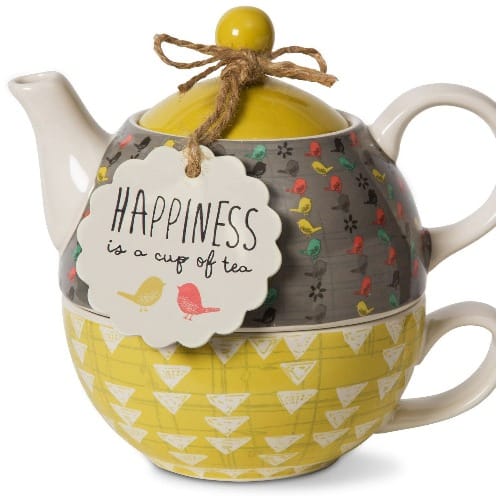 So they can make their tea and drink it too as they do their morning birdwatching. This stackable 15 oz teapot and 8 oz mug set are made from stoneware and printed with a homey, rustic bird pattern in cheerful pastels. It comes with a little tag that reads "Happiness is A Cup of Tea" tied to the lid with twine to add to its simplistic charm. Both microwave and dishwasher safe.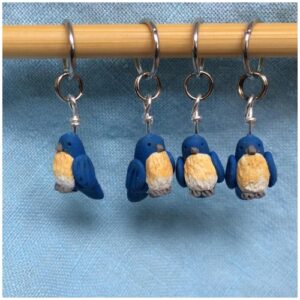 If your favorite bird-enthusiast also loves to knit or crochet, these sweet little stitch markers are the perfect way to help them complete their next project. Each bird is individually sculpted by hand and completely unique. They fit up to size US 10 (6 mm) needles, and you can request larger or smaller rings or even lobster claw clasps to make them as easy for the recipient to use as possible.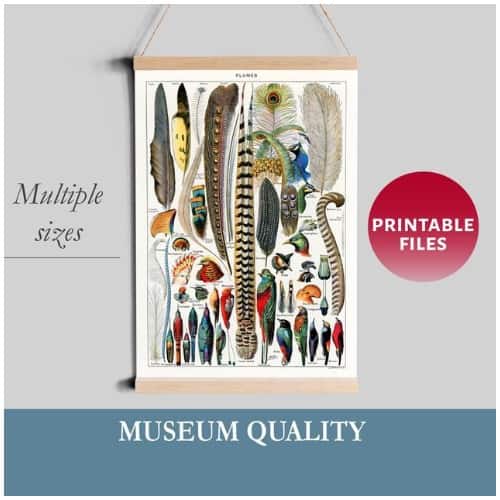 For the amateur (or professional!) ornithologist in your life. This digital print of Adolphe Millot's 1900 painting "Feathers" features the plumage of over a dozen different birds. The high-resolution digital file is available for immediate download and comes as 5 files that can be printed in a combined total of 21 different sizes on the material of your choice.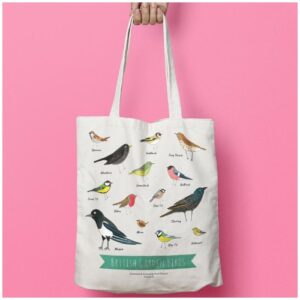 Whether your bird lover hails from the British Isles, this quirky, colorful bag is perfect for them to take on their birdwatching expeditions or just around town. The high-quality cotton tote features 15 fine-line illustrations of native British birds with a contemporary twist. It comes with long handles for easy carrying and is built to last for many seasons to come. 
#25 A Bird-Themed Trading Game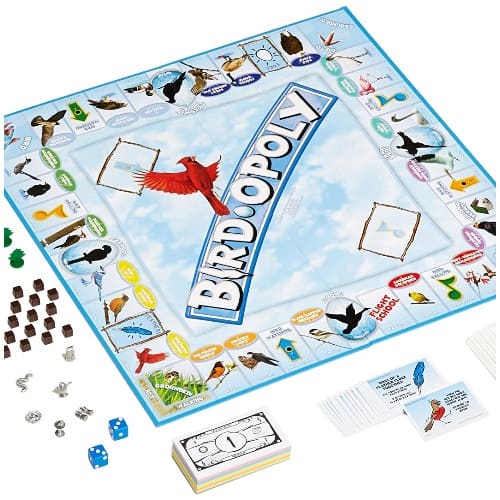 For the bird-enthusiast in your life who loves a good game night. This Monopoly-style board game features all bird-related board spaces and is full of fun ornithological facts.
The game is designed for 2 to 6 players and includes instructions for a one-hour play mode or a traditional version, depending on the skill level and patience of the players involved. A great gift for those competitive types who like to establish themselves at the top of the pecking order.