Dads come in every form, shape, size, nature, just like kids or your furry pets. Dogs and dads share an unbreakable bond, mostly beginning with 'I don't want a dog.' Their relationship surpasses every love language, and only the people with the softest hearts understand it. 
That is why getting a gift for the dog dad can become complicated. You can leave your worries behind. Every dog dad shares some traits and needs. Gifting items that fulfill these requirements will make a wonderful present. 
Here are a few fantastic dog dad gifts to keep the dog-loving men happy in your life. These items will hit their heart chords the right way, be it Father's Day, birthday, or other occasions.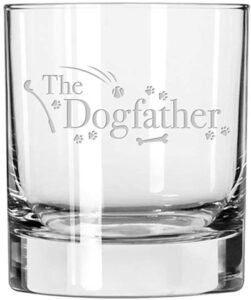 If your dog dad is also a fan of whiskey, "The Dogfather" etched glass is a perfect way to surprise them. It is ideal for Father's Day or birthday celebrations. The permanently engraved words using laser technology highlight their love for some of the essential things in their lives. 
Men can enjoy their peacetime with a glass of adult juice and the dog hitting the hay. The thick, high-quality glasses are dishwasher safe, lead-free, and extremely useful. It does not chip or wears off itself, thus having a lifetime value. This glass is available on Amazon. 
This is where you can get it from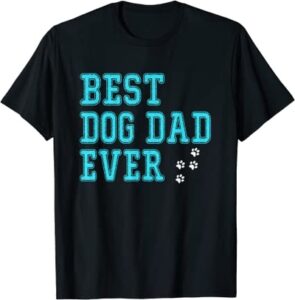 There's no good way to express love and gratitude towards a dog dad than by giving them the "Best dog dad ever" graphic shirt. These soft and comfortable T-shirts are available on Amazon in different colors. 
Available in different sizes, the novelty designs are so satisfactory that dad won't stop bragging about them. The polyester-cotton blend sings in harmony with the vibrant colors and state-of-the-art designs and prints. Dads can wear these shirts anywhere while chilling on the couch, taking the dog to walks, gym, etc. 
This gift is perfect for any occasion- be it fathers' day, birthday, etc., and is customizable to add other sarcastic or hilarious lines. It is machine washable and durable, so no spills or scratches can spoil the shirt. 
This is where you can get it from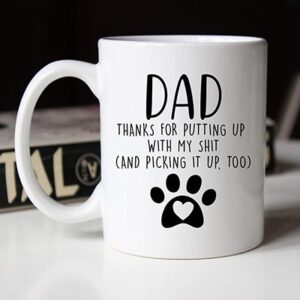 The ceramic-coated "Thanks for putting up with my shit and picking up too" mugs are too good to skip. These durable and best-quality mugs make the perfect gift to dads from his beloved kids (dogs). They are dishwasher and microwave safe with up to 11-ounce liquid holding capacity. 
Mugs are a valuable asset, and no one can have them in excess. Having a unique collection of different designs is the way to go on this Father's Day. Available at just $19, you cannot go wrong anywhere. Check out the products on Amazon and avail yourself of them today. 
This is where you can get it from
Dog and comfort come first for dog dads. That is why gifting them a comfortable and chic pajama is the best option. The classic and cozy novelty pajamas come in various sizes and are 100% cotton-made. 
There will be no shame in wearing these pajamas outside. The texture and design of the fabric add coolness to your daily lounging. It is ideal for chilling with the dog and enjoying a favorite glass juice. 
These super cool pajamas come around $24 from Amazon, which is great. Get up from the couch and gift a dog dad the best gift with no embarrassment. 
This is where you can get it from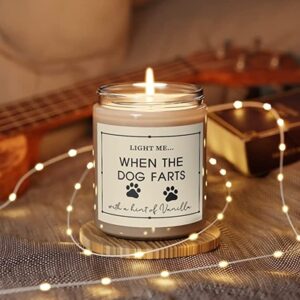 Scented candles make for a great gift. Candles are not only suitable for lighting and aroma, but they spread positivity and good vibes throughout the house. 
 Especially for a dog dad whose pet has an upset stomach, vanilla or lavender-scented candles may work beautifully. A dog dad stressed from the burdens of life can find happiness and peace with beautifully lit candles around the house and their favorite kid (of course, the dog). 
These candles are handmade with funny stickers and labels to lighten the mood further. It is an excellent gift for Christmas or other occasions. It is available on Etsy at excellent prices, so do not miss the deal. 
This is where you can get it from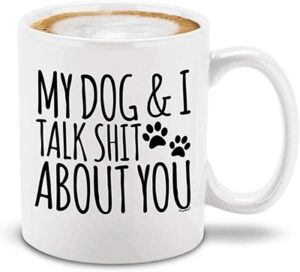 Another classy line and design to add to the mug collection are Shop4ever's sarcastic mugs. The premium ceramic coffee mugs are ideal for satisfying caffeine needs and keeping the morning woes at bay. 
Dog dads will love the "My dog and I talk shit about you" on any occasion. It is a thoughtful, sturdy, reusable, and durable gift. Moreover, the receiver will remember you whenever they sip their favorite liquid from the mug. 
Available on Amazon at $16, this mug has a ceramic coating and a black handle. It has an 11-ounce capacity and is completely safe for dishwashers and microwaves. A gift box included is a deal you must run after. 
This is where you can get it from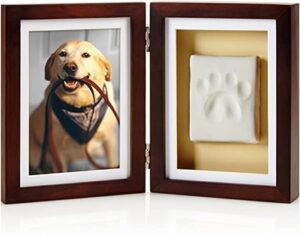 Pictures are an excellent way to hold beautiful memories. Dog dads will love a pawprint frame to celebrate their lives with their favorite companions. It can be a special keepsake to display the love and affection dogs and dads hold towards each other. 
It is a timeless gift preserving the most cherished memories with furry pets. It comes with an ink-pad that is non-toxic, puppy and kitten safe, and mess-free. It makes stamping furry paws to the frame seamless and satisfying. 
The beautiful and high-quality material matches office or home decor styles elegantly. It is a great honor for dog dads. Also, it is available for under $30. Now that is a fantastic deal. 
This is where you can get it from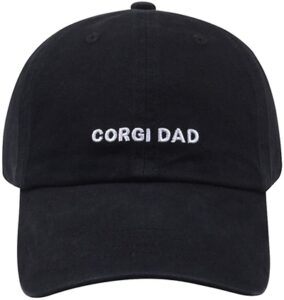 Who doesn't love sports? Not that we are generalizing, but many dads love flaunting their skills as sportsmen, especially baseball. Caps are pretty typical for baseball players, coaches, and other sportspeople. 
Gifting dog dad caps are an excellent way for dog dads to flaunt their love for their furry kids while enjoying their games. A 100% cotton-made adjustable cap prevents profuse sweating and keeps you cool. You can get these from Amazon to gift the baseball and dog-loving people in your life on any occasion. 
These caps are available in various colors to suit different people and their needs. Also, the super chic and cool look will get him and the dog multiple stares. 
This is where you can get it from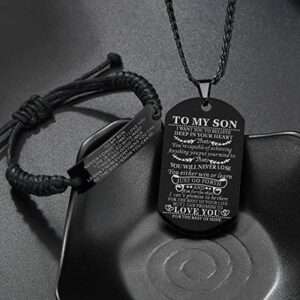 Braided bracelets are beautiful jewelry pieces worn on wrists. With words like "To my son, never forget that I love you, and You will never lose," it enables customization for gifting purposes. The dog tag necklace and personalized messages make a perfect gift to dog dads on any occasion. 
Dog dads can wear and style these pieces with any fashion item. Made of sturdy, durable, and high-quality material, these are wearable the entire day. It enables dog dads to boast of their love and affection from and to their furry friends. 
These gifts are available on Amazon at incredible prices. Do you still want to miss the chance?
This is where you can get it from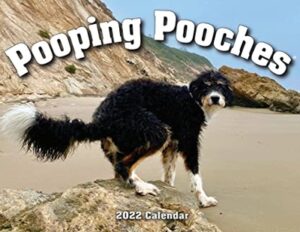 Gag gifts are ideal for spreading smiles and pleasure all around. Therefore, do not look any further if you seek gag gifts for dog dads. The Pooping pooches' calendar is the best option that is funny yet useful. 
The upcoming year will not stink despite the Pooping pooch name. A calendar is a highly thoughtful gift and does not take massive space. Dog dads will love a present that shows a new pooping dog every month. 
All jokes aside, a calendar indicates holidays and other valuable information and enables tracking time. You can get this product from Amazon at a very reasonable rate. So, leave the stink behind and get your known dog dad this beautiful pooping calendar. 
This is where you can get it from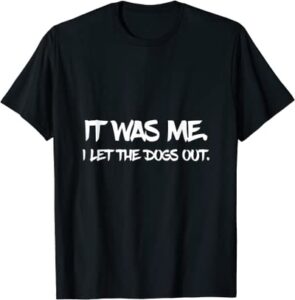 A dog-loving dad walking out in a t-shirt says, "I let the dogs out," can it get funnier? These adorable cotton-poly blend t-shirts are ideal for dog dads excited to take their puppies out for a walk. The soft fabric is highly comfortable and easily wearable by all. 
These t-shirts are high-quality, with the design drawn and printed by skilled illustrators. It is available on Amazon, ranging from $16.95 to $34.95. 
Dog dads can wear and flaunt these anywhere they like. Moreover, these t-shirts are a perfect gift for any occasion. For humor and dog-lovers, it is like an arrow hitting two birds. 
This is where you can get it from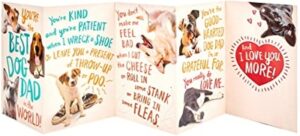 Birthday cards have been around for decades. The personalized messages, sketches, and art are enough to melt anybody's heart. Gifting a birthday card to a dog dad from his dog will raise smiles and laughter on his special day. 
Dogs cannot express or write their feelings in words. They show their love through actions. However, dog dad birthday cards are a way to convert their efforts into words and melt their hearts. 
Amazon makes such cards with words like "Happy birthday to the guy who gets up to feed me, walk me, pick my poop, take me to the vet, worry about me, give belly rubs, and take naps with, I love you." Isn't it heart-touching to wish these words from your furry companion? 
This is where you can get it from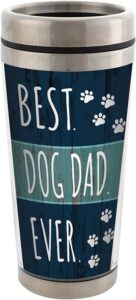 Travel tumblers are valuable in carrying hot and cold drinks while on the go. Dog dads that love to travel or work at a distance will benefit significantly from these tumblers. These tumblers can keep cold drinks for 12 hours and hot drinks for around 5 hours. 
These stainless-steel tumblers also have funny sayings like "Thanks, Dad, for putting and picking up my shit" to remind them of their duties in a humorous way. It is an excellent gift for Christmas, birthday, or any other occasion. 
Dog dads can carry their dog and tumbler on vacations, beach, picnics, work, camping, hiking, and other places and flaunt their favorite things. 
This is where you can get it from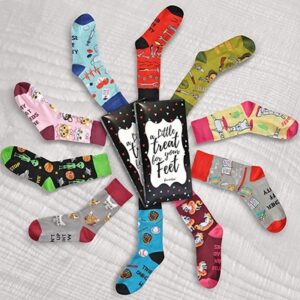 Most men do not step out without wearing socks. It forms an essential part of their wardrobe. However, socks are also the least seen item when they have a dog. Furry kids have a particular obsession with socks. They will take them out of the laundry basket to play and tear them up in the dads' absence. 
That is why gifting a dog dad a pair of socks with funny sayings is the most practical way to express your feelings. Amazon provides cotton socks with unique designs and lines like "I can't get up right now" on one sock and "My dog needs me" on the other. A doting dog father will be the happiest with these pairs. 
This is where you can get it from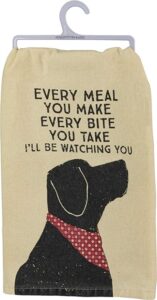 Dish towels may not be a traditional gift, but they are practical and helpful. These can become effective gag gifts with funny quotes and designs. 
Amazon provides Primitives by Kathy store, where you can purchase these rustic dish towels made of 100% cotton. These towels have visually appealing artwork like a dog and a smile-inducing quote like "Every meal you make, every bite you take, I'll be watching you." 
These hilarious, sarcastic, and heartwarming dish towels absorb and work magically. They are soft and durable, and of suitable size. Available at just $3, it can be an excellent gift for your close ones. 
This is where you can get it from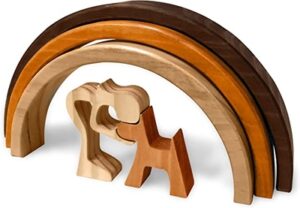 There is nothing sadder than a dog dad losing their furry companion. However, since these memories are forever etched in their minds, a memory statue console is an excellent way to preserve them. 
It is a significant and unforgettable gift that portrays them kissing their dogs' forehead while bending down. It is 100% wood and handmade, which makes it unique. The dog dads will rejoice that the memorial gift shows their dogs' contribution to their lives. 
The rainbow bridge provides nameless and pictureless statues, enabling different people to remember their connections with their furry mates. It is a solid, sustainable build and a perfect way to commemorate and help a grieving dog father. 
This is where you can get it from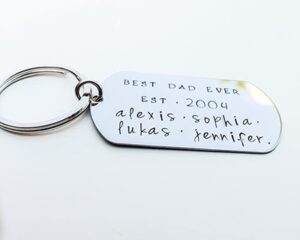 Keychains are a prevalent yet valuable gift item. It makes storing keys safe and adds a bit of sparkle. Usually, people use keychains that hold a special meaning or value in their life. 
Therefore, the fabulous idea is to gift the dog dads a handmade, personalized keychain engraved with the dog's picture and name. Etsy provides these super-cute and adorable keychains as gifts to dog lovers. 
It is a stainless-steel keyring with aluminum, copper, and silver discs on which a quote, dog's name, and dog charm gets engraved. It is an alluring gift for new and old dog dads and the best gift for any occasion. 
This is where you can get it from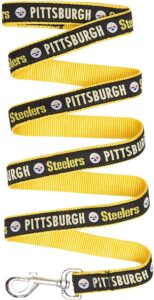 Does the dog dad, you know, love sports, especially football? Then, what better gift than combining the two most precious things of their lives. An NFL dog leash rocks their favorite team logo while being an excellent help for their dog. 
Available on Chewy, this durable and nylon webbing leash is comfortable for both the dog and the owner. It gives the dad things or topics to talk about with strangers while walking their dog in the park. 
Therefore, the dog leash benefits the dogs with a beautiful and soft leash and enables dad to connect to other people and flaunt his favorite things. 
This is where you can get it from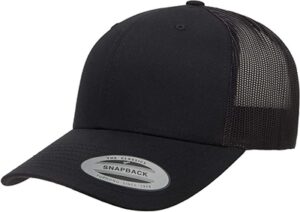 Dog dads cannot roam around with their dogs sitting on their heads the entire day. But they can express their love and affection with the dogs' picture on the cap and flaunt it without any worry. A trucker hat is the best choice if you want ideas to show a dad how much he loves his furry kids. 
Goorin Bros on Amazon provides these robust trucker hats with animal patches, adjustable snaps, and meshwork. These are ideal for grocery runs, hiking, or casual walks with or without the dog. 
You can gift these caps on any occasion and express gratitude towards these extra loving species called dog dads. 
This is where you can get it from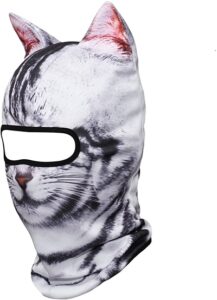 If you need gifts for Halloween, Christmas, or a winter occasion for a dog dad, a full-face fleece mask with dog ears is a perfect choice. It is warming, breathable with 3D fun features at the top, and is available in various options. 
A man who loves outdoor sports can also enjoy this mask. You can get it custom printed based on the dog's breed. It may not be a standard gift, but it is helpful and practical while showing the dog dads' love and affection. It is available on Amazon. 
With a gift like this, you spread fun, joy, and games to the receiver and get blessings. So maybe it is time to invest in happiness now.
This is where you can get it from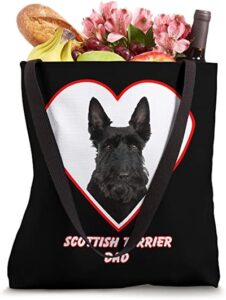 While going with a dog on a walk, picnic, beach, or a vacation, owners require many things. Be it frisbees, treats, dog park gear, snacks, water bottles, or gadgets, carrying them with ease and convenience and a furry mate is complex.  
If you want to gift such dog dads something, a tote bag is a perfect choice. These bags are reusable and also helpful in carrying many things without damaging them. These bags are blessings in disguise for paw parents. 
Rover store provides these bags at affordable rates. These are a must-have for every paw parent, so you gift this to your friend if you see them without one. 
This is where you can get it from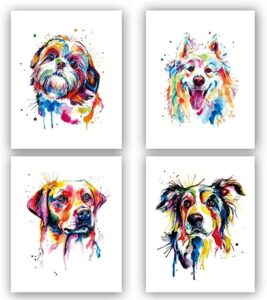 Dog dads contribute a significant and happiest portion of their lives with their furry mates. Therefore, gifting them art or painting of their dog screams brilliance. Abstract art adds decor to an otherwise dull wall while enabling the parent to flaunt their pet. 
With the high-quality, eco-friendly, sustainable interior decor, both the dog and dad will feel blessed. The colorful art can increase the vibrance and tone of the playful area. Amazon offers these paintings at affordable rates to gift your loved ones. 
Therefore, to brighten the atmosphere of your friend's house, purchase these beautiful frameless pieces. 
This is where you can get it from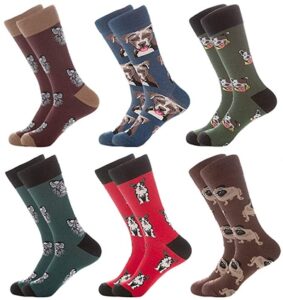 Gift your dog friend this creative sock pair of handsome dog faces holding tennis balls. These are adorable and funny, but they also hit the good eye strings and appeal to the humor and love of a dog dad. 
Available on Amazon, these are super comfy. The classic pair retails around $15 and is the highest quality material. 
This is where you can get it from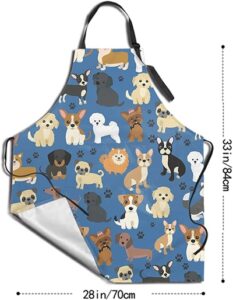 Every man has a hidden barbecuing talent that comes out at specific times. You can gift a dog dad a beautiful apron that mentions his favorite activities- dogs, BBQ, and drinking beer to honor these occasions. 
A dad that loves outdoor cooking with their dog will enjoy the cotton-blend adjustable apron. Available at the Rover Store, it makes the experience seamless and enjoyable. 
This is where you can get it from
Who doesn't love a gag gift full of humor, sarcasm, and funny incidents? Dog dads will enjoy this hilarious compilation of dogs doing funny things. 
The book is available on Amazon and Chewy and provides events of dogs' misbehaving, sneaking, or hilariously doing gross stuff. It shows how dogs make even worst times the best. Any dog lover would be happy to read this funny book and remember their experiences. 
This is where you can get it from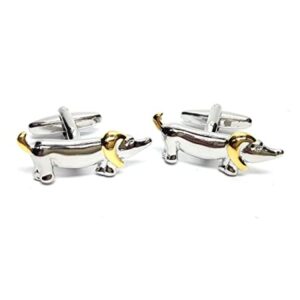 Why would you always choose a tie and other formal attire sets when cufflinks play a significant role? Especially for a dog dad, a silver cufflink designed as a dog is the ultimate expression of their love and affection towards their furry mate. 
It is an ideal gift that goes with casual and formal attires and is solid and durable. The classic and unique style pairs well with everything. The dog dads will be the happiest with this unique gift.
This is where you can get it from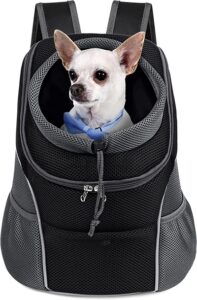 If your dog dad friend has a puppy or small dog breeds like Chihuahua or Daschund, you can gift them a dog backpack on a special occasion. These carriers make traveling, hiking, camping, or hitting the roads with a dog much easy. 
These carriers have adjustable straps to hold most dogs. It has a breathable quality and provides space for ventilation for the pet. Also, it does not burden the shoulders much, thereby being suitable for most dog dads. 
 This is where you can get it from
Summing Up
Dog dads are probably the sweetest creatures on the planet. Therefore, you must shower them with the most meaningful, attractive, and practical gifts. Hopefully, the gift ideas mentioned above will help you dish out the best for your close ones and deepen your bond with them (and their dog).