6 Month Anniversary Gifts for Him - 21 Unique Ideas
It has only been six short months, but they might as well be the happiest six months of your life. You want to get the best 6 month anniversary gifts for him, because your boyfriend deserves all that is well in the world! 
Maybe you want to send him a message with the gift, or you need to show him how special he is to you. No matter the reason, you want to give him something that, for years and years, he'll look back on what you got him and remember those early times in your relationship so fondly. We've covered all the bases for you in this list  to make this tall task simple and easy. 
Here are 21 phenomenal 6 month anniversary gifts that are sure to make your boyfriend love you even more and help him remember for years how amazing you are.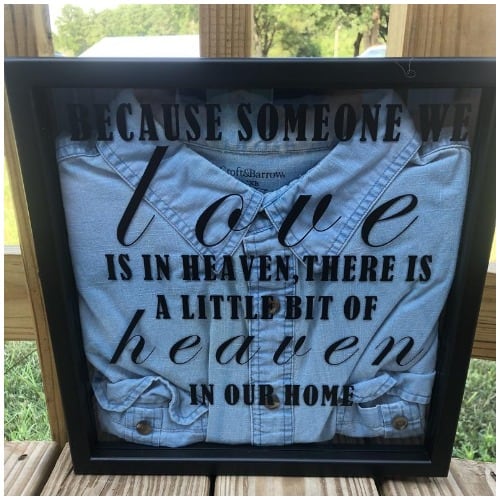 On your 6-month anniversary, you not only want to celebrate the past 6 months, but the many, many months to come. This classy personalized shadow box is the perfect way to begin a collection of mementos that you and your boyfriend can add to as the years pass.
Any small item can be collected in it, from beer bottle caps to wine corks to photographs. Have this lovely box engraved with your boyfriend's name and initial and you have the perfect personal 6 month anniversary gifts that will show him how much he means to you. 
#2 A Stainless Steel Tumbler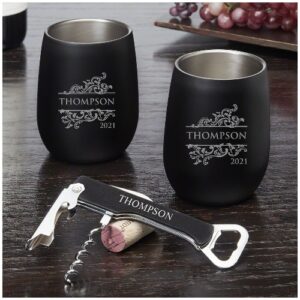 Bring a touch of elegance to the life of your boyfriend with these beautiful personalized wine tumblers! Made of double walled stainless steel and covered in a sleek matte black finish, these eye-catching tumblers are not just attractive glasses.
The insulation keeps your wine cold all through your movie on date night, no chilling required! Also included is a handy corkscrew multi tool that has four different tools attached.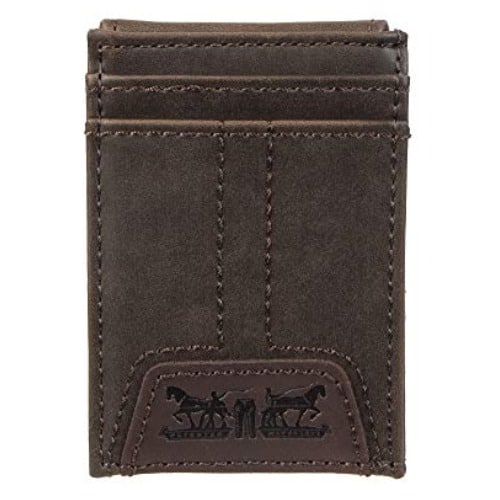 Chances are, your boyfriend's wallet is falling apart and stuffed with old receipts and cards he never uses. Help hi Protect his identity and information from high-tech thieves with this wallet Featuring RFID-blocking material & a behold construction with multiple interior pockets for organization, this wallet lends the utmost in security in a compact design.
He won't have enough cards and bills to fill out all the card slots that this wallet has to offer: 4 Interior Card Slot Pockets, 1 Interior ID Window! 
#4 A Personalized Poker Chip Set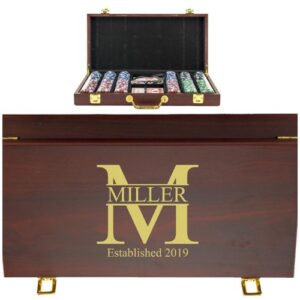 If you want to get your boyfriend something to play for your 6-month anniversary, don't fold and get him one of those lame, non-personalized gifts! Get him his own personalized poker chip set. He will greatly appreciate this gift for an anniversary gift because he'll know that you care about his hobbies. 
#5 The Perfect Bar Tool Set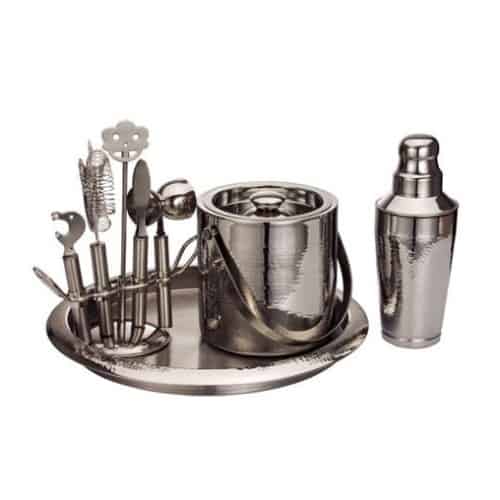 Looking to stock your boyfriend's bar with some quality bar tools but don't want to buy everything piece by piece? This is the set for you! Featuring a handsome hammered stainless steel, this bar set includes everything you need to get started making mixed drinks.
Set includes a 26oz cocktail shaker, strainer, stir spoon, bottle opener, fruit knife, double jigger, 14-inch serving tray, and an ice bucket. 
#6 A Personalized Ice Bucket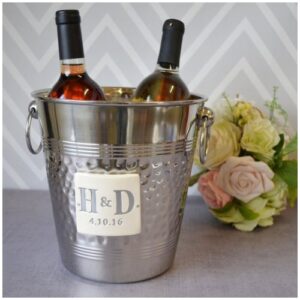 This personalized wine/champagne bucket or ice bucket is a perfect gift to celebrate your 6 months together. It measures 9 3/8 inches L x 8 Inches W x 8 3/8 Inches, and it can hold one bottle of champagne or two regular size bottles of wine.
This sturdy classic bucket is made of solid stainless steel, simply fill the bucket with ice, and you're ready to go. The ceramic plaque is 3.75 x 2.75 inches and it includes the couple's monogram, last name and day you met! 
#7 His Own Cocktail Bar Sign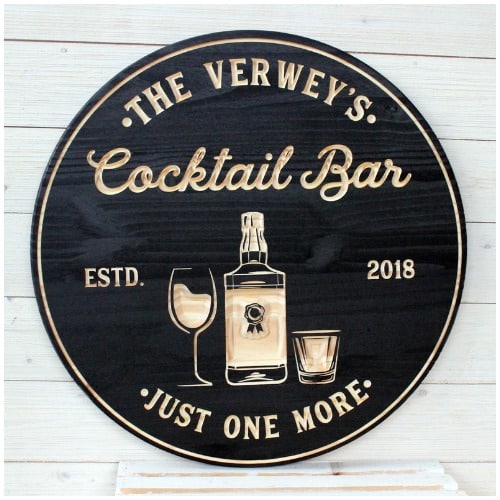 If your boyfriend fancies himself a bartender on the weekends, let him know you appreciate all the drinks he makes you with a personalized sign. This cocktail bar sign will look fabulous hanging in any kitchen or behind any home bar, and your man will gaze at it every time he makes and enjoys a drink, including when you two are celebrating your 6-month anniversary. 
#8 A junk food Care Package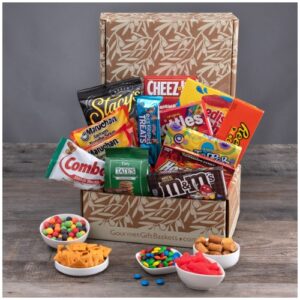 Let him know you know he loves his sweets! This Care Package is perfect for brightening any day, this Junk Food Care Package is full of the delicious foods that everyone craves! Inside one of our signature boxes, your recipient will find a collection of delectable snacks complete with irresistibly sweet candies, chips, and premium gourmet cookies. A fun and unique gift that's sure to make them smile. 
#9 A Set of Custom Coasters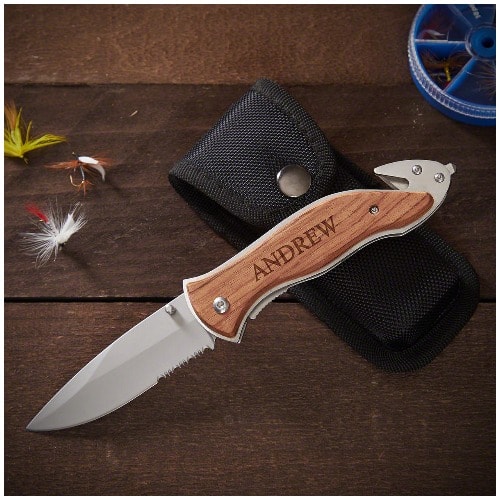 This beautifully engraved "AVATAR THE LAST AIRBENDER" coaster set inspired by Avatar is the perfect gift. Great for every enthusiast of the classic comics and series! Help your boyfriend collect as many as you want! Coasters are laser engraved on 1/4″ Baltic Birch and sealed with an orange oil & beeswax finish. 
#10 A Personalized Hunting Knife
Not all knives are created equal and this serrated personalized hunting knife proves that to be true. This hunting knife makes a cool gift for guys as it has everything you need: a seatbelt cutter, glass breaker, serrated edge, and a carrying pouch. It makes for an awesome blade to use for fishing, hunting, or while working in the yard.
With included personalized engraving on the wooden handle, this makes a cool gift for guys like dads, husbands, or any outdoors man in your life. Measures 5" closed and 8 ¼" open. 
#11 A Picture Frame for Him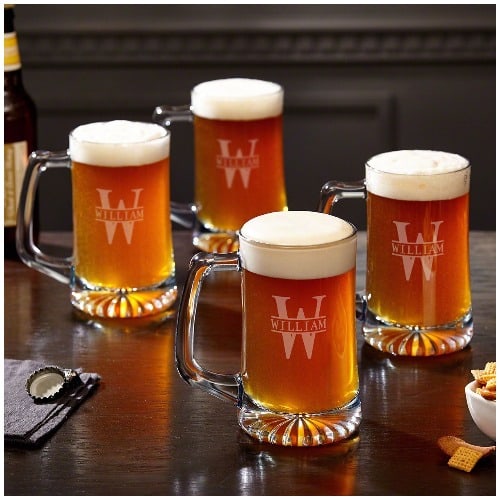 Anniversary gifts are all about sentiment, and what gift is more sentimental than a photograph? Consider a custom Iron Man frame for your boyfriend for your 6-month anniversary gift.
Whether he will put a recent photo of the two of you or one way back after your very first date, any picture would look amazing inside and Iron Man themed frame! Large. Magnificent. Attractive. Frame in the Baroque style. The art is mounted in the frame and is ready to hang. 
#12 His Own Personalized Glass Beer Mug
Now your boyfriend can take a full set of engraved glass beer mugs to the table, without breaking his back! These small beer mugs compared to the usual 25 ounce model, they can hold 12 ounces. Constructed with the best-selling starburst base, this BrewMaster style engraved glass beer mugs feature the name and initial of your choice.
Arriving with four pieces, this beer gift set is a value-priced option, suitable for weddings, housewarmings, and graduations. Each unique mug measures 5.5 inches tall with a 3-inch diameter; fully dishwasher safe. 
#13 The Perfect Wall Decor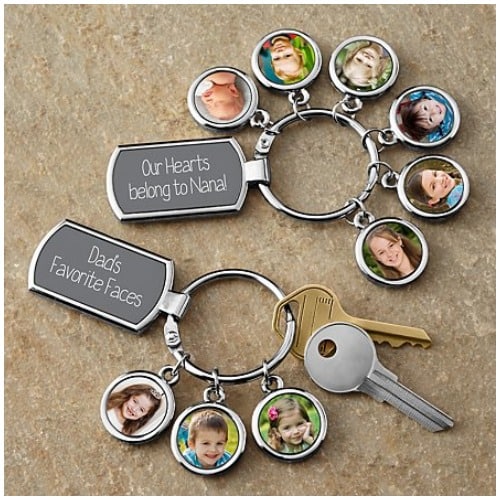 A Perfect way to reflect how much you love him will be this 3D wooden USA maps with states landmarks, which will always remind you of your travels together around the United States. This is a beautiful wall art decoration with 3D effect for your home or your office. Its natural finishes fit in perfectly into any style of decoration.
This 3D poster consists of 6 layers of plywood 3-4 mm thick each. The beige color consists of 5 layers of plywood. The total thickness of the poster is 16-20 mm. 
#14 A Personalized Keychain
Ensure loved ones are by all through the day with this keychain featuring their photo and your heartfelt message. Personalize with any photo and 1 or 2 line message up to 16 characters each. 
#15 A Secret Message Store Valet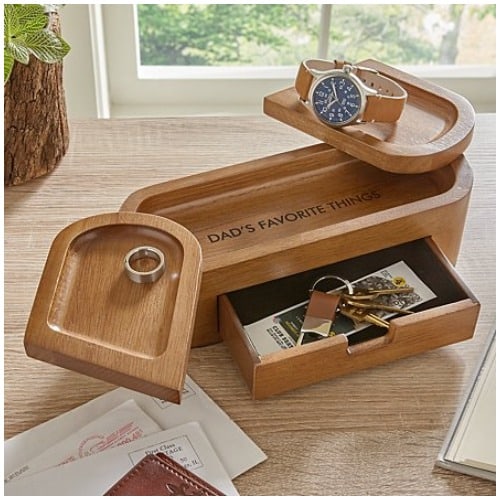 A Personal Creations Exclusive! The top 2 trays—ideal for everyday items like keys and loose change—swing open to reveal a hidden compartment for keepsakes—and your heartfelt message! A thoughtful and attractive addition to any dresser. 
#16 A Special Sunglasses Case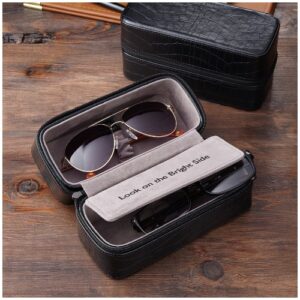 If their sense of fashion starts with their specs, make sure they have an equally stylish place to stow them. This dual carrier means they're never without a backup pair, and their hearts will lift every time they read your hidden message.
Keep sunglasses safe and smudge-free in this gray velvet lined box with leather exterior. Holds 2 pairs of sunglasses or use one side to store other small items.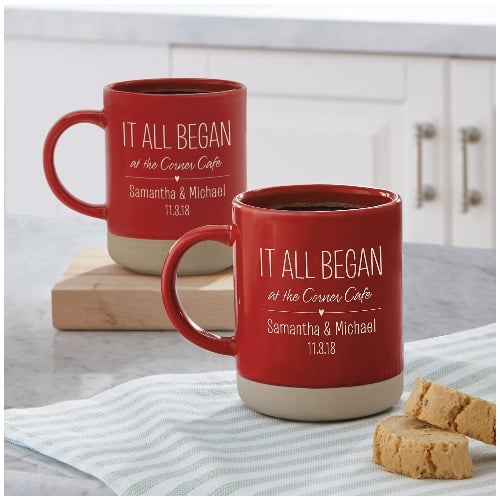 Your favorite couple's morning coffee will taste even sweeter sipped from mugs displaying the special place where they first met. Handsomely crafted of stoneware, the happy memories are sure to get mornings off to a great start. Made of stoneware with beautiful braised bottom. Dishwasher, freezer, oven and microwave safe. 
#18 A customized Car Charger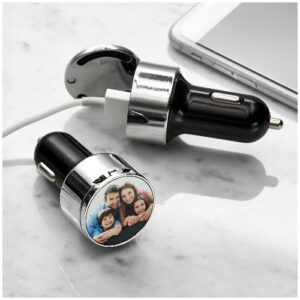 A Personal Creations Exclusive! Now you can keep digital devices at full power when you're on the road. As a bonus, our charger includes a favorite photo to keep you company! It's made of zinc alloy, aluminum and plastic. And you can personalize it with any photo!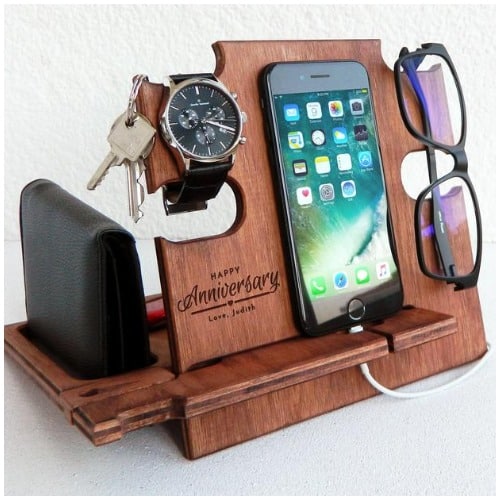 This wood stand is engraved with a beautiful and delicate design that you can personalize to celebrate your Anniversary day with a special gift for your husband, your fiancé or your boyfriend.
This stand is a good solution to keep all your daily items organized and easy to find. It was designed to keep the smartphone or tablet, keys, watch, glasses, wallet. Thanks to its design, everything will be well organized and as handy. 
#20 A Personalized Copper Colster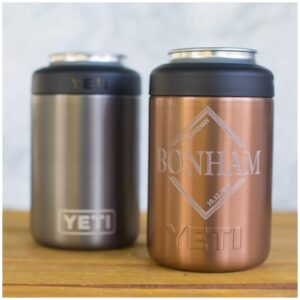 The Diamond Design comes standard! These stunning Copper YETI brand can size Colsters make an impressive and unique gift that is sure to be used for years to come! 
#21 A Star Wars "I Love You" Shadow Box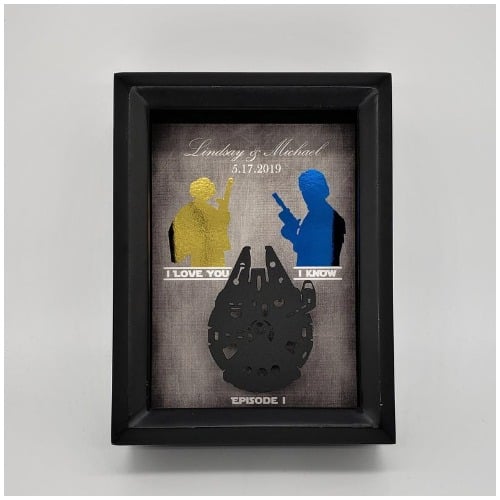 This shadowboxes includes a print with the silhouettes made with real shiny colored foil and the most popular lines "I Love You, I know". The bottom of the print includes the anniversary year or month represented by the Episode #. Intricate cutout of The Millennium Falcon placed between the print and frame window giving it a cool 3D Effect!