25 Get Well Gifts for Men
Finding a good gift for a man who recently came out of a surgery or is in recovery from an accident is sometimes hard. You need to pick the right one, because the important thing is to make them feel comfortable and well through their recovery.
Gift baskets, some technology gifts and even comfortable clothes are awesome ways to wish him a speedy recovery! In recent times, you can find tons of amazing themed gifts out there to suit every man, but remember to keep it fun; not all should be fruits or clothes.
Everything from puzzles, games, books, snacks or candy; This list covers all of them to ensure you find the perfect gift!
#1 The Boredom Buster Gift Basket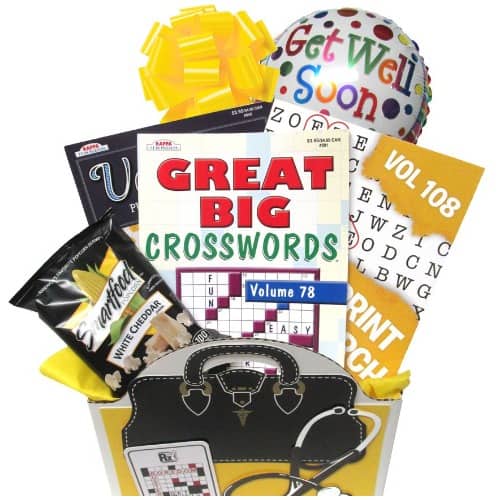 Send your best get-well wishes inside this Boredom Buster Gift Basket! This is an unique Gift Basket, filled with all the activity books men love like word search, cryptograms, brain teasers and more!
This gift baskets is great to help keep their mind occupied during their recovery, no matter how long it turns out to be, and also to keep their spirits high!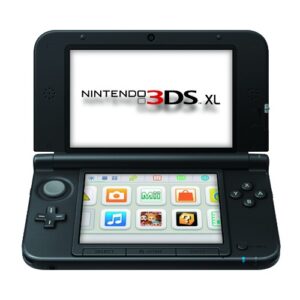 Every man has a little bit of Gamer inside their veins. And the New Nintendo 3DS XL is a system that combines next-generation portable gaming with super-stable 3D technology, which makes it easy to play and understand.
It has some added control features that their models don't have, and it's a perfect gift for men who need something to keep their mind busy while recovering. The system also lets them connect with friends to enhance their gaming experiences. It also runs all Nintendo DS games, so the fun is will never run out!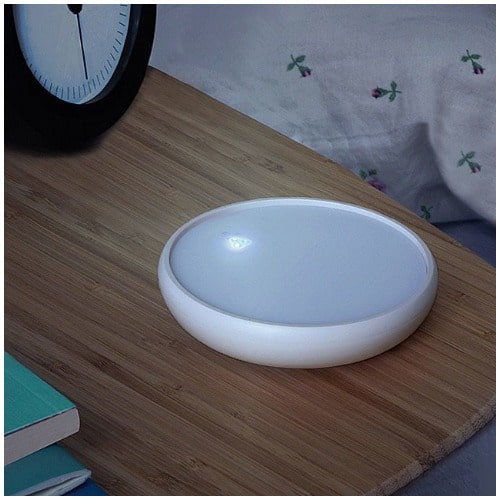 The Moon Beam Sleep Aid is a drug-free, easy-to-use device that will help any man fall asleep naturally, without the need of any other external factors. 
Having trouble sleeping is a common problem when we men aren't feeling well, and having a little help to find their natural rest is sure to be appreciated!
#4 Microbrew Beer Bucket Gift Basket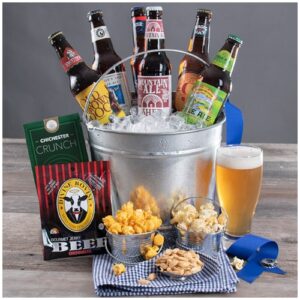 This special gift basket should be skipped if you're shopping for someone who's sick o recovering from a surgery. However, if they're just recovering from a broken bone or something less problematic and their doctor says it's ok, this can be a great pick up!
This Microbrew Beer Bucket Gift Basket comes with six different Microbrew Beers bottles in addition to a ton of delicious snacks!
#5 You're Only Old Once!: A Book for Obsolete Children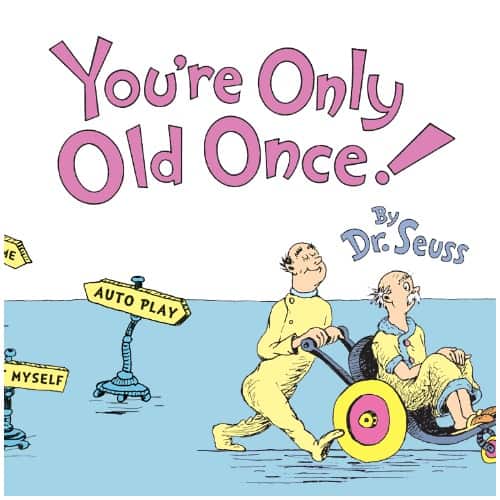 Dr. Seuss creates a classic picture-book ode to aging with his unmistakable rhymes and signature illustration style. "You're Only Old Once!" Is a book that narrates a visit to the Golden Years Clinic on Century Square for Spleen Readjustment and Muffler Repair. 
All readers, specially men, will laugh with familiar horror at the poking and testing that go hand in hand with the dread of becoming senior citizen.
#6 Broken Leg "Get Well Soon" Bear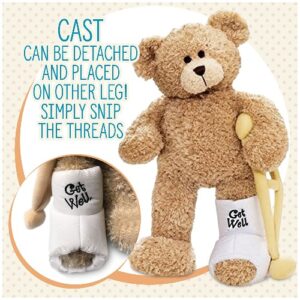 Loved one is making a recovery? Maybe all they need is is a friend to keep them company! This softy Broken Leg "Get Well Soon" Bear is sure to help make them feel happy and loved in a hurry!
Science has proven that smiling is good to help in the process of recovering from an accident or after a surgery, and this little guy is smile-inspiring and cute, ensuring that it will brighten up the day for a friend.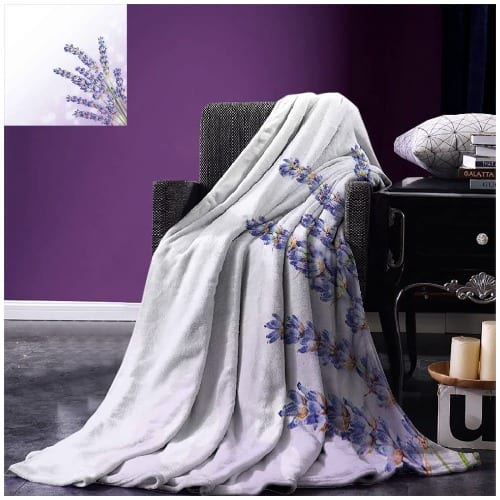 This might not be the most manly item on the list. But if any man can get past the color, they will truly appreciate what an amazing gift this is!
This is an aromatherapy blanket that provides comfort for every kind of recovery your loved one may be suffering, from back aches to tummy troubles or even after surgery issues. No matter the case, this Spa Blanket will surely provide comfort and safety during their sick times. And it can be used after recovery!
#8 Post Surgery Men Tee Shirt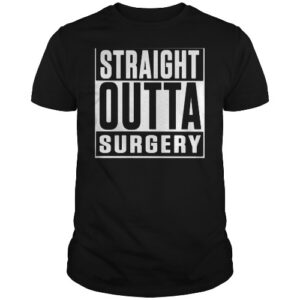 This one is for after their recovery time has passed, but it's still a nice touch to make hem feel like they left behind an uncomfortable time of their lives.
This T-shirt, featuring the popular logo from the movie "Straight Outta Compton," reads instead "Straight Outta Surgery", making it into a funny T-shirt and a great gift for any man currently recovering in the hospital or at home.
#9 Fire TV with 4K Ultra HD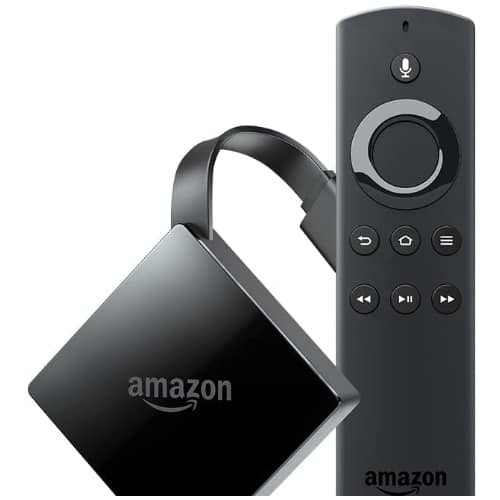 Being out of action in a hospital bed or at home can be tough, but looking at the bright side, it also provides men with an opportunity to catch up on their favorite shows. Fire TV opens the door to a world of infinite entertainment. 
With a compatible 4K Ultra HD TV, any man can watch thousands of movies and TV shows in vibrant colors. And, with the universal voice search across more than 190 integrated channels and apps, it's easier to discover new content with personalized recommendations on the home screen. Surely, one of the greatest gifts on our list! 
#10 Personalized Relaxing Gift Set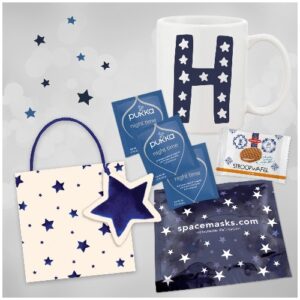 This is a heartfelt little gift set that contains a personalized Scandi-style mug, 3 sachets of relaxing tea, a Spacemask, and a delicious Stroopwaffel. It is a gorgeous present, not only for its usefulness but because it encourages good hygiene and relaxation. 
This is a nice gift for all occasions, but specially for someone that is in a hospital or recovering at home from an undergoing treatment. 
#11 "No. 1 Dad" Striped Sock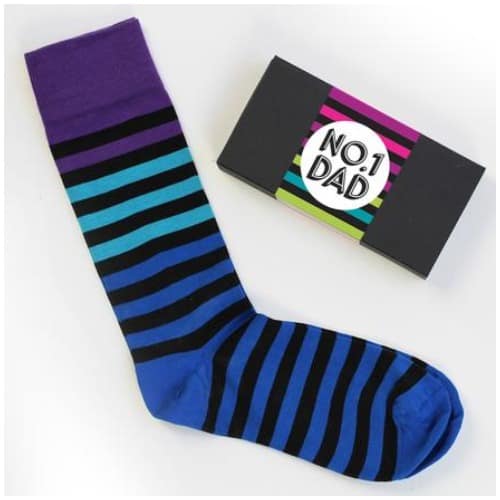 This one is ideal for the man of the house, specially after they suffered an accident or are recovering from a surgery. Showing support for your loved ones is always important, and accompanying that with a pair of socks is even better.
These socks are 73% the finest Egyptian cotton and 27% polyamide, and have an extremely soft and silky finish. 
#12 "Get Well Soon!" Activity & Puzzle Book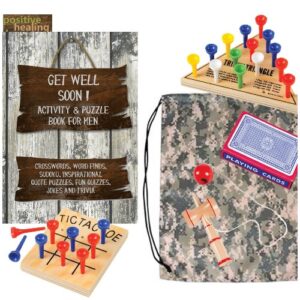 This is a Puzzle Book especially designed for Men. It's filled with crossword puzzles, trivia questions, Sudoku and a lot of funny and inspirational quotes, quizzes, and jokes. 
Specifically with the quizzes, we're talking the likes of "Are you Competitive?", "Are you Cheap?" and many things every man should know how to do, with funny quotes and more! This book will be sure to lift his spirits! 
#13 Men's Shampoo & Body Cleanser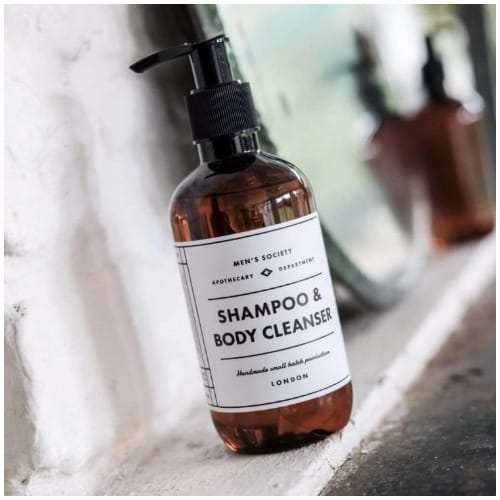 This is another hygiene-related gift, but for someone who's recovering from surgery, these tings are always important. This is a natural cleanser, tough on germs and dirt, but soft for any man's skin. It has a minty smell that will help you both look and feel great after use.
It also contains a stimulant basil that, after inhaling it, can help restore mental alertness and fight fatigue while working on the nervous system and adrenal cortex. 
#14 Fun day socks from Totes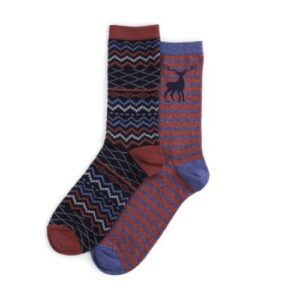 This is the second sock-related gift of the list, but man, do we love our socks" Besides, they always get lost in the dryer, so no one ever has enough socks. These daily socks come with a mixture of fun designs, and they're also packaged in a cracker shaped box, making them an ideal and fun present for men of any age.
The designs include a blue or red stag, and they're also one-size-fits-all, so you needn't know the actual size of the person you're giving them to. 
#15 Black & White Heart Mug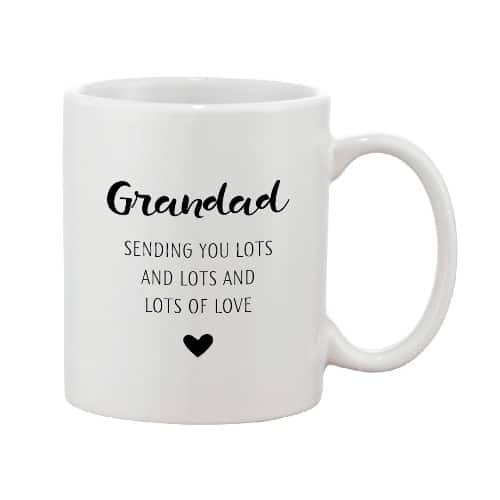 Personalized gifts are anyone's favorite. And a personalized mug with a little heart is just what you need to let a man know you hope they get well soon. This special mug has a space for the recipient's name and a personalized message, so that they know you didn't just buy a random mug.
We recommend you choose from something personal to convey your well-wishes and make them smile.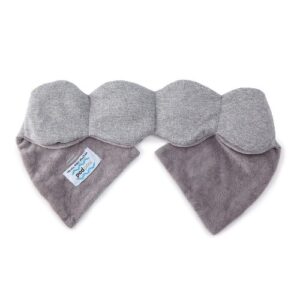 We all know that getting a good night of sleep in the Hospital or while you're recovering and resting at home can be tough, specially after surgery. But once you lay this super soft, weighted sleep mask over your eyes to help you drift off to a sleep, it won't be difficult anymore! 
#17 Men's Rhythm And Blues Woven Check Robe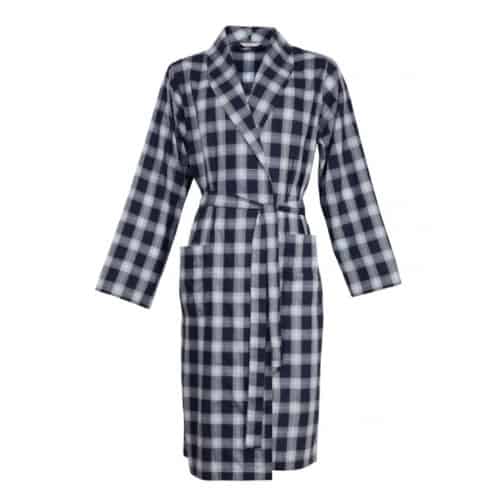 Recovering from a surgery doesn't mean your man can't look stylish and comfortable! This woven check robe has a shawl collar, long sleeves that perfectly match their rhythm and blues print.
They're 100% cotton, light and comfortable so that they don't affect the recovery time of the man, and they come with two self-fabric patch pockets at the front to keep whatever they need within their reach. They're also machine-wash. 
#18 Black & White Star Mug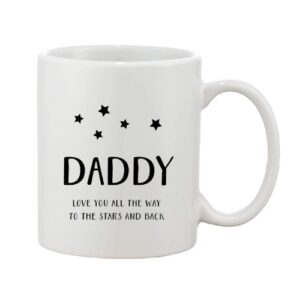 This is also a personalized mug, but this one is decorated with a star pattern, making it a more masculine gift for the everyday man. It also has a space for the recipient's name and a personalized message, whichever you may choose.
This one is made of Ceramic and can hold up to 10oz. It's also dishwasher safe, so our recovering man doesn't have to make that much of an effort to get in clean! 
#19 Funny Get Well Soon card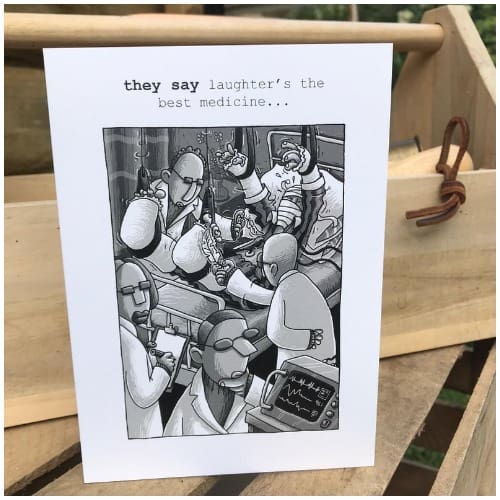 They say that laughter is the best medicine, and this could men that a funny get well card is the way to go. But don't get us wrong: Just a card is not enough a gift to give to someone in need of love. Look at this card as an accompaniment to other gifts. This card is also blank on the inside to give you a place to put your best wishes for the injured. 
#20 GIM Shiatsu Back and Neck Massager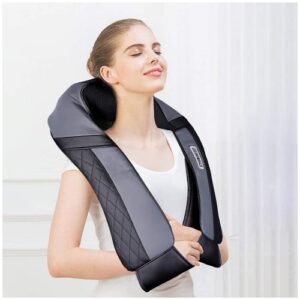 One of the best therapies for after surgery or injuries are massage sessions. And this kneading massager comes with 4 Big nodes and 12 small nodes, which will provide a deep tissue massages on all parts of your body to release stress on sore muscles or affected zones while promoting proper blood circulation. 
#21 Vintage American Baseball Cushion Cover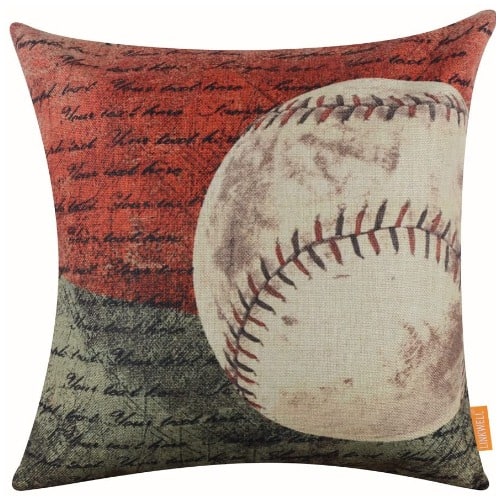 This vintage American baseball throw cushion cover will help you light up your home with natural beauty, specially for men who recently came out of surgery.
It's made of Burlap, an eco-friendly material that smells great and will go well with almost all your furniture. It has a hidden zipper closure, so that you can put in there your favorite and most comfortable pillow and make any man recovery better. 
#22 Double Wall Insulated Thermos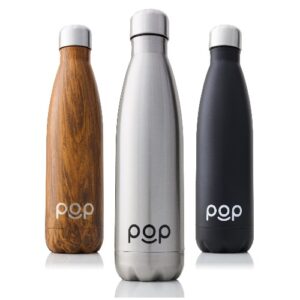 Having a cold or ht beverage at all times is an essential part of anyone's recovery after a surgery or an accident. So, giving away these stylish double wall insulated thermos to that loved one of yours will be both a lasting an important gift for their condition. 
#23 Roscoe Reusable Cold and Hot Pack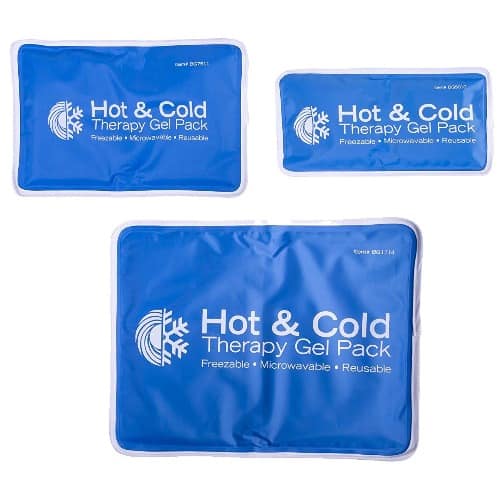 Keeping the injured part of the body hot or cold can also be important for the therapy the sick person is taking. With these reusable cold and hot packs, all they need is a fridge or a microwave, depending on the wound.
The ice pack is made of durable, soft touch material that is gentle on the skin and is best for back, knee and shoulder pain. Applying heat causes increased blood flow to the injury area of pain.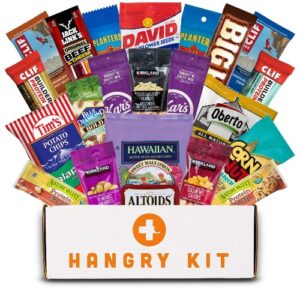 Fill the stomach of your man with some of the manliest snacks on the market. This snack kit is filled with delicious treats from nuts, protein, and meat, so you don't let your favorite man get hungry. This gift basket was specially designed for a dad, brother, husband, or male friend. Men love to eat, so get them something that will satisfy them! 
#25 "Mental Toughness: Develop an Unbeatable Mind"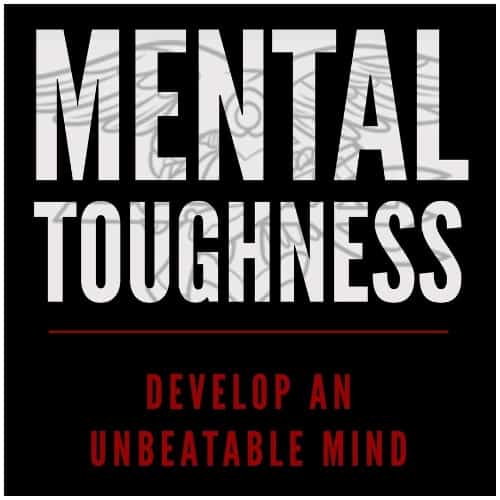 Usually after a surgery or major injury, men fin themselves feeling weak or useless. Being in this state can in turn slow recovery, which is why keeping an active mental health is the best medicine for any kind of recovery.
The purpose of this book is to help any man develop a Strong, Focused, Unbeatable Mind and allow them to gain that confidence back.