Dating Anniversary Gifts — 27 Unique Ideas
Our firsts of anything is always special, isn't it? That means when we reach a one-year dating anniversary with our partner, we should make sure they feel special and wanted! If you wish to give your special someone nothing but the best, this selection of One Year Dating Anniversary Gifts is perfect for you.
Let us guide you through the best options that will surely sweep your partner off their feet! If you really want to touch their hearts and make them fall in love with you all over again, just follow this list that reflects the stage of your relationship with extremely thoughtful gifts!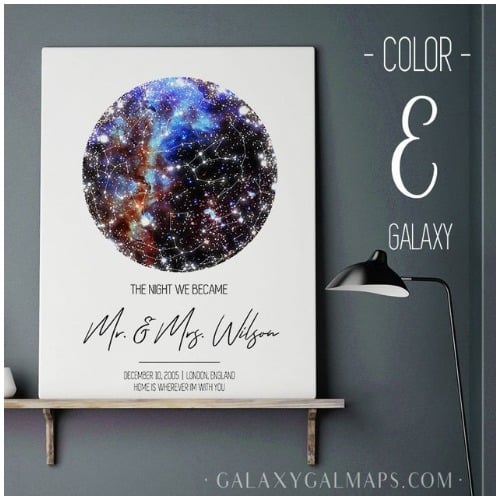 Help your partner personalize their home decor with this beautiful custom star map print! Just pick a date: your first kiss, first date, or his or her birthday, and capture the unique alignment of the stars in any place and time! All these star maps come with a time and place signature so you can personalize your constellation map print with a message that is special to both of you!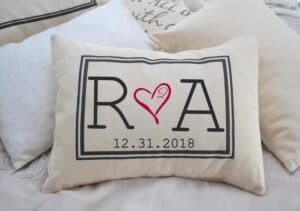 Giving someone something to make them feel comfortable is always a nice idea, specially for an anniversary! This custom pillow made especially for your first anniversary comes with a subtle "1" inside the heart in the center, making it into a most than just a special gift! What's a sweeter way to remember your special date, with your loved one!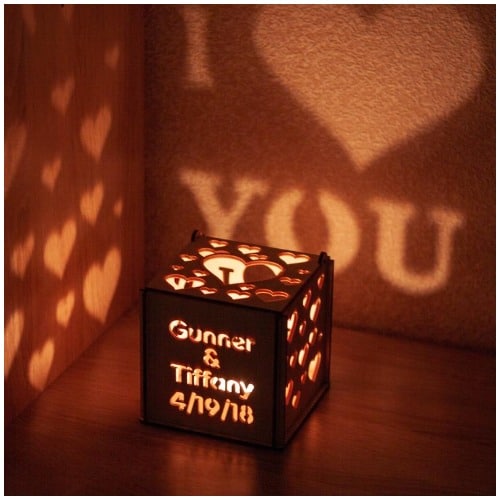 This Magic Lantern is able to convey the most important words that you would like to say to your soul mate, showing any message you pick on the nearest wall as soon as you light the candle! As burning candles are always romantic, they become even more romantic when they can show your feelings and emotions. This is a perfect gift for your loved one, specially for an anniversary! 
#4 A Dating Anniversary Card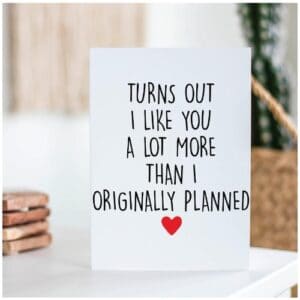 A dating anniversary card is something that should accompany any gift, but we're here to remind you about every detail so you won't forget. This particular card is printed on high quality FSC certified paper, so you know it0ll last for longer than the most common cards. You can choose to leave it blank or customize it with your own message! 
#5 The Swipe Right Ornament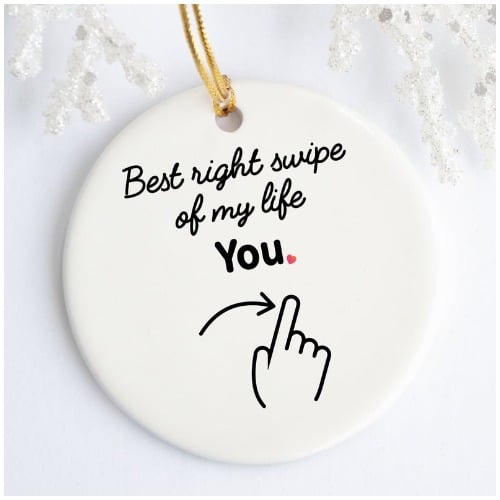 This one is a special gift for those of you who met on an online dating app, and want to celebrate that special first year together! The ornament is made of premium ceramic and reads "Best Right Swipe of my Life — You". This one is going to put a smile on anyone's face for sure, and with its high-quality and flawless design, it'll just stay with the two of you for as long as you're together! 
#6 An Anniversary Necklace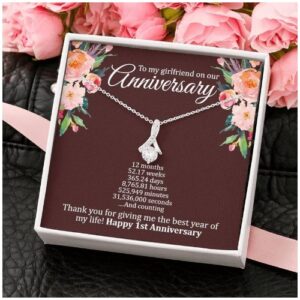 This pendant will become a one-of-a-kind gift for yourself and your loved one. The ribbon design is embellished with dainty cubic Zirconia, and a 7 mm round cut Cubic Zirconia. It's crafted with 14k White Gold over Stainless Steel, and the adjustable oblate cable chain allows the necklace to become not only pretty for any woman, but also perfect on any attire.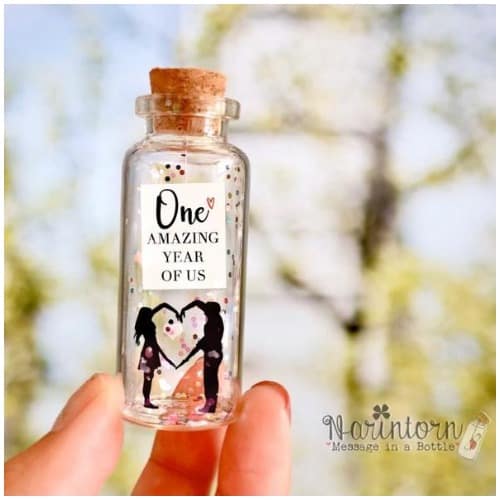 A Message in a bottle to celebrate a year with your love is a nice touch to that special day. Keep your most special moment or memories in a cute little bottle, perfect for him or her! Your loved one can put this cute little gift on the dashboard of their car, office desk, or even hang it as a Christmas Ornament!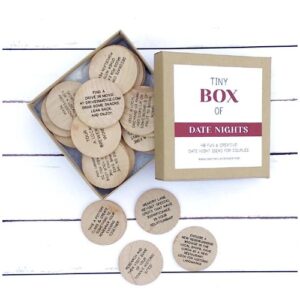 Give them the gift of having 48 memorable moments with you to celebrate your 1st anniversary! These tokens are made of solid wood, which will undoubtedly make them durable and perfect! 
#9 A Pair of "Always And Forever Socks"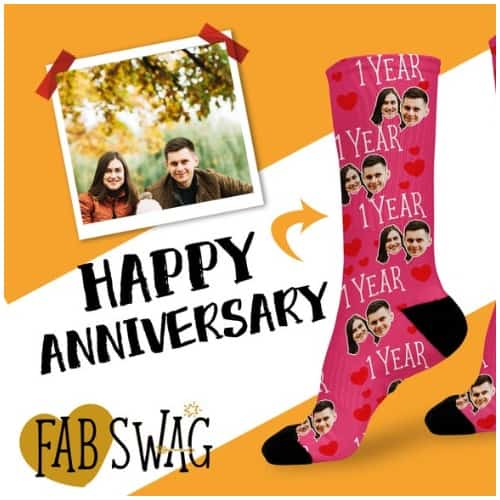 Get your loved one some swag on the go with these awesome custom designed Anniversary Socks! They are a great gift idea for your first year in love, featuring both your faces on them! All you have to do is send your favorite picture of yourself as a couple and choose a color!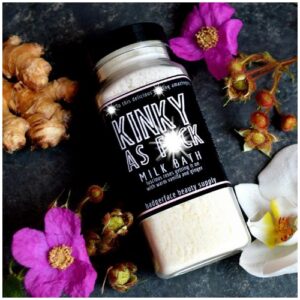 Having a stressful day at work can be something that ruins the best days even some as special as your anniversaries. If what you really want is for your partner to be happy and relaxed, these milk bath are perfect for you! The special mix of lavender and milk will help them forget everything on their mind, and maybe you can share the bath with them, too! 
#11 A Sandalwood Custom Photo Watch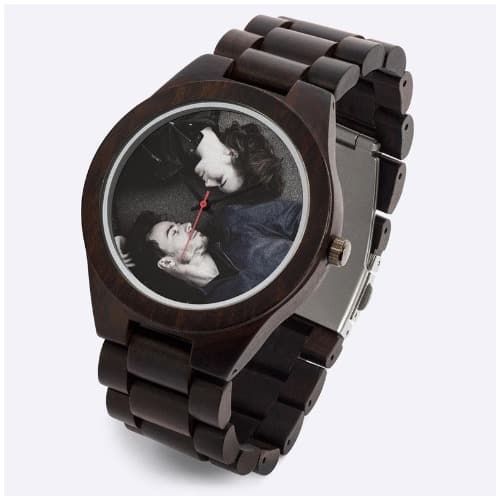 Imagine all the emotion your loved one will feel when you surprise them with this beautiful Sandalwood Watch, customized with your own printed photo on the face! It also comes with an optional customized engraving on the back which is perfect for couples. You can commemorate your anniversary with this detailed photo print, sealing your love with a nice touch. 
#12 "My Best Catch" Keychain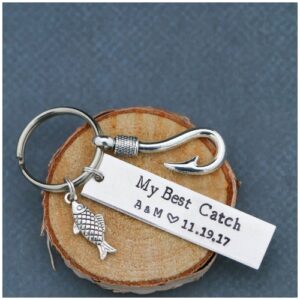 This is a special gift that a mean a lot if your partner loves to fish, but even then, it's great for any occasion! You can personalize it with your initials and the date you first started dating, and the small yer perfectly delivered pun will only become a conversation starter as time passes and your relationship grows!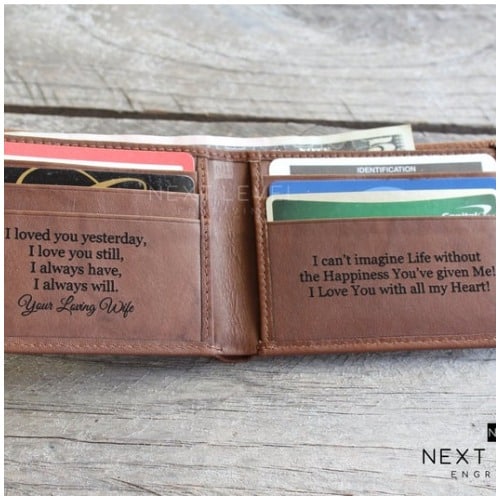 A personalized leather wallet with the engraved message you want is something all men can appreciate. This high quality wallet comes in a beautiful, soft brown color with genuine leather to make it even more special, and the best part of it is that he'll always remember you every time he uses it!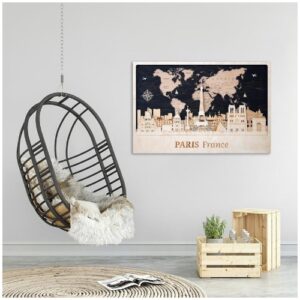 If your loved one has dreams to travel to Paris or shares some special moments with you there, this is a beautiful wall art decoration with 3D effect for their home or office will become a favorite in their lives. Its natural finishes fit in perfectly into any style of decoration, and it's also fingerprinted resistant! 
#15 "1-Year Anniversary" Boyfriend Mug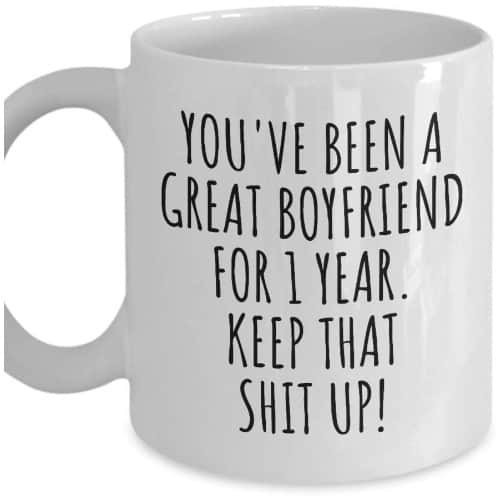 These high-quality mugs make the ideal gift for the perfect boyfriend that has been in your life for a year. It's great to put in a basket or present box for a surprise, and it's professionally printed using the best process to ensure the printing will stay forever, no matter how many times you wash it. 
#16 "Moments of 2020" Ornament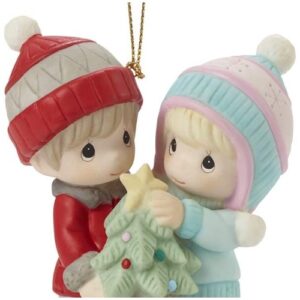 If your anniversary lands on Christmas, give them something that's both meaningful of your time together and seasonal. This glittery snow globe features Santa as he studies his map and prepares to deliver joy all around the world! This ornament can also play the tune "Joy To The World" as glitter snow falls gently around! 
#17 Ornament Brushed Pewter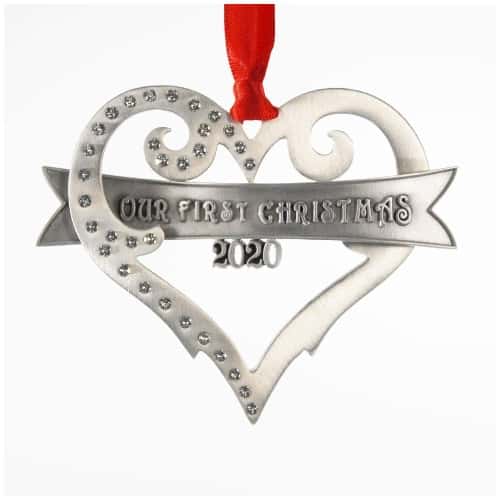 This beautiful ornament design is built in two parts to give it extra dimension: the heart has a spray of Austrian Crystals on the smoothly finished Pewter, making it into a sight to behold for anyone, including your partner! This makes it into a lovely keepsake for Your first Year together. 
#18 A Year of Us: A Couples Journal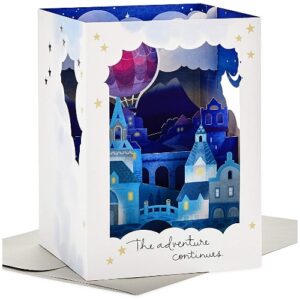 Whether you've been together a month or 25 years, there's always something new to learn about each other. This book, "A Year of Us" is a couple's journal that helps the two of you grow your connection through 365 days of insightful questions that explore your hopes, dream, needs, wants, and more! 
#19 Displayable Pop Up Anniversary Card
If you want to go with a card, why not go with the BEST card? This elegant card unfolds into a beautiful anniversary surprise that can be kept as a keepsake and remembered year after year. This special anniversary pop-up card unfolds into a diorama showing a hot air balloon floating across the night sky above an intricate mountain village, the perfect passage for your year together! 
#20 Great Conversation Starters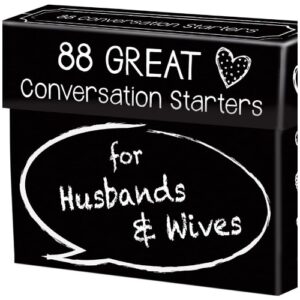 A relationship is a journey that thrives on great companionship. These 88 Conversation Starters for Couples are a fun way to bond and get to know each other better. This conversation starter set contains 44 Premium Double-Sided Cards with thought-provoking questions for couples!
Each side has a question and an accompanying Scripture verse or quote that is sure to spark some lively conversation and laughter. 
#21 An After Dinner Amusement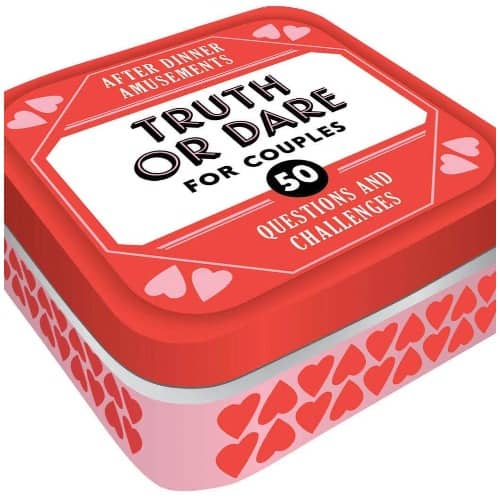 Fun is something that shouldn't be missed in any relationship, and helping you and your couple have fun on a daily basis will make this the first of a lot of years to come. Truth or Dare for Couples is a tiny tin filled with 50 naughty truths and 50 risqué dares for couples to have some after-dinner fun! 
#22 Happy 1st Anniversary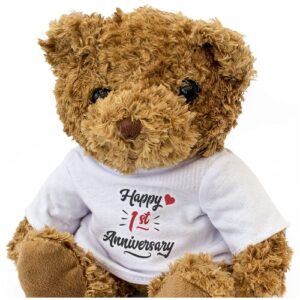 This adorably traditional brown teddy bear is one of those gift that never go out of fashion. Made with super soft fluffy fur perfect to cuddle up and with a friendly face, this teddy bear makes an excellent gift for both men or women! 
#23 Monogamy Adult Couples Board Game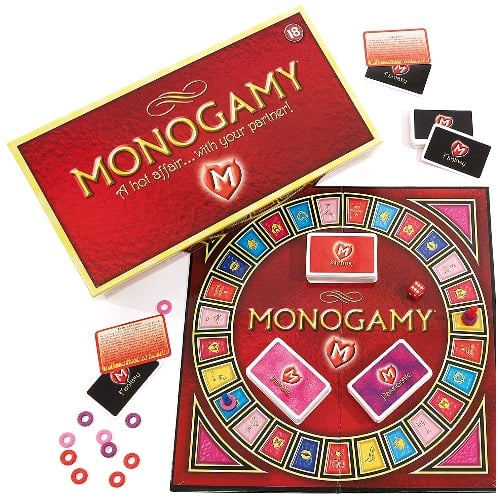 As we have recommended some games already, it's so hard to put into words just how good Monogamy is and why it works so well. Mainly, it's because you really have to play the game to fully appreciate just how dynamic it is!
That's what makes it so much more than just a game; it's an exhilarating exchange on multiple levels, and one that you share with the most important person in your life!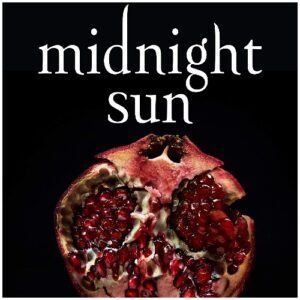 A book is something a woman can really appreciate, specially if she's into hot young adult romances. #1 bestselling author Stephanie Meyer makes a triumphant return to the world of Twilight with this highly anticipated companion: the iconic love story of Bella and Edward told from the vampire's point of view! 
#25 A Nice, Cuddly Blanket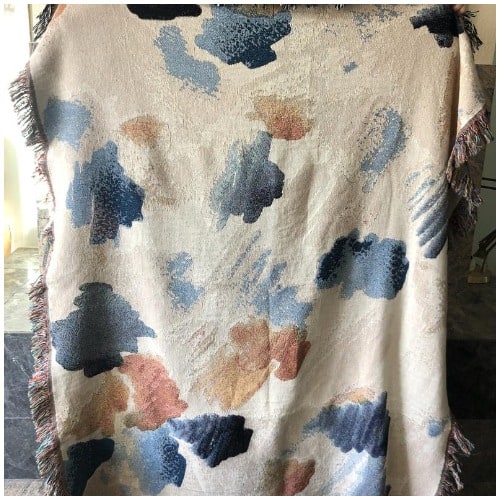 Created from my art and made in the USA. 100% cotton woven throw blanket perfect for cozy cuddles and also as a wall tapestry. Soft cotton feel, but durable enough for kids and pets. This woven cotton throw will add a painterly touch to a bed or sofa. Lightweight, yet warm, it's the perfect thing to cozy up under for an evening of Netflix together.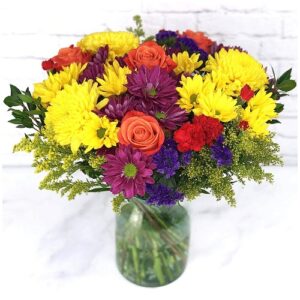 Flowers are a language of romance that never gets old and giving away a bouquet is always the highest form of love someone can express. These bouquets come with a hand tied design ready to drop into a vase and include Asiatic Lily, cushion and Daisy Pompoms, Alstroemeria, Roses, Micro Pompoms, Spider Mums and Large Carnations accented with Solidago and Greens.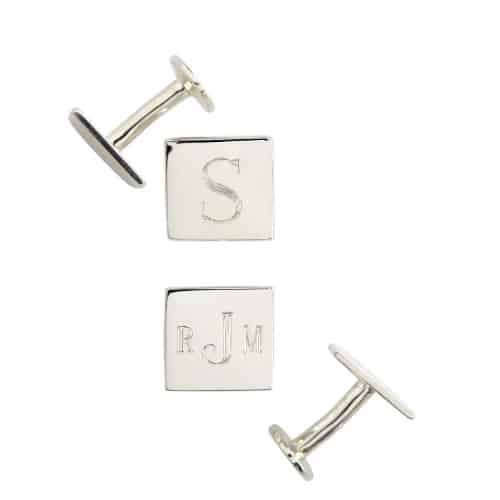 Every guy needs a great pair of cufflinks and a first anniversary is a perfect excuse to give them to him! This pair is made of sterling silver with a custom monogrammed, so he'll know that these cufflinks, like you, will always be his.