Coordinate Gift Ideas for Him - 27 Special Ideas
We usually give gifts to people to express our genuine love for them and in order to pick a good gift, it must be unique and meaningful. It does not always depend on how expensive the gift is but, on the message, and love it brings.
Products with coordinates as gifts are already unique and can stand among those presents a person can receive. Through the coordinates, you can put an address of a special place that is close to their heart or simply your address because they're treating you like home.
We prepared a list of gift ideas you can give to your loved ones that will surely be meaningful and filled with love when received.
#1 Personalized Coordinate Bracelet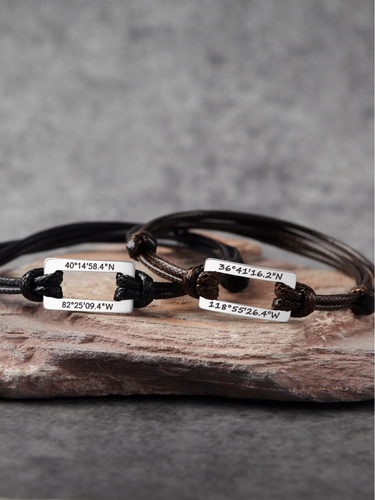 This coordinate bracelet can be already meaningful but it can still be customized with your short, sweet, and meaningful message to your partner. This product comes with a gift box filled with elegance and love.
This will be a good gift for anniversary dates or any special occasions for both of you and the coordinates will be located on the place where you first met, where you first had your date, and where you decided to make it official. One good thing about this is you can include the exact address. 
This wood doormat is made with a smooth fleece doormat with latex action. It has a size of 18 inches by 24 inches and can be used both indoors and outdoor. This is a good design for your house because it will be the first thing the guests would notice once they visit your house.
You can personalize the doormat with a zip code of a place that's close to you and to your partner's heart.
This throw pillow is made with 100% polyester. This is soft, bouncy, and machine washable. This pillow can be printed with coordinates of your choice and it can be a reminder to your boyfriend of that memorable place. This can also be a good addition to the decoration of your home.
The idea of hugging it can feel like hugging you personally is great enough to make them feel loved despite not being around. It is enough to remind them of your genuine love that can warm their heart while hugging them.
A necklace gift can already be a great indication of your love for someone. They say that if you want to give something special to someone, give a necklace because it will be located near to their heart.
This necklace is framed with sterling silver. This is a perfect gift for your boyfriend who loves meaningful gifts but still wants to be fashionable. By giving them this, you already give them something that can add to their outfit and at the same time, expression of your love for them. 
This round acacia paddle is made with natural wood designed with a variation of light and dark colors, making it pleasing to the eyes. It has a length of 11.5 inches, a width of 15 inches, and a height of 0.75 inches.
It can be a great addition to your room or the kitchen as it gives a homey vibe and relaxing energy.
This keychain ring has handcrafted leather and it is finished with a solid, raw stainless-steel blank. The lettering is deeply engraved, no need to worry about it because it will never wear off.
The text can reach up to 35 characters only including the numbers, letters, and punctuation so is mindful to make it short but sweet enough to warm their hearts.
The rings are made with raw metal and the metal is made of stainless steel. This is a good gift to your boyfriend as your promise ring with the date you made it official. Aside from the sweet meaning behind the ring, it is a good addition to their style because nothing can go wrong when wearing silver and gold.
The rings can be resizable so need to worry about this. You just have to contact the seller whenever you need to. The rings might be small physically but it cannot equate to the love those small rings bring.
This night sky print is a unique gift to relive one of the best moments we had with our special loved ones. This is made with canvas, wood, and cotton.
This is a good gift for anyone who loves astronomy. You can have it customized – you can put the address of that special place and for the print, you can recreate how the stars aligned that night. 
This bracelet can be personalized by putting a simple yet meaningful message to the person you want to give it to. The infinity shape already symbolizes an infinite love plus the message you engraved in it will also be an infinite reminder of your love for them.
The cuff bracelet screams a lot of elegance for these are real metal, containing aluminum, brass, bronze, nickel, and copper. This is also coated with 4 layers to protect your skin from turning green when used for long hours. 
The blanket is made with 100% polyester with stitches of yarn in the edges to prevent it from unraveling. It is machine washable and preferred to be washed with cold water to prevent the blanket from fading its color and ruining it.
This is a good gift to give warmth to the person you love, literally and figuratively especially now that the rainy season is near to come. It comes with a cute design that everyone would love to have.
These handmade coasters are made with stones engraved with the coordinates of your choice. Aside from it being filled with love and meaning, its design is giving beach vibes that make it relaxing and pleasant to the eyes.
It comes with cute packaging and you can purchase a gift wrap of your choice in the link they provided rest assured that the product will be received in good condition.
The picture frames are made of wood and the letters are printed on high-quality paper and attached to the wooden frame. Your picture is protected with plexiglass which is known as a good barrier.
This is a good gift to anyone special to us because seeing the pictures can make us relive the exact moment a camera once captured. We may not be able to experience it the same way but pictures can be a great avenue for remembering the moments you once shared with them.
These handmade cufflinks are made with stainless steel, glass, and high-quality paper. The stainless steel is better than plated cufflinks for it won't tarnish when used in the coming years.
Cufflinks are simple gifts but customizing it can make them more sentimental and special despite their small size.
These frames are made with solid wood from the USA and painted with a deep walnut shade. You can choose from distressed wood frames which are painted with mineral paint. Mineral paints are eco-friendly and leave an admirable finish.
The rustic barn wood frames are made with woods from the farm which contains its natural appearance with its imperfections such as knots in the woods, nail holes, and color variations because this is what makes it more appealing.
This is a good gift for any occasion and to anyone who loves to decorate their rooms because they will surely love this.
This handmade framed map has a height of 5 inches and a width of 5 inches. This frame would show the map of your chosen town or city that reminds you of one great memory of it.  One good thing about this is the map is not printed from the internet, they are actually taken from the atlases.
It is a good gift to your friend with a picture of where you first met. It is a good gift to your spouse where you said "I do" to his engagement. It is also a good gift to yourself to remind you where you first succeeded in life.
This is a 10.25-ounce whiskey glass with a 3.74-inch diameter and a height of 3.5 inches. Unlike the ordinary whiskey glass, the design is laser-etched, this coordinate whiskey glass is engraved to ensure that the design will surely last for a long time.
This is a good personalized gift for wedding anniversaries with your first-anniversary date engraved in the glass while celebrating those happy moments and overcoming struggles in your relationship.
The handmade hats are made with 100% cotton with adjustable buckle closure. It comes in different bright and dark colors. This is a good gift to your boyfriend who loves to wear and collect hats and each hat will have an engraved date of a special day for the both of you such as an anniversary, engagement, or a just-because gift. This will make your man feel loved and supported by the style he wants.
The handmade pins are made with flattened copper with textured edges to leave a unique and dashing finish. This is a magnetic lapel pin with industrial strength to assure its durability and is useful for a long time.
This is a good gift for your friend group, especially at a wedding. It would look like a uniform and a symbol of your friendship on a special day of your life. 
These personalized shirts are made with polyester and ringspun cotton.  It can be a great expression of love since it will be printed with big fonts to flex your partner in public.
This is not limited to lovers only, it can be given to your friends and relatives or to anyone special to your heart since the shirts are made for both sexes.
These are handmade wind chimes that can be personalized. You are not limited to putting your coordinates but you are free to send a short message to the person you want to give this present to.
This is a good gift to anyone who's designing their homes as it produces good energy as the chimes create sound due to the blow of wind.
This is a personalized flour sack towel made with 100% cotton and machine washable. Flour towels are good for drying dishes, dusting, and removing stains. it is rough in texture at first but will soon soften in every wash.
This is a good gift for someone who loves to prepare and cook meals because these towels are commonly used in the kitchen plus, they can be an additional decoration to the room.
These handmade wallet inserts are made with high-quality copper, brass, and pewter. This comes with a unique and elegant gift box with a logo printed in gold foil. This is a perfect gift for Valentine's Day and anniversary dates.
The colors and font styles look fancy, perfect for a special celebration of your relationship. The engraved message in the card will last for a long time, just like the love we have for that.
This unisex crewneck sweatshirt is made with polyester and cotton and is good enough to give comfort during the cold season. The sweatshirts come in neutral colors that make them calming to the eyes.
You can customize the design of your sweatshirt; it is not limited to the coordinates only. You can ask for any design that can help you express your love through those shirts. It can be your couple's sweatshirts when going out on a museum date or on any casual event.
This customized bookmark is made with copper, brass, and pewter that comes with a vinyl sleeve, gift box, and a care card. The bookmark can be engraved with your own symbols, logos, or even vector designs.
This is a perfect gift to someone who loves to read books because someone special to them just gave them a personalized bookmark that shows your support for what they're doing.
This coffee mug is made with ceramic with a printed text of Where It All Began with the coordinates of your chosen place. This high-quality mug is a perfect gift for your partner who starts usually starts their day with coffee.
Every morning, they will be reminded of your firsts in your relationships and this is a good way to set the mood for the whole day. The first thing that would pop up in their minds in the morning is the genuine start of your relationship and nothing beats a coffee with positive thoughts while waiting for the sunrise.
This is a personalized leather wallet with your chosen coordinates. The design is written on the wallet with a laser. This is a good gift to your man since it can be used for their daily living. It has 6 card sections, 1 ID card section, and 2 money storage sections.
It has a stabilizer to prevent the items inside the wallet from falling. The wallet has a high-gloss finish to ensure its durability and the wallet will surely last for a long time.