29 Gift Ideas For Grandpa
Gramps. PawPaw. Granddad. Pop. Nonno. Abuelito. Opa. No matter what you call him, there's no one quite like a grandpa!
Who else is going to buy you ice cream before dinner and promise not to tell mom and dad? Or share the wisdom he's been collecting since dinosaurs roamed the Earth (don't you know he used to have to walk to school? Five miles? In the snow? Uphill both ways?)
 Whether he's a new grandfather to a tiny bean or a seasoned pro whose grandkids are all grown up, here are 29 awesome gifts that will make his golden years easier and let him know how much he is loved!
#1 An Organizer Caddy For The Side Of His Bed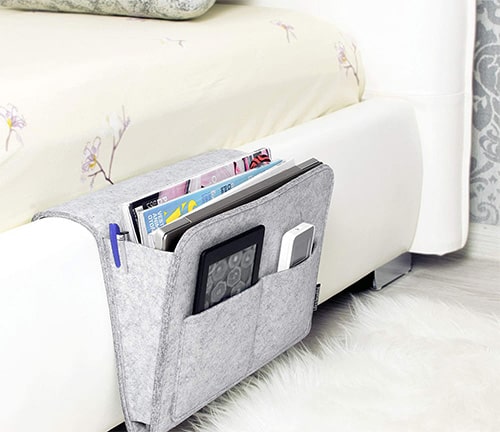 When it's time for him to turn in after a long day of being the best grandpa ever, make sure he's got everything he needs to relax right at his fingertips.
This bedside caddy holds up to 25 pounds! It has a large compartment for books, newspapers, remotes, and even 14″ laptops!
There are two smaller pockets for a phone or smaller tablet as well.
Includes two hook and loop fasteners sewed into the caddy and two other pairs that can be easily attached to his bed or a favorite recliner with a strong self-adhesive. Comes in 9 different colors!
#2 A T-Shirt For A Dino-Mite Grandpa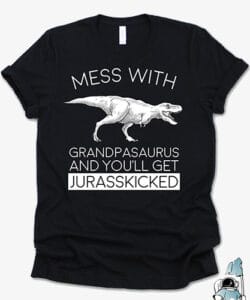 A perfect gift for grandpa from his dinosaur-obsessed grandkid!
This "Mess With Grandpasaurus" t-shirt is made from super-comfy ringspun cotton and features a cool T-Rex illustration and a witty pun that any self-respecting grandad will appreciate.
The shirt is available in 8 different colors and multiple styles, including a hoodie! All shirts are preshrunk so he doesn't have to worry about following any fancy laundry procedures.
#3 A Guide On The Care And Keeping Of Grandpas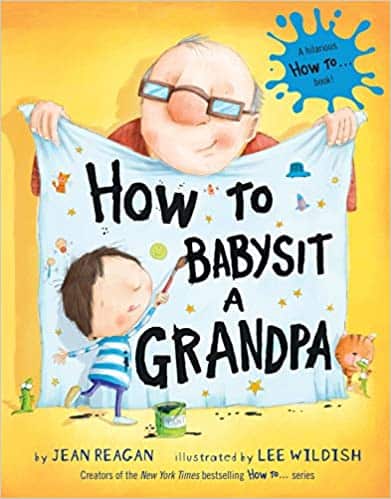 This is a great gift from a baby or toddler to their grandpa! Now he'll have a special book at his place for them to read together whenever he's on babysitting duty…or being babysat!
This New York Times bestseller is written in a "how-to" style and gives plenty of tips on how to properly babysit a grandpa– from the right type of snacks to have on hand to what to do out on a walk.
To make this gift extra special, you can help the little one write their name or even a special note to grandpa on the inside cover, and maybe add a picture of them together too!
#4 A Folding Sports Chair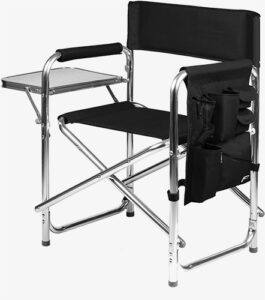 For the grandpa who loves attending all of his grandkids' sports games and parades, but doesn't love sitting on uncomfortable bleachers or the ground.
This folding chair is made with a lightweight but sturdy aluminum frame and durable canvas.
It holds up to 300 pounds and includes a fold-out side table, an insulated drink pouch, a zippered security pocket, and a variety of pockets for his wallet, sunglasses, phone, or anything else he has with him!
Easy to transport with an adjustable shoulder strap and two handles.
#5 A Customized Wall Sign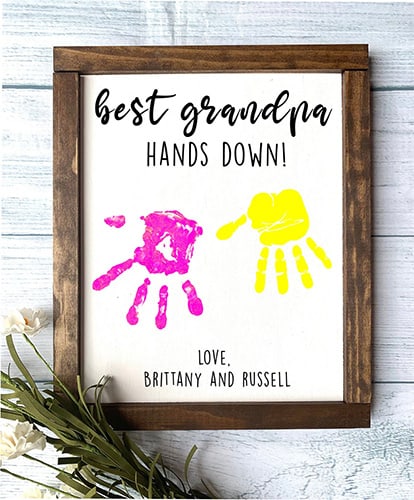 Those little hands won't be so little forever. Help preserve these precious memories for grandpa with a sign featuring their little hands!
The gift includes a 9.5″x11.5″ wooden sign has a white background and stained dark walnut trim. "Best Grandpa– Hands Down!" is printed in black vinyl letters along with the kids' names.
It comes with two pots of paint– choose the kids' favorite colors from 7 fun options– and all you have to do is paint their hands, press them onto the sign, and let it dry!
#6 A Personalized Coffee Mug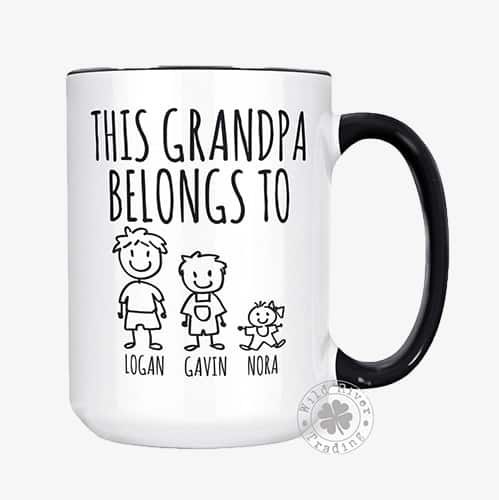 Because everyone knows that he's wrapped around his grandkids' little fingers!
This mug is available in 11 0z or 15 oz capacity. Choose the stick figures that best represent your family (grown-ups, older boy/girl, younger boy/girl, baby boy/girl, and even cats and dogs) and add their names!
If he doesn't go by grandpa, you can put his preferred moniker in the personalization box.
You can also select an all-white mug or a two-tone mug with a black handle.
Each mug is printed on both sides with a sublimation process that won't peel or fade. Mugs are both dishwasher and microwave safe.
#7 An Engraved Fishing Lure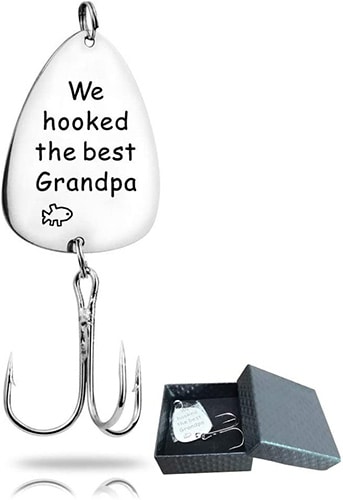 For the grandpa who's a reel swell fisherman, this is a great way to let him know what a catch he is.
It's not just for decoration: he can actually fish with it! It's heavy enough to stay submerged and sharp enough that it will keep the fish in place while he reels it in.
This lure is made from stainless steel that won't rust. You can also file down the hooks for him to use as a keychain if his fishing days are behind him.
#8 A T-Shirt For An Out-Of-This-World Grandpa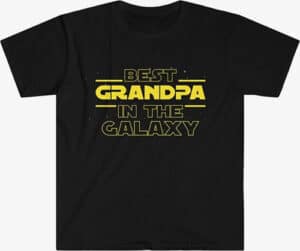 A not-so-long-time-ago in a galaxy not so far, far away, one normal guy was chosen to be… The Best Grandpa In The Galaxy!
This is the perfect shirt for that grandpa, whether he's a Jedi or a Sith, who's seen every Star Wars movie in theatres since 1977.
The design is directly printed on to the high-quality cotton t-shirt so it'll last for lightyears to come!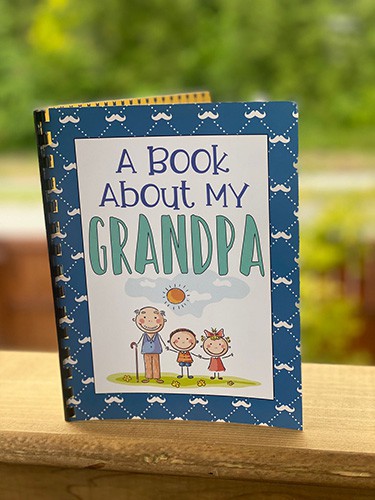 The best gift is a personalized gift! This book lets little ones write their own book about grandpa to give to him!
The book is 13 pages long, 12 of which contain facts about grandpa that kids can fill in themselves. Each page has a fun, multicolored argyle border!
Choose from 3 covers: Grandpa with a boy, Grandpa with a girl, or Grandpa with a boy and girl. Each page is about 8″x6″.
This will be a great keepsake for both grandpa and grandkid to look back on in years to come!
#10 His Very Own Turntable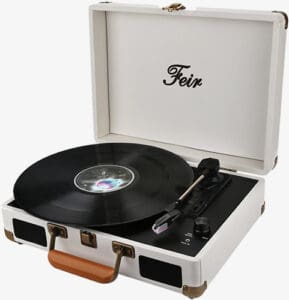 If grandpa's kept all his vinyl records from Way Back In The Day, he can finally play them again!
Not only will this play all of his records, but it will also convert his records to digital files so he can take them on the go with him too.
When not playing music, the record player folds down to look like a briefcase in either white, black, or turquoise. Perfect for transporting to his winter address in Florida, and it makes a fun piece of decor!
Plays all 7″, 10″, and 12″ vinyl records.
#11 A Special Ice Cream Bowl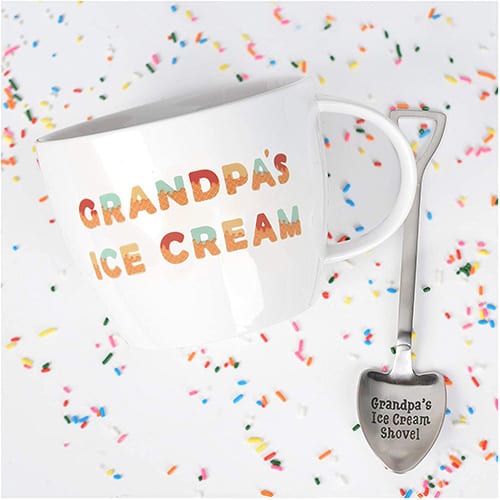 Grandpas love ice cream! Buying their grandkids ice cream is practically 50% of their job description.
This fun and colorful bowl says "Grandpa's Ice Cream" in a cute waffle-cone style font. It also holds 30 ounces, which is a lot of ice cream!
The set comes with a 7.25″ dessert spoon engraved with "Grandpa's Ice Cream Shovel" too. This is the best gift for the grandpa with a sweet tooth. It's also great for coffee, soup, or even cereal!
#12 The Perfect Pair of Grandpa Socks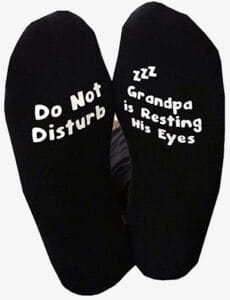 Grandpas don't nap… they rest their eyes! These socks are perfect for letting everyone know not to disturb him while he's putting his feet up.
These crew-style socks are made from a premium combed cotton for extra softness, stretchiness, and durability.
The design on the bottom is printed in a non-slip grip so he can wear them on even the shiniest hardwood floor without worrying about a fall! Fits US sizes 6-12.
#13 This 3-Piece Barbecue Set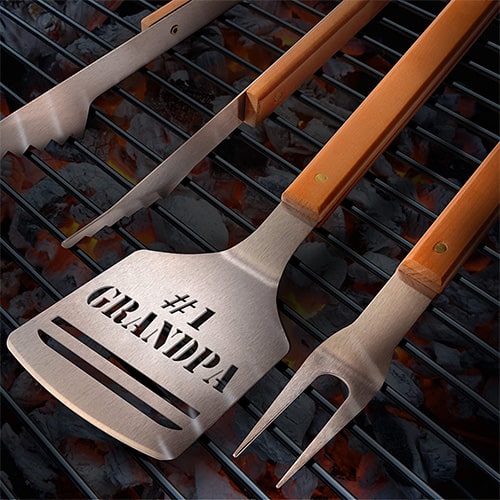 This is the perfect gift for the grandpa who is also a barbecue grill master, even if only in his own mind.
These grilling utensils are made with hardwood maple handles and heavy-duty stainless steel blades. The set includes a sportula, tongs, and a grill fork.
The sportula has "#1 Grandpa" laser-engraved on the blade. There are even bottle openers incorporated into the handle of the fork and sportula for extra convenience!
Is grandpa always complaining about his bad back? This versatile massage chair will stop it from being such a pain in the neck!
This massage chair has 4 massage nodes for each the back and the neck. He can choose from 3 back zones: lower back, upper back, or both.
It also features a vibrating set massage that he can set to 2 different intensities. It also has an optional heat function!
#15 A Book Of Sage Advice From Walt Whitman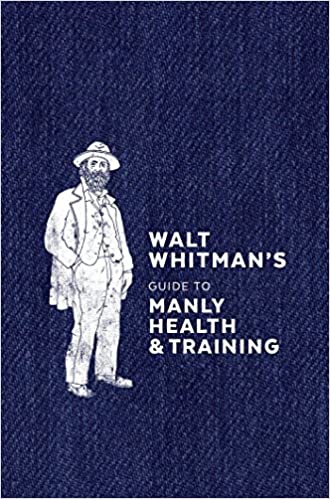 Perfect for the grandpa of a literary bent!
Before he published his third edition of Leaves of Grass, American author Walt Whitman wrote a series of newspaper columns on the subject of "manly health and training."
The columns had been lost for decades, but were recently rediscovered!
Walt Whitman's Guide to Manly Health and Training compiles 75 of Whitman's pithy sayings on men's diet, exercise, and grooming, among other subjects, into one volume.
Each entry also features an accompanying illustration!
#16 A T-Shirt For A Grandpa Who's A Hole-In-One-Of-A-Kind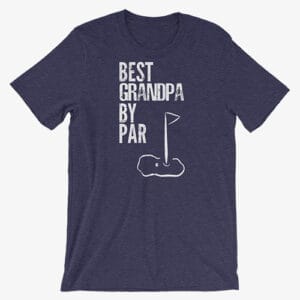 If grandpa loves his golf, this is the perfect t-shirt for him!
It's made from 100% combed and ring-spun cotton, and it's so comfortable he might just need to "rest his eyes" while watching golf on TV (those soothing golf-announcer voices might help too!)
The shirt comes in 8 different colors so you're sure to find one that's perfect for him.
#17 A Personalized Hammer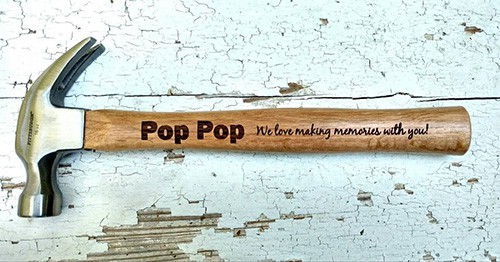 For the grandpa who's a handyman! He might not be Thor, but he'll sure be the only one worthy enough to wield this hammer.
Not just for decoration, this hammer can actually be used for household repairs and projects.
Each one can be engraved on both sides! Just enter whatever name grandpa goes by with his grandkids, choose between a plain or script font, and add a personalized message.
Both claw hammers and rip hammers are available!
#18 An HD Phone Magnifier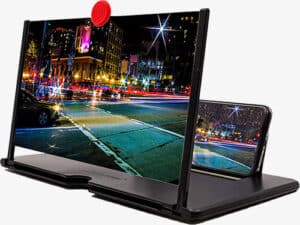 So grandpa can FaceTime or watch videos on his phone without straining his eyes!
The frame is foldable and easy to transport, perfect if grandpa has to travel a lot. It holds any phone up to 7″ and magnifies their phone screen between 2-4 times in 3D HD.
It projects images using simple lens magnification, so he'll never have to worry about it running out of batteries! The projection screen is 10″ W x7″ H.
#19 A Star Map Of Their Grandkid's Birthdays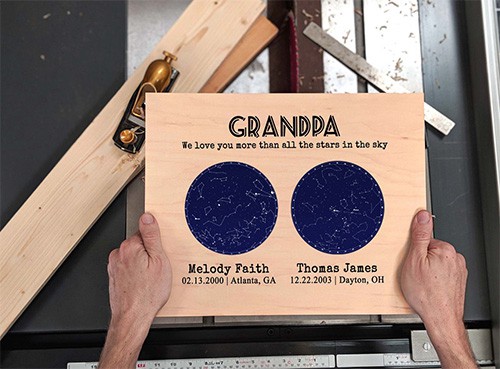 The night he became a grandpa for the first time was one of the most special nights of his life…and all the nights after that when he added even more grandbabies to his brood!
A star map shows the exact position of the stars over a specific location on a specific date. You can add up to 6 grandchildren's birthday star maps onto a hand-carved sign made from natural maple wood.
Just add names, dates of birth, and locations of birth for each child. You can also choose the background color of the star maps from 5 different options and add a personalized message.
#20 A Wine Glass He'll Need For After Babysitting Duty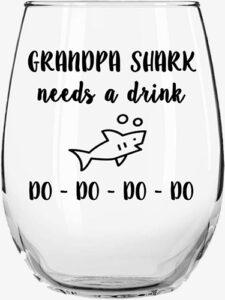 Perfect for the wine-loving grandpa! Especially if all his grandbaby sharks do-do-do-do is listen to that song!
This stemless wine glass is decorated with ceramic ink that's fired at temperatures up to 1200 degrees so it will never fade or chip!
These wine glasses are durable and dishwasher safe, especially because he won't have to worry about the stem snapping off during the wash cycle!
#21 A Personalized Pocket Knife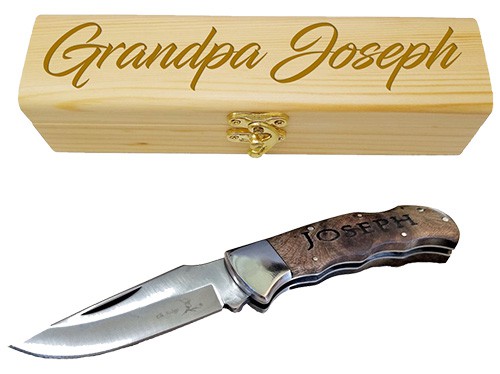 If your grandpa is the outdoorsy sort, he'll need to have a pocket knife always handy. This one will be extra special because it was made just for him!
The blade is made from stainless steel with a burl-wood handle. You can even order it with its own leather sheath!
Each knife also comes in a laser-engraved box, available in either natural wood, red chestnut, or dark walnut.
The box can be personalized with up to 30 characters and the hilt of the knife with up to 15!
#22 A Super Cozy Bathrobe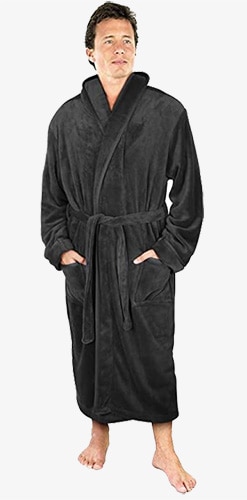 Once he became a grandpa, he became exempt from having to wear real clothes anymore. Make his non-wardrobe even more stylish without sacrificing any comfort!
This extra long bathrobe is made from super-soft coral fleece and features a shawl collar. It comes with front pockets so he can carry his important stuff around with him and has an adjustable waist belt to keep the robe firmly in place.
It's also a washing machine and dryer safe so he can take it off, freshen it up, and be back in comfy mode in no time.
#23 A Top-Gun Themed T-Shirt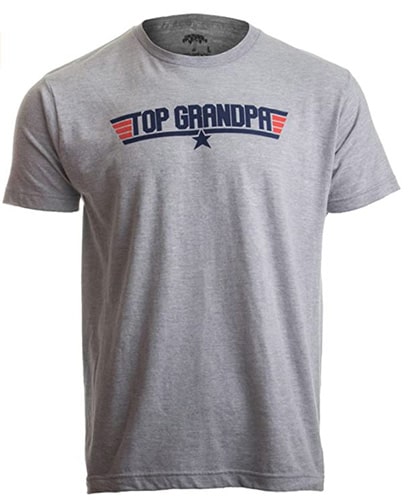 This shirt is a fun idea for the grandpa who served in the military, or a huge Top Gun fan!
These shirts are designed and screen-printed by artists at a small business in Ann Arbor, Michigan!
Instead of having an itchy, uncomfortable tag for him to cut out, this shirt has a tagless tag printed directly on the shirt collar so he won't even feel it.
Made from 90% ringspun cotton with a poly blend for a 2-tone effect, this shirt features a fine jersey knit and high thread count for maximum comfort and durability.
#24 A Woodchip Smoking Kit For His Grill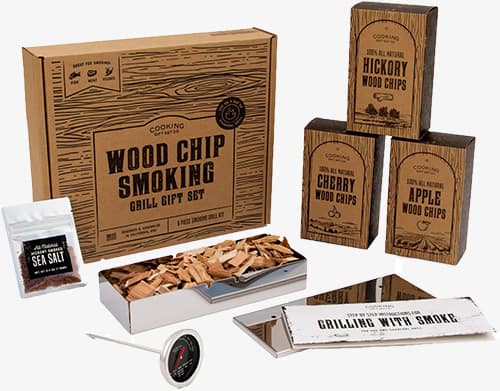 Another great idea for the grandpa who loves to grill!
Now he can infuse delicious smoky flavor into all his food without having to purchase a separate smoker! The set even comes with easy to follow instructions if this is his first time smoking meat.
It comes with natural applewood, cherrywood, and hickory wood chips so he can find his favorite smoke flavors and even create his own blends!
The stainless steel smoking box allows the smoke to diffuse throughout the closed grill without getting ash on the food. It'll work on any grill and is even dishwasher safe!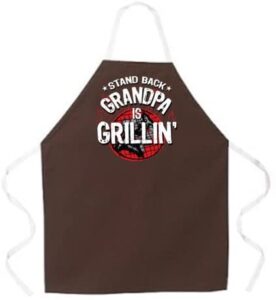 "Stand Back. Grandpa is Grillin'!"
Whether his barbecue always comes out perfect or a little too well done, he'll sure get a kick out of this apron! It's the perfect way to keep his close spotless while he's cooking up a storm.
It's 1-size-fits-most with fully adjustable straps so he can make it as easy to work in as possible. It's also screen printed in the USA!
#26 Or This Engraved Cutting Board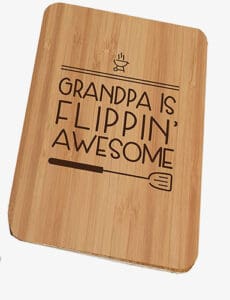 A great way for your grilling grandpa to serve up his flippin' awesome creations!
The cutting board is made from bamboo and features an etched design that looks like it's branded onto the wood.
The board measures about 9″x6″ and also makes a great decor piece! It even comes ready-packaged in a gift box for your convenience.
#27 A Special Candy Jar Just For Him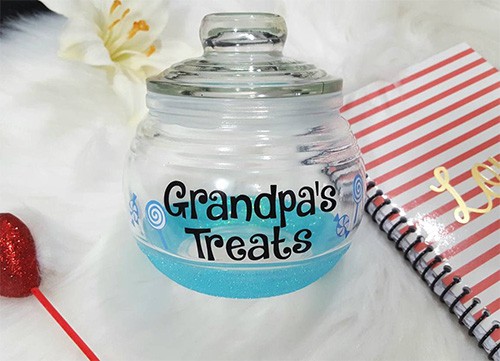 This is a great gift for a grandpa with a sweet tooth!
This glass candy jar holds up to 19 oz of his favorite candies! Personalize your jar with whatever name grandpa goes by, and then choose a vinyl color from 22 options for the text. You also have 18 choices of glitter for the bottom of the jar.
Fill it up with treats for him and you have the sweetest gift he's received in years!
#28 A Pair Of Really Comfortable Slippers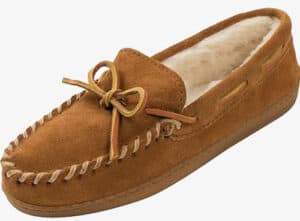 It's hard work being an awesome grandpa! These comfy slippers will help him unwind after a long day of his grandkids keeping him on his toes.
Minnetonka has been making high-quality moccasins since 1946. They're made from real suede with a synthetic hard sole that can be worn outside.
They're designed to contour to his feet over time so the more he wears them the more comfortable they'll get!
These slippers are available in 7 different colors.
#29 A Personalized Leather Watch Case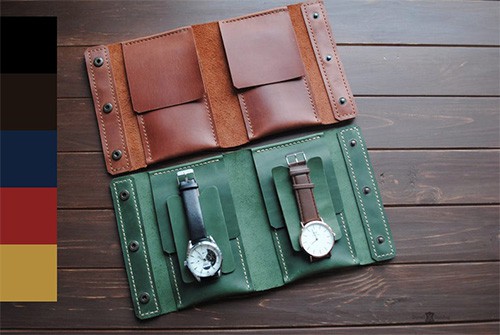 All grandpas have one really good watch. It's like a rule or something. Help him keep it safe in his very own personalized watch case!
Cases are made from real high-quality leather and saddle-stitched by hand with waxed thread. They come with a lifetime warranty.
Make it special by adding his initials. Personalizations are embroidered by hand with a thread color of your choice. Pick from 9 options!