Gifts for Golfers Under 50$ - 21 Unique Ideas
Ritzy country clubs, lots of equipment, paying someone to follow you around…these are some of the things that might come to mind when you hear the word "golf".
Look, we get it! Golf seems like a hoity-toity sport that only rich people play.
 If you have an avid golfer in your life, the thought of buying them a golf-related gift might make your wallet hurt.
But luckily for you–and them!–there are plenty of affordable ways to show them you care and that you listen when they talk about their hobbies.
Fore! We've got 21 gifts under $50 coming in for the golf lover in your life!
#1 A Personalized Golf Ball Marker Divot Tool In A Fancy Box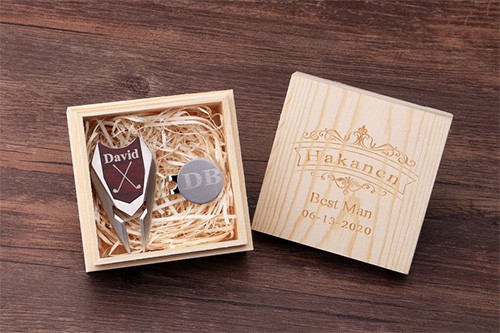 This gift looks like it should be twirling its mustache while sampling champagne and caviar on the veranda of an exclusive country club, but even the complete set with an engraved ball marker divot tool, an engraved box, and an engraved hat clip will cost $29 maximum!
This stool will help your favorite golfer mark their location on the green and then repair the turf! 
Divot tools can be engraved on one or both sides, and the box can be engraved in 4 different styles!
#2 A High-Quality Drinking Glass With An Embedded Golf Ball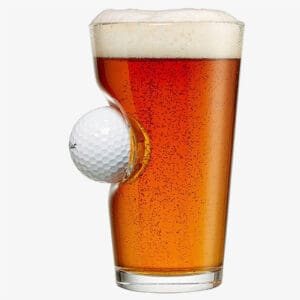 This is so cool they might not want to drink out of it, but that's okay because it makes an awesome piece of decor! Of course, it's made from food-grade materials, so they can enjoy plenty of cold, foamy drinks in this glass.
BenShot is the maker of the original "bulletproof" glass and this fun design features a real Titleist golf ball! Choose from a rocks glass, wine glass, or pint glass. You can also have a custom name, date, or logo laser etched on the glass!
The best part? Even an engraved pint glass costs less than $35!
#3 A Customized Microfiber Golf Towel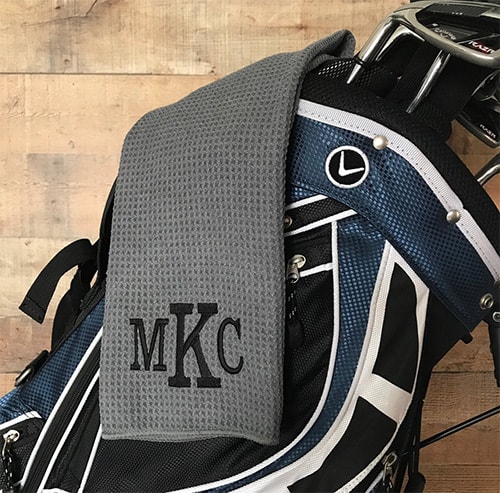 It can get pretty hot out there on the links in the summer. And it's hard to focus on your game when you're all sweaty and uncomfortable.
This towel is sure to help them keep their eye on the ball! This microfiber, waffle towel is both absorbent and quick-drying, and even helps to fight odor (whoever does their laundry will thank you)!
Choose from 5 different towel colors and 34 thread colors for personalization. Add a classic monogram or their name or initials in a script or block font.
And how much does this little miracle worker cost? Only $16!
#4 A Miniature Putting Green For A Rainy Day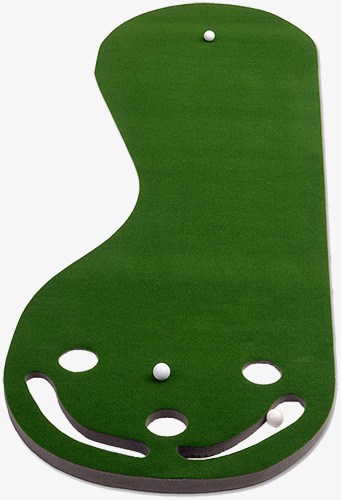 Perfect for the golfer who can't live on the golf course because of jobs and responsibilities and other boring stuff like that.
Luckily with this 3'x9′ miniature putting green, they can squeeze in at least a little bit of golf every day, no matter what the weather is like!
The indoor putting green features both a non-skid backing and a smooth, high-quality putting surface.
There are 3 different cups so they practice sinking the perfect shot from multiple angles. It even includes built-in sand traps to prevent their ball from rolling off the green and all over the room!
Best of all, it's less than $30!
#5 Or This Interesting Twist On Cornhole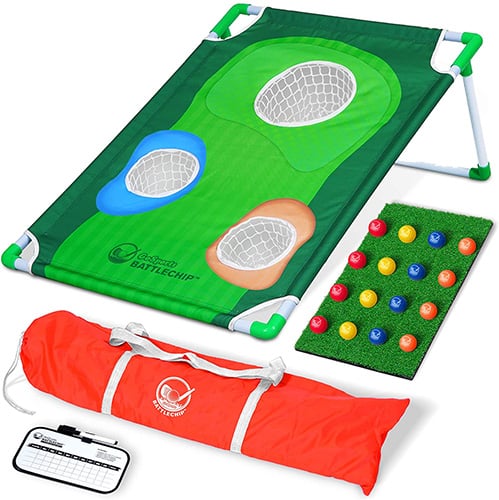 Because unfortunately, they can't start a pick-up game of golf at the family barbecue. But now we've found the next best thing!
The aim is to get the balls into the target hole and not the sand and water trap holes. This set includes a 3'x2′ target, a hitting mat, 16 colorful foam balls, a dry erase scoreboard, and a carry case. All they need to provide is a club and maybe a wedge.
This is some backyard fun that both kids and adults will love, and it's less than $45!
#6 A Parabolic Product For Putting Practice Produced With Polycarbonate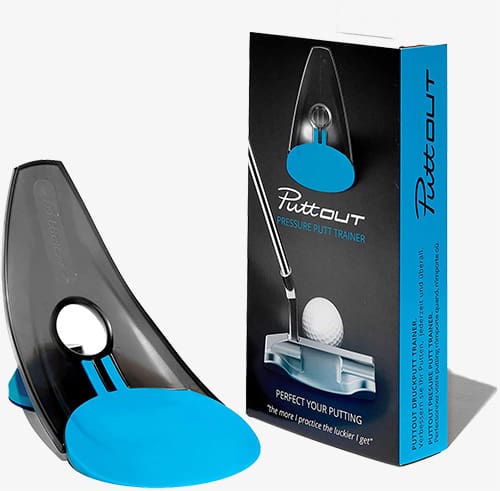 This nifty little tool simulates the exact conditions of putting into a real hole on an actual green! It features a "micro-target" hole to demonstrate exactly where the "perfect putt" is.
The parabolic curved design will return good putts the exact distance they would have gone past the hole and rejects bad putts.
The PuttOut is made from high-quality, durable polycarbonate and folds easily to fit into their golf bag. It's the easiest way to help them practice and perfect their putt!
Available in 5 different colors, this handy training device costs less than $30!
#7 A Custom Print Of Their Favorite Golf Course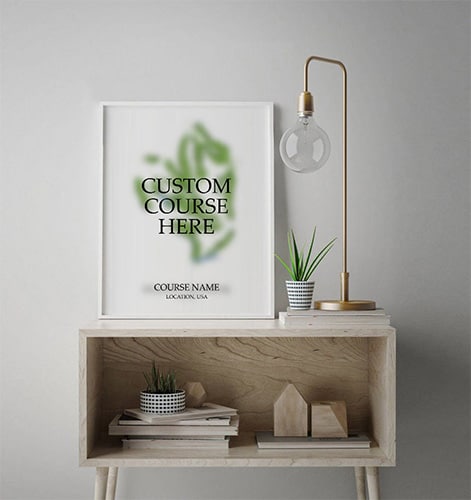 Whether it's around the corner or across the world, now they can always keep their favorite place right in their home or office!
Each one of these prints is digitally painted and custom made. It comes printed on beautiful matte card stock paper.
All you have to do is enter the name and city of the desired golf course and the shop will take care of the rest!
Unframed, 8″x11″ prints are available for just $35!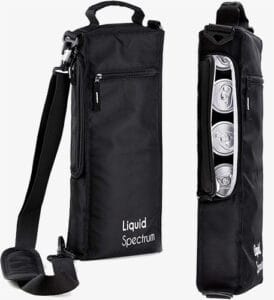 There's nothing better than a relaxing game of golf with friends and some nice cold drinks.
Unfortunately, that snack bar is pretty far away and it's hard to keep drinks cold without lugging them around in a heavy cooler. Well, not anymore!
The slim design of the Liquid Spectrum cooler bag holds up to 6 cans or 2 bottles of wine! It easily fits inside a golf bag, and will keep drinks cold all day long!
There's even a side pocket for things like bottle openers or keys. Best of all, it's less than $20!
#9 A Custom Quarter-Zip Pullover
For the golfer who hits the link every chance they get, no matter how cold it is. This fleece-lined pullover will keep them nice and warm and on top of their game!
Choose from 12 different sweatshirt colors, then pick the thread colors for both their monogram and the golf club design's handles from over 40 options. Just add their initials and you're good to go.
This soft comfortable quarter-zip is sure to please any golf lover, and it's only $30!
#10 A Trunk Organizer For Their Car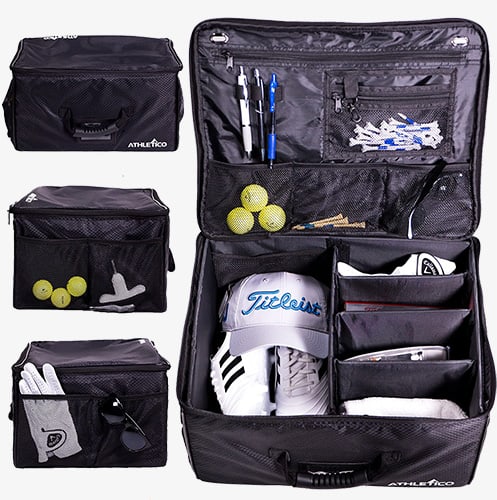 Now they'll never drive all of the way to the golf course only to find they've left something important at home! The Athletico Golf Trunk Organizer!
This will let them keep all of their golfing essentials organized and in their car trunk, ready for their next golf outing!
It's made from durable, water-resistant material and features more than 10 pockets. It even has ventilation, just in case they need to keep their shoes or playing clothes in it!
It's also great for keeping emergency supplies in their car, as well as their golf balls, tees, and sunblock, and it costs under $40!
#11 A Set of Personalized, Engraved Golf Bag Tags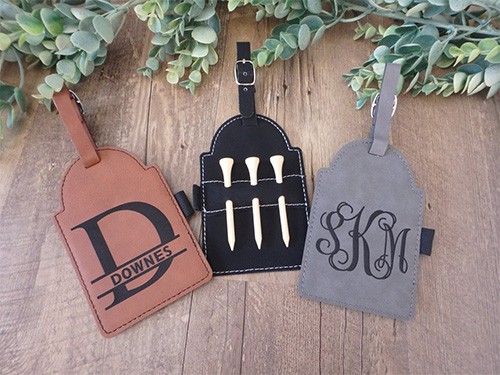 The perfect gift to help them tell apart their golf bag from their playing partners' bag with style!
These custom bag tags are made from hand-engraved leatherette, and even come with 3 wooden tees are special carrying loops on the back. They also include a pen holder to make keeping score easier!
The tags come in 5 different colors and can be engraved with either a monogram or name in one of 4 different designs.
This beautiful golfing accessory costs less than $10!
#12 A Fun Set of Golf Balls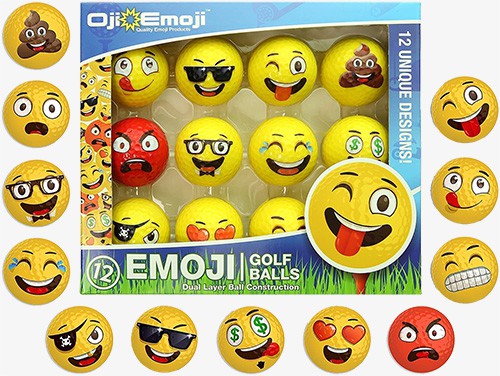 For the golfer who doesn't take themselves too seriously in any aspect of their life, these adorable and zany Emoji golf balls are perfect for practice!
This set features 12 fun golf balls. They're not just for decorations– they're real 2-ply golf balls that can be used in gameplay! They even come in an attractive gift box that makes for excellent storage.
Even if they don't use them for play, they make a fun decoration and a great conversation starter. They're available for less than $20!
#13 A Clip To Hold Their Phone Steady While They Record Their Swings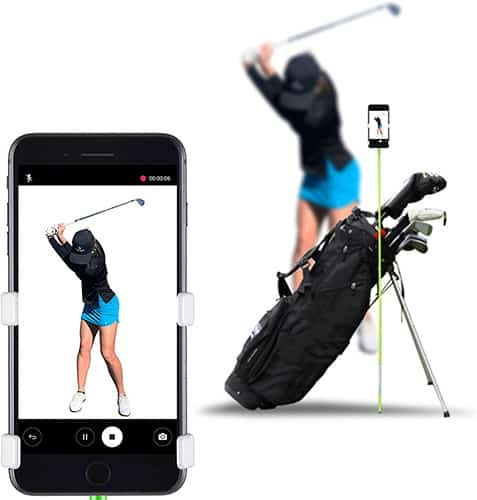 One of the best ways to get better at something is to watch your performance back and critique yourself. But their friends came to the links to play golf, not record every swing they take!
Lucky for them, it's now easy for them to record themselves without bothering their putting partners!
The professional golfer-approved SelfieGOLF clip easily attaches to their alignment stick, golf bag, and phone. It's even adaptable to all cell phone sizes and fits standard sized alignment rods and gold clubs, Available in 6 different colors!
These clips are meant to last for years through all weather conditions. Best of all, they're less than $30!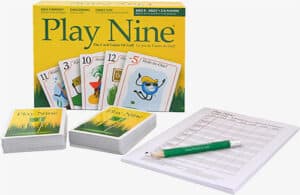 Perfect for the rainy days when hitting the links is just not an option! With simple instructions, this game will provide easy hours of entertainment.
Much like in real golf, the objective of Play Nine is to come out with the lowest score by trading, discarding, and drawing cards!
Play Nine is intended for ages 8 and up, and is designed for 2 to 6 players. Each order comes with a double deck, and costs less than $13!
#15 A Custom-Made Art Print Of Their Last Name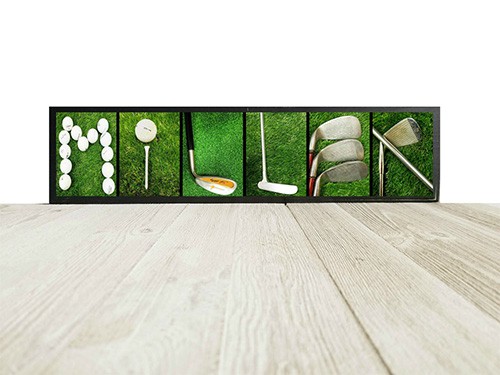 This piece of art is timeless and will add some personality and color to their office or living space for years to come! It'll also be a great conversation piece.
Each letter is made from photographs of cleverly assembled golf equipment. Choose their first name, last name, or initials! The images can be printed on archival luster paper and mounted on a Burnt Wood or Black Midnight Wood background.
Prints start as low as $27!
#16 A Set Of Laser Engraved Cork Coasters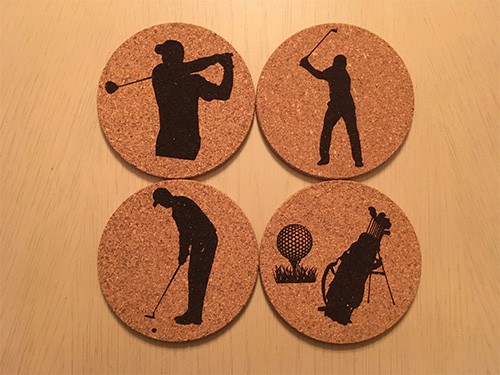 Just because the sight of golf balls makes them smile doesn't mean they want to see golf ball shapes on their furniture! These 1/4″ thick coasters are made from sturdy cork, so they'll protect their furniture without scuffing it!
The images golfers and their equipment are high-resolution to create crisp lines, and the laser engraving process means that the design will never fade no matter how many times they use them!
You can even add personalization up to 50 characters for just $10! Without personalization, they're $20.
#17 A Monogrammed Golf Glove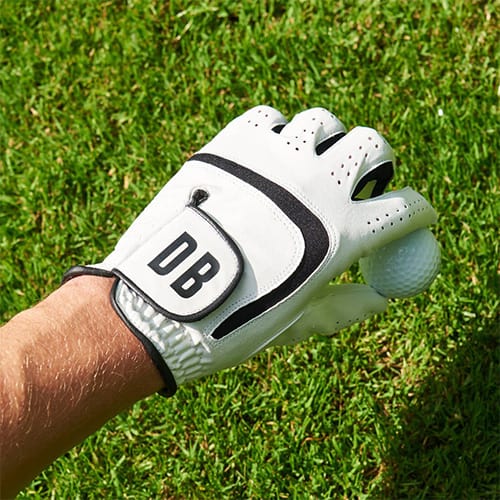 They'll look so unbelievably posh while wearing one of these! This stylish leather golf glove comes with a reinforced palm patch to make it extra durability.
Choose between a black glove with white writing or a white glove with black writing, and add their initials! You can even choose between a right-handed or left-handed glove in either medium or large.
This glove may look super fancy, but it's just over $30!
#18 These Golf-Related Novelty Socks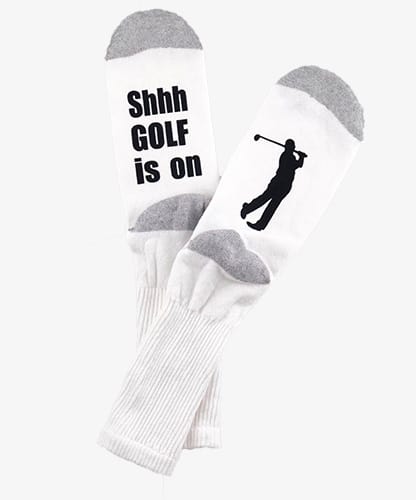 So they can put their feet up and enjoy watching their favorite sport for once! Perfect for a little TLC after a hard day on the links.
These incredibly soft socks are made from a high-quality cotton blend and the special ink is commercially pressed onto the soles! Not only are they super comfy, but they're durable too!
The shop will even gift wrap them in rustic kraft brown paper and twine to make your job even easier!
#19 A Set Of Golf Ball Chocolates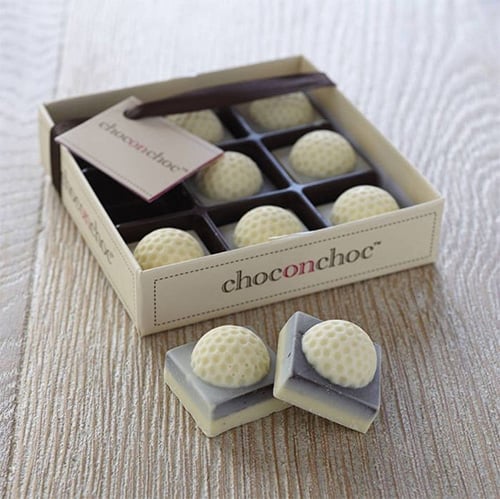 We know that theoretically there are people out there who don't like chocolate, but they're harder to find than a golf ball in a water trap.
Choc On Choc is a British confectionery company that makes delicious treats from high-quality Belgian chocolate. These sweet golf balls are made from a combination of dark and white chocolates and come in a beautiful gift box.
Chocolates can last up to 6 months and cost less than $15 for a set of 9!
#20 A Set of Golf-Themed Grill Utensils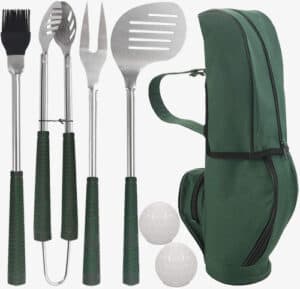 Perfect for the golfer who loves to grill too! Gifts that combine two of their interests are sure to be a smash hit!
This set includes 7 pieces, including a basting brush, grill tongs, barbecue spatula, and grill fork!
There's also a pair of golf ball salt and pepper shakers and a golf bag shaped carrying bag so they can easily keep all of their utensils together and easily carry them around.
The rubber handles are heat resistant to prevent burns. The whole set is available for less than $33!
#21 A Golf Ball-Shaped Whiskey Glass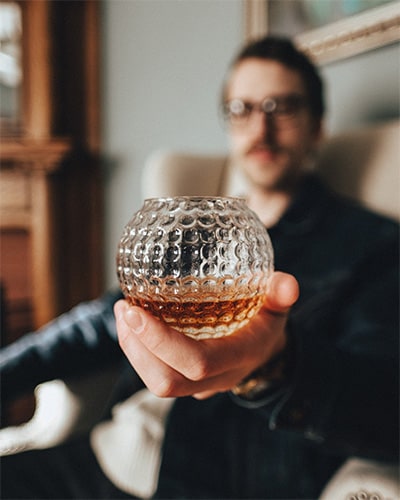 Another gift that screams "high class" without a high price tag! At the end of a full 18-hole round, they'll be able to kick back and enjoy a nice cold drink on the rocks in style!
Each glass is made handcrafted with high-quality glass! One order contains two whiskey glasses so they can share the bliss with their playing partner!
When not in use as a glass, it also makes a cool piece of decor for whatever room it's in. And it costs less than $25!