If there are some die-hard vodka fans in your group, you might want to gift them something that would cheer them up. What can be a better gift than something related to the thing they love? 
You may have gifted them things related to vodka a couple of times now. But it gets a little monotonous when you keep giving them the same vodka bottle. There is no need to worry because we will help you find the best gifts for the vodka lovers in your group. 
These presents will fit well within your budget. Also, they will bring a smile to the face of the people you love. So, without any wastage of time, let us list some of the best gifts for vodka lovers.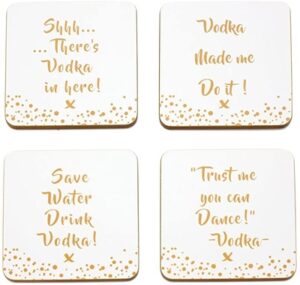 This vodka coaster is a set of four. Each coaster comes with a message for vodka lovers. There is a different message in each vodka coaster, and they are as follows:
"Shhhhh. There is vodka in here!"
"Vodka made me do it!"
"Trust me; you can dance- Vodka."
"Save water, drink vodka."
You can find these vodka coasters with hilarious messages from The Leonardo Collection. All of these coasters have a white background. 
The messages on these coasters have been written with a rose gold color. You can find some bubbles at the bottom of these coasters, which adds a luxurious beauty to them. They will reach your place in a gift box, and you can give it right away to the vodka lover. 
This is where you can get it from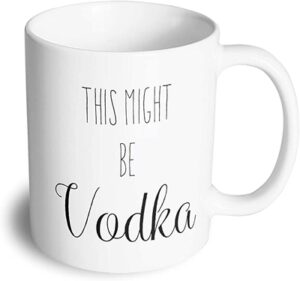 There is a question printed on this mug. It asks, 'How do I get it all done?' It also has an answer mentioned, which reads, 'Coffee and Vodka, honey."
If you know a hardcore coffee and vodka lover, this mug is a perfect gift for them. You can get this mug for 11oz capacity. There is an option for 15oz. You can choose the size that you think is appropriate. 
This mug has a ceramic material, and the ink on it does not fade away. It is also safe with a dishwasher and microwave, making it a perfect gift for vodka lovers. It is extremely convenient to carry this mug, and the vodka lover will enjoy sipping their morning coffee from this mug. 
This is where you can get it from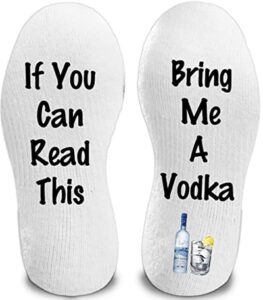 Here is another crazy gifting option for vodka lovers. You can gift them these novelty vodka lovers' socks, readily available online. 
These socks are white and have "If you can read this, bring me vodka" printed on the bottom. The quality of the socks is good, so these are ideal for gifting to vodka lovers among your friends and family. There is also a picture of a vodka glass below the text on one of the socks. It signifies that they are always ready to have some vodka. 
The text on these socks has been printed with the non-slip material. It will ensure that the person doesn't trip, even on hard surfaces. 
This is where you can get it from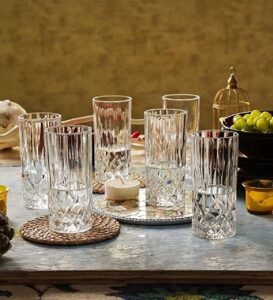 You can find this lovely crystal highball glass on Amazon or any other online store. It is a perfect glass from which vodka lovers can drink their vodka. 
This glass has a crystal-cut pattern towards the bottom, giving it a classy look. You get two reusable metal straws with this glass. 
It also comes with a silicone ice mold. You can make a 5cm sphere of ice with this silicone ice mold. This glass mixer set comes in a cardboard box. You can gift it to vodka lovers as soon as you receive it.
This is where you can get it from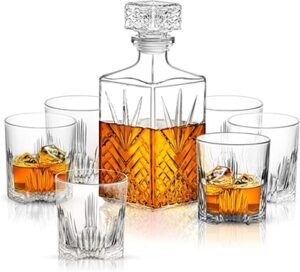 One reason that we all love vodka is that it can get mixed with everything. It does not matter if it's orange juice, apple juice, or any other liquid. Vodka goes fine with any liquid, including sparkling water. 
If your friend is a cocktail lover, this vodka decanter set shall be the right gift. You can gift it to them and enjoy new cocktails with them occasionally. 
If the vodka lover you know is also a fan of aesthetics, they will surely love this vodka decanter set. It will give them an aesthetic feel, and they will also be able to preserve their vodka in an airtight container. 
This is where you can get it from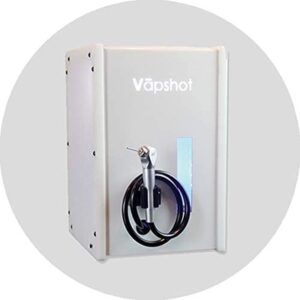 If your friend likes getting drunk but is also cautious about the calorie intake, Vaportini alcohol vaporizer will be just what they need. This gift will also help them to try out something new. 
If you don't know what Vaportini is, let us tell you about it. 
It is an intoxicating device that will help you in inhaling the vapors of the alcohol. You don't essentially have to consume alcohol to get drunk. Instead, you can get this fun intoxicating device that will get you both drunk and cut the calories from alcohol. 
This is where you can get it from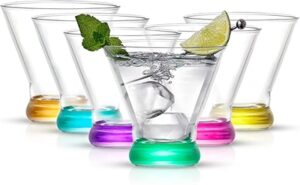 It is yet another option that you can consider gifting to vodka lovers. You can get this glass online from any shopping website without any hassle. It is readily available on Etsy and does not cost much. 
We all know that traditional martini glasses are not very stable. It could be a perfect time to replace your friend's traditional martini glasses with these stemless martini glasses.  
These glasses are available in a set of four and make the perfect gift for vodka lovers. A vodka lover cannot have enough vodka glasses, and you should not hesitate to add more to their collection. 
This is where you can get it from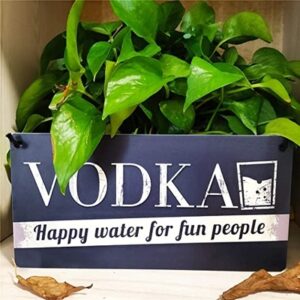 If it is the vodka lover's common refrain to get some vodka into their stomach, you can gift them this gift. They can hang this vodka sign on their walls, doors, or anywhere. 
This sign reads, "Vodka, Happy Water for Fun People." If it goes with their personality and drinks vodka almost every day, there is no harm in gifting them this vodka sign. It is a funny gift for all vodka lovers. 
The text on the slate is of vinyl, making it a weatherproof signboard. If you gift it to your vodka lover friend, it will stay for years.
 This is where you can get it from
If the person loves to have a shot of vodka on the go, this is the perfect gift for them. Also, this would be just the right gift if they are a chemistry nerd. These four chemical shot glasses are all of the different shapes with a capacity of 50 ml. 
The shapes of these four glasses resemble the beakers you find in the chemistry lab. These glasses are great if they like to hold a vodka party at their place. You can get these glasses from Amazon at a very reasonable price. 
This is where you can get it from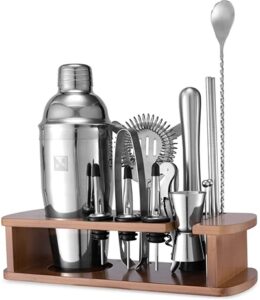 This bartender kit does not cost as much as it would sound. You can get it for under $50 from various online stores. If the person you want to gift this to loves to mix drinks and has a bartender spirit, it will be an ideal gift for him. 
This bartender kit has a solid wooden stand. It also has all the tools that required for mixing the drinks. There is also a martini shaker, ice tongs, jigger, mixing spoon, strainer, and bottle opener in this bartender kit. All these materials are made with high-quality rustproof material, so you can be sure that they will stay intact for years. 
This is where you can get it from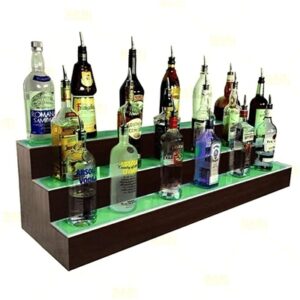 All the vodka enthusiasts like to show off their vodka collection at their place. If your person is also one of this kind, you can definitely gift them this liquid bottle display.
They will be pleased with this stunning two-tiered liquor bottle display that can hold up to 8 vodka bottles. In addition to vodka, they can also place whiskey bottles on this display. This display stand has an inbuilt LED illuminating system to light up the vodka display stand. It will be an awesome gift for their house bar as it has an option to expand the display surface. You can find this display bar on Amazon without any trouble.
This is where you can get it from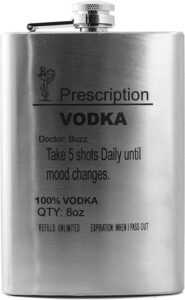 Vodka lovers will appreciate this gift so much as it is easy to carry, and they can sneak this almost everywhere. It is a stainless-steel flask that comes in a beautiful wooden box allowing you to gift it to the person right away. 
While placing an order, you also get the option to customize this flask and get your personalized hologram printed on it. You can get the recipient's name printed on this stainless-steel flask. It will help build a strong bond with them and create an everlasting memory. 
You can present this to them on their birthday or any other occasion. 
This is where you can get it from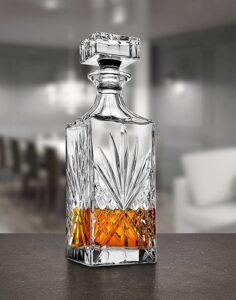 Custom-made gifts are hyped in the market, and people love receiving customized gifts. Well, vodka lovers love custom gifts too. If you want to add a personalized touch to the gift, this custom vodka decanter will serve the purpose. It is a top-shelf custom decanter that you can find on Amazon for under $50. 
This custom decanter is made of premium glass and will make a perfect gift for vodka lovers. They will truly appreciate this gift if they like to customize their serving canisters. 
This is where you can get it from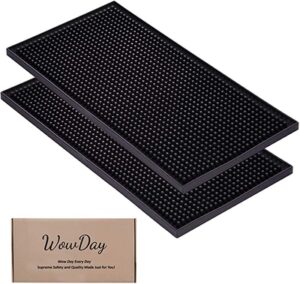 This bar mat could be a cool and decorative piece of gift for any home bar. Tito's handmade bar mat is an adept gift for any vodka lover because of its high-quality rubber material. 
This mat is 16 inches wide, and it has a vibrant orange and black color. 
This mat is easy to wash and will be the best choice for vodka lovers who have a home bar. 
This is where you can get it from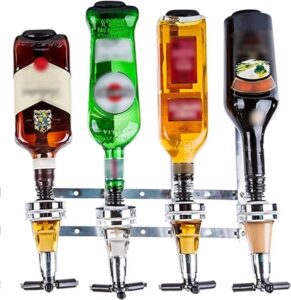 While deciding a gift for vodka lovers, we cannot overlook their love for elegance and chunky things. This stationary liquor dispenser will be perfect for filling up an empty glass. 
They can house up to four of their favorite liquor drinks in this dispenser. It is easy to use because of its convenient rotating function. It is one of the most modern gifts that you could gift to any liquor connoisseur. Apart from being modern, this stationary liquor dispenser also looks elegant. 
This is where you can get it from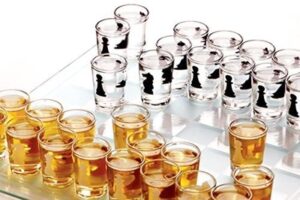 This gift is for all the professional chess players who like to spend their days getting drunk on vodka. You can gift this shot glass chess to not only professional chess players but also to someone who can have some fun with the chessboard after getting drunk. 
This shot glass chess will be the perfect addition to the game room of vodka lovers. This set has a chessboard of 15 inches and 32 contemporary shot glass chess pieces.
We are sure that if you gift them this chessboard, it will be their favorite.
This is where you can get it from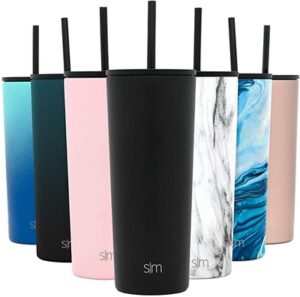 The person will love this tumbler cup set because of its versatility. Besides drinking vodka in this cup, they can drink water, milk, or other drinks. It is a multi-purpose tumbler that you can readily find on Amazon. 
It is a 2oz stainless steel tumbler and has some prints. You can customize these tumblers and get your favorite quotes printed.
We are telling you that they will love these tumblers from Amazon. If an occasion comes up where you want to gift them this tumbler, order it before it goes out of stock. 
This is where you can get it from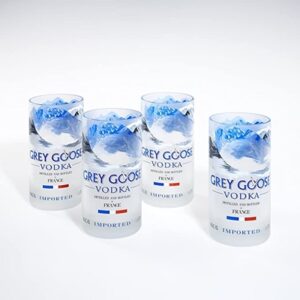 You can consider giving these grey goose glasses to your family and loved ones. It is a great gifting idea for vodka lovers. They will be joyous to see this gift if they are a fan of grey goose. These glasses are two vodka glasses in number. These glasses are also nature friendly as they are prepared with recycled vodka bottles. 
These glasses are so high in demand that they run out of stock easily. If you want to buy these glasses for your loved ones, you can find these on Etsy. They don't cost you much as they are available for under $50. 
This is where you can get it from
If you are looking for something fun, this vodka survival kit can serve the purpose well. This vodka survival kit has 18 holograms in a novelty bag and is available on Amazon. 
Apart from these 18 holograms, this vodka lover's survival kit has a laminated card. This laminated card holds an explanation of the relevance of each gift. You will find these laminated cards with 'eraser, money, clothes peg, tea bag, and coffee.' 
The eraser signifies the disappearance of the hangover. The laminated card with money written on it signifies a contribution to the vodka fund. Similarly, other laminated cards are also related to their vodka drinking habits. 
This is where you can get it from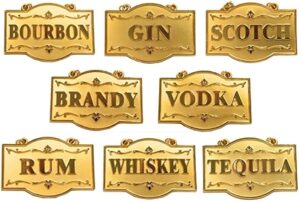 If your friend has been looking around for some decanter labels, this could be a perfect chance to give them what they desire. These liquor decanter labels are perfect gifts for those who like to keep a collection of different kinds of alcohol at their place. 
These labels are a set of eight, and they come with an adjustable chain. You can lengthen or shorten the chains of these decanter labels to make them fit into the neck of the decanter. You can find these liquor decanter labels on Amazon for only $35. 
This is where you can get it from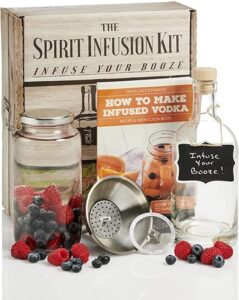 There is always one person who prefers mixing different spirits and loves to experiment with the flavors. If you know a person of that sort, you can get them this awesome spirit infusion kit from Amazon. You will find a collection of 25oz liquor bottles, 34oz jar, stainless steel strainer funnel, filter disks, and one chalkboard hangtag in this spirit infusion kit. 
Besides, this kit also has a recipe booklet of 100 pages giving your ideas to fuse the spirits of different kinds. This straightforward gift will help vodka lovers try various spirit infusions. 
This is where you can get it from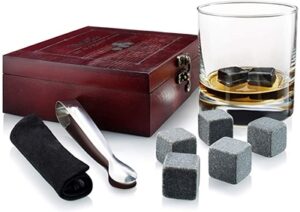 Chill rocks are fun, and they are surely innovative. They will make a perfect gift as it will help them avoid watered-down drinks. These unique chill rocks come with a haunting twist. These chill rocks are hand-carved skull bones that will keep the drinks of the vodka lovers cool. 
These chill rocks are carved with premium quality granite. They are polished to avoid any scratches inside your precious crockery. These chill rocks are ready to use as they cool your drink within two minutes. 
This is where you can get it from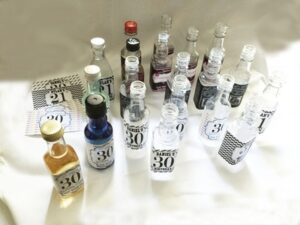 Vodka lovers will love some personalized labels. You can order these from Etsy. Once you place an order, it takes 2-4 business days to ship. 
You can choose from a vast variety of options for getting these personalized labels. They are very affordable, and these labels can easily fit your budget. These labels are ideal for gifting on Christmas and other occasions as well.
This is where you can get it from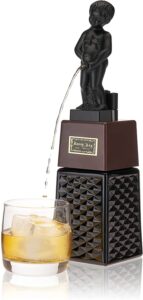 If you are looking for a gag gift for vodka lovers, this is it. This benny boy dispenser will make them burst into laughter. It is a funny alcohol dispenser you can find on Amazon. 
It will be a really good gift if they enjoy light humor. This benny boy dispenser is not very pricey. Also, it is made of durable material. It is very easy to use, and we recommend that you gift them this dispenser if you want them to laugh uncontrollably. 
This is where you can get it from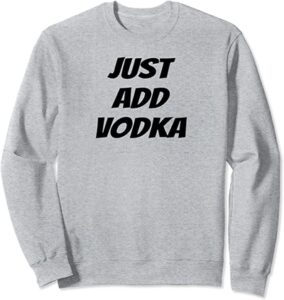 The idea of gifting your friend a funny sweatshirt has not been outdated yet. You can gift them this funny sweatshirt that reads, 'powered by vodka' on their birthday. It will be the perfect gift for them if they are high on vodka all the time. 
They will appreciate this gesture for sure and will remember this gag gift. This sweatshirt is comfortable to wear for all of the vodka parties! You can buy it online today so that it reaches you when you need it. 
This is where you can get it from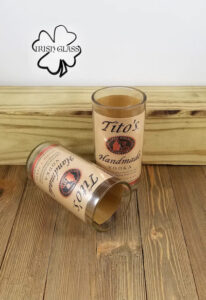 If you have not come across the perfect gift yet, these Tito's vodka drinking glasses might be the thing you need. These glasses are two in number and have a fluid capacity of 10 ounces. They are handmade, fun, and unique. 
Once you gift them these vodka drinking glasses, they will become their favorites for a lifetime. These glasses have been prepared from the recycled bottles of Tito's Vodka. These glasses are high in demand and run out of stock easily. Therefore, you can order them today by gifting them to vodka lovers. 
This is where you can get it from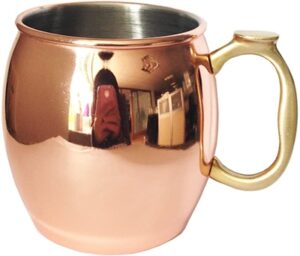 Lastly, we recommend gifting the vodka lovers a set of polished copper cups. People have used metal drinkware for ages and continue using them today. People have realized today that metal drinkware makes the cocktail taste even better. 
These polished copper cups are shiny and easy to clean. They are also durable. You can gift them these cups if they are fans of the Russian Mules. Russian Mules tastes even better in polished copper cups. If you find it convenient, you can gift them these copper cups with a bottle of vodka.
They will surely be surprised and appreciate your generous gesture. However, to add more authenticity to the gift, make sure that the bottle of vodka has a lid of color similar to these polished copper glasses.
This is where you can get it from
It's A Wrap! 
Deciding a perfect gift for vodka lovers is not as challenging as you think. You can find a gift for them from this list without any difficulty. These gifts are easy to find and don't even cost much. 
You can find most of these gifting options on Amazon and Etsy. All you need to do is find a perfect gift for vodka lovers and place an order for it. Gifting things to your friends and family enrichens your bond with them. Whatever you gift to vodka lovers, we hope that they like it, and it also strengthens your relationship with them.