17 Gift Ideas For Male Nursing Students
 If you've ever spent any time in a hospital, then you know that nurses are some of the most incredible members of society.
They handle it all, from the unspeakably gross to the patients who are anything but, with kindness and efficiency.
If you know a guy currently in the throes of nursing school, whether he's just started or graduation is right around the corner, he definitely deserves to be treated!
But what to get him now that he basically spends all of his time in class or on clinical rotations?
We've found the perfect way to show him some love and bring a smile to his face while he's working hard for that degree! Here are 17 unique gifts for the male nursing student in your life!
#1 Or Maybe A Set Of Awesome Pens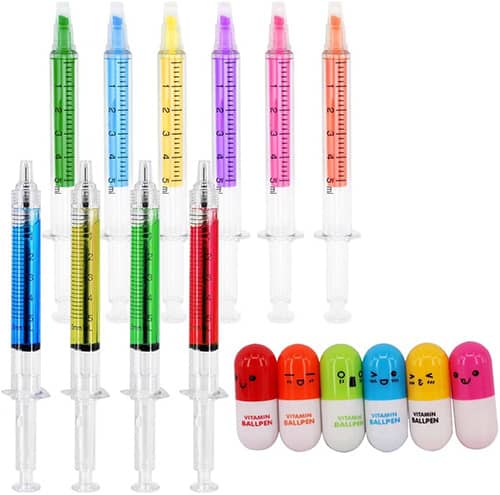 Whether he's taking notes on a patient or highlighting important information in his textbook, these fun pens and highlighters will let him do it in style!
He can also just keep them around the house for when he needs something to write with, and they make a great conversation piece when he has visitors over.
The set comes with 6 syringe highlighters, 6 pill pens, and 4 syringe pens in various ink colors.
The retractable pill pens are small enough to slide into a pocket so he always has a pen on him when he needs one!
With 6 different highlighter colors, he can easily color-code his notes to help make studying for those nursing school tests easier. The set is fun and practical and is sure to make your favorite nursing student smile.
#2 A Shirt That Lets Everyone Know They'll Be In Good Hands - Soon!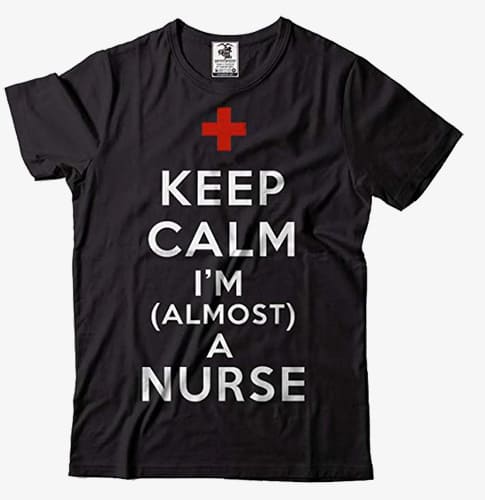 He might still be working on his degree, but he's still got the situation under control!
This t-shirt is a great way for him to make those around him laugh and also assure them that if anything goes wrong, he can at least patch them up!
This t-shirt is made from 100% top-quality, pre-shrunk cotton, and runs true to size. It's both lightweight and durable, with long-lasting ink that will survive through many, many wash cycles. Each one is designed and printed in the US.
This shirt is great for going to the gym, sleeping, or just adding a little bit of humor to his outfit of the day!
#3 A Shot Glass That Will Help Him Unwind After A Stressful Day Of Clinicals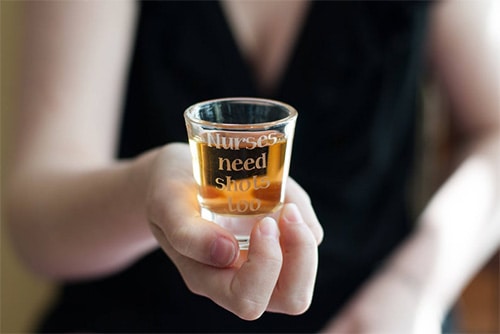 No matter how much he loves nursing, everyone needs a break at the end of the day!
And sometimes, the best way to unwind is with a few shots, but not the ones he administers with a needle.
These 1.5oz shot glasses are handmade using a professional sand carving system with no chemicals.
He'll actually be able to feel the etch on the glass! This high-quality etching process leaves a smooth, milky-white, even finish that looks amazing!
He's sure to enjoy this fun and humorous gift and get a kick out of showing it off to his nursing school friends too!
#4 A T-Shirt That Lays Out Their Whole Schedule During Exam Season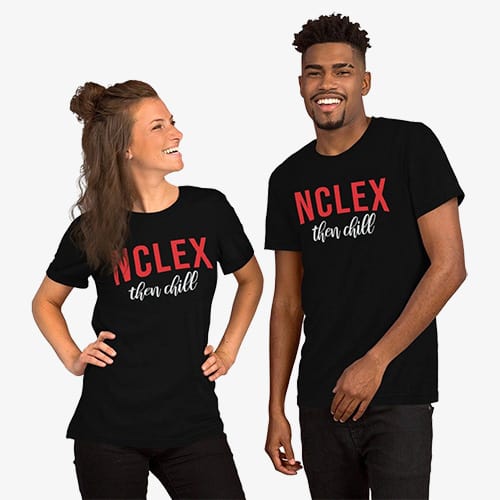 What's the NCLEX you ask? Don't worry, we had to look it up too! It's the National Council of State Boards of Nursing's National Council Licensure Examination.
Basically, it's the big test he has to take to become a nurse.
This shirt is perfect to wear to his study session! Made from 100% combed and ringspun cotton, this shirt is lightweight and will definitely be the comfiest shirt he's ever owned.
No matter how stressed he is about his upcoming exam, at least he'll be comfortable while he studies! And his fellow nursing friends will get a kick out of it too!
Both LPNs and RN's take the NCLEX, so you don't have to stress about getting the wrong thing! Available in 3 different colors!
#5 A Personalized Tumbler So He Doesn't Accidentally Require Medical Attention For Dehydration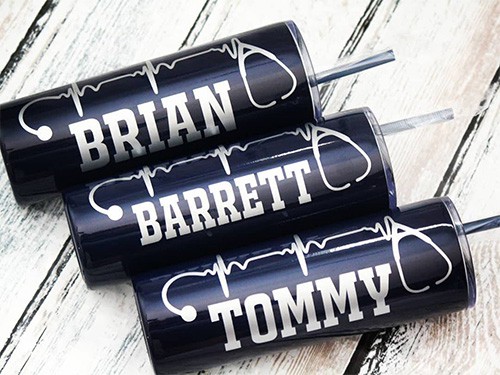 When you're on your feet all day like nurses are, drinking enough water is crucial for staying sharp and healthy. This 20 oz tumbler will hold plenty of water and keep it nice and cold for him as gets through his clinical rotation days!
The tumbler features a powder-coated stainless steel design and a double-walled vacuum-sealed construction to hold liquids at temperature all day long!
It's also personalized with his name and a fun stethoscope design. It works with both hot and cold liquids, so he can also sip his coffee to stay awake during late-night or early-morning classes
Choose from 15 different tumbler colors and over 40 vinyl options including metallic, holographic, and chrome options. There are also 27 different font styles for his name!
#6 The Memoir Of A Male Nurse Who's Traveled The Globe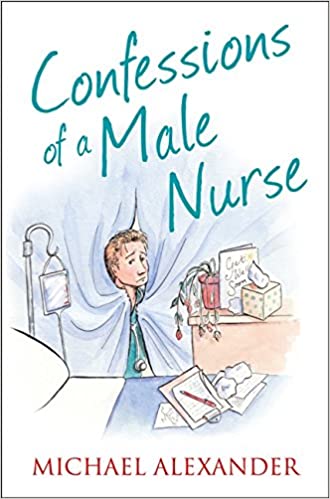 Life as a nurse can be pretty unpredictable, so who knows what the future holds for him?
Well, Nurse Michael Alexander might have a few clues, and definitely tons of advice to offer!
This book follows Nurse Alexander's career from his training as a gynecological nurse in New Zealand, to the psychiatric wards of some of the biggest hospitals in London, and even a snow sports resort in the Swiss Alps!
Each chapter is hilarious and insightful, mostly focusing on a single patient to make it more grounded and personal, and is perfect for any guy getting ready to start his nursing career!
#7 An ID Tag For His Stethoscope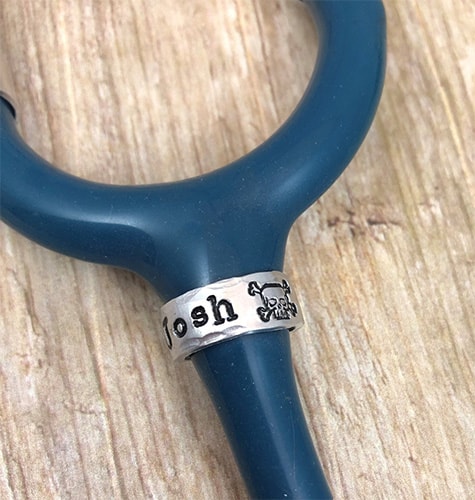 He's going to get to be really good friends with his stethoscope, so he might as well personalize it!
These cuffs are made from 100% lightweight, hypoallergenic aluminum that won't rust or tarnish.
Customize it with his name and credentials, as well as one of almost 60 designs for an extra bit of personality!
Each 1/4″ cuff is hand-stamped so no 2 will ever look exactly the same! Choose from 8 different fonts and 12 colors! You can also pick a smooth finished or a textured, antique one.
#8 A Medium Weight Jacket That's Both Stylish And Shows Off All That Hard Work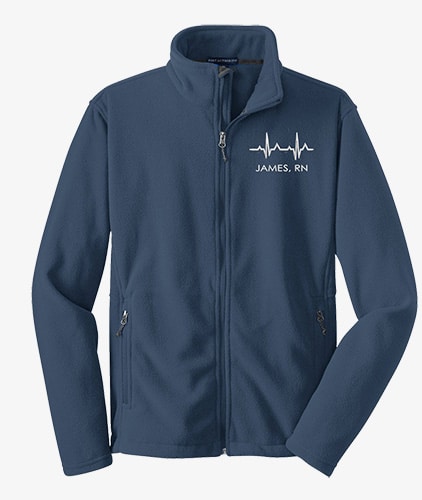 If he lives anywhere where it gets below 60 degrees, this is the perfect gift to keep him warm and cozy while he heads to class, his clinical rotation, or maybe even something fun and relaxing on his once-in-a-blue-moon day off!
This midweight fleece jacket features a chin guard, bungee cord zipper pulls so he can adjust it for maximum comfort, and zippered front pockets to keep his belongings exactly where they're supposed to be!
Choose from 9 different colors, and personalize it with his name in 1 of 14 different fonts. You can also pick an EKG, caduceus, or stethoscope for the design, or simply have it embroidered with his name and degree or title!
#9 An Engraved Badge Rule That Is Both Stylish And Funny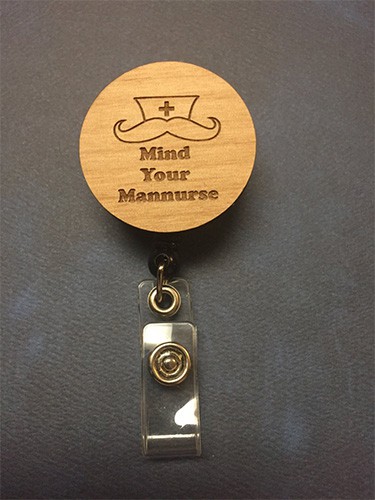 Unfortunately, "Be Nice to Your Nurse" is not a prescription that doctors can write, but hopefully this will nudge his patients in the right direction!
It's also a great way for him to keep his ID badges handy while working on his clinical rotation.
Each one of these "Mind Your Mannurse" badge reels is handmade and laser engraved. They're extremely durable, perfect to last for many, many night shifts to come!
The reel allows him to keep his badge visible at all times and easily get to it when he needs to tap in or out at a touchpoint. You can also order it as a lanyard.
#10 A One-Of-A-Kind Personal Christmas Ornament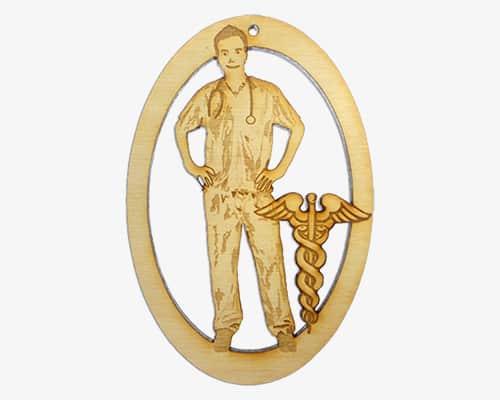 A perfect Christmas gift for your favorite nursing student! Now he can hang his own handsome face on his tree and subtly show off his smarts to all his holiday visitors!
Each one is made by hand and to order from all-natural birch wood! Just send the shop his photo and they create a beautiful ornament of him in scrubs with the caduceus. Your order also includes up to 25 characters of personalization.
The finished product is tied with a festive gold string so it's ready to go straight on the tree, and it comes in a gift box for your convenience!
If you mark it is a gift order during checkout you also add a gift message.
#11 Colorful Set Of Chocolate Stethoscopes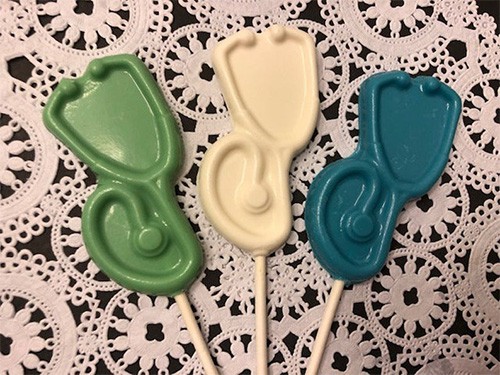 The question doesn't matter. Chocolate is always the answer! These stethoscope-shaped chocolates are a sweet way to remind him you're cheering him on when he takes a snack break from studying.
These lollipops are made from delicious, high-quality Merckens Chocolate and come in a set of 12.
They come in 12 fun different colors (choose up to 3) and the quantity of each you would like. You can also provide the seller with the date you need them by so they're guaranteed to arrive just on time.
#12 Or This Notebook That Will Help Him Kickstart His Own Future Memoir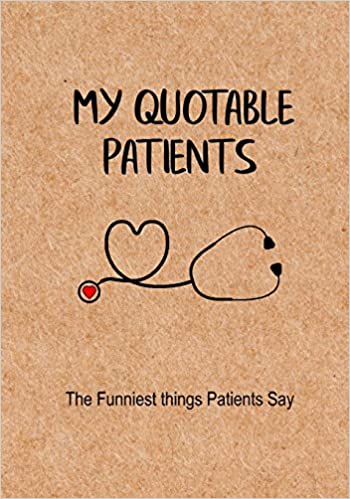 If you've ever spent some time in the ER and listened to the goings-on around you, then you know how many shenanigans nurses put up with!
Even though he'll have to be professional and keep a straight face in the moment, this is the perfect gift so he can write them down and laugh about them later!
My Quotable Patients is a beautifully made journal where he can write down all the funny things his patients say, both during his clinical rotation and once he finishes his degree!
The premium design comes with a nice matte finish and high-quality binding so it'll last him for years!
Each journal measures 7″x10″ and comes with 108 pages, A great way for him to share all of his nursing adventures with posterity someday!
#13 A Fun Set Of Anatomical Coasters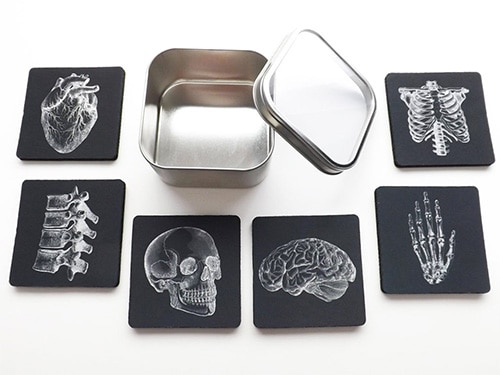 When he does finally get a night off to have friends over, he doesn't need to worry about getting condensation rings on his furniture!
These coasters help keep his space neat and tidy, while also being a fun and stylish piece of decor that also winks at his future career.
These coasters are available in sets of 6 or 4. Mix and match the 6 different images any way you want!
You also have the choice of either flexible, neoprene mouse pad material or glossy hardboard with cork backing.
Both types of coasters come in a gift tin!
#14 This iPhone Case That's Sure To Tickle His Funny Bone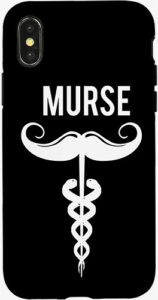 Perfect for the guy who has proudly embraced the title of "Murse." This is a great way for him to flaunt it while making sure his phone doesn't need to take a trip to the phone doctor.
This case is available for iPhone generations 7 through 11 Pro Max. It's made from scratch-resistant polycarbonate, so both his phone and the design will look good for years to come, and it's lined with a shock-absorbent TPU material to protect against drops.
The case is printed in the USA and installs in a snap!
#15 These Quite Literally Life Saving Cards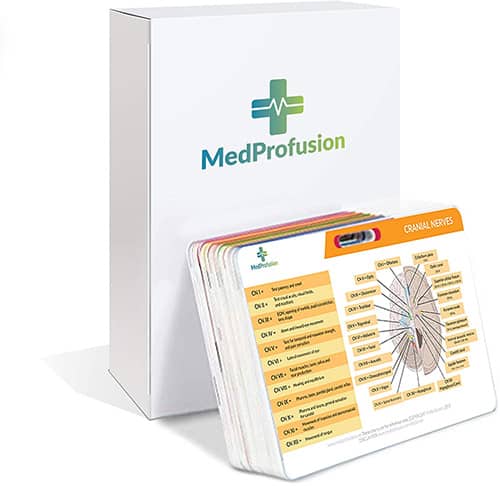 This is a study aide so he can then take on the job with him!
He's still got plenty of on-the-job training ahead of him, and these amazing little cards will be an invaluable resource that will help him nurse with confidence!
This set of badge-sized cheat seats from MedProfusion includes 28 color-coded reference sheets on General Med, Labs, OB L&D, Pediatrics, Pharmacy, and Respiratory information and procedures. There are even Spanish translations!
These cards are made from sturdy PVC so he can use them all through nursing school, while studying for the NCLEX, and even into his career. He'll always have an easy way to double-check information quickly and prevent mistakes.
This set even comes with an online access code for digital copies of all the same information.
#16 An Encouraging Journal To Get Him Through Those Classes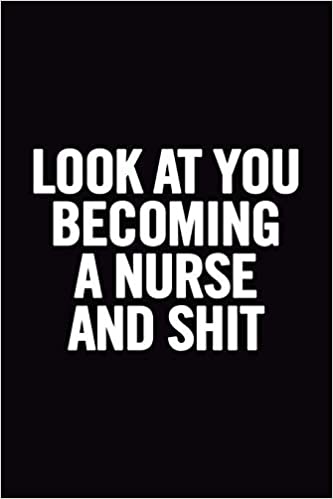 It's easy to forget that he's still in school since he's started working on the floor, but he does still have classwork to do!
Or maybe he finds keeping a journal of his clinical rotation experience helpful for decompressing and jotting down important hands-on lessons.
Either way, this journal is the perfect place for him to write down all of the important stuff, and it will make him laugh and inspire him to keep going on those days when he's wondering what exactly he got himself into.
This 6″x9″ paperback journal is the perfect size for him to carry around with him and works with both gel and ink pens and pencil. It includes 100 pages (50 sheets) of ruled paper.
#17 A Snazzy Tie Clip With A Subtle Nod To His Career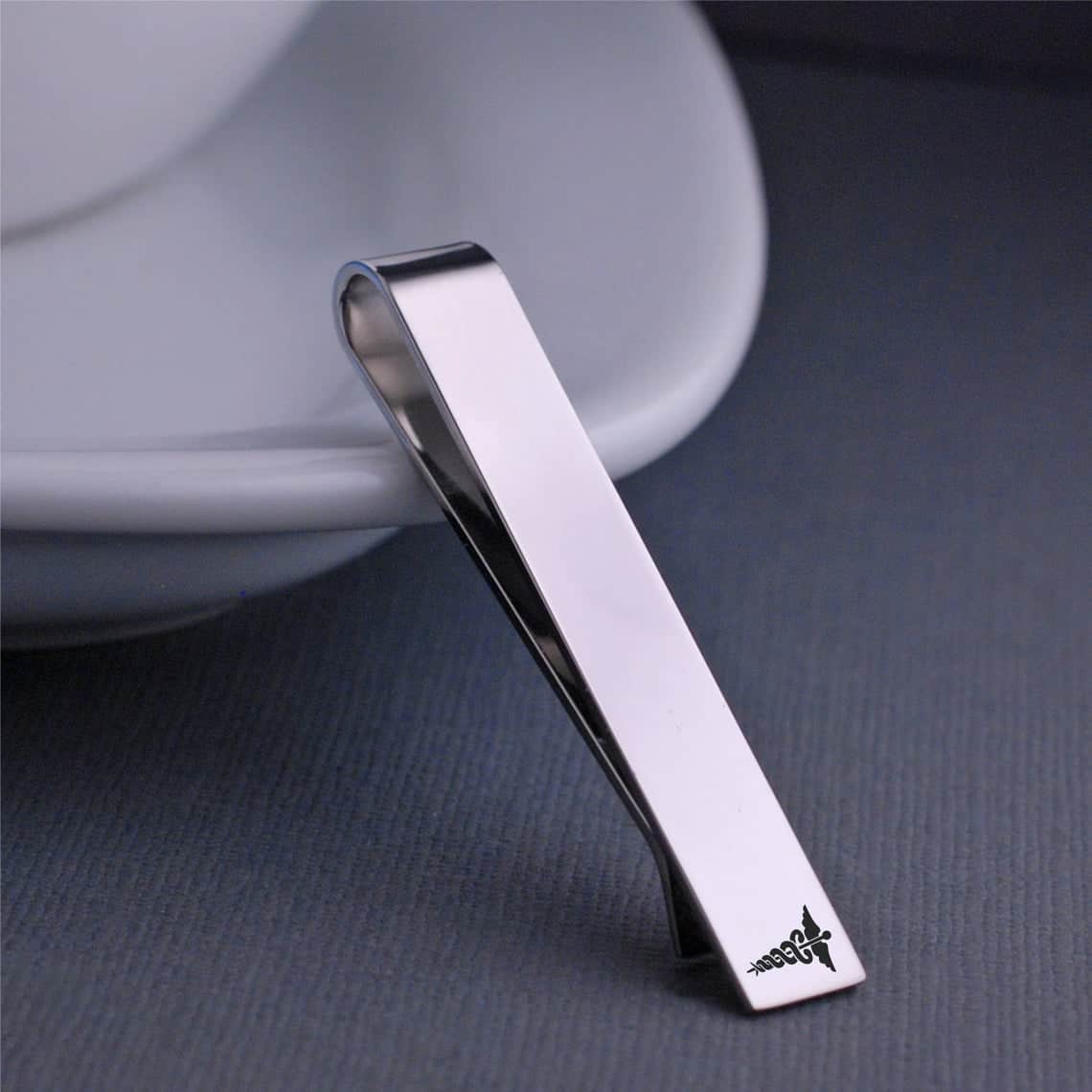 So he can show the world that he cleans up nice when he's not wearing those scrubs!
This tie clip helps keep his formal outfits neat and stylish, and also serves as a great conversation starter to get him talking about nursing school!
The tie clip is available in 4 different metals: stainless steel, rose gold, gunmetal, or gold. You can also have it personalized with his name or a message up to 20 characters!