Gifts For Stroke Survivors - 21 Unique Ideas
Did you know someone in the United States has a stroke every 40 seconds? That means more than 795,000 Americans suffer a stroke every year.
Unfortunately, this means there is a pretty significant chance someone in your life will be a victim of a stroke.
Fortunately, with prompt emergency medical treatment, many stroke victims can become stroke survivors.
If your loved one is one of those survivors, it might feel like there is no gift that can adequately convey how much you love them.
To support them through all stages of recovery, here are 21 gift ideas for stroke survivors.
#1 An Encouraging Sign To Motivate Them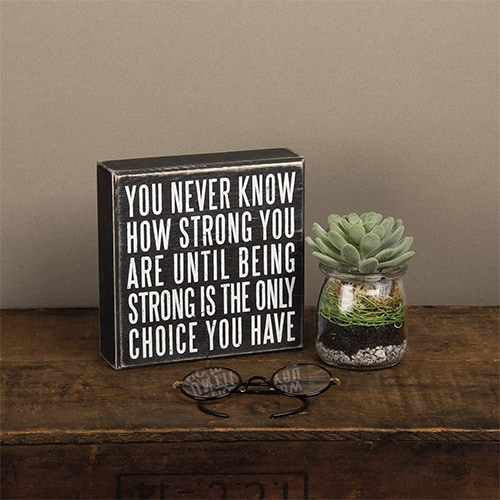 The most important gift you can give during a difficult time is your love and support. This small, but uplifting sign, is a gentle and unassuming way to let them know you love and believe in them.
This is perfect for a hospital room, bedroom, or office. It will help inspire your loved ones on the long road to recovery. It's free standing, so they will not have to worry about how or when to mount it.
This sign measures 6″x6″, perfect for even a small space. It's made with a high quality wood and distressed paint for a charming, rustic feel.
#2 A Book Of Puzzles Specifically Designed For Stroke Patients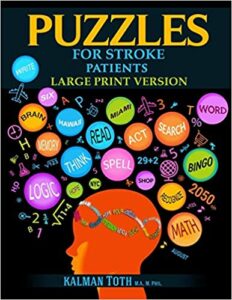 One of the hardest things about stroke recovery can be the loss of mental function. Like any other muscle, the best way to strengthen the brain and speed recovery is through exercise.
Puzzles for Stroke Patients help rebuild language, math, and logic skills through daily stimulation. Activities include puzzles, bingo cards, and beautiful coloring pages.
This large print edition is especially easy to read and contains 458 pages of engaging puzzles. Just doing a few activities a day helps improve brain function by leaps and bounds.
#3 A Heart Necklace With A Crystal Stroke Awareness Ribbon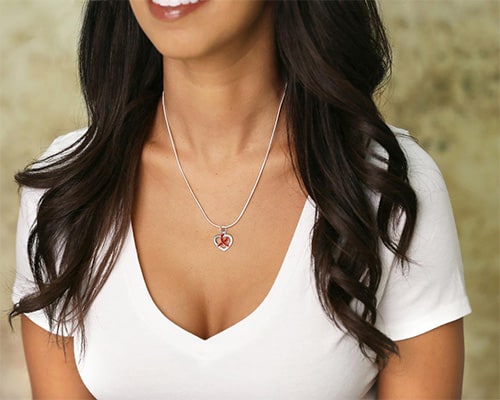 The red ribbon signifies awareness for many causes, including stroke awareness and other cardiovascular disorders. This necklace is a subtle and beautiful way to show solidarity and acknowledge their strength.
This necklace features a silver heart charm suspended on a sturdy 17″ silver plated snake chain that won't break easily if it gets caught. It includes an easy to use lobster clasp. The charm measures about 5/8″ by 5/8″.
Each necklace comes in a gift box–perfect for gifting and storage–with a cotton insert to keep it safe during transport.
#4 A Stroke Survivor Trucker Hat For Men Or Women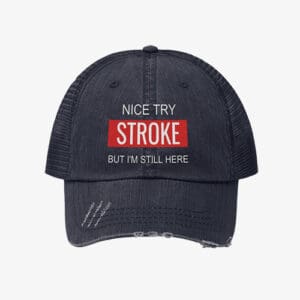 Comfortable, stylish, and a reminder to the whole world that they are a fighter. This trucker cap declares "Nice try stroke, but I'm still here."
It features a breathable mesh backing and herringbone cotton front with distressing for a rugged look. The pre-curved visor and unstructured crown guarantee a perfect, natural fit from day one.
The hat comes with an adjustable Velcro closure to accommodate any adult head size.
#5 A Brain Surgery Get Well Gift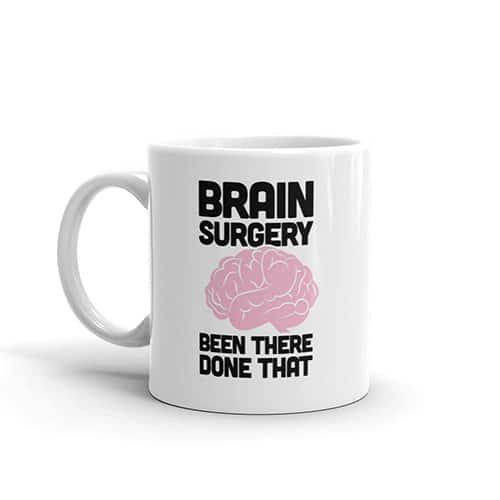 Sometimes, strokes require brain surgery to treat. If your loved one had to undergo such a procedure, this is just the thing to wish them a safe and speedy recovery.
Especially good for someone who is known for their sense of humor in the face of adversity.
As they heal, they can enjoy their favorite comfort beverage with a reminder of how strong they are.
The mug is made of high-quality ceramic that is both dishwasher and microwave safe. It can hold 11 oz and has a beautiful glossy white finish.
#6 A Set Of Rotating Long-Reach Grabbers
For someone dealing with any kind of mobility issues after a stroke, these grabber reachers are a necessity for helping them regain their independence.
The poles add an extra 32″ onto their reach, helping them pick things up from the floor or even off a high shelf with ease. The jaw rotates and locks at 90 degrees so they can use it vertically or horizontally.
The soft rubber of the grabber's head makes it easy to grab even small items.
The shaft is made from lightweight aluminum that will not rust, and the internal wire that connects the handle to the grabber is a durable steel cable.
#7 A Necklace For A Fighter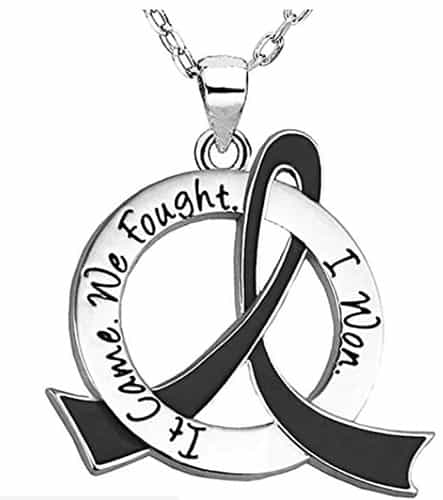 "It Came. We Fought. I Won." This necklace is the perfect way to celebrate your stroke survivor.
The pendant, which features a red stroke awareness ribbon, comes on a 17″ stainless steel chain with a 2″ extender. The pendant measures 1.75″ and is Rhodium plated.
Each necklace comes in a beautiful and gift-ready foil stamped "Fight Like A Girl Statements" gift box.
#8 A Set Of Hand Strength Training Devices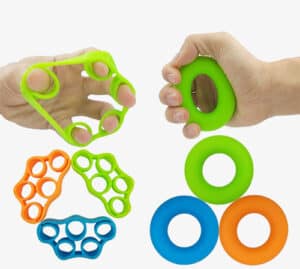 To help them improve their hand strength. This 6-piece set contains pieces that help strengthen expanding muscles as well as grip muscles. Both types come in the 3 diff
erent resistance levels to provide more of a challenge as they get stronger.
The ergonomic design is suitable for all hand sizes. The pieces are made from high-quality silicone that will not tear easily.
They're washable and travel-sized, so they can bring them with them to practice in waiting rooms or the car.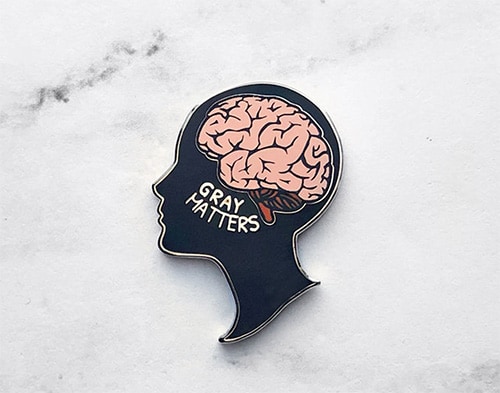 This enamel pin can easily be added to a bag or jacket to promote awareness for strokes and other brain injuries. It features the silhouette of a human head with a detailed drawing of a brain and the slogan "Gray Matters."
This pin is made from hard enamel with a silver-plated nickel backing. It's about 1.25″ tall. With two posts and black rubber pin backs, it will remain securely wherever it is pin.
Comes packaged on a card in a clear cellophane bag, ready for gift giving.
#10 A Stroke Diary To Help Aphasia Recovery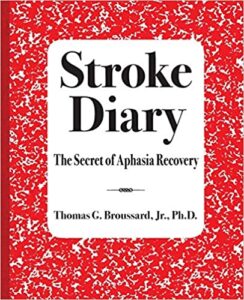 Strokes can cause aphasia– a loss of language skills. Thomas G. Broussard Jr., author of Stroke Diary: The Secret of Aphasia Recovery, knows this first hand.
However, he was able to achieve complete recovery using new methods of therapy he partially helped to develop.
One of the keys to his recovery was a diary. This book uses his diary to guide others down the bath of learning, relearning, and healing.
This diary is a great complement to an existing speech therapy program and an excellent source of hope.
#11 A Stroke Survivor Water Tumbler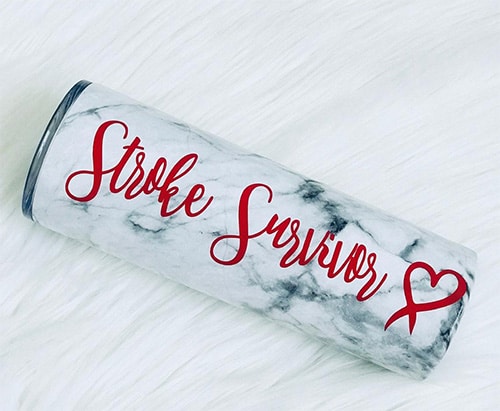 For the stroke survivor who is just as active as ever. This tumbler acknowledges their strength and how far they have come.
Made from double-walled, vacuum-insulated stainless steel, these tumblers hold 20 oz of liquid and are twice as heat and cold resistant compared to glass or plastic. Contain no BPA or lead.
The tumblers are available in 13 different colors and come with matching straws, The design is applied using high quality, permanent, outdoor-grade vinyl. The design can be printed on one side, or both sides for an additional $2.
#12 A Set Of Silicone Adaptive Aids
These are specially designed to help adults with limited hand mobility have more independence. They can be used for everything from cutlery to writing utensils to a toothbrush.
The silicone strap holds objects against the skin for a better sense of weight, texture, vibration, and temperature. It does not need to be tight to support the item. It quickly warms to skin temperature for added comfort.
These come in 8 different colors and can be easily washed in the dishwasher.
#13 A Rechargeable Muscle Stimulator Machine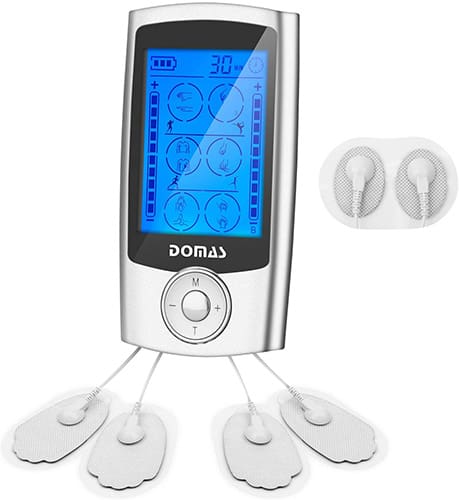 One of the lingering effects of stroke can be muscle spasticity. The DOMAS muscle stimulator helps to relax muscles and improve mobility through the use of electrical currents.
This machine comes with 4 electrode pads to massage 2 different areas at the same time. It's small and portable, and comes programmed with 24 massage modes and 20 different intensity levels.
Comes with a lithium battery that is safe and easy to recharge.
#14 A Stained Glass Stroke Awareness Ribbon Hanger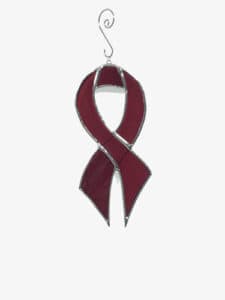 Perfect to hang in a window, on a Christmas tree, or in a work space for support and awareness. Each one is made by hand with love and no 2 are exactly the same.
There are 3 different sizes available: 3″, 5″, or 7″. The shop can also personalize with a name, date, or custom message using a high-quality, incredibly durable paint.
#15 A Tank Top For The Toughest Lady You Know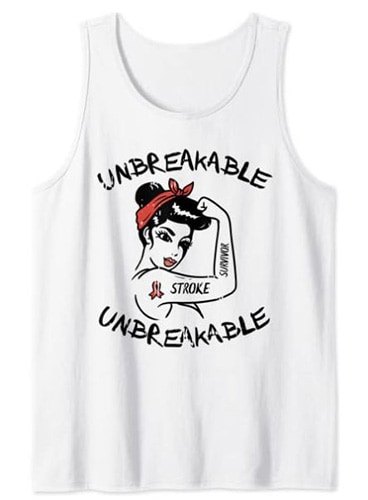 You know that she's Ms. Unbreakable, and now the whole world will.
This tank top features a Rosie the Riveter-style illustration and proudly identifies her as a stroke survivor.
This shirt is lightweight and comfortable, with a loose fit. Perfect for exercise gear or everyday wear.
It's made from 100% cotton and can be machine washed and dried.
#16 A T-Shirt For The Stroke Survivor Who Refuses To Slow Down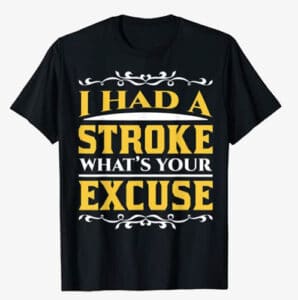 After months and months of recovery, they have earned the right to boast.
Whether it's running a marathon, traveling the world, or just living their life, this shirt helps them do it loudly and proudly.
This shirt is lightweight with double-needle hemming along with the sleeve cuffs and the bottom hem.
It's made from 100% cotton and is both machines washable and dryer safe.
#17 A Stroke Survivor Bangle Bracelet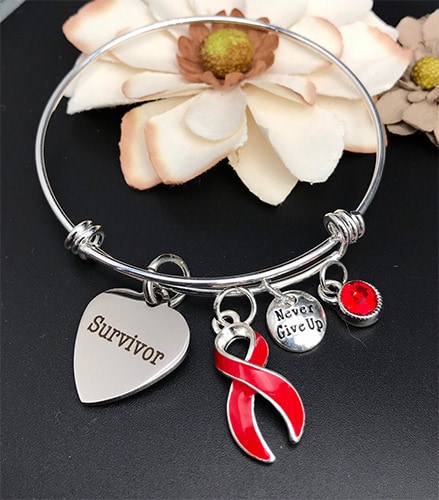 Another beautiful and subtle reminder of their perseverance they can wear on those hard recovery days.
This bangle bracelet is adjustable to fit many wrist sizes, and both the bracelet and all of the charms are also silver or silver-plated.
Charms include a 1″ acrylic red awareness ribbon, and 1″ silver pendant with "Survivor" laser-engraved on the face, a matching red Swarovski crystal, and encouragement charm with the message of your choice. Options include: Hope, Courage, Strength, Be Strong, Never Give Up, Faith, Love, or a silver cross.
All bracelets come in a gift box with care instructions and a small polishing cloth.
#18 A Book To Help Them Continue Their Long Term Recovery Journey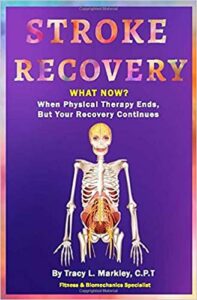 Author Tracy L. Markley wrote Stroke Recovery: What Now? after interviewing over 100 stroke survivors about the most difficult challenges they faced when left to finish recovering on their own after all the therapies ended but they still did not feel quite themselves.
Using the science of biomechanics, she discusses the exact muscle groups that need to be strengthened in order to improve the fluidity of other movements and suggest specific exercises.
She also offers tips on how to continue to improve spatial awareness, communication, and other cognitive skills.
#19 A Pair Of Comfortable, Non-Slip Shoes
Getting steady on their feet again after a stroke can be a challenge. Shoes that will help keep them stable and comfortable are a must, and these Sketchers slip-ons are perfect.
They're made from a breathable knit mesh and feature a memory foam insole. The soles are flexible and easy to move in, with texture for maximum traction.
Because they slip on, they won't have to struggle with tying laces or even fastening straps. Available in 9 different colors.
#20 A Spring-Loaded Hand Strengthener That Can Strengthen Each Finger Individually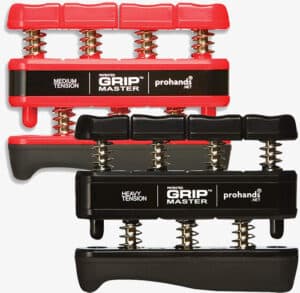 While strengthening their hands as a whole is important, the best way to regain maximum mobility is to ensure each finger regains its strength and dexterity too.
Isolating fingers helps to make sure stronger fingers don't overcompensate for weaker ones, encouraging complete and balanced recovery.
The Prohands Gripmaster is made from stainless steel springs and durable plastic. It has graduated tension levels to help measure progress. Available in various different strengths and sets.
#21 A Stroke Survivor Shirt For the Golfer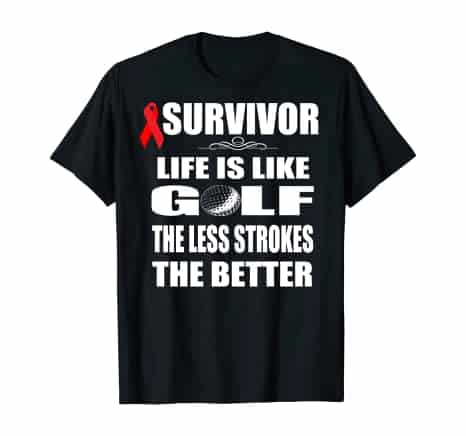 "Life is like golf – the fewer strokes the better." This survivor t-shirt is best suited for the loved one who survived their stroke with their humor and love of golf still intact.
It will also help raise awareness about strokes, making it the perfect shirt for someone who attends their annual local stroke awareness and prevention events.
It's made from 100% lightweight cotton and is easy to care for: just machine wash cold with like colors and then tumble dry low.