Gifts for Farmers - 21 Gift Ideas
If you ate today, thank a farmer!
Even though we've come a long way from the days of Little House on the Prairie, farmers are still responsible for most of the meat, produce, dairy, and grains on our plates every day. 
If you swing by your local farmers' market on the weekends, you're helping support local farmers in your area!
Farmers deserve all the thanks and praise for keeping us going. If you've got a farmer in your life, you might feel a bit sheepish about finding them the perfect gift. 
Whether they grow crops or raise livestock, let them know they're the cream of the crop with one of these unique gifts for the farmer in your life.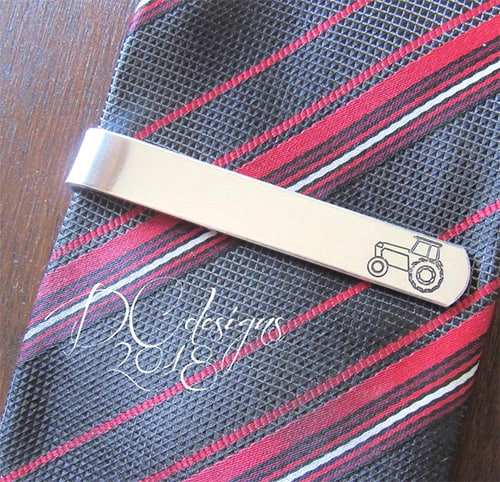 For those events where he can't just show up in his jeans and work boots, this fun tie clip will help him feel a little more at home.
It can also be a great conversation starter, just as long as the person asking is willing to listen to a rhapsody about tractors!
This tie clip is available in aluminum, brass, or copper and can even be personalized with his name! It's rotary engraved and bent by hand.
#2 A Personalized Farm Stamp
Perfect for the farmer who does a lot of business at farmers' markets! With this stamp, they can easily add their name and address to their packaging. That way their customers can remember them and even tell their friends!
This stamp is available in either a handle-mounted or pre-inked variety. The pre-inked version can create 3000-5000 impressions before needing to be re-inked.
Just choose a font from 26 different options and enter the farm's name, location, and date it was established, along with the specific verbiage. The designer will then send you a preview that you can make an infinite amount of changes to until it's perfect.
#3 The Old Farmer's Almanac Weather Journal
The weather can make or break a crop and have a massive impact on a farmer's livelihood.
This journal helps them keep track of daily weather conditions over the course of 4 years and even start to be able to predict future weather patterns!
Tracking the weather is a great way for them to find patterns and help improve their production.
Plus it comes with tons of fun facts about weather history and lore, handy reference charts, and even stunning weather-related photographs in full color!
#4 Some Homemade Moisturizing Soap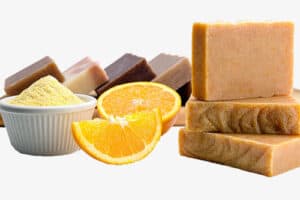 Farming can be pretty rough on their hands. This soap cleanses, exfoliates, and moisturizes to keep their skin soft and healthy.
These soaps are made from spring water infused with a blend of healing herbs.
The combination of olive, soy, and coconut oils and cocoa butter provides soothing moisture and oats exfoliate away dead skin cells.
#5 These Organic Lip Balms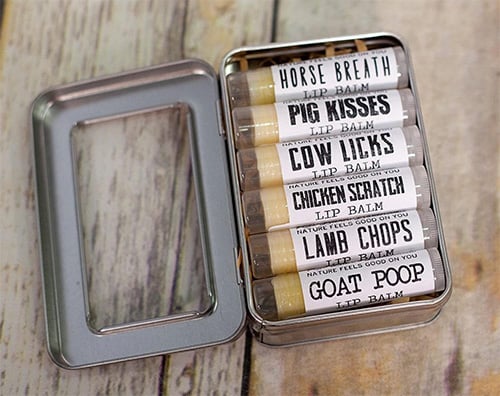 Working outside all day in the sun and wind can lead to some seriously chapped lips.
These lip balms are made from natural, organic ingredients and come in 6 different scents, each with a silly farm animal-themed name. They're also cruelty-free and non-GMO!
Each set comes in a hinged tin tied in red and white twine. 
The tins have a clear window in the front and can be reused to hold mint, pins, or other small objects they don't want to lose!
#6 Personalized Tractor Word Art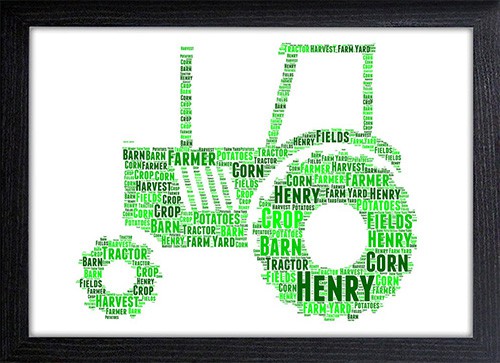 This gift is a great way to add a personalized piece of decor to their home!
You can add their name to the sample words, or customize it even further by adding words that specifically relate to their farm, such as the crops or livestock they raise or what city or state their farm is in.
The shop has 7 colors you can choose from, but you can also submit your own color palette so it matches their existing decor as closely as possible. 
It comes printed in 4 different sizes on glossy cardstock, and you can choose between a black or white frame.
#7 A Punny Mug For The Born Farmer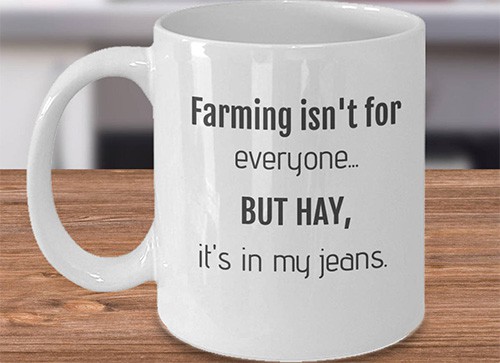 "Farming's not for everyone… but hay, it's in my jeans!"
When they're getting up at the crack of dawn, they're going to need a cup of something warm and caffeinated to start their day.
This high-grade ceramic mug is the perfect way to get them their morning fuel and put a smile on their face!
Available in either 11 oz or 15 oz varieties, this mug is dishwasher and microwave safe. The design has a glossy photo finish and will never fade no matter how many times they wash it!
#8 A Magnetic Cuff For Their Nuts And Bolts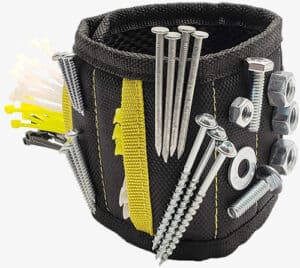 Your favorite farmer probably spends a good amount of time fixing mechanical issues and making repairs around their farm. With this handy gadget, they'll be able to keep all of their screws and nails easily accessible.
The cuff is lightweight and breathable so they can wear it all day, but the magnets are powerful enough to hold all the small metal objects they need to keep their farm running smoothly.
It even includes 2 pockets to hold non-magnetic objects like zip ties and even small tools. It's like having an extra hand!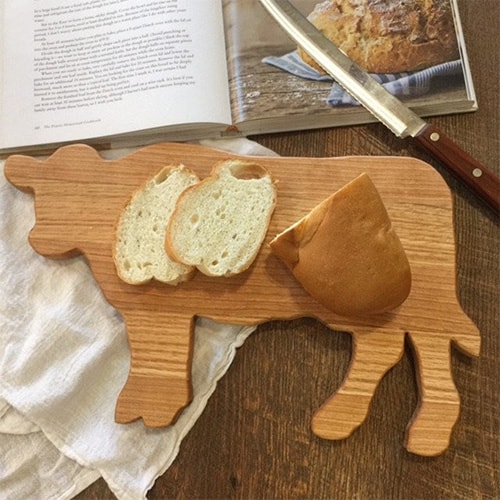 Perfect for the farmer or homesteader who loves making homemade meals from their own products!
This cute little cow can be used as a cutting board, charcuterie board, or just as a fun decoration for their farmhouse kitchen.
These cutting boards are made from scratch on a homestead in Western New York. From the tree to the finished product, this cutting board doesn't leave their homestead until it's sent to the recipient!
All cutting boards are rubbed down with mineral oil to preserve the wood for years to come. No two boards are exactly alike!
#10 This Beautiful Seasoning Shaker Holder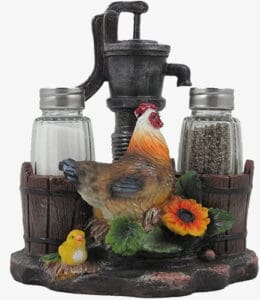 This statue makes a beautiful addition to any farmhouse kitchen and serves a practical purpose too!
This beautifully detailed figurine of a water pump is handcrafted from cold-cast resin.
It features a plucky rooster, sweet baby chick, and a beautiful flower in warm, inviting colors.
The two water buckets hold their salt and pepper shakers to help them control clutter while adding a touch of rustic charm.
It also makes a great centerpiece for entertaining!
#11 A Set of Hand Painted Kitchen Towels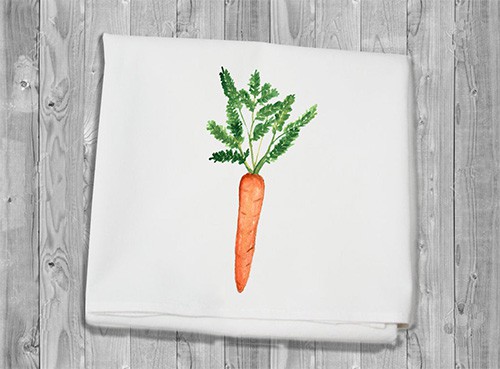 These handmade towels are a simple but beautiful addition to any farmhouse kitchen!
Made from 100% cotton flour sack, these are super absorbent and both washing machine and dryer safe.
All artwork is original, painted by hand in the shop's studio and then reproduced with a direct garment printer.
This adds more character to the design, giving it an extra rustic charm and making it feel so much more personal than other mass-produced towels.
#12 A T-Shirt Fit For The CEO Of Tractors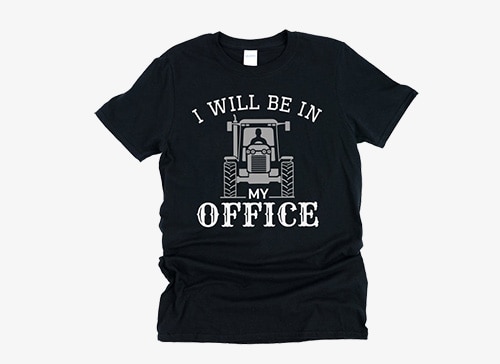 If they always work from home and their "office" has 4 wheels and a plow attached, this is the perfect shirt for them!
The design is screen-printed by hand on a comfortable and flattering ring-spun cotton t-shirt. Choose from black, navy, or dark heather gray.
These shirts are made with heavier cotton than normal t-shirts and double stitched for durability. Plus they're machine washable!
#13 Some Homey Art For Their Wall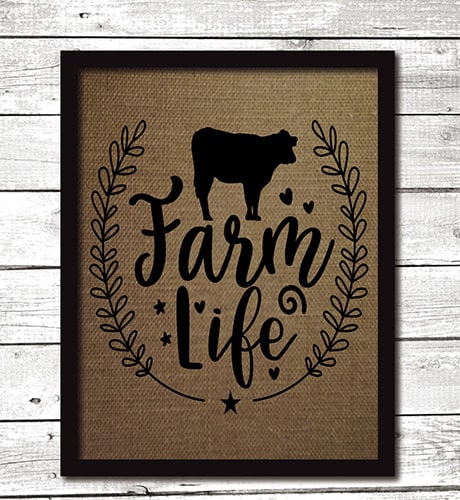 A rustic piece of art that will look beautiful in any farmhouse!
This is the perfect housewarming gift for the first-time farm owners in your life.
These 8.5″x11″ burlap sheets are laminated on the back to prevent fraying and ensure they will look beautiful for years to come!
The archival ink is smudge, scratch, water, and fade resistant.
#14 An Encyclopedia of Everything Chicken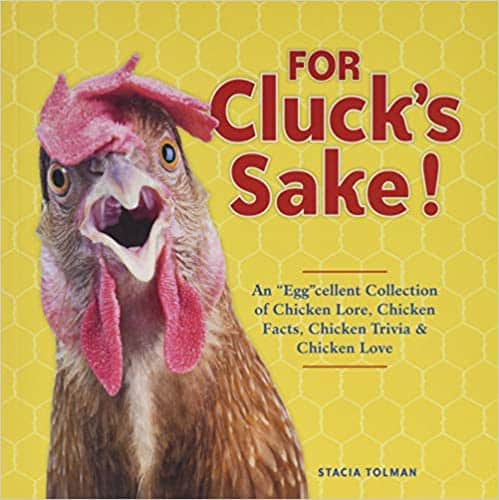 If a visit to their farm makes you say, "look at all these chickens!" then this book is a necessary addition to their bookshelf or coffee table!
For Cluck's Sake is filled with lighthearted and humorous facts about their favorite feathered friends! They might even learn something too, with 96 pages of egg and chicken trivia and lore.
Having raised plenty of her own since she was a child, author Stacie Tolman sure knows her chickens!
They'll even pick up some new chicken-related quotes and "wisdom" for their next Instagram post about their feather babies.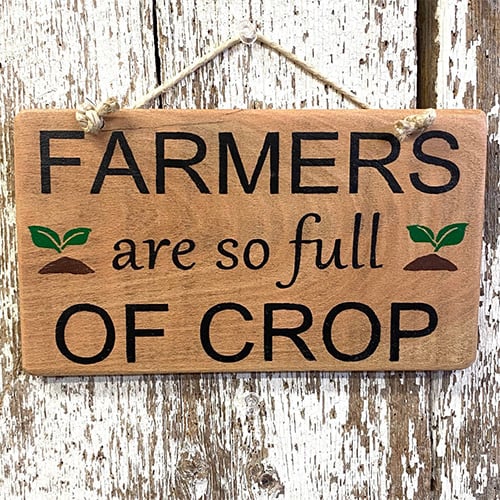 For the farmer with a sense of humor! They can hang this on their front door to welcome guests into their home or make it a witty addition to their bathroom!
These signs are made from reclaimed vintage barn wood that is individually cut, sanded, hand-painted, and sealed. Each one is one-of-a-kind!
Available in either all black or black-and-white, the signs come pre-drilled and ready to hang and include a length of hemp string for their convenience.
The shop will even add an additional urethane coating to protect from UV and moisture if they intend for it to be used outside.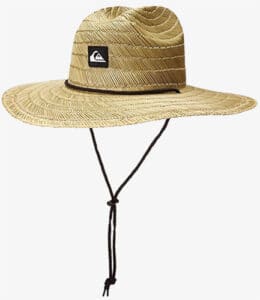 Too much exposure to UV light can cause sunburn and over time lead to long term health issues.
This hat will help them keep the sun off and look great while doing it!
 This Quiksilver straw hat is made from 100% imported raffia straw fiber.
The wide brim provides lots of coverage and the adjustable chin strap will keep it securely on their head without being uncomfortable.
Available in light brown or dark brown.
#17 A Set of Farm House Measuring Cups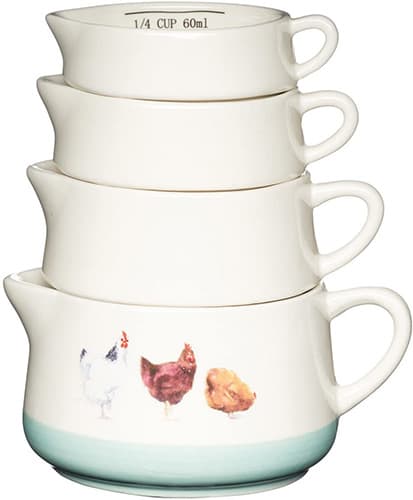 These measuring cups are the perfect addition to any farmhouse kitchen!
The unique jug-style design harkens back to old fashioned milk jugs and rustic farm living. They're decorated with beautiful watercolor illustrations of Henriette, Hilary, and Hazel hen for an extra touch of charm.
Printed with both American cup sizes and their mL equivalents, these measuring cups feature spouts and handles for easy pouring.
When they're done, the cups stack together to make a beautiful display piece. They're even microwave and dishwasher safe! Comes with 1c, 1/2c, 1/3c, and 1/4 c measures.
#18 Gardener Salve Hand Cream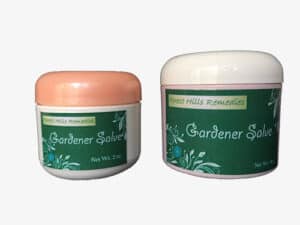 Perfect for dry, cracked, painful hands, and a great way to show your favorite farmer that you care for them.
This thick balm is made from ingredients with natural antiseptic and anti-inflammatory properties like licorice root oil, calendula flower oil, shea butter, and beeswax.
Choose from 1.5 oz, 2 oz, 4 oz, or 8 oz containers.
#19 A Heated Shiatsu Massager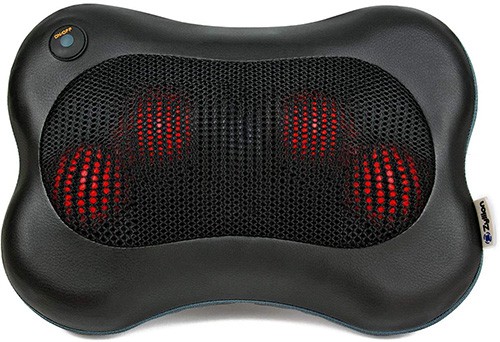 If farming was easy, everyone would do it! But the truth is, it's pretty physically demanding, and your favorite farmer probably has to cope with their fair share of stiff and achy muscles.
The 3-dimensional kneading nodes change direction every minute to provide a deep-penetrating massage to relax even the most tired muscles.
The advanced heating feature can be easily turned on and off so they get exactly the massage they need.
The compact pillow design contours easily to the neck, shoulders, back, and legs. It includes an automatic safety shut off to prevent overheating.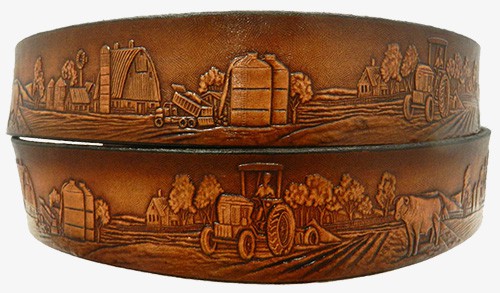 The perfect belt for any occasion!
These are made from real oak-tanned cowhide leather and engraved with a full farm scene featuring everything from tractors and livestock to barns, silos, and farmhouses rendered in exquisite detail.
Belts are made from the thickest leather possible and finished with an exclusive 16-step process to ensure durability. Each one comes with a standard utility buckle and durable snaps so buckles can be interchanged.
You can even have it personalized on the back!
#21 A Personalized Welcome Sign For Their Farm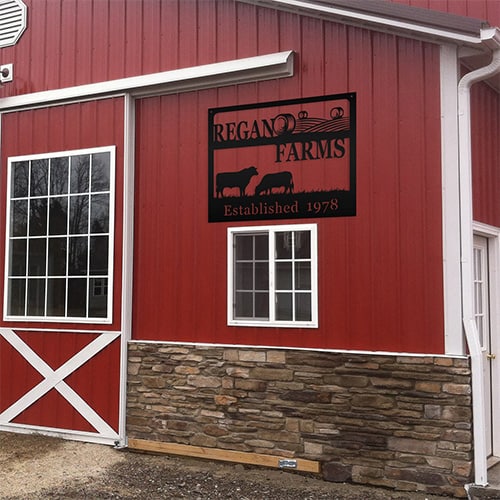 Whether they hang this sign on their house or barn, it's a great way to welcome visitors to their farm!
The minimalist design goes with any decor scheme. Signs are available in a variety of sizes: 12″ to 28″ signs are perfect for indoor use and 30″ to 36″ signs are made from 14 gauge steel and powder-coated to be longlasting indoors or outdoors.
Signs come in 3 different colors and are personalized with the farm's name and date of establishment.