Hummingbird art gifts are very special for mom, and everything related to this beautiful bird is full of good things. In this article we have the best 27 gift ideas in this type of art, to surprise mom on any special date.
Each option that we present, carries enclosed the magic of love, healing power, good luck, and great joy that brings with it the arrival of each spring, a gift in Hummingbird art, is a beautiful message, is to remember the past, and learn to savor every moment lived in life, you cannot miss these wonderful recommendations.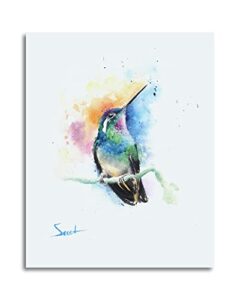 This type of gift is special for mom because it means a reason for hope, and is useful for various occasions.
Being surrounded by the motifs of a bird so significant to life is pleasing. A painting like this one, by SignedSweet, in reproduction of the original watercolor by painter Eric Sweet, on high-quality watercolor paper, shows a stunning hummingbird of the mountain gem species with a purple throat.
You get to select the size you want.
This is where you can get it from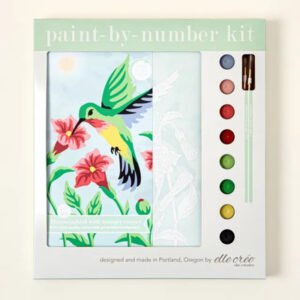 Nothing better for mom than to give her a gift that allows her to fill her free moments by recreating her creativity. This is the ideal gift for her.
It is a kit created by Rachel Austen, for mom to paint these beautiful birds on a very good quality canvas, with pre-printed background, two sable brushes, and eight water-based acrylic paints.
This is where you can get it from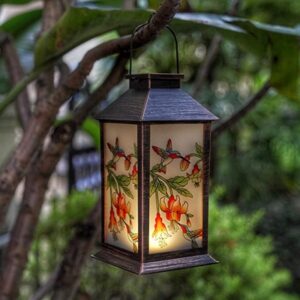 A hummingbird motif solar lantern for Mom's backyard will be a nice gift she will appreciate, especially for Mother's Day, Christmas, birthdays, or Thanksgiving.
This beautiful Excmark lantern requires no electrical connections, as it is powered by 2V/30mA solar panels, recharge during the day, and provides soothing decorative lighting at night through its colorful crystals adorned with hummingbird figurines.
This is where you can get it from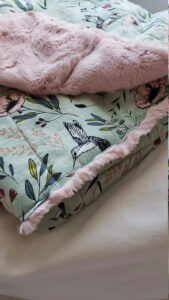 What's better than the thought of restful sleep for a mom?
This blanket from MyThreeBoysLLC is ideal for her, if her birthday is coming up, it's a great alternative to cheer her up with a very useful item. 
This product consists of a 40 x 70" handmade cotton blanket, a 35 x 40" travel blanket, a 15 x 25" lap pillow, a 40 x 80" twin, an 8.5 x 4.5" sleep mask with an elastic band covered in the same type of fabric as the whole set, and a pillowcase.
This is where you can get it from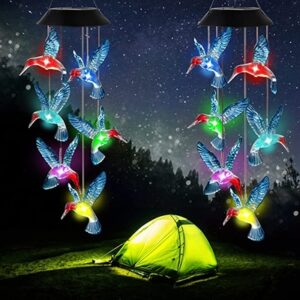 Moms love their gardens, and a pretty, illuminating ornament like these hummingbird-shaped chimes will entice them, for Mother's Day, Thanksgiving, and also a great reason for Christmas.
These chimes are composed of the figures of six luminous hummingbirds, which change color automatically, adding a touch of romance to the garden.
The solar panel charges during the day, for decorative lighting at night.
This is where you can get it from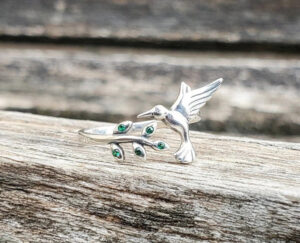 Moms, as all ladies, tend to be flirtatious. A hummingbird ring will fill her whim. 
It is a beautiful ring in Rhinestones, sterling silver plated, adorned with the figure of a hummingbird 1/2 long, and five green gems in five metal leaves. Available in sizes from 5.5 to 9, and delivered in a beautiful jewelry box.
This is where you can get it from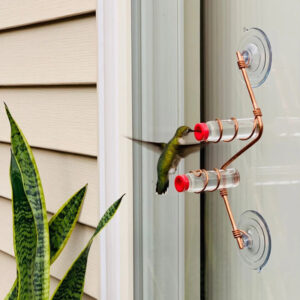 Women have an innate attraction to hummingbirds and what better way to attract them to her balcony, window, or garden, with this special hummingbird feeder. 
The hummingbird feeder has a very decorative geometric shape, equipped with two suction cups to attach it to smooth surfaces, it is made of copper and is provided with two cylindrical glass containers, with a rubber lid, with a hole for the birds to insert their beak.
It will often fill mom's garden with beautiful hummingbirds.
This is where you can get it from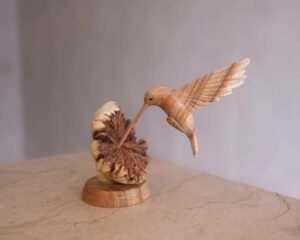 Moms are thrilled with an image that represents infinity, joy, and the magic of life like a Hummingbird. This special wood-carved model will thrill her, no matter the occasion, any date will be the excuse to fill her with joy.
It is a wooden figure of a hummingbird suspended in the air sucking the nectar of a flower. Being able to have it personalized makes it more attractive.
This is where you can get it from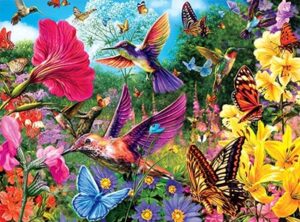 The best thing for mom's free time is to exercise her mind, and nothing like a puzzle with a motif that produces inspiration and peace, such as a figure full of color, nature, and hummingbirds. They'll love these gifts.
This is a colorful puzzle by Buffalo Games, consisting of 1000 pieces, measuring 26.75 x 19.75 inches, and once assembled, it will serve as a picture to decorate the bedroom or living room.
This is where you can get it from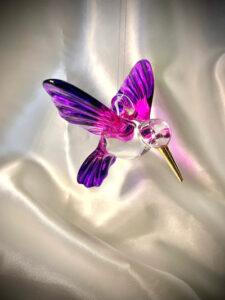 A mom is thrilled with crystal ornaments, and if the motif is a pretty and colorful hummingbird, she will love it more. 
It is an eye-catching hand-blown glass hummingbird hanging ornament with 24 karat gold trim, which brings untold beauty to any environment, and is a great idea for decorating Christmas trees.
This is where you can get it from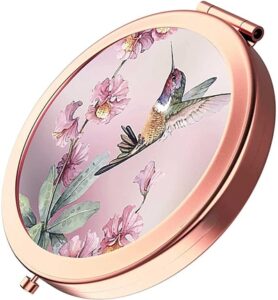 They like to have useful accessories to check their appearance while on the street, or in the office, and she will love this mirror decorated with hummingbird figures, and in a very colorful metal.
It is a very fine, round, gold-plated, double-sided, round hand mirror with magnifying glass, which will be very functional for mom to go to a party looking very elegant.
This is where you can get it from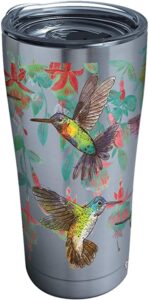 For Mom to have an attractive glass for her drinks is something that will fill us, as well as them, with joy. It's a great gift for her.
Tervis Colorful Hummingbirds, is a glass with a capacity for 20 ounces of liquid, in stainless steel, double insulated wall, with a sliding opening lid. It brings 6 normal straws, and 6 gimbal straws, and keeps a cold drink for 24 hours, and a hot drink for 8 hours.
This is where you can get it from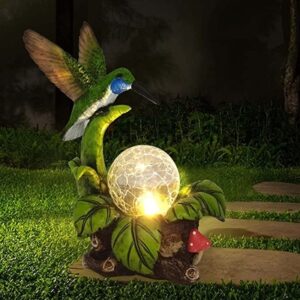 A mom is always a lover of attractive ornaments, the ones that show class, so this hummingbird statue will fascinate her. It is the best gift for a birthday.
It is a statue of a hummingbird perched on a plant with LED lighting that is solar recharged, in durable resin, and with sun, and weather-resistant paint.
This is where you can get it from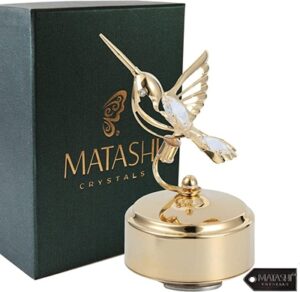 Music boxes are objects that moms crave, ideal for a special occasion.
It is Matashi brand, 24 karat gold plated, is a 3D hummingbird, with crystal embellishments on eyes, back, and tail, represents great value, and will look spectacular anywhere in the home.
This is where you can get it from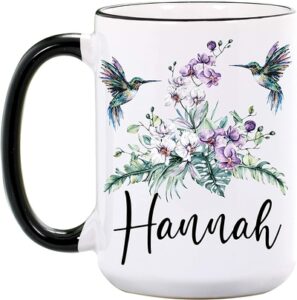 Mom having a large, personalized ceramic hummingbird mug for herself is something that should keep her happy when it's time for coffee, hot chocolate, or any beverage.
It is a mug with a capacity for 15 oz, and 11 oz, in white ceramic with black handle, or white, and on the sides, she'll look at hummingbirds dancing in search of the nectar of flowers.
This is where you can get it from
Pendants are objects that a mother longs for and adores, if they are multicolored, they brighten up her environment. Make it special for Mother's Day.
It is the hummingbird figurine handmade with glass beads and thread of different colors that will beautify any home environment.
This is where you can get it from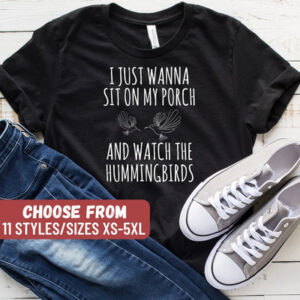 A T-shirt will always be a good gift for a mom, and if it has a hummingbird figure printed on it, even more so. 
It is a t-shirt made of 100 percent cotton, has a striking white print alluding to the hummingbirds on the porch, and is very useful because it can be combined with a variety of garments.
This is where you can get it from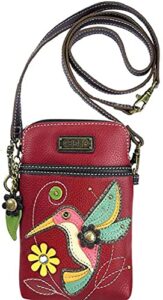 Seeing mom rejuvenated is something we would all like.  With this innovative bag from Chala, it is possible. Ideal for her birthday.
It is a leather bag, with a colorful hummingbird design, it has two adjustable straps to the length you want, it is very useful as a handbag, purse, and for the cell phone.
This is where you can get it from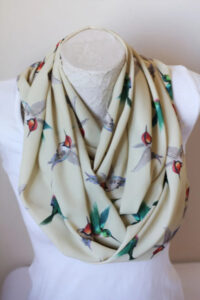 Mom's elegance should be a priority, this beautiful scarf will fascinate her on her birthday.
It is a fine chiffon scarf with colorful hummingbird prints, 62 inches long and 9 inches wide, which for its lightness and elegance matches many types of outfits.
This is where you can get it from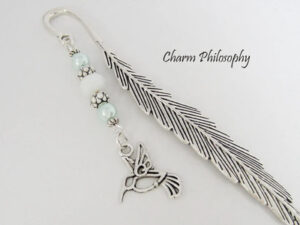 Mom needs to keep her accessories up to date, even if it's a bookmark. This hummingbird bookmark makes a great gift for any book lover who also loves Hummingbirds.
This Hummingbird bookmarks are Tibetan silver, with a silver-plated hummingbird, glass beads, design selectable in four options, and beads in 49 alternatives.
This is where you can get it from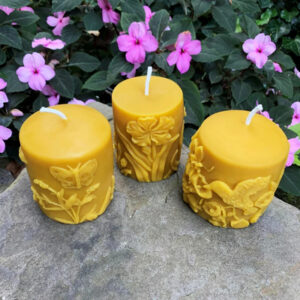 Wax candles are a must-have in any home, and moms love them – they're a useful gift she'll thank you for.
They are 100 percent beeswax, set of short candles, with hummingbird, butterfly, and flower, in high relief, they are very useful in any home and leave pleasant bee fragrance when lit.
This is where you can get it from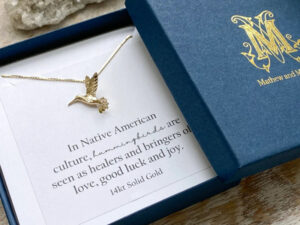 Gold jewelry is always a good gift for such an important person like mom, the best for Mother's Day.
This gold necklace with a 14k solid gold hummingbird, you have the advantage of selecting the length from 16 to 24 in, and the style of the hummingbird, in Gold Filled, or Solid Gold.
 It is a handmade piece, which represents great value to the one who owns it.
This is where you can get it from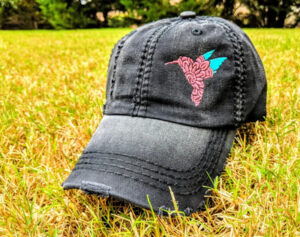 Wearing an attractive cap makes mom look more jovial, a gift for any occasion.
DistinctHeadwear offers them the alternative of selecting the color of the cap and the color area of the hummingbird. It's a garment that looks pretty, attractive, stylish, and also provides protection to shield the skin from the sun.
This is where you can get it from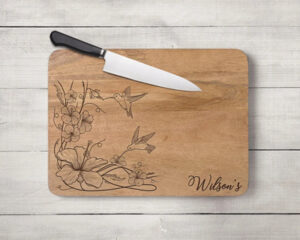 They like to have necessary and useful items in the kitchen like a cutting board, the usefulness of which makes it a gift option no matter what the date.
This cutting board for the kitchen can be selected by type from six options and can be personalized with a name or quote. They are a real helper for mom in the kitchen chores.
This is where you can get it from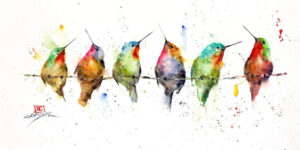 They, more than anyone else know the value of art. This Watercolor Wire serves as a birthday, Mother's Day, or Christmas gift.
It is a watercolor print by painter Dean Crouser with six hummingbirds perched on a wire, represents value, is limited edition, and has the author's signature.
This is where you can get it from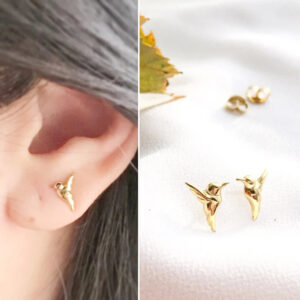 She should always look regal, and hummingbird earrings look extraordinary. Perfect for her birthday!
They are made of 925 sterling silver plated in 14k gold, with the figure of a hummingbird with wings spread, has a great meaning, and represents a valuable asset.
This is where you can get it from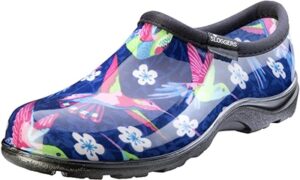 Mom's footwear and the comfort it provides are of great importance because her feet deserve care.
They are Sloggers shoes, ideal for rainy weather, provided with comfortable insoles, bright color stamped with flowers and hummingbirds, and are useful in the street, and home, for household chores.