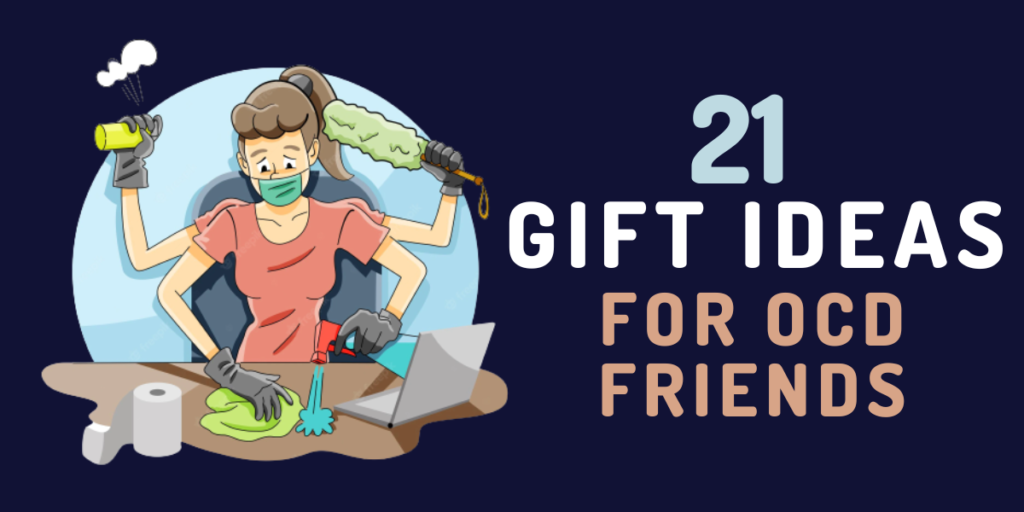 OCD, or Obsessive Compulsive Disorder, is a type of mental condition that makes people do certain things repeatedly. People with OCD have certain compulsions or obsessions. For example, some people might be very particular about washing their hands each time they touch some surface. Others may experience a compulsive need to keep their things in a specific order only. They get paranoid when they see a slight change in this pattern.
People can control their OCD behavioral patterns by doing mental conditioning exercises like yoga or meditation, reading self-help books, surrounding themselves with positivity, etc. Sometimes, they can also opt for psychotherapy treatments to get rid of OCD and the anxiety surrounding this condition.
Do you have a friend with OCD? Here is your chance to make her feel special with one of these 21 gifts. Thanks to these gifts, your friends will feel loved. Through these gifts you can make her realize that OCD is not a serious issue, but only a part of her life that needs to be taken care of, at times.
1. A coffee mug with the exact message for an OCD friend
Are you looking for a perfect gift for that OCD friend, who wants everything to be in perfect order? Does her obsession with orderliness make you crazy most of the time? Here is a great gift for such a friend.
This may look like a pretty ordinary coffee mug, until you read the wordings on it.  A person with OCD likes to keep everything in perfect order, all the time. This mug has a funny take on this quality, as it mentions OCD as CDO, just because the letters are in proper alphabetical order in the latter!
How about gifting something funny, witty and affordable at the same time for your OCD friend? If you thought this was too good to be true, have a look at the rustic wooden sign that we have chosen for you. This wooden sign looks classy, and comes printed with the exact words that go through the minds of a person with OCD.
Your friend will love this so much that she wouldn't think twice before hanging this in front of her living room, main door, or kitchen. This sign uses durable water-based ink for the letters. So, you can be assured that this one will last for a long time.
3. Coasters with a beautiful message
We all know how our OCD friend would go paranoid when we visit her place. She wants the furniture and everything intact at her home, even when we have a good time eating and drinking. She ensures that even the small details, like coasters, aren't out of place, even for a second.
So, here is a thoughtful and funny gift for such a person. These coasters contain a pleading message from the OCD friend to the rest of her friends to avoid messing up her table when they visit. These coasters are not only beautiful but functional as well, as they can be used with all sizes of cups and mugs.
If you have been looking for a gift for a Christian friend with OCD, your search should end with this beautiful and meaningful gift.  OCD is not something to be made fun of.
People with OCD go through many struggles and anxiety disorders to gel with others and lead a normal life.
Here is one such gift for that friend who is trying to come out of her OCD issues and battle her anxiety issues.
This book, "Strivings Within" is the right choice for the OCD Christian, who is looking for ways to fight the demons inside her head.
Here is an attractive gift for an OCD gift for a friend. This notebook journal comes with a beautiful cover, which reads, "Things That Give Me the OCD Twitches." While the cover itself is funny, this gift is entirely functional as well.
It comes with 120 lined pages, with a heavy top line for you to show the title. The journal is thick, sleek and trendy, making it a great gift for anybody with OCD.
If a person has OCD, she will judge you for everything you do and don't. She will judge you even for the language you use. Sounds quite creepy, isn't it? However, they mean no offense to you, and they keep their judgments and opinions to themselves,
So here is a coffee mug that you can give them to let them know that you are aware of what they do when they are with friends. Your OCD friend is sure to have a good laugh at the message on this mug, when she unwraps it.
Do you want to help a friend dealing with OCD and trying different ways to sort the issues in her head? This book, "Stopping the Noise in Your Head" by Dr. Reid Wilson, Ph.D., is one of the best gifts you can give them.
This book will help them with tips and tricks to get rid of anxiety attacks, phobias due to OCD and other worries.
This gift will bring about phenomenal improvement in the lives of a person with OCD. For this reason, she can never thank you enough for this gift.
Here is an OCD-themed gift, with a festive twist to it. If you have been looking for the perfect Christmas gift for an OCD friend, here it is. While we all know that OCD stands for Obsessive Compulsive Disorder, this mug gives a funny take to the entire meaning.
This mug gives the full form of OCD as Obsessive Christmas Disorder, making it an apt gift for the Christmas season. With the bright festive colors of green and red in them, this cup is funny, attractive and functional at the same time.
Here is a great gift for a friend who is obsessed with doing things a precise way. This notebook is one of the gifts that your OCD friend will enjoy a lot.
It comes with a reminder, but in a funny way. It is bright yellow in color, and it can also be a beautiful desk accessory for anybody keen on being organized.
10. Coffee mug with a witty message
This witty message on a coffee mug is designed for a person with OCD. Here are the words printed on this mug – "I have OCD, but I prefer ADD because the letters are alphabetized. And that's calming".
If these words don't convince you to buy this mug for your OCD friend, we don't know what will! This 11-ounce, the high-quality ceramic coffee mug is affordable, attractive and perfect in its own way.
Does your OCD friend love cats too much? Here is an attractive magnet that you can gift her to see the smile on her face. This magnet is oval in shape, and has the words, "Obsessive Cat Disorder" written on it.
It is made in the USA, and it has a dimension of 4×6 inches. Your friend can stick this on her car, refrigerator, work desk, or anywhere else, where can she can flaunt her personality to others.
Here is a tin sign that details the toilet rules you have to follow when visiting a OCD friend's house. Made from 100% tin, this is a durable sign with a funny but meaningful message. It reflects the paranoid nature of people with OCD, especially when they have guests visiting.
When your friend opens this gift and reads the message on the sign, she is bound to have a hearty laugh about it. She will proudly hang this sign in front of her garage or bathroom, front door, etc.
13. Christian Strategy to get rid of OCD
Here is yet another powerful gift that you can gift to someone with OCD. This book, "Taking OCD Captive" by Mike Patterson, gives some brilliant Christian strategies to get rid of OCD and its anxiety.
This is a great choice if you want to relieve someone of the constant pressure and negativity related to OCD.
A journal is one of the best gifts for someone close to you. It helps people to note down important points and organize their life in a better way.
What can be a better gift than this journal for an OCD friend? The cover of this journal contains a brief definition of OCD, so that everyone knows what it is all about.
Your friend will love to carry this journal with her wherever she goes, as she wouldn't mind showing off the beautiful words with her group.
15. Love for someone with OCD
More often than not, people with OCD cope better when they have their family and loved ones supporting them. So, this is a gift for a friend who has an OCD person in his family.
"Loving Someone with OCD" is a guideline for family members of OCD people. It gives strategies for them to support this issue and not treat it as a serious mental illness.
Even today, many people don't know the complete meaning of OCD. So, here is a t-shirt that aims to improve the awareness of this condition. 
The t-shirt is thick and durable, making it highly functional. However, the words on the t-shirt stand out from the rest of its features. "I'm not a control freak, but you are doing it wrong" – these words are sure to make your OCD friend appreciate this gift very much.
This coffee mug will be one of the best gifts that your OCD friend receives on her birthday, anniversary, or any other special occasion.
The words printed on this mug may look simple, but it contains a profound psychological concept, which makes it an interesting choice of gift.
"OCD happens to the best of us" – these simple words hit the nail on its head while trying to convey that this mental condition doesn't discriminate against anyone.
Here is a simple notebook that is built to absolute perfection. It comes with 117 rules pages, which you can use while taking notes at school, university, office, or anywhere else.  What's special about this notebook? Its cover, of course!
The wordings on the cover go this way, "It's a Gift and a Curse." People with OCD will perfectly understand what this means, which is why they will love this notebook very much.
"Leaving the OCD Circus" is one of the best books you can gift for your OCD friend. This book is a memoir that contains detailed records on problems faced by people due to OCD, their anxiety, depression and negativity.
It is a personal account of a person's difficult childhood due to OCD, and her recovery with the help of mental conditioning exercise, medication, cognitive therapy and more. This book is sure to motivate your friend to get help at the right time, so that it doesn't become too late.
OCD doesn't always have to stand for Obsessive Compulsive Disorder! Here is a gift that gives a funny take on this condition. Designed for that OCD friend that loves dogs, this ceramic mug comes with the funny and witty words, "OCD- Obsessive Canine Disorder".
The mug also has colorful illustrations of several dogs, which will make your friend fall in love with this gift at first sight itself.  This mug is highly functional as well, as it can be used with microwave and dishwasher.
We hope these gifts make your friend feel special on her big day. It is very important to choose gifts that are not preachy about OCD. Instead, you should choose gifts that are funny and practical at the same time, so that you don't offend anybody. That's exactly what we have tried to do when compiling these 21 gifts for an OCD friend.