Gifts For New US Citizens - 21 Cool Ideas
Well, it wasn't an easy road to get here. There were forms to fill out, an interview to go to, and then that test at the end. But finally, someone you love and care about is a US citizen!
You might have noticed that Hallmark doesn't exactly stock that card next to the "Happy Birthdays" and "Get Well Soons," so you might be wondering where exactly to get a gift that adequately celebrates this occasion.
Well, we've gone ahead and done the research so you don't have to! Here are 21 gifts to help celebrate the new US citizen you love!
#1 A New American Citizen Ornament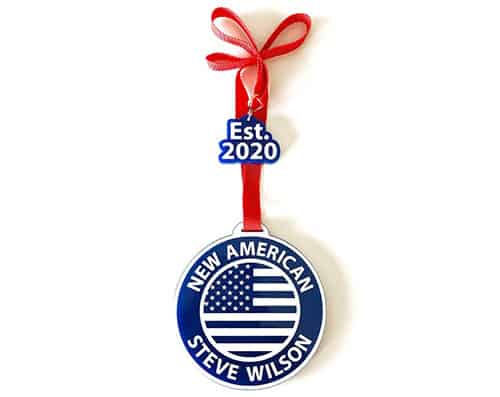 It's a great way to dress up a Christmas tree, but honestly? Even if they don't celebrate Christmas, it's a great little celebratory keepsake they can hang in their home or office to remind them of their accomplishment!
The ornament is handmade from thick acrylic and hung on a grosgrain ribbon loop with a bow. It even comes in a nice muslin gift bag!
Personalize it with their name and year of naturalization, and even add a personal message on the back! Each one is made to order.
#2 An Official U.S. Citizenship Certificate Holder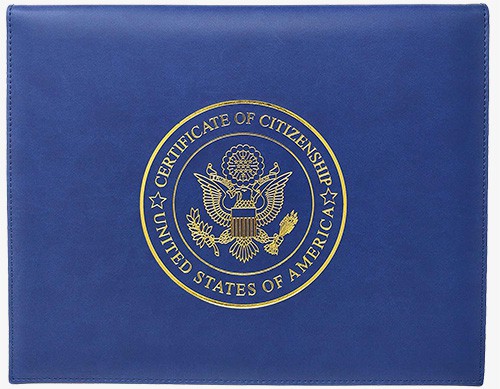 Paperwork might be boring, but that doesn't mean they can't show it off in a really cool way!
These certificate covers are designed specifically for U.S. Citizenship Certificates and U.S. Naturalization Certificates. The Great Seal of the United States is professionally stamped in gold foil on both the front and interior covers.
The high-quality materials won't warp or damage, and are easy to clean with a quick wipe down! You can even include a gift message and have it gift wrapped!
#3 Some Beautiful Calligraphy Of A Quote From President Kennedy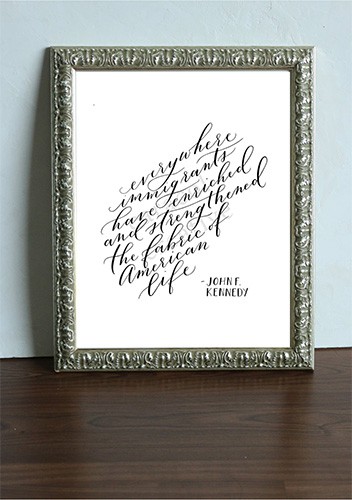 As President John Kennedy once said, "Everywhere immigrants have enriched and strengthened the fabric of American life."
This beautiful quote is a great way to remind them how lucky the country is to have them, and is beautifully rendered in stunning calligraphy!
The original artwork was done by hand, and it was reprinted on natural white matte cotton paper.
It's available in 3 different sizes, but custom sizes can be accommodated. It's also available as a card!
#4 An "American By Choice" T-Shirt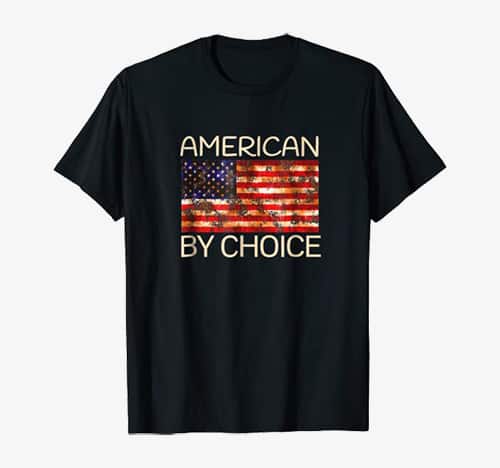 Lots of people can say they're Americans, but it's something else to be able to say they're an American by Choice, not just by accident of birth.
These shirts come in 5 colors and are available in men's, women's, and youth sizes. They're lightweight and comfortable, with a double-needle sleeve and hem for extra durability.
It's the perfect way to help them show off their new citizenship!
#5 A Print Of That Emma Lazrus Poem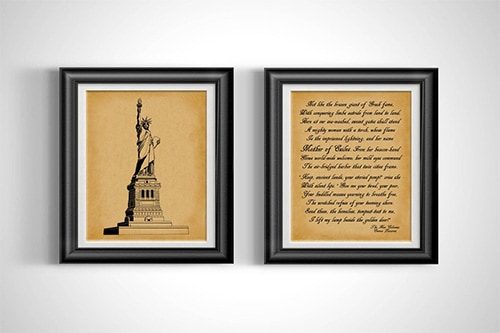 The Statue of Liberty (which actually stands in New Jersey's waters, not New York's) is the classic symbol of immigrating to America, as well as the Emma Lazrus poem printed at the base: "Give me your tired, your poor, your huddled masses yearning to be free…"
This set of 2 prints features the Statue on one and the poem on the other. They're available in 6 different colors and 6 different sizes.
You can even order digital prints that will be emailed to you almost immediately if you don't want to wait for the physical prints to be shipped!
#6 An American Flag Sherpa Throw Blanket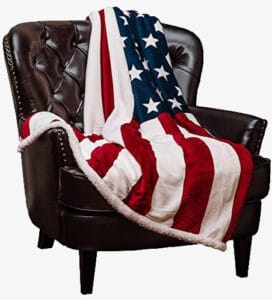 A great way to give them warm, fuzzy, welcome feelings–literally! This microfiber sherpa throw will be the softest, comfiest blanket they've ever owned!
They can use it as decor to proudly display their new patriotism, or wrap up in it when it gets chilly! Measuring 60″x50″, it's perfect for both couches and beds.
This blanket can even be machine washed and dried, so they don't have to worry about treating it with extra-special care.
#7 A Two-Flag Transition Photo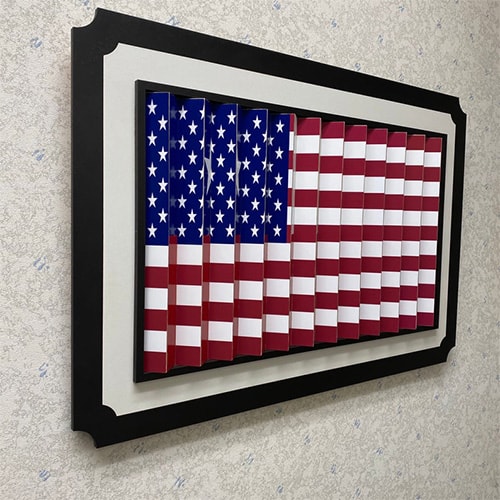 A perfect way for them to celebrate their roots and their new citizenship simultaneously! When viewed from one angle, it will show the American flag and from the other angle, it will show any flag of your choice!
You can also add an engraved plaque with a special message and choose from 3 different frame styles.
#8 A New American Citizen PopSocket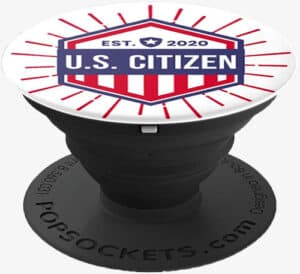 They always have their phone on them, so this is the perfect way to easily humble-brag about their big achievement! Not only that, but it's incredibly practical!
They can keep their phone propped up when they're watching videos or video chatting and stay hands-free, or just keep a good grip on it so they're not a new American citizen with a seriously cracked phone!
The advanced adhesive is easy to remove and reposition and works on most smooth, hard plastic phone cases. This is the original PopSocket brand, not a knock off!
#9 A Two-Sided Bottle Stopper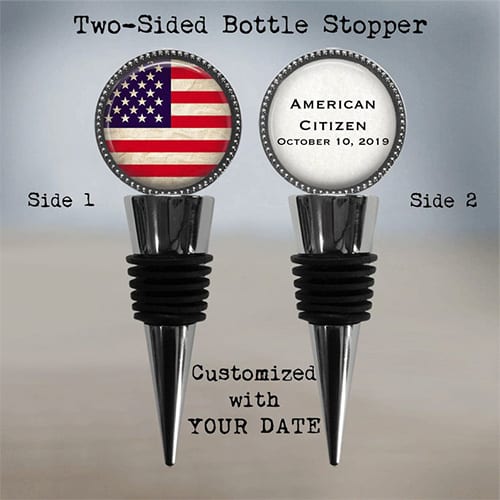 Being granted their American citizenship is a great reason to pop a cork!
And when the celebrations wind down, they can keep any leftover bottles fresh with their own personalized bottle stopper!
These bottle stoppers are made from an eco-friendly zinc alloy and features a silicone rubber gasket that creates an airtight seal!
On one side, the stopper features an American flag and on the other side, it features a custom message including the date they became a citizen! It comes in a velveteen gift/storage bag with a care card.
#10 Or A "Kiss Me I'm American" Phone Case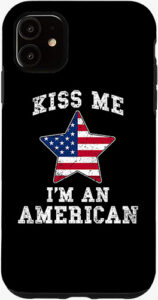 This is a slightly cheekier way for them to subtly boast about their recent citizenship achievement every time they answer a text or snap a selfie!
This phone case is available for iPhone models SE through the iPhone 11 Pro Max, and several Samsung models as well!
The retro distressed grunge design is edgy and cool, perfect for a younger person who just got their citizenship.
The case is made from a scratch-resistant polycarbonate shell and features an absorbent TPU liner to shield against drops. It's printed in the USA and easy to install!
#11 A Patriotic Lapel Pin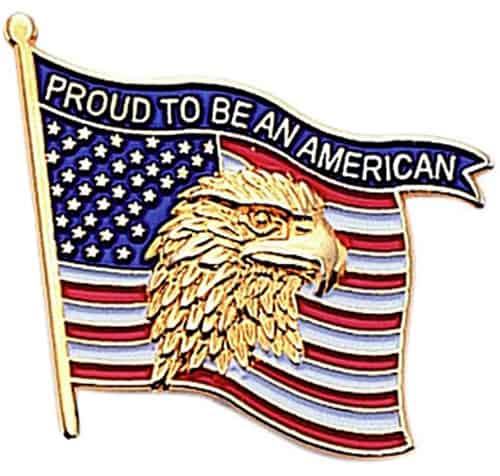 This is the perfect way for them to express their pride and love for their new country in a subtle, formal way.
This lapel pin features a golden eagle against the backdrop of an American flag, with the phrase "Proud To Be An American" flying overhead.
The engraving is incredibly detailed, creating a 3D raised logo effect. The enamel creates bright, vibrant colors.
This pin comes with a military clutch back and measures just over an inch across.
#12 A Jim Shore Americana Santa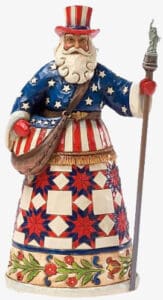 Perfect for the new American citizen who loves Christmas or got their citizenship right around the holidays!
This statue is part of the Jim Shore Heartwood Creek folk art collection and is made from high-quality, handcrafted stone resin and measures just over 7″ tall.
This patriotic Santa Clause features a geometric stars and stripes pattern, and is sure to be a hit all year long!
#13 A Personalized Wall-Mounted Bottle Opener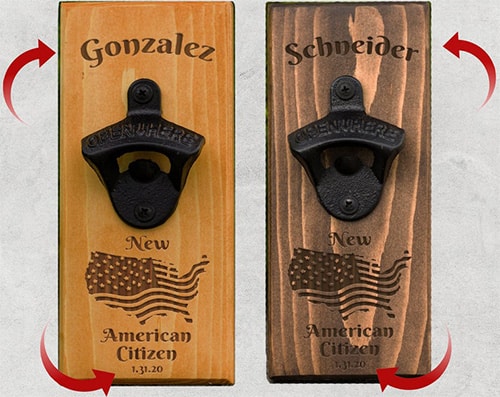 Because what's more American than cracking open a cold one with the boys?
This item is handmade from real wood and stained in either an oak or walnut finish. No two will ever look exactly the same because of each piece of wood's unique grain.
It features a vintage, cast-iron opening tool. Your customization–their name, the date they became a citizen, and the congratulatory message–are laser engraved onto the tool and will never fade!
Instructions and installation hardware are even included!
#14 A Collection Of Patriotic Socks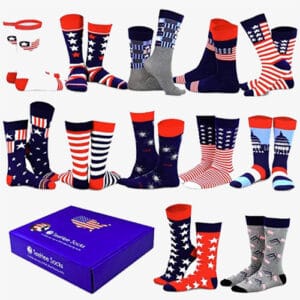 These are a fun and quirky way to help them celebrate becoming an official citizen of the United States of America!
This collection comes with 12 different socks they can wear to show off their newly-acquired national pride.
Socks fit women's sizes 9-11 and 10-13. They're machine washable and easy to care for.
They can even have fun mixing and matching them! They can be worn all year round for years after they get their citizenship, but they're an extra fun way to accessorize a 4th of July outfit!
#15 A Set of World Flag Cufflinks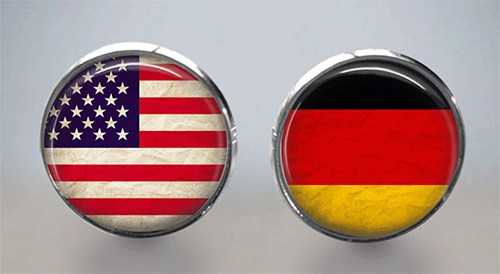 These cufflinks are the perfect way to show their patriotic pride, and also pay respect to their country of birth. You can choose either two American flags, or one each of an American flag and their birth country. Any nation's flag is available!
Choose from 3 different metal finishes: bright silver, antique bronze, or bright gold. They're both nickel and cadmium-free, and care instructions are included. They make a perfect, subtle addition to any suit!
They arrive in a velveteen gift bag, ready to gift!
#16 A Flag Made From LED String Lights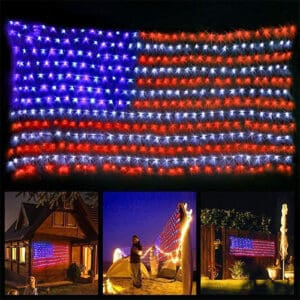 For the new citizen who just can't contain their patriotism, now they can shout it to the whole neighborhood in bright lights! These low-voltage outdoor lights are durable and safe, made from quality copper wiring with PVC coating.
Lights are also waterproof and designed for outdoor use, and they're super bright without consuming a lot of energy! The flag measures about 6.5″ across by 3.3″ tall, larger than any other led light flag out there!
It's the perfect way to announce their new citizenship loudly and clearly!
#17 A Fun Mug For The New American Gamer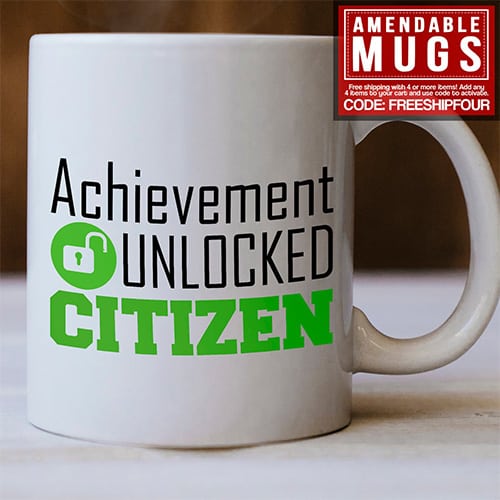 They might be a pro at video games, but their greatest Final Boss Battle was that civics exam they needed to take. Now that they've passed, help them celebrate with a gift that really speaks to their soul.
This mug is available in either an 11 oz or 15 oz capacity. The design is printed on both sides using the highest quality ink that won't fade no matter how many times it's washed.
Speaking of washing, this mug is both dishwasher and microwave safe!
#18 A Customized Bracelet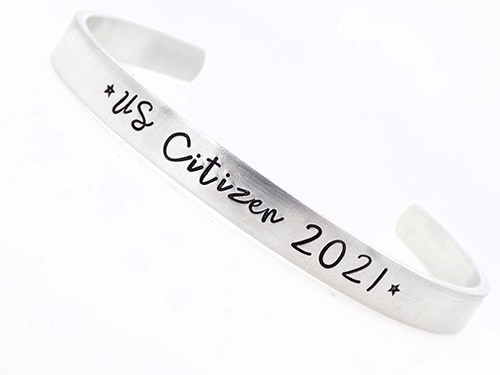 This chic and simple cuff bracelet is the perfect way to celebrate a new citizen! It's handmade from aluminum and is easy to slide on and off, then adjust so it stays on their wrist!
This metal is super lightweight and won't tarnish. Available as either a 6″ cuff or a 7″ cuff.
Each cuff is stamped by hand and personalized with the year they got their citizenship, and no two handmade items are exactly alike!
You can also give yourself less work to do and add a gift box for a small fee!
#19 A United States-Shaped Cutting Board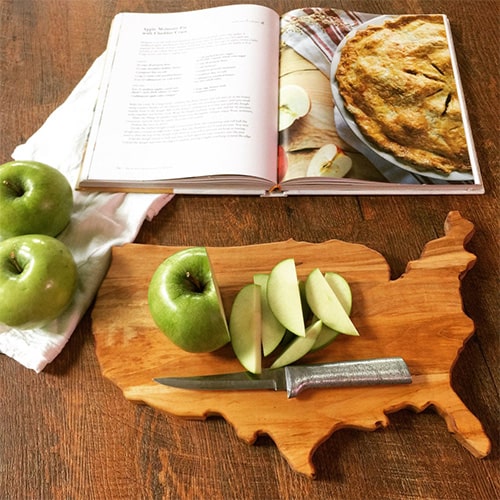 Perfect for all of those Apple Pies they're now legally obligated to be making! They can hang it up as a decoration, or actually use it to cook!
From tree to finished product, this cutting board doesn't leave its Western NY Homestead until it's shipped to you!
To preserve the beautiful quality of the wood, it's finished with food-safe mineral oil.
All cutting boards come with instructions on how to care for and maintain them.
#20 A New American Citizen Bookmark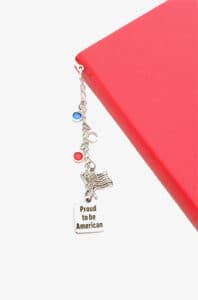 Perfect for the reader who just became a citizen! This chain bookmark is made from stainless steel and the "Proud to be an American" charm is laser engraved.
It also features an antique silver flag charm, and you can add their initials and birthstone! The bookmark also includes a red gem, a white gem, and a blue gem.
The standard bookmark size is 3 1/2″ long, but can be made to any size! Choose from 5 gorgeous and richly-detailed designs for the staff of your bookmark.
#21 A Cute Mug That Lets Them Know You're Glad They're Sticking Around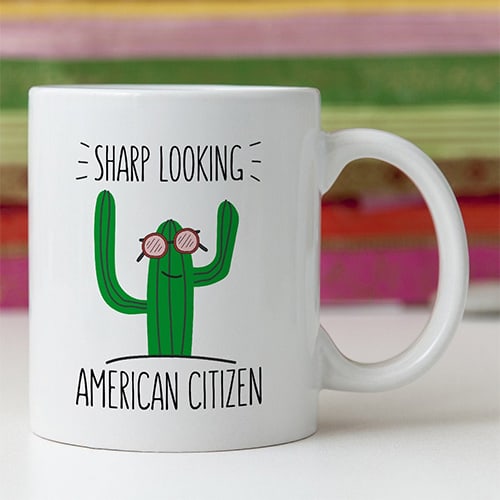 Who doesn't appreciate a good pun? And one thing is for sure: caffeine is a universal language!
This mug is the perfect way for them to sip their morning coffee or tea before heading out to make the country a better place! it comes in both 11 oz and 15 oz capacities.
The mug itself is made from high-quality ceramic and the design is actually printed onto both sides of the mug, not just a decal.
It's dishwasher safe and won't fade or chip away over time. You can also put it in the microwave!