It wouldn't really come as a surprise for most of us to have our mothers as the first significant woman in our lives.
There are also probably not enough words we can use to describe the sacrifices our moms must endure for us as their children – from carrying us in their wombs to taking care of as well as guiding us while we are growing up and even throughout the rest of our lives.
But no matter how much we recognize our mothers for all their love and effort, we can and will eventually make mistakes and hurt them.
During those moments, the following are creative and sometimes humorous ways to say sorry and how much we love our moms: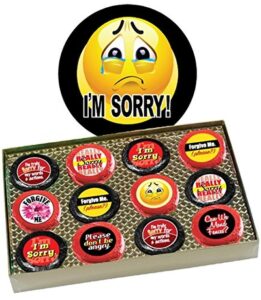 For most moms who have a sweet tooth, what can be better than cookies – except to completely cover these treats in chocolate?
Words and emojis on every individually wrapped cookie that express your remorse for whatever you've done (or failed to do) just make these sweeter and something she will surely take time to enjoy.
This is where you can get it from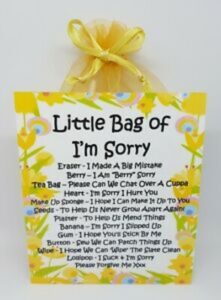 It contains a bag of mixed things with clear messages showing your remorse for your actions.
They say that working on a relationship is "all about the little things", and this "Little Bag of I'm Sorry" is surely full of them – twelve to be exact.
The number of assorted items included in the bag will help ensure that there's something in there for everyone, and together with the witty apologetic explanations for each will deliver your clear-cut message for your mom.
This is where you can get it from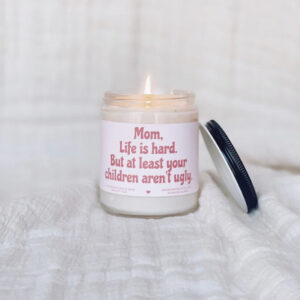 These soy candles are environmentally friendly and last longer than other types of candles, aside from having customizable scents and sizes.
A good-spirited remark on the label on how beautiful you are like your mother's children will also be a great confidence booster – especially when you remind her on who you take after.
This is where you can get it from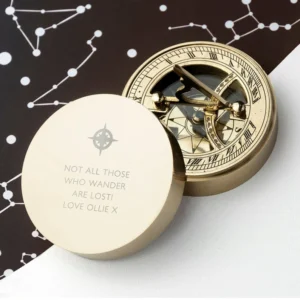 Imagine finding a way to say sorry with a compass?
Nice. This is perfect not only for mothers who love the outdoors and have experience orienteering but also to give these special women a physical symbol of how they gave our lives direction.
Its combination of brass, glass, and leather gives it a classic and elegant look, aside from offering further customization through your own unique eighty-character message.
This is where you can get it from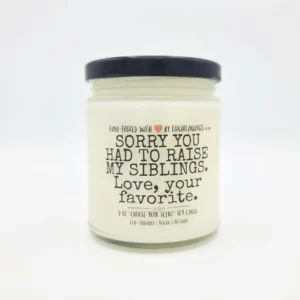 Whether you were the one with the good head on your shoulders, or the problem child who caused all her headaches, this candle can still serve as your ideal gift for your mom.
With a hint of lighthearted sarcasm, either way, this nicely packaged and well-worded candle will be truly memorable for any mother who receives it.
This is where you can get it from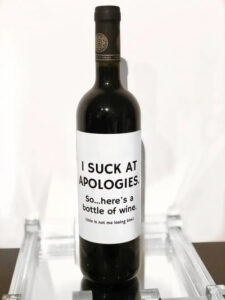 Some people may not only find it hard to say sorry to anyone – even their mother. With this humorous bottle label that you can also have your personalized message printed on, you can shift your focus on enjoying a glass of wine and each other's company.
This is where you can get it from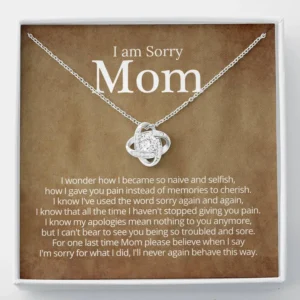 This 14-karat white gold with embedded zirconia stone combines a beautiful love knot design with a heartfelt poetic promise as part of its container.
Symbolizing the true love that exists between mother and child, this can be a great and inspiring conversation piece for any mother.
This is where you can get it from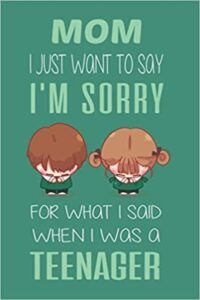 We can really engage in a lot of foolishness in our actions as well as our words during our teenage years.
This notebook's cover has what you probably may have wanted to say for some time already, so thoughts on better days ahead can start to be written in its pages by your mother.
This is where you can get it from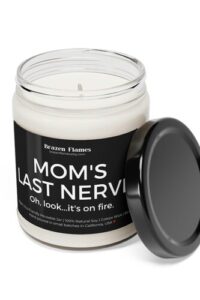 A candle with a humorous message befitting mothers who have explosive displays of anger.
Rather than sugarcoat this part of her personality, gifting your mother with this item not only amusingly acknowledges her temporary fits of rage, but shows that you still love her despite these instances.
This is where you can get it from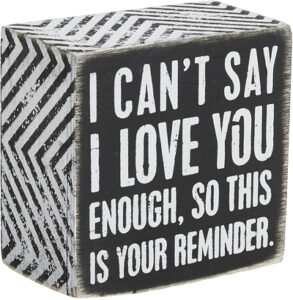 Although actions may sometimes speak volumes louder than words, it is still great to let the people know how much we love them with what we say.
For people who find comfort in silence, or who just want to constantly express the grandness of their love for their mom, this can be a simple and sweet token.
This is where you can get it from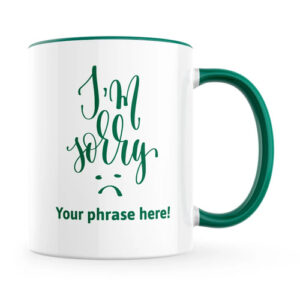 This mug's message is a witty tribute to the many sacrifices of motherhood, with its actual example serving as something to easily relate with for moms. It is a present worth considering for gifting by children who have become remarkable achievers, as well as those who have been naughty but endearing, to their mother.
This is where you can get it from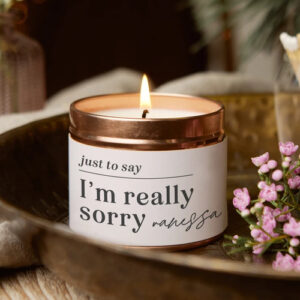 The lavender scent of this candle is nothing to scoff at, but the candid message on its container takes it to another level.
This gift lets you show that you know how serious the past events you had let your mother endure in the past were, but also diffuses the situation with some comedy.
This is where you can get it from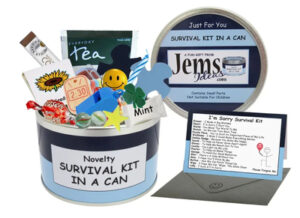 Seventeen assorted items in a can with a gift card relating to why each piece shows how much your mother means to you make for a memorable present. This is an appropriate gift to be given by children, and those who also see themselves as kids at heart.
This is where you can get it from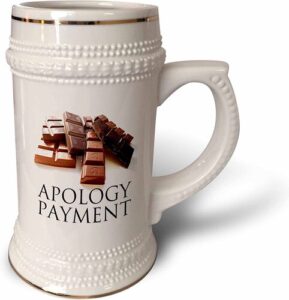 This ceramic mug is colorful – even in the language used in its messages. Swear or cuss words do have appropriate instances when they can be used appropriately and being part of a family should enable us to be straightforward while still having some good-natured fun about events in the past.
This is where you can get it from
This can help you pay homage to the saying "mothers know best", especially when your mom is the type to be constantly on your ear all the time to guide you. More than just the card, the validation your mom would feel receiving this card makes this worth its price.
This is where you can get it from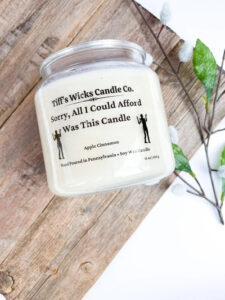 Despite the message jokingly downplaying your financial prowess, this candle does not scrimp on its materials and quality. The numerous scents and sizes also make it ideal for use in the different areas of the home to create relaxing atmospheres that can last up to more than three days long.
This is where you can get it from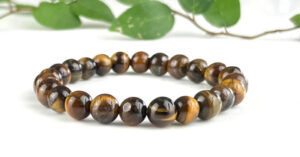 This bracelet is made of tiger's eye gemstones and is said to have stress as well as anxiety-relieving properties. If your mother also happens to be a Gemini or Cancer born during June, tiger's eye also serves as her month's birthstone.
This is where you can get it from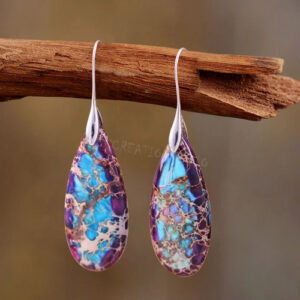 Whether it's a fractured relationship with your mom or the problematic way things are going in her life, these silver oval dangle earrings with turquoise stones are said to bring good luck and safety from negativity. Turquoise is also your mother's birthstone if she is a Sagittarius or Capricorn born in December.
This is where you can get it from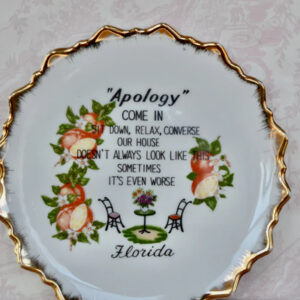 This vintage wall hanging plate with brushed gold trim edges made during the 1970s will be a unique item especially suitable for moms engaging in antique collections. Its funny rhyme on just how disorganized your home can get also adds to the charm of its design.
This is where you can get it from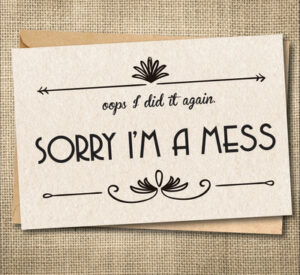 Loving your mother doesn't make you immune from being a repeat offender sometimes, and this card probably helps encapsulate your feelings. Since it is printed on acid-free cardstock, you can be sure that the paper would be as enduring as your sincere words of apology to mom.
This is where you can get it from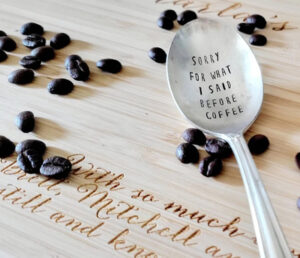 If your mom is a coffee lover, she will surely appreciate this gift with its hand-stamped message expressing how sorry you are to her. While this vintage spoon is carefully made by artisans, the ink used to highlight the engraved letters is nevertheless food safe.
This is where you can get it from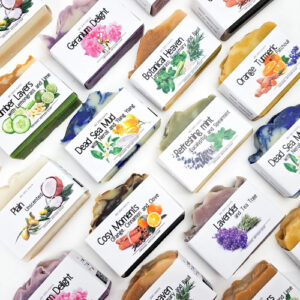 This soap, which comes in meticulously detailed shapes such as blueberry cheesecakes and flowers, looks so good that your mom might probably think twice about using them. Handmade using shea butter and available in other designs and scents, each item is freshly produced only once you order them.
This is where you can get it from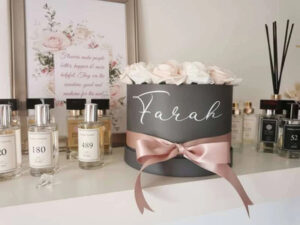 Children looking for something more permanent to gift their moms can opt to give them these foam rose sets which are further adorned with beautiful sparkling diamantes. This elegant gift is available in different box sizes which are also customizable with your message.
This is where you can get it from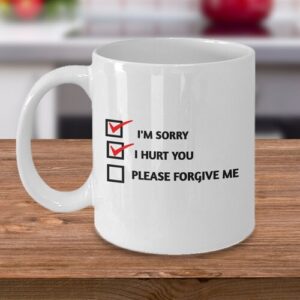 This colorful wine tumbler with its hilarious UV imprinted message helps you greet your mom for Mother's Day, while also apologizing for those troublesome teen years. Along with its dual-purpose greeting, the double-wall vacuum insulated design helps ensure liquids can be kept as hot or as cold as your mother likes.
This is where you can get it from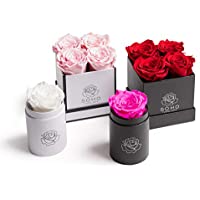 Flowery words and flowers for mom are such a nice way to apologize. Others may contend that fresh-cut flowers may not be the best use of your money since they will eventually wilt away, but don't let that take away from the opportunity to celebrate your mom's womanhood.
Your personalized note on the shipping label will also close the deal on this gift.
This is where you can get it from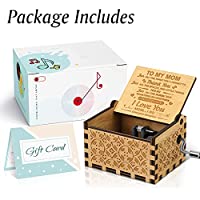 This is a beautiful handcrafted wooden musical box, containing a loving message to your mom and the classic "You Are My Sunshine" tune. Aside from being easy to carry around, this hand-cranked piece also conveniently does not require batteries to work.
This is where you can get it from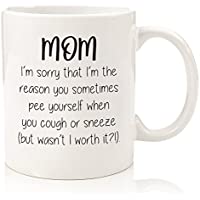 When anybody says that somebody's peed themselves, we automatically think of the person being talked about as being scared of doing something shameful.
This lovely mug flips this common association on its head, with perhaps. There's nothing to be embarrassed about, mom, we love you for giving us life.