Your dad is a Marvel fan. He is not just any ordinary Marvel fan but his favorite Marvel superhero is Captain America. At the same time, he is also your hero for everything he has done. He is a good father, he works really hard, and he is loving. No matter if there is a special occasion like Christmas or his birthday, or if there is none, he deserves a gift.
This is a list of 27 Captain America-themed gifts that you could consider getting for your dad who is as strong and determined as Steve Rogers. As a Marvel fan, these are gifts that he would most certainly enjoy having and using.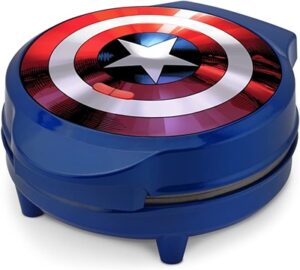 This is a cute Captain America-themed waffle maker. This is perfect for collectors who like to have everything in their homes to be Captain America. With this gift, your dad will always be excited to make breakfast.
It even makes nice Captain America logo-shaped waffles. This waffle maker has nonstick baking plates and can make a waffle that is approximately 6″.
This is where you can get it from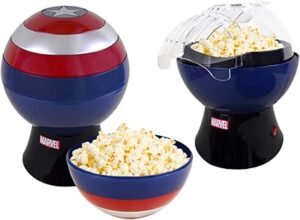 Eat popcorn while you watch superheroes with your dad. This is a nice Captain America popcorn maker to give to him for his birthday. The top cover of this popcorn maker even doubles as a bowl. It is easy to operate and is also easy to clean.
This is where you can get it from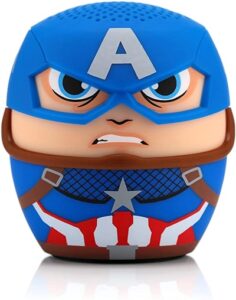 This is a cute Bluetooth speaker with a Captain America design that is perfect for Captain America fans. It is recommended to be used with smartphones. It is very portable with its 2″ size. It connects with Bluetooth 5.0 and has a range of 30 feet. It can play music for up to four hours on a single charge.
This is where you can get it from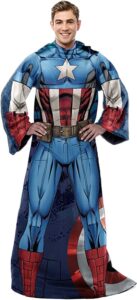 During cold nights, this is what your dad needs. This is a throw blanket that has sleeves so that your dad would stay warm in his office when he works, or during the night when he watches television or his favorite movies. This is a nice comfy blanket that measures 48″ x 71″. It is also machine washable.
This is where you can get it from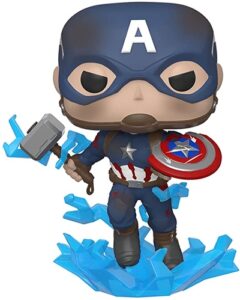 Funko Pop toys are fun to collect. Perhaps your dad does not have this figure yet in his collection. It is a figure of Captain America with a broken shield and Mjolnir. It is from Avengers: endgame. Get this for your dad on any occasion and he will definitely love it.
This is where you can get it from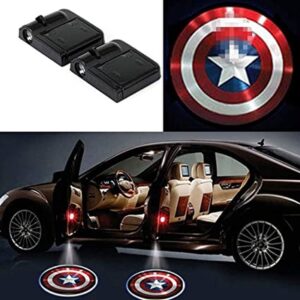 If you are looking for a gift that is very extra, then these are perfect. This is a pair of Captain America logo projectors for the car door. Whenever your dad would then open his car doors, lights will pop up showing the Captain America logo. This is a fun gift to give him.
This is where you can get it from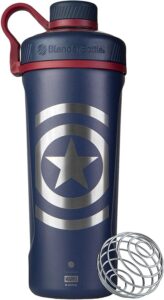 This is a shaker cup with the Captain America logo, making it perfect for Marvel fans just like your Dad. It has a capacity of 26 oz and it has double-wall insulation. It is perfect for mixing supplements as well as smoothies. It can keep drinks cold for up to 24 hours.
This is a nice gift for your dad, especially if brings drinks everywhere and if he likes supplements and smoothies. Or you could give this gift to him to encourage him to stay fit, healthy, and hydrated.
This is where you can get it from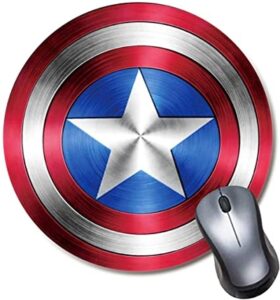 This mouse pad is for dads who love Captain America and who use computers for work or for leisure. Your dad is sure to enjoy his computer time even more with this fun mouse pad. It is 20 cm or 8 inches in size and it is made with premium quality cloth that gives it a smooth surface to glide the mouse in but still has control.
This is where you can get it from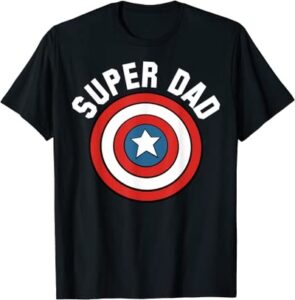 Show your dad that he is the superhero in your life with this Captain America t-shirt saying "Super Dad". This is a great gift for him on Father's Day. It is officially licensed by Marvel and it comes in various colors like black, navy, slate, royal blue, red, dark heather, heather grey, and heather blue.
This is where you can get it from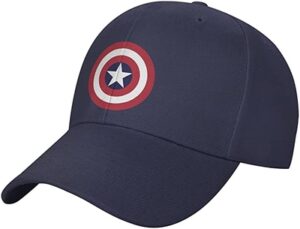 Match the shirt with a cap. Get him this one also to complete his Captain America outfit. This cap is perfect for Marvel fans who just want to have something wearable that reminds them of their favorite character. It comes in a low-key design that is fashionable and simple.
It is made with eco-friendly dyes and with polyester material. It is perfect for the outdoors. Your dad can wear this casually or even to his golf or tennis games.
This is where you can get it from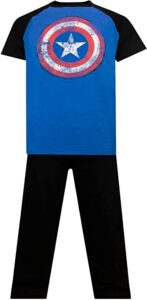 These are Captain America pajamas that you should get for your father as a gift so that he would feel like a superhero even as he sleeps. These pajamas are comfortable and they are also officially licensed Marvel merchandise. They come in a simple design that would surely suit your dad.
This is where you can get it from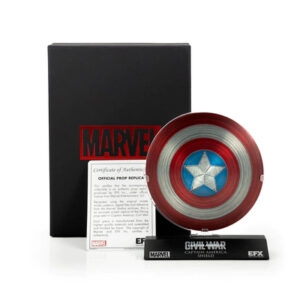 This is a replica of the shield of Captain America which is made of die-cast metal with a marvelous paint job. This is the perfect gift for Marvel fans and collectors of Captain America merchandise. Your dad would be proud to have this in his collection and to put this on display at home. It is a great small-scale reproduction of the original prop with a 1:6 scale.
This is where you can get it from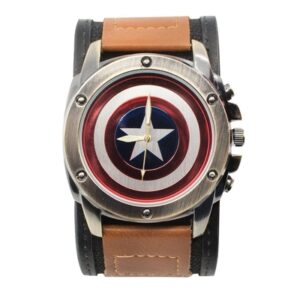 Get your dad this Captain America watch that has an adjustable strap. It is lowkey that if you do not look closer you would not notice the design, thus making it still appropriate for work and even for formal or semi-formal social gatherings. This is an awesome Father's Day gift for your dad.
This is where you can get it from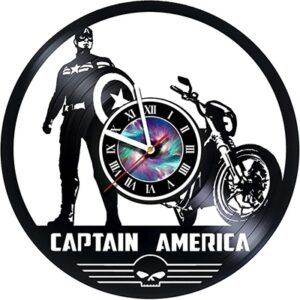 This is a nice decor for your dad's office for him to have a Captain America piece there. It is a handmade vinyl record wall clock that is 12 inches in size. It requires a AA battery to operate.
This is where you can get it from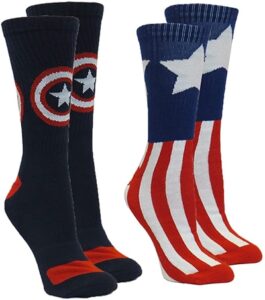 This is a pack of two pairs of Captain America socks that your dad will be delighted to receive from you for Christmas. The pairs differ in design. They are nice to be worn under pants that he can wear anywhere. He could also wear them to bed.
They have cushioned insoles that provide more comfort. These are socks that your dad would enjoy wearing.
This is where you can get it from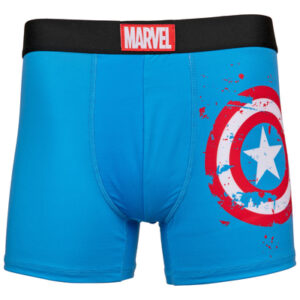 Now, this is a fun gift. If you are looking for a gift that your dad would find funny, this is it. But worry not for this gift is still very functional. It even is comfortable. These boxer briefs are made from polyester and they come in a nice bright blue color with Captain America's shield on the side as the design.
This is where you can get it from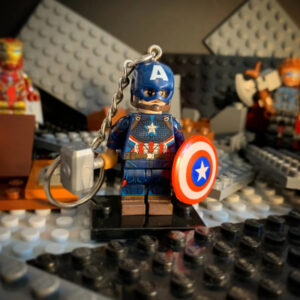 This is a cute Captain America Lego keychain that would make a nice gift for your dad for any occasion. With this gift, he can now look at Captain America whenever he wishes to. He can simply hang this on his bag, use this for his keys, and whatnot. This is a cute gift that he will appreciate.
This is where you can get it from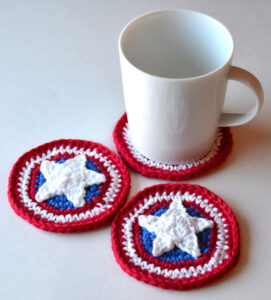 Get this handmade coaster set for your dad that he can use for his drinks. He may even host a costume party and use these coasters then. Or he may use them for every meal, during his coffee sessions, or even at work. They are made with 100% cotton yarn.
This is where you can get it from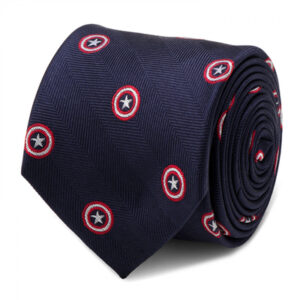 Give your dad a nice Captain America tie for his birthday. It measures 59″ x 3″ and is made with 100% silk. It looks really sleek and you can really tell that it has great quality. This tie is also officially licensed. Your dad will definitely feel like Steve Rogers wearing this tie.
This is where you can get it from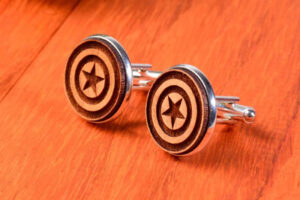 Aside from the Captain America silk tie, you should also get your dad these Captain America cuff links. They bear the Captain America logo and they look really nice. They are handmade and made with wood and silver-plated metal. This will be a really nice gift for him to receive on Father's Day.
This is where you can get it from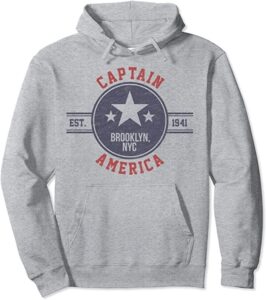 Get your dad this hoodie so that he can always be in style and wearing Captain America whenever it is cold. He can wear this casually, as loungewear at home, when he works out or when he jogs, when he travels, or simply whenever. It even has a nice vintage print.
It is a classic fit in heather grey color. It comes in sizes small to 2XL. It is also unisex so you may even get your mom a matching hoodie.
This is where you can get it from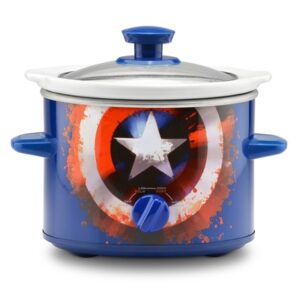 Sometimes it gets tiring or boring to cook but with this slow cooker, cooking will always be fun. It has a cute Captain America design. It has low, high, and warm cooking settings too. The round stoneware insert is removable and the lid is tempered glass. This will make a fun appliance to use at home.
This is where you can get it from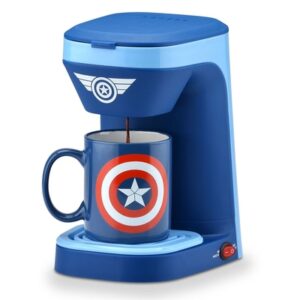 Here is a unique coffee maker that your dad will surely adore. It is the perfect gift for any occasion and it will be appreciated by dads who love both coffee and Steve Rogers. Make his morning coffee more enjoyable with this coffee maker that even comes with a matching mug.
It can serve one coffee at a time. It can also be easily used and cleaned. It will make a fun item to use at home or at your dad's office. Making coffee will never feel like a chore anymore.
This is where you can get it from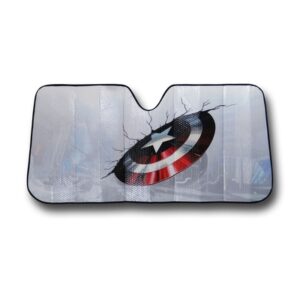 This one is for car lovers, or simply for dads who own a car and love Captain America. Instead of using the usual boring car shield sunshades, get your dad this one. It measures 27.5″ x 58″. You can never go wrong with this item to protect your dad's car while looking awesome at the same time.
This is where you can get it from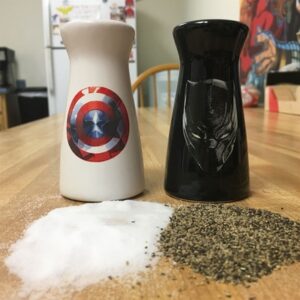 For the dad who loves to cook and loves his seasoning and shares an equal love for Captain America, here is a great gift idea. These are salt and pepper shakers in Captain America and Black Panther designs. They measure about 4″ in height and are made with ceramic. They are perfect for making cooking a fun experience. They are also fun to bring to the dinner table and to shake around.
This is where you can get it from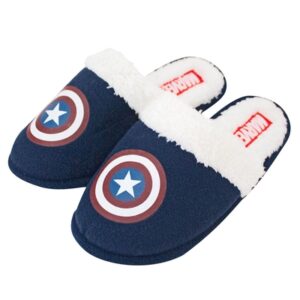 Your dad is your superhero. Thus, get him these nice Captain America bedroom slippers. Keep his strong feet warm and comfortable while he walks around the house. They are cute and they make a nice gift for his birthday.
This is where you can get it from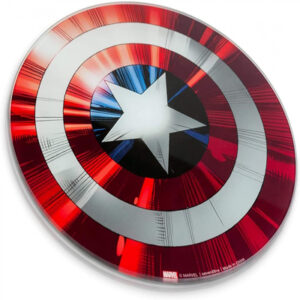 Here is another item for the kitchen that you would definitely not regret buying. It is a nice cutting board that looks like Captain America's vibranium shield. This will surely liven up the kitchen and your dad's cooking experience.
It measures 11 3/4 inches in diameter and it is heat resistant. It also has rubber feet that are non-slip which will ensure safe cutting. It is made with durable glass, just like how tough Captain America's shield is.
This is where you can get it from
Make sure to check these gifts out as they are great! You might even end up buying not just one out of the 27 items on this list. Show your dad your love and care by getting him a gift that he would surely love. Get these gifts for your real-life hero.