Teacher Retirement Gifts — 21 Unique Gift Ideas
Every school has that one teacher. The teacher whose been there so long, they even taught some of your classmates parents. You're pretty sure they were there when the school first opened its doors, and that they'll still be there well after you and your classmates are long gone. 
But there does come a day in every teacher's life when it's time to hang up their pointer and retire. If you know a teacher getting ready to close their grade book for good, you're probably looking for a gift to help them celebrate. 
Here are 21 unique ideas for retiring teachers to help them enjoy their lives outside the schoolroom (believe it or not, they don't live there!)
#1 Travel Mug Declaring The End Of An Era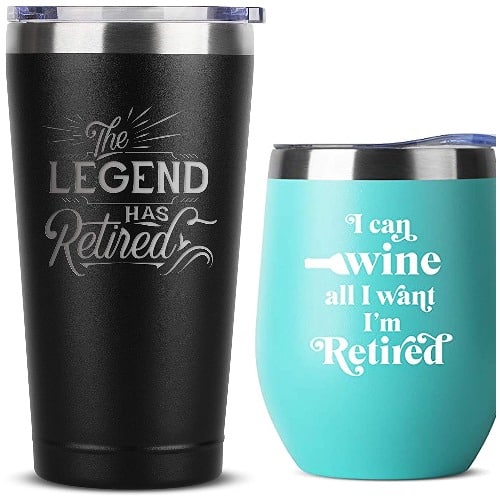 Now that they don't have any papers to grade or lessons to plan, they have so much more time to try new activities. But as anyone who knows a teacher will tell you, good luck getting them anywhere if they haven't had their caffeine!
This insulated stainless steel tumbler proudly declares that "The Legend Has Retired," so everyone at sunrise yoga knows just who they're in the presence of. It holds 16 oz and is available in pink or black. 
#2 Mug That Sets Some Clear Boundaries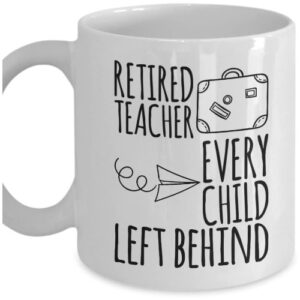 Maybe your soon-to-be retiree has no plans of getting up until well after the sun. No matter what time their day starts now, congratulate them on their newfound freedom and help them kick off their morning with coffee and a chuckle. This 11 oz mug reads "Retired Teacher: Every Child Left Behind."
Because no matter how much they loved shaping young minds, they are enjoying some well-deserved "me time" now. Perfect for your favorite wise guy. It's also dishwasher and microwave safe. 
#3 Or This Mug For The Retiring English Teacher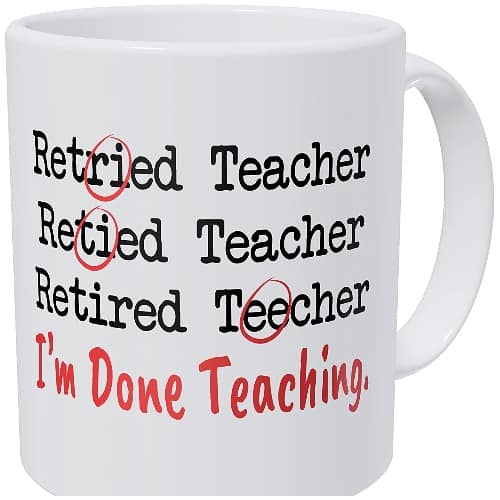 No, they're not going to proofread your book report for you. But they will still probably correct your grammar on Facebook. For the retiring teacher who has circled a whole library's worth of spelling errors in red pen.
"Retried Teacher. Retied Teacher. Retired Teacher. I'm Done Teaching" is printed on both sides of this 11 oz mug. Nothing tells your favorite retiring teacher you love them like letting them know they are officially off the hook for making the same mistakes they spent their entire career correcting. 
#4 A Mug That Says A Sincere Thank You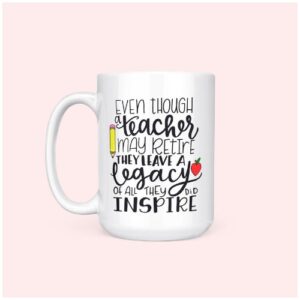 All jokes aside, teachers are heroes. As this 15 oz mug so eloquently says, "Even though teachers may retire they leave a legacy of all they did inspire." If you want to let them know how sincerely grateful you are for all their years of nurturing young minds, and still get them their morning coffee (seriously, teachers love their caffeine), this mug is a great addition to their pantry.
Even though it's lovingly handcrafted, it's still dishwasher and microwave safe. You can even have it personalized! They won't be able to tell if they're all warm inside from this cute mug, or the coffee they're drinking. 
#5 This Little Herb Planter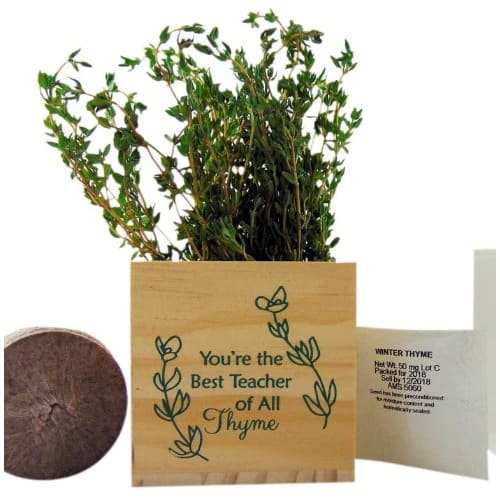 Now that they've got all this free time on their hands, they can finally start that garden they've always wanted! This little 4″ cube planter will get them started, and give them a confidence boost by reminding them "You're the Best Teacher of All Thyme."
The set comes with a durable, cube-shaped wooden planter box, thyme seeds, and peat pellets. Instructions are included on the box, just make sure you remind them to read and follow all directions carefully. 
#6 A Tote Bag For Everything But Schoolwork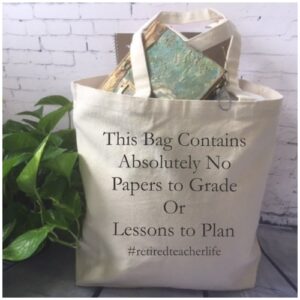 They've got lots of things to be carrying around now: their latest knitting project, a planner to keep track of their thriving social life, some snacks for them (no they didn't bring enough to share with everyone). But one thing they're not carrying around is your homework.
Replace their worn-out school bag with this fresh cotton canvas one that proudly declares "This Bag Contains Absolutely No Papers to Grade Or Lessons to Plan #retiredteacherlife."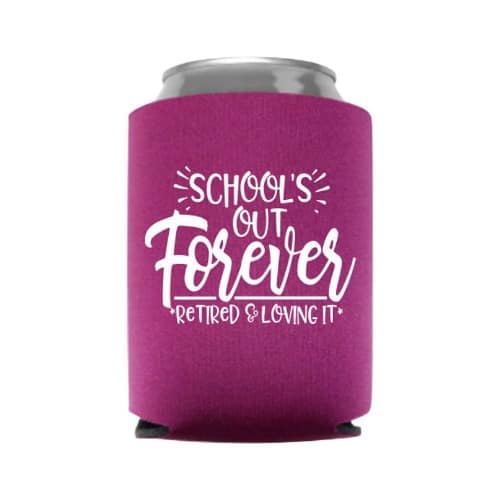 Now that they don't have to rush anything, make sure they're not rushing to finish their drink before it gets warm. This cooler will keep their canned drink insulated, so they can savor it. You can pick their favorite color, or the colors of their now former school, from almost 30 different options. Choose either black or white vinyl for the text: "School's Out Forever! Retired and Loving It." 
#8 This Stepping Stone For Their Garden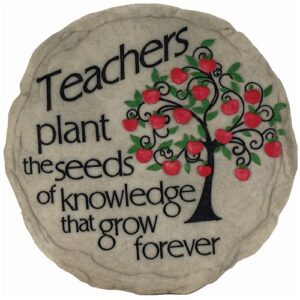 A beautiful piece of decor to remind a retired teacher that they're leaving behind a legacy that will outlive them by decades. This hand-carved resin decorative stone features a hand painted apple tree with the quote: "Teachers plant the seeds of knowledge that grow forever." It can be placed outside in a garden or under a tree, or anywhere inside their home as a plaque. 
#9 This Not So Classy T-shirt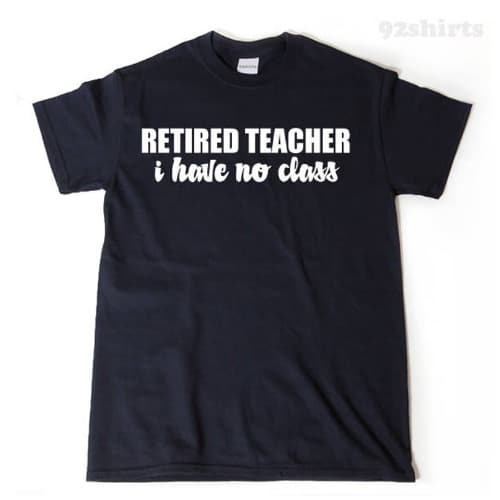 For the teacher who can't wait for the day they no longer have to mind their manners. Now that every day is casual Friday, they'll get a lot of use out of this shirt that reminds everyone "I'm a Retired Teacher. I have no class." It's made from 100% high-quality cotton for their comfort and available in 5 different colors. 
#10 A Personalized Cutting Board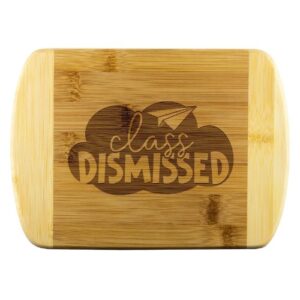 For the former teacher who's planning to spend their retirement flexing their culinary muscles. They can display the laser engraved "Class Dismissed" side as decor or a serving platter, or use it as a traditional cutting board. It's handmade from flexible bamboo wood with a high-quality finish. It lays flat to the counter so it won't slip and is resistant to knife scarring. Measures 8.5"x11". 
#11 A Personalized Tea candleholder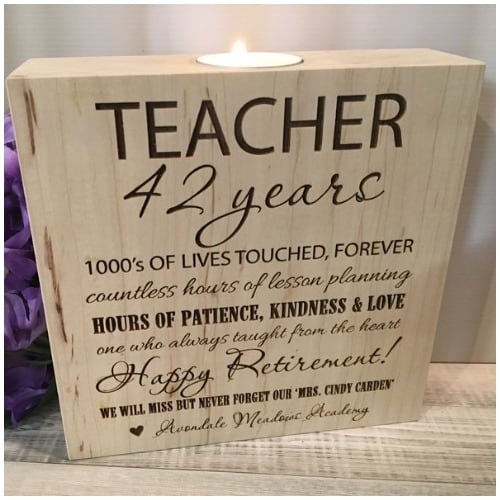 To remind them how many bright minds they've inspired over the years. This rustic tea light candle is hand-carved from natural maple wood and each one is a unique piece of art. They're available in a variety of designs, or you can choose your own personal message to be engraved.
Add the retiree's name, years teaching, school, and even who it's from, so they'll always remember who they left an impact on. It measures 6.5″ L x 2″ W x 6.5" H and comes with a tea light included. 
#12 This Super Cozy T-shirt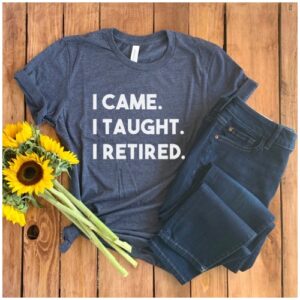 "I came. I taught. I retired." Any teacher would be delighted to receive one of these super comfortable Bella t-shirts as a gift, but your favorite history teacher will find it especially humorous! (It's a Julius Caesar reference. We promise not to tell them if you didn't recognize it.) It can be purchased in two different styles, plus the design is also available as a sweatshirt. Pick from 8 different colors as well. 
#13 This Sign For Their Beach House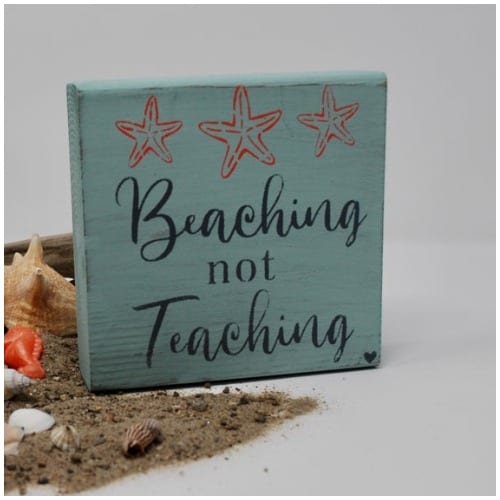 A great way to wave goodbye to the teacher whose going to be spending a lot of time by the ocean now that they don't have to go to school every day. This "Beaching Not Teaching" sign is handmade from handpicked natural wood, so no 2 signs are the same. Each piece is lightly sanded to reveal the natural grain, rubbed with a rustic stain, and finished with a UV protectant sealer.
It comes packaged in biodegradable packing peanuts and recycled boxes, a bonus for the teacher who was always reminding everyone where the recycling bin was. They'll even gift wrap it for you!
#14 The Socks With A Reminder On The Sole
Now that they are retired, they are kicking their feet up and getting some well-earned rest and relaxation. If you even think about asking them to do something, these socks will remind you that they are off the clock forever. They clearly read "RETIRED TEACHER" on the bottom just in case anyone forgot. These unisex socks are made from a cotton blend and fit women's shoe sizes 4-13 and men's shoe sizes 5-12.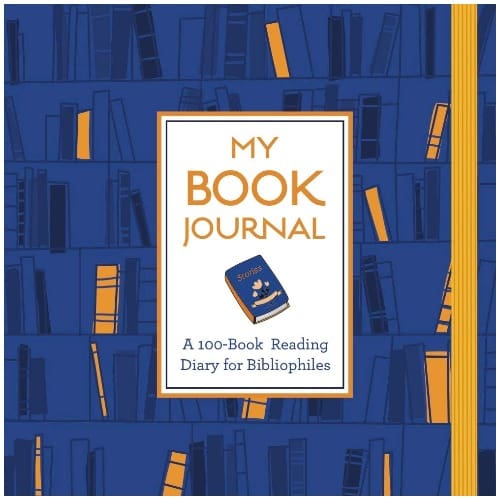 So they can chronicle all the books they're reading for fun and not for class! Perfect for any teacher whose "To Be Read" list has been growing longer by the year.
My Book Journal: A 100-Book Reading Diary for Bibliophiles gives them plenty of space to record their thoughts on those first hundred books, plus a monthly book challenge, suggestions for both classics and popular genre titles, and book-club questions! There are even fun top 10 lists for them to fill out. 
#16 Or A Personalized Wooden Bookmark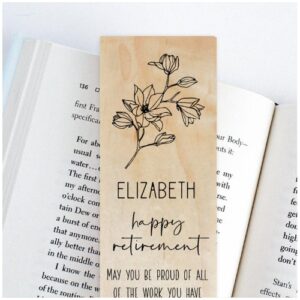 Another great idea for a retiree whose love of books doesn't end in the classroom. This handmade wooden bookmark is printed on maple wood veneer and each piece is completely unique! It comes with a beautiful message and you can add your teacher's name under the beautiful flower engraving. They even come packaged and ready to gift. 
It's all fun and games now that they're retired! Remind everyone with this rustic handmade "Let the recess begin" sign. Customize it with your teacher's retirement date! You can pick the month and year or just the year. The crackled warm white background gives it a homey feel and the rusty star accent finishes it off nicely. It comes with a black frame and a tan or gray stripe around the text. This sign measures 6″x25". 
#18 Hardcover Compilation Of Teacher Cartoons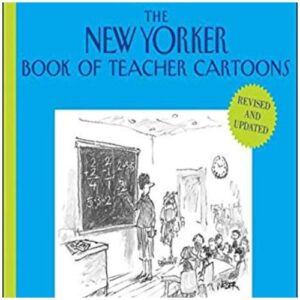 Your favorite retiring teacher has almost certainly had their share of laughs and had to put up with a good deal of shenanigans (from both the students and the faculty) over the course of their career. This second edition of The New Yorker Book of Teacher Cartoons, updated in 2012, includes over 100 cartoons highlighting the emotional highs and lows of being a teacher.
This book was compiled by The New Yorker's own cartoon editor Robert Mankoff and features an introduction by celebrated cartoonist Lee Lorenz. This is the perfect gift to help them reflect back on their career with fondness and humor. 
#19 This Guide Book For A Road Trip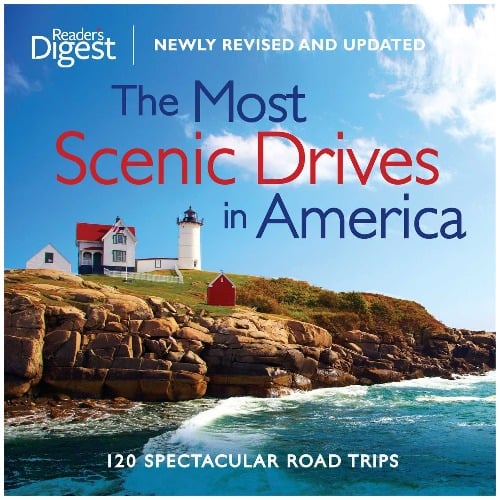 For the former teacher who's most excited about the fact they no longer have to wait for summer to go on vacation. Reader's Digest's The Most Scenic Drives in America details 120 spectacular American road trips from Florida to British Columbia, Hawaii to Maine. In this book, they'll find routes for their next cross-country road trip or back roads to explore in their own state.
Routes are grouped by Western, Mountain, Central, and Eastern, so they can easily narrow their route down from the general region they want to explore. Each route also includes information on mileage, the best season to visit, nearby attractions and special events, and even tourism websites to visit for more information.
The perfect gift to let them know you understand that just because they're done working, doesn't mean they're done living. 
#20 A Unique Personalized Appreciation Sign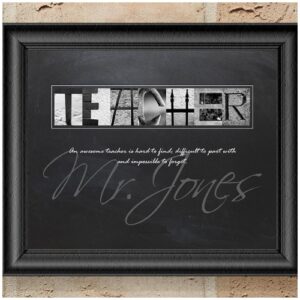 A great last-minute gift if you want something personal but don't have time to wait for shipping. These signs are designed from the artist's own photographs and personalized with your teacher's name and your choice of one of 4 inspiring quotes.
You can also write in your own special quote to make it even more memorable. It can even be designed with custom dimensions to fit into any frame of your choice. 
#21 A Bucket For Their Bucket List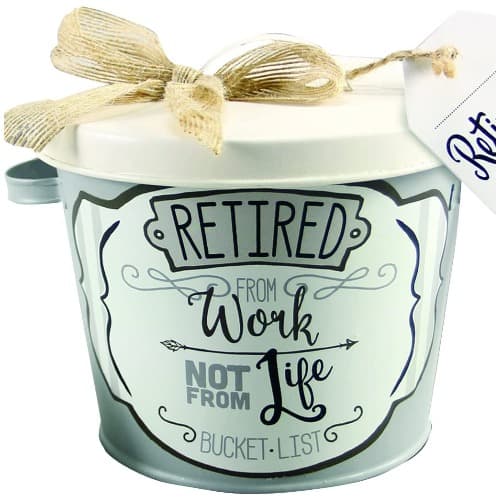 A stylish, hard-to-misplace way for them to keep track of all their post-retirement plans and wishes. It'll also serve as a conversation starter for all the entertaining they can do now. They'll have a perfect Segway to show off those renovations they've been making to the spare bedroom or a reason to bring out the photos from their Mediterranean cruise last month.
Most importantly when they see it every day, it'll remind them that they're "retired from work, not from life."