20 Novelty Gifts for Fishermen
Fishing has been a passion, profession, and hobby for ages. There is an absolute joy in catching fresh fish from the river, pond, or lake. And this joy can only be felt by dedicated fishermen.
If you know someone who explores this joy and happiness often, it's time you cherish their passion with a little gift. 
These gifts can be anyone who takes fishing as a fun hobby or someone who is a pro. Be it your brother, uncle, father, husband, or anyone, you can find a unique and fun gift to encourage their fishing passion.
Here are some of the most popular and treasured novelty gifting options for a fisherman, with many fishing gifts available in the market. 
#1 Doohickey Fishkey Key Tool Keychain
The Nite Ize DoohicKey Fishkey is a multi-purpose tool. It is shaped like a fish and is made up of stainless steel.
This small tool serves many purposes like a bottle opener, a screwdriver, a sharp edge for cutting line, and a handy S-biner, besides being a key chain. It is quite sturdy and travel-appropriate. 
It is a small tool that can easily fit in your pocket, bag, or purse. This small yet powerful tool is designed to attach, carry, remove, and is also TSA-friendly.
A bonus to that is the brand provides you with a worry-free guarantee. 
#2 Dii Cotton Lake House Fish Oven Mitts
These cute oven mitts by DII come in a set of two and are perfect gift options for someone who likes fishing and eating them in meals. These come in a set of two and measure around 6 X 16.5 inches.
If baking or cooking the freshly caught fish is in your mind, you can cook and handle hot-pots with these. 
They are excellent at protecting the heat of your wrists and hands. The material is 100% cotton and is very soft and machine washable. You can also explore other cute essentials in the brand.  
#3 Cavertin Men's Novelty Hunting Fishing Socks
If you are looking for something fun yet useful to gift to the fisherman in your life, these pairs of socks are a cool gift. With a cute print of fishing hooks and bait on the shocks, these pairs also come in a gift box.
It will fit most men with US size 6 and 12, and also for women, it will fit the US size seven and up. 
Made up of 3% spandex, 21% nylon, and 76% cotton, these are very comfortable to wear, and for long-lasting use, the toes and heels are reinforced.
These are machine washable, and the customers testify that it hardly stinks. 
#4 Fishing Lures for Bass Trout Segmented Multi Jointed Swimbaits
Fishing lures are available in every fisherman's kit. Ever seen a fishing lure that looks like and floats like a fish?
The TRUSCEND fishing lures are constructed of eco-friendly ABS material, which has ten segments and looks like real lures. 
The multi-jointed body enables it to sink slowly, and the life-like movement in the water attracts more catches.
It has 3D, almost realistic-looking eyes and a built-in rattle that emit the fish's sound while swimming in water to attract predators.
This is an excellent gift for all fishermen you know, and it guarantees quality for over 12 months. 
#5 T-Shirts Men's Can't Work Today My Arm Is In A Cast T-Shirt
T-Shirts are a great gifting option for any occasion. Crazy Dog brand features several funny quoted graphic tees with some innovative and state-of-the-art technology.
These t-shirts are printed in the USA and often last longer. 
The t-shirts are machine washable and available in various sizes, including 3XL, 4XL, and 5XL, for most novelty designs.
These t-shirts are available in all kinds of cute, adorable, nerdy, and even fishermen-designed quotes. 
#6 Huk Men's Double Header Vented Long Sleeve Shirt
Fishing is a fun hobby, but it requires a fisherman to be out in the sun. The Huk Men's doubleheader vented t-shirt is engineered to fuel your fishing passion and protect you against the sun no matter when, how, or where you are.
The t-shirt is equipped with highly advanced sun-blocking +30 UPF that blocks the sun's harmful rays like UVB and UVA. 
Long durations under the sun make every fisherman sweat; the t-shirt has an anti-microbial treatment that prevents the growth of odor-causing bacteria.
The t-shirts are highly breathable, and the special fibers soak up sweat and allow air to flow. This high-performance gear allows the stain to wash away quickly, and the synthetic material is also resistant to oily substances.
For a fisherman, no other t-shirt can be of better use than this. 
#7 Fishing Toolkit for Men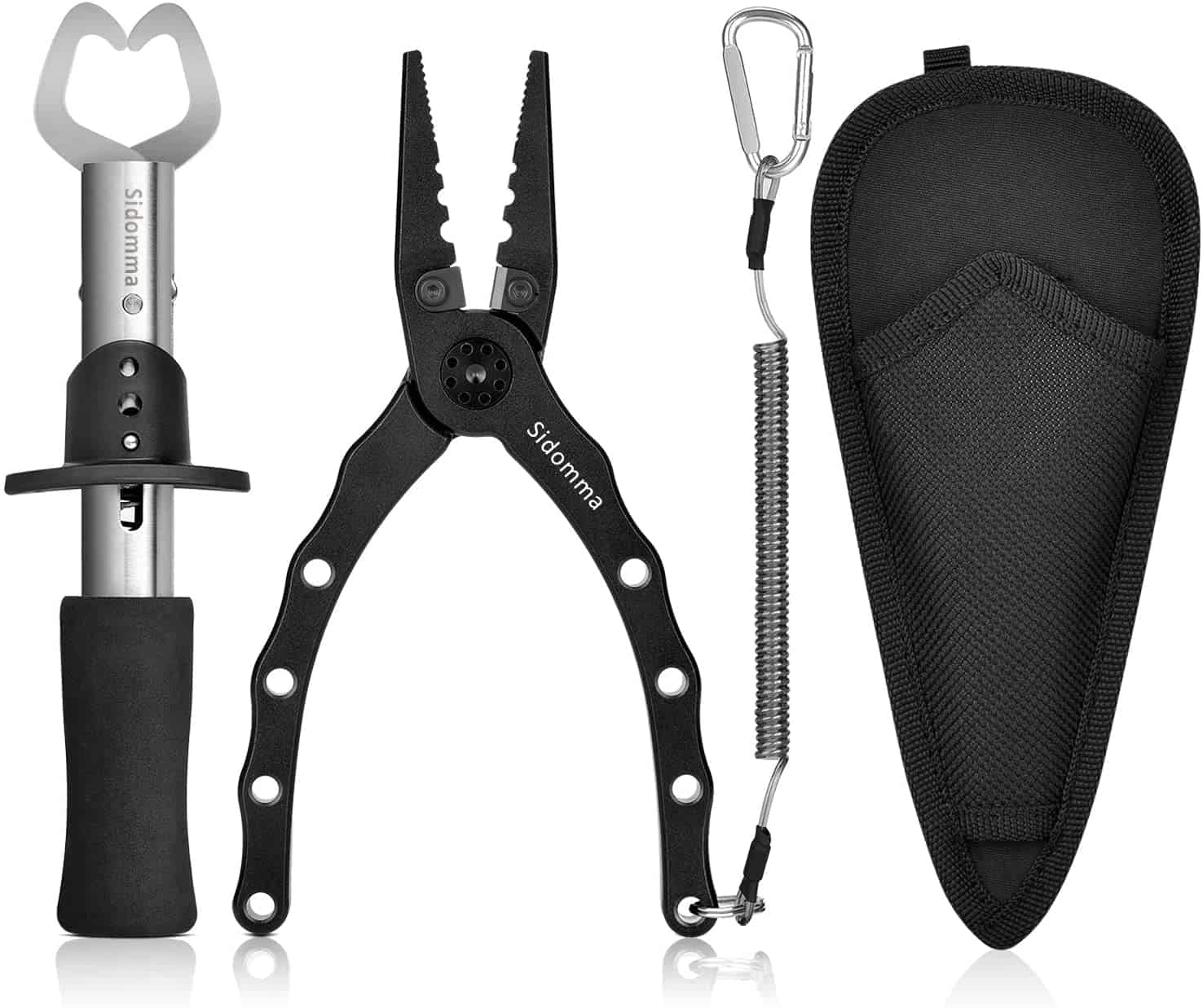 For someone trying to nurture their fishing hobbies, you can support them by gifting this fishermen's toolkit. It consists of one fishing gripper, one fishing plier, one plier sheath, and one lanyard.
These tools are made up of highly anodized aluminum corrosion-resistant and an excellent toolkit for extended use. 
These grippers and pliers are designed for both saltwater and freshwater and prevent rusting and oxidation. They are made in the perfect handy size and are also lightweight and durable.
The brand also provides one year warranty on all the fishing gears. This is the best kind of fishing gear for every new or old fisherman you know.
Know someone who goes away on camping trips just for fishing? This folding camping chair is perfect for backpacking trips.
The empty folding backpacking chair weighs around 3.3 lbs. and can hold a weight of up to 331lbs. Multiple pockets can hold all fishing essentials.
It also incorporates a cooler that can keep the drinks and food cool. 
The backpack has comfortable and sturdy shoulder straps for you to carry easily. The stool is durable and robust that is made up of high-quality oxford fabric with a waterproof coating.
This stylish backpack chair is a true novelty gift for fishermen.  
#9 Guukin Fish Scale (Upgraded) Digital Hanging Scale
This one is essential in every fishermen's toolkit. The GUUKIN fish scale is a digital measuring device that also has an integrated measuring tape. This can weigh fish weight up to 50kgs with an error of just 5 grams accuracy.
The shrinkable tape measures up to 5 feet. It can weigh in pounds, kilograms, grams, and ounces. 
The measuring scale comes with a non-slip rubber-coated handle and an exhaustive, thick metal-encased ABS for firmness and comfortable usability.
The hook is a 4mm strong metal bar that can easily lift 50 kgs. 
The LCD screen is a bonus that runs on 2AAA batteries and shuts down automatically after 60 seconds if not in use. The readings can be brightly read during the night too.
This compact, highly efficient system is a perfect gifting option for fishermen. 
#10 Funny Sorry I Missed Your Call Was on Other Line Men Fishing T-Shirt
Quirky and funny, this t-shirt is a great gifting option for all passionate fishermen.
Available in solid colors, these t-shirts can be worn by men, women, and even young kids. 
The solid color t-shirts are 100% cotton, whereas all heather t-shirts are 50% polyester and 50% cotton.
Lightweight and machine washable, these t-shirts are a classic fit. 
#11 Funny Novelty Wine Glass
This vacuum insulated tumbler is a great gifting option for fun-loving and passionate fishermen.
With a funny quote engrave, this tumbler can hold 12-ounce of either hot or cold liquid. 
This double-wall stainless steel design is durable and unbreakable. The sliding lid is BPA-free, splash proof and also transparent.
The exterior is sweat-free and scratch proof, therefore very convenient to carry on fishing expeditions. This can be gifted to anyone, from kids to adults. 
#12 Waterproof Pouch Cellphone Dry Bag Case
While fishing, there is always a risk of dropping the phone and other electronic gadgets in the water.
This waterproof pouch should be available in all fishermen's toolboxes. This clear bad is dustproof, snow proof, and waterproof and can hold any phone with a diagonal measurement of 6.9 inches. 
This means the pouch is compatible to hold any electronic gadget measuring 101mm X 175mm.
It is a super easy snap and lock system that fishermen of any age can use. 
#13 Fishing Gifts for Men-Fishing Tumbler
If you know someone who likes sipping on some coffee or beer while fishing, this can be a great gifting option. This funny fisherman-themed tumbler can hold up to 20-ounces of any cold or hot drinks.
It is made up of 18/8 food-grade stainless steel and a slip-resistant lid. Is it vacuum insulated, and is the lid BPA-free? 
To reduce environmental impact, this tumbler is an excellent alternative to disposable cups.
The brand also promises a 100% money-back guarantee and provides a replacement or refund on damaged lids. 
#14 Rush Creek Creations Round 16 Fishing Rod Rack
If you have ever visited a fisherman's house, you must have found many fishing rods.
If you have found them unorganized, this fishing rack or organizer should be the ideal gift.
It is handcrafted wood that seamlessly blends with the décor of the house. 
These are also portable to carry in the boat or placed in the garage easily. It can hold up to 16 rods and measures 13.3 inches in length, 13.3 inches wide, and 30 inches tall.
The base plate is padded and also contains a 2-piece wood center post. It is a great organizer for all fishing enthusiasts. 
#15 Lindy Fish Handling Glove Puncture-Proof and Cut Resistant Fish-Grabbing Glove
This is again a classic gift for those fishermen who like to hold the fish with their hands. These pair of gloves are heavy-duty and can be in use frequently. 
As fishing is a messy job, these gloves can help protect your hands from fillet knife cuts, gill plates, fish teeth, hook puncture, etc.
It is made up of super fabric brand material that can keep the fisherman's hands clean and tear-free. 
#16 Hands-Free Microfiber Fishing Towels
Fishing involves you handling water and bait always. And if you know someone who has been using the same old dish towel, it's time you gift them these microfiber fishing towels.
These fishing towels can be attached to your belt or back pocket with the pre-attached carabiners. 
Handling these perfect-sized 16 X 16 inches towels is super easy, especially when you are at a messy place like fishing.
These are super lightweight and highly absorbent for all kinds of cleaning purposes. 
#17 Scuba Choice Spearfishing 5mm Stainless Steel Wire Handle Blue Fish Bag Net Mesh
For every fisherman, this is an absolute necessity.
This fishing bag can be of great use for storing the freshly caught fish, these stainless-steel handles.
The measurement of this bag is 24 X 17 X 12 inches. There is not closing clip available on the handle.
#18 Chums Original Cotton Standard End Eyewear Retainer
Sunglasses are an absolute necessity for fishermen. And if you know someone who frequently loses their sunglasses, then it is a perfect gift for them.
Made up of a plastic frame, and 100% cotton tubes are comfortable to wear. 
These tubes can be slide over earpieces, and the band can be adjusted at the back of your head for snugness.
If gifted, they will never lose the sunglass as it will be attached to the body always. 
#19 Columbia Unisex Adult Bora Bora Booney
The Columbia Unisex boney is perfect for fishing and hiking expeditions. They are made from 100% nylon.
The wide and protective brim protects from the scorching sun and harmful UV rays. 
Omni-wick technology swiftly moves sweat from the skin to the fabric and enables faster evaporation from the surface, keeping the skin dry and cool.
The brand is known for its high expertise and craftsmanship, and use of high-quality materials. This boney can last many seasons. 
#20 Handheld Fish Finder Portable Fishing Kayak Fishfinder Fish Depth Finder Fishing Gear
Unlike any other hobby or passion, fishing is unpredictable. It is difficult to understand the depth of water and fish availability by just standing on the shore.
Therefore, this portable fish finder identifies and displays the water depth, approximate location of fish, tall and weeds, rocks, and stones at the bottom. 
The depth detection ranges from 3 feet to 328 feet, and the reading is displayed in meters or feet. The fishing sonar is attached to a 25 feet cable and also a removable transducer float.
This device can run for 4-5 hours with fully charged batteries. There are five battery-saving modes. It also provides a 12-month warranty on all fishing products from the brand.