23 Best Gifts For Runners
Exercising. We all know we're supposed to do it to stay healthy, but some of us are more enthusiastic about it than others.
There are few people more enthusiastic about their workout than runners!
If you've got someone in your life who has usually run a 5k before you've even put your coffee on, you might feel like you're running yourself ragged trying to find them the perfect gift.
Well, your race against the clock is over! Help celebrate their passion, even if you get tired just thinking about going for a jog, with these 23 cool and unique gifts that runners are sure to love!
#1 A Runner's Log Where They Can Track Their Progress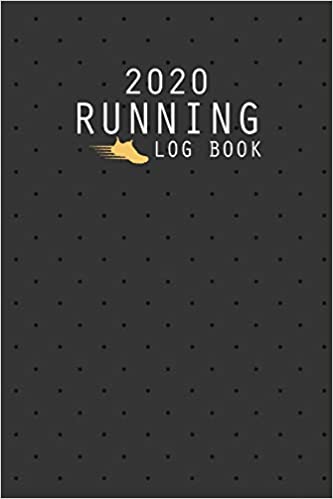 This is a great way to help them create a keepsake for every race they run! When their running days are behind them, they can share all of their accomplishments with posterity.
Each log contains space for them to document everything about that day, from the date and the time it took to run, to their heart rate and weather.
This paperback book contains 100 pages for them to record their running memories.
#2 A Pin On Badge With An Important Message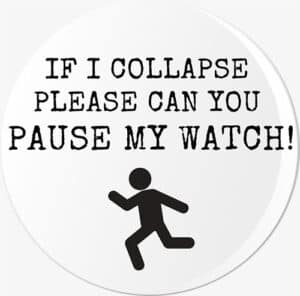 If they die while running, at least they went out doing what they loved! But it would be a tragedy if they beat their personal best and no one ever knew it.
This pin-on badge is a great way for them to personalize backpacks or jackets!
Each handmade badge is made to order and can be personalized as well.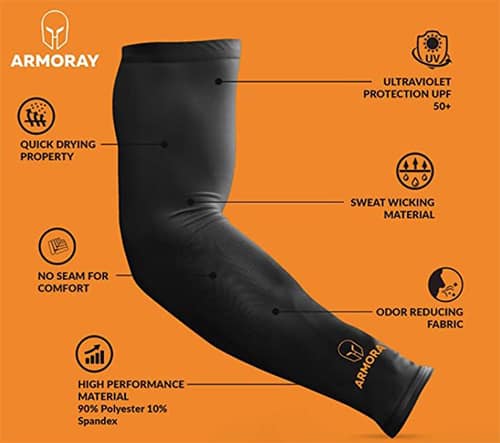 Just because it's getting cooler doesn't mean they have to slow down!
These arm warmers are a great way to keep their extremities warm while still letting their underarm area air out, leading to a much more comfortable run. Plus, they have fun quotes to inspire them to keep running!
Sleeves are 1-size-fits most and come in 6 different colors: pink, turquoise, gray, black, and purple.
The shop also offers multiple inspiring quotes so you can choose the one you think will motivate your loved one the most!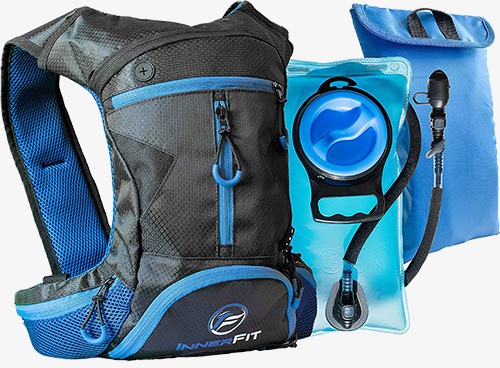 They know it's important to hydrate so they don't die-drate, but that's easier said than done. Running with a water bottle can get pretty tricky.
This hydration backpack will solve all their problems! It comes with an insulated, leak-proof bladder that won't jostle around in the backpack. The pack itself has mesh padding to prevent sweating and 3 adjustable straps that help alleviate pressure and keep the backpack from bouncing around.
Holds 1.5L of water and is easy to drink from while they're on the move!
#5 A Framed Map Of Their Favorite Marathon Route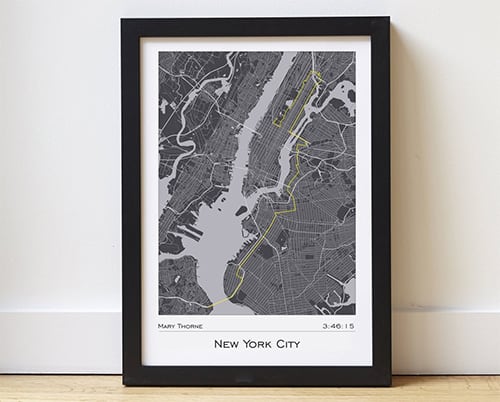 Whether they've been running marathons for years or just trained for their first, help them commemorate it by helping them hang it on their wall.
This shop will convert a map any marathon or half-marathon route–and yes they do mean any route–on semi-gloss photo paper with high-quality inks.
You can also upgrade to a print with slots for a photo and medal. Choose from red, gray, blue, or green for the map, or request your own color!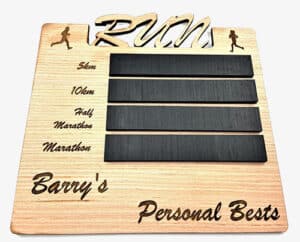 Now they can easily record and update their personal bests for 5ks, 10ks, half-marathons, and marathons, and show them off for everyone to see!
This poplar wood board is personalized with their name and 4 chalkboard strips so they can easily change their record when they beat it!
Choose from 12 wood stains and 21 solid color choices! You can also customize the distances to reflect their usual routes!
#7 An Engraved Shoelace Tag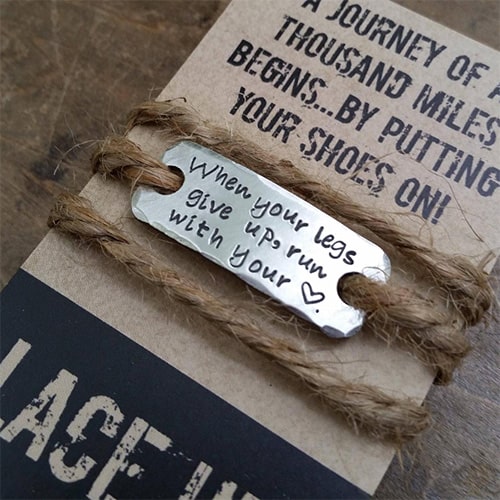 These are a great way to make sure they have a little bit of inspiration just when they need it, in just the right place for them to see it: on their feet!
These tags are easy for them to lace onto their shoes right before a big race or hard training session. They're made from aluminum with a hand-scraped finish and hammered edge.
They come in a bunch of fun sayings, or you can even order a personalized one with a special message!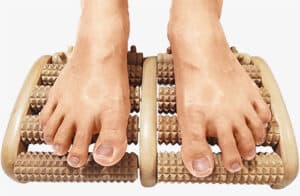 Lots of runners deal with foot issues like plantar fasciitis and heel spurs, or just sore feet from being on them for so long.
This TheraFlow Massager Roller uses acupressure and reflexology to provide deep relaxation without any electricity! Each roller is specially calibrated to accommodate multiple foot shapes.
The massager is light and easy to transport so they can take it with them wherever they run!
#9 A Display Rack For All Their Medals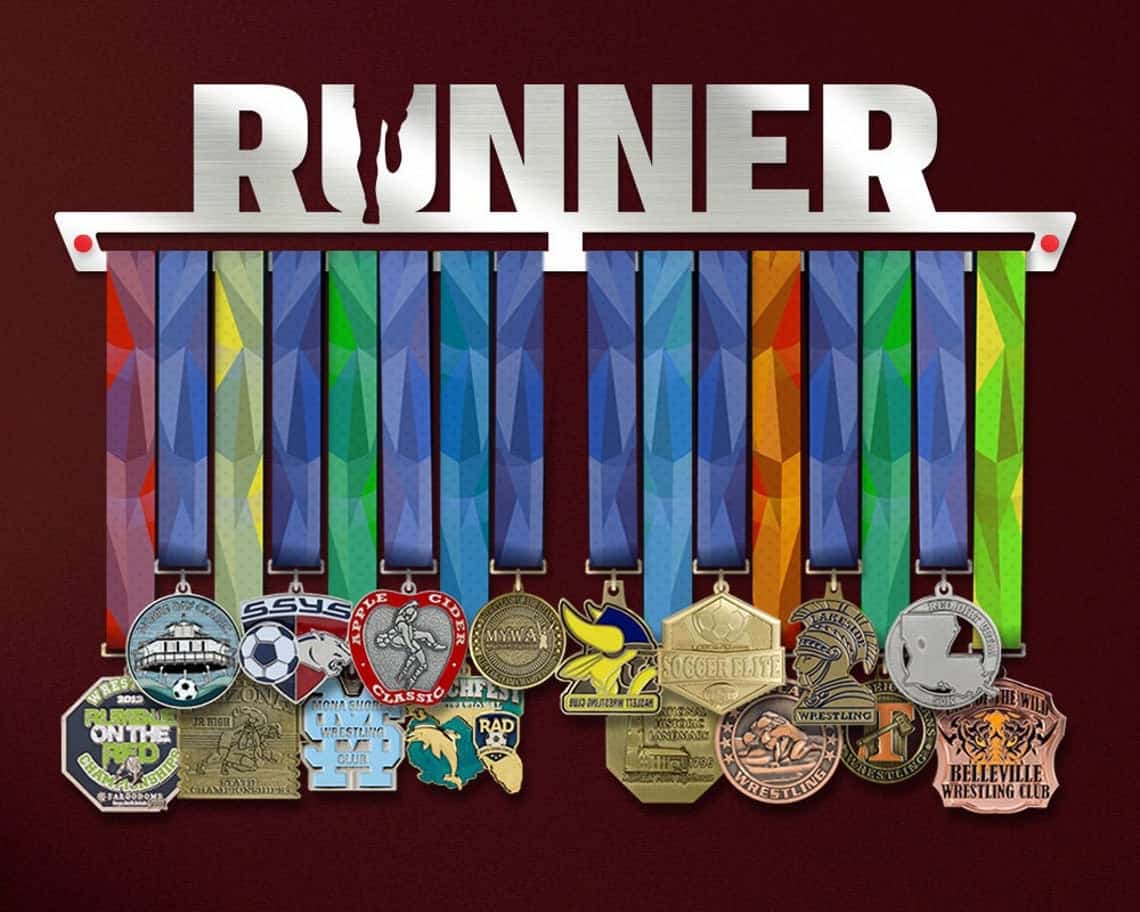 They worked hard for those medals, everyone should get to see them!
This decorative wall rack is ornamented with the word "RUNNER," featuring the silhouette of running legs in the 'u.'
It's made from high-quality brushed stainless steel and can be made to accommodate up to 45 medals. It's set slightly off the wall to make getting the medals on easier and comes with all the required mounting hardware for easy installation!
#10 A Beanie With Built-In Headphones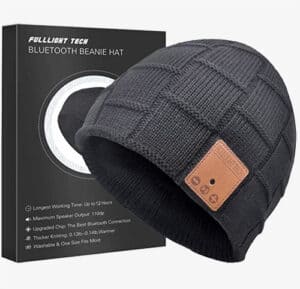 This is a great way for them to stay warm while running and not have to worry about their headphones falling out or getting tangled!
The built-in headphones have a 12-16 hour battery life and provide a strong, stable Bluetooth connection that won't cut in and out!
With a 110dB output level, they'll always be able to hear their music loud and clearly. Plus the hat is super warm and comfortable!
#11 A Book For The World-Travelling Runner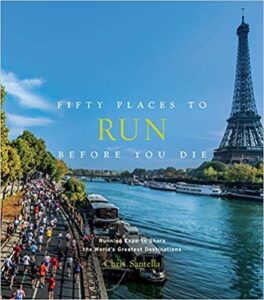 Perfect for the person in your life who loves to run all over the world!
Fifty Places to Run Before You Die has everything from popular marathons to scenic trails from the Grand Canyon to Australia and everywhere in between!
The book features interviews with accomplished runners, beautiful illustrations, and tips for each route. It's great for all skill levels!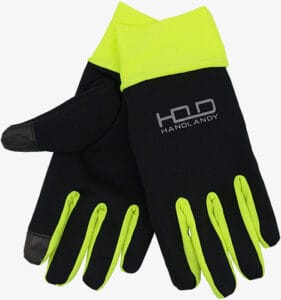 Perfect for the friend who is like the post office: they run rain or shine, through sleet and snow.
These lightweight, fleece-lined gloves will help them keep their hands warm when they go running on chilly days.
They come in 2 different fluorescent colors and feature a reflective logo to help improve visibility when they're running in the dark.
These gloves also come with palm pockets for small objects like keys so they don't have to carry a wallet with them, and are touchscreen compatible!
#13 Bath Salts For Sore Muscle Relief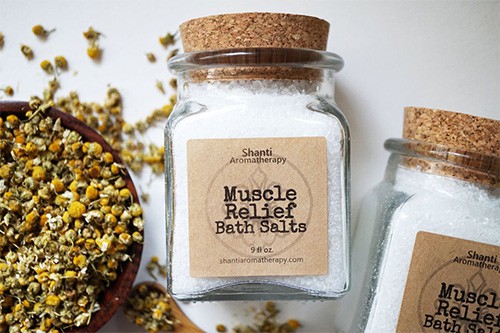 A great way for them to relax after a strenuous race or training.
Theses Epsom bath salts contain magnesium to help relieve sore, achy muscles and are gently scented with pure essential oils.
They come in a glass jar with a cork stopper and contain enough salts for about five baths.
#14 A Custom Designed Letter Art Print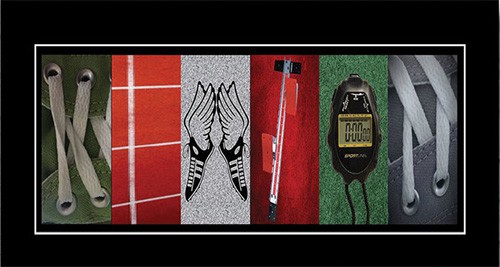 This print makes the perfect gift for the track team member in your life!
Each letter of their name will be recreated with images familiar to anyone who spends their time running!
Each one is made to order, and you'll receive a proof of the design in about a day! If you're in a rush, they can also send it directly to a print shop near you for easy pickup!
Choose from 11 different sizes and various formats, like wrapped canvas, traditional print (framed or unframed), or even metal!
#15 A Cookbook Specially Designed For Runners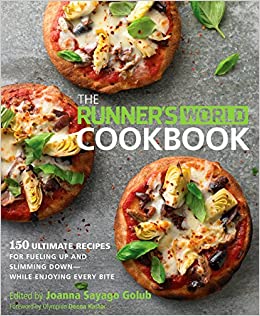 Runners need to be properly fueled up to run their best. This book makes it easy!
This cookbook compiles 150 of the best recipes from Runner's World magazine into one volume. Each one is designed to be packed full of the nutrients they need to run their best!
Recipes are easily marked as Vegan, Vegetarian, and Gluten-Free where applicable and have an icon system to identify key recipe attributes like "recovery friendly" and "quick and easy."
Not only are these recipes good for a runner's body, but they also taste great too!
#16 A Personalized Runner Towel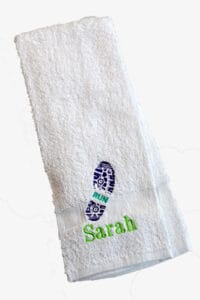 The perfect way for them to dry off after a run!
This lightweight towel measures 16″x26″ and is embroidered with a running shoe sole and the runner's name. Select their favorite colors for the thread so it's truly one of a kind and perfect for them!
Each towel is made to order and hand embroidered.
#17 A Finish Line Doormat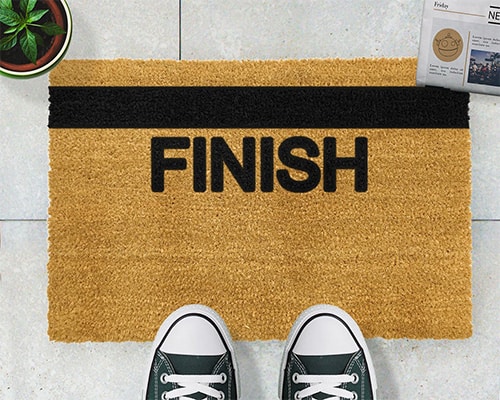 So just coming home will remind them that they're a champion! Because sometimes running a marathon is easier than a day at work.
Each mat is made from high-quality tufted coconut fiber that is designed to last and hand-sprayed in the UK.
They include a non-slip PVC backing and are good for both indoor and outdoor use. Each one measures 15.75″x23.5″.
Now they won't have to worry about tracking mud in when they get caught in the rain on their run!
#18 Some Pasta In Fun Shapes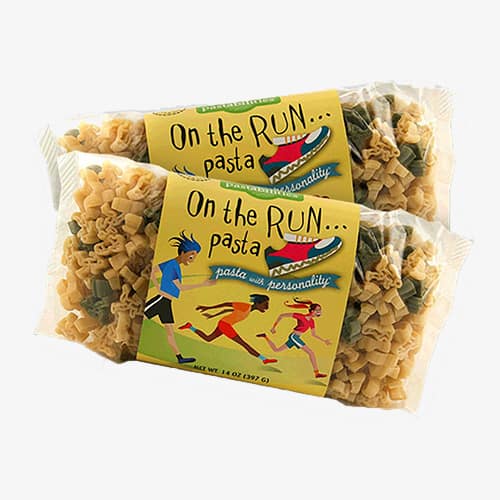 They'll be sprinting to the pantry to serve this up for dinner!
This pasta comes in the fun shoe and runner shaped designs and some pieces have even been dyed green with vegetable powders.
The pasta is made from 100% natural non-GMO durum wheat and is also vegan. It's made using traditional Italian methods so every piece comes out just right. The bite-sized pieces are great for kids!
This order comes with 2- 14 oz packages and even includes a delicious tuna pasta salad recipe!
#19 A Relaxing Running-Themed Coloring Book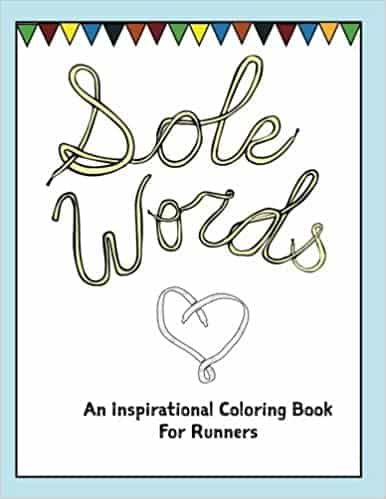 Because, unfortunately, they can't always be on the go, this is a great way for them to unwind between runs!
Sole Words contains 24 pages of beautiful and intricate line art for them to color. Each illustration contains inspirational quotes and pictures related to running. It was even designed by a cross-country runner!
This a great get-well gift for a runner recovering from an injury! Now they can keep their favorite sport in their heart until they can get back on their feet.
#20 A Pair of Silver Half-Marathon Earrings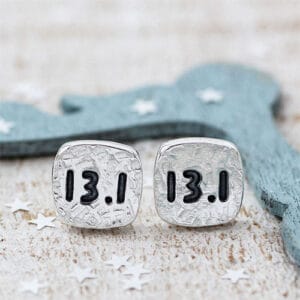 These take humble-bragging to the next level!
These silver stud earrings are just minimalist enough that they can get away with wearing them in most work and social settings, but will also serve as a great conversation starter when someone notices them!
Each pair is handcrafted and made to order!
#21 A One-Of-A-Kind Lighting Fixture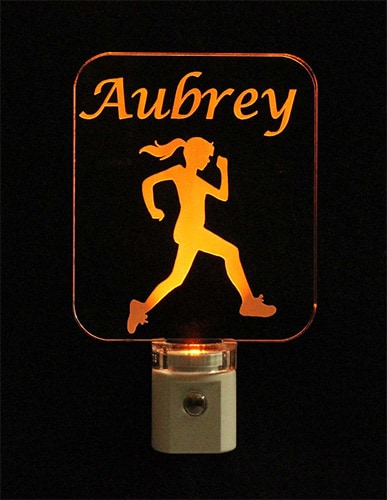 Your favorite runner's face is bound to light up when they unwrap this gift!
Each lighting fixture is made from laser-engraved clear acrylic for a 3D appearance. They don't have an on or off switch–they contain a light sensor and automatically turn on when it gets dark and off when it gets light. 
It's a perfect way to add a little light to their room so they don't have to fumble for the light switch when they get up in the middle of the night.
Personalize with their name, choose either a rectangle-shaped fixture or the cutout of the runner's silhouette, and then pick a color from 8 options!
#22 A Water Bottle That Guarantees They Won't Have To Drink Warm Water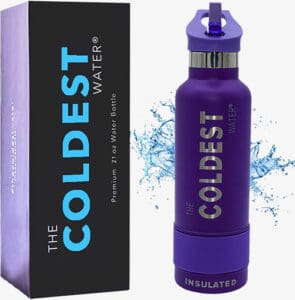 There's nothing more refreshing after a long workout than a cold drink of water. But if they've been out in the heat too long, that water might be lukewarm by the time they get around to enjoying it.
 The Coldest water bottle is made from vacuum insulated stainless steel that's guaranteed to keep their hydration glacial. The lid contains a flip-out straw to make it easier to drink while they're on the move.
It also fits most cupholders and it floats, so they can really take it with them on any adventure!
#23 A Rechargeable Hand Warmer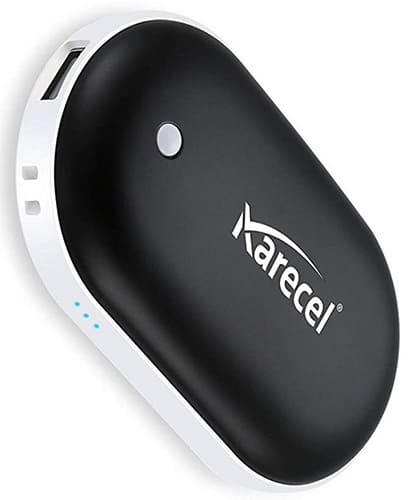 This is the perfect gift for the person who spends most of their disposable income on those single-use hand-warming packets.
This Karecel 2-in-1 handwarmer and charging port is small enough for them to hold easily while they're out on a run! It also serves as a charger pack in case they ever find themself with a low battery, on a run or anywhere else!
The rechargeable hand warmers are shock-proof and have anti-short circuiting protection built-in. They're also great for the environment!
Choose from 6 colors.