If you have a cigar aficionado friend, they surely are very strict when it comes to their cigar-themed gifts. And, believe it or not, there are tons of accessories and products that go along with cigars, but they're not all useful or of the best quality.
Although the idea of smoking a cigar gives most of us a picture of our great-grandfathers, cigars have become widely popular, an industry with an approximate demand of 150 million cigars in the United States per year.  
They are often used as nightcaps or for celebratory purposes, yet many avid cigar smokers truly appreciate the finer details of the product. So, read on, because we have scoured the internet to carefully pick the best gifts for cigar lovers across the world!
#1 Personalized Cigar Gift Box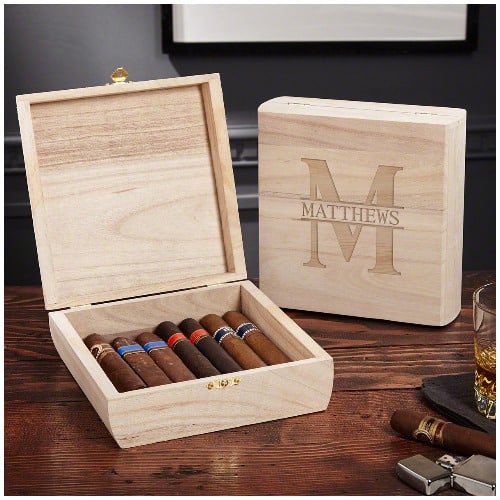 Make your loved one life simpler with one simple gift: a cigar box. Its one of the most fitting and easiest gifts for a cigar lover, and they'll be able to keep all of his cigars in order and ready to go! Not to mention they can store their cutter and matches in there too! A really practical gift to start this set!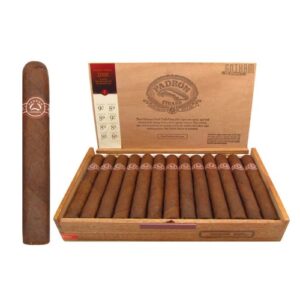 Impress your cigar lover with your knowledge of cigars and get him these Padron Maduro cigars. There is a reason why Padron cigars are the best-selling brand and it's because their cigars are amazing. They will thank you every time they light one up!
This will also bring you closer to making an educated choice for a great gift for the cigar lover in your life. And while you're at it, why don't you take the time to buy a gift for yourself?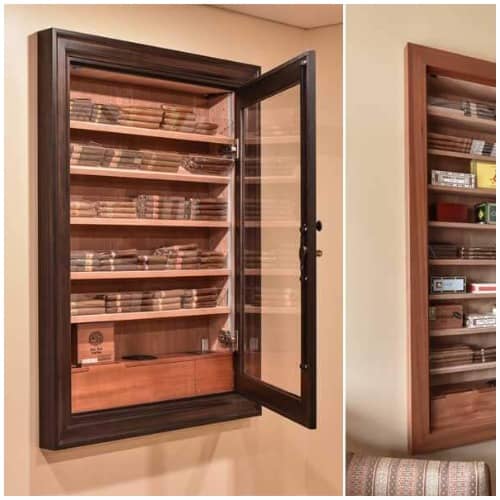 No cigar gift will show how serious you are about their hobby more than a humidor that is mounted into the wall! With their growing collection of cigars only getting bigger, they are going to need somewhere where to control not just the temperature, but their humidity too!
This humidor ensures that the cigars don't rot or dry out. Give him a solution before rotting or dry cigars begin to pile up with his very own humidor.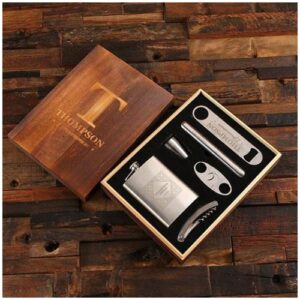 Help your friend embrace their inner Winston Churchill and enjoy a drink and a smoke in this one-stop shop. Like Bear Grylls in a tuxedo, this set is slightly dangerous and classy, sure to help you survive and thrive in any gathering you attend. All of its items are safely stored in a keepsake wooden box with a brown rustic finish.
#5 Downtown Cigar Lounge Personalized Wall Sign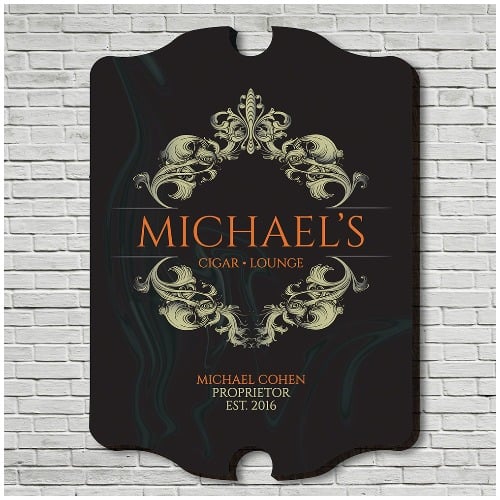 Many cigar lovers enjoy products that are simple but of quality, much like a good cigar or whiskey. Make the decoration to the cigar lounge resemble the sort of quality they look for with this sign.
It's specially useful to personalize their space or as a label for exactly what they are. Believe us, they'll love seeing their name as the "Proprietor" of his own cigar lounge, the date they started smoking them or any other personalized details you would like to add! 
Nothing in a cigar lover world pairs together like a good, matching quality whiskey; it's a sweet and savory custom, as each one of them compliments the another. Make sure your friend or loved one able to enjoy the best flavor profile with his own cigar glassware set!
Gift like this enhance their smoking experience, and this decanter and set of cigar glasses are amazing at that. They can relax in comfort while having his palate tantalized with incredible flavor!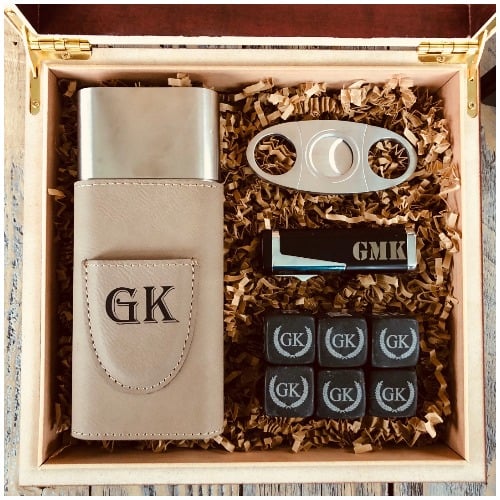 Accompanying a good cigar with some whiskey is the norm for cigar lovers, so let's help them keep drinking classy and smooth with these chilled stones. You can personalize them with up to 3 initials per stone, and they can throw them in their drink to cool it down while having a fun, profound talk with friends.
Once the drink is ready, they'll grab their laser engraved cigar case packed with their favorite Cohiba's. Even the least classy smoker will upgrade their night of drinking with this gift.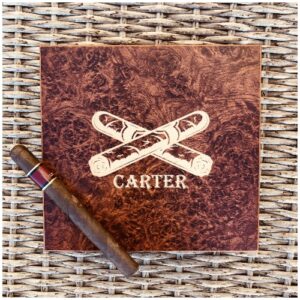 The art of the cigar comes with culture and breeds an ambiance that draws men in. So, treat your guy to a humidor that will protect his special stash of cigars! You can even personalize it with their name, making it a custom humidor he will be excited to use for years to come.
And this is no ordinary humidor; it will glow a beautiful light on their tobacco when opened. You can personalize this humidor with 2 lines of up to 15 characters per line, and it will be engraved under the picture of the cigars.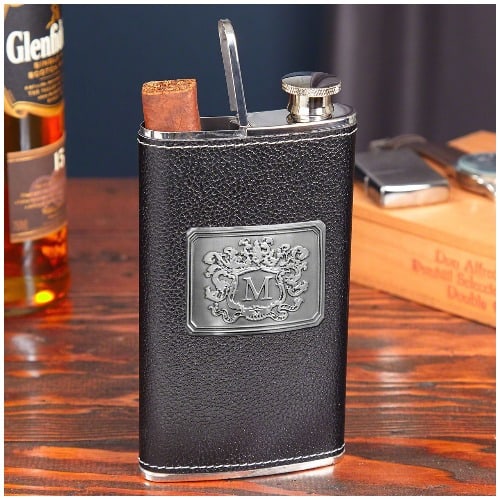 Help your cigar lover friend get a taste of the good life with this authentic leather, 2-in-1 cigar flask. Made with timeless style & function in mind, each of these authentic leather flasks has one side designed specifically to protecting cigars to enjoy a drink & a smoke anywhere.
A tremendous gift for any smoker, executive, or anyone who enjoys the finer things in life. It's also available with an optional pewter crest, embossed with the letter of your choice to make it even more special.
#10 Triple Torch Cigar Lighter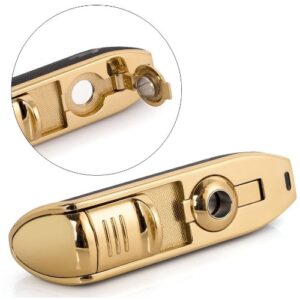 The triple torch cigar lighter is sure to stay with your cigar lover friend for a very, very long time. This triple flame luxurious cigarette lighter is made of robust materials and can last for generations to come. It has an ergonomic grip design which is perfect for one-handed use.
The flame is adjustable and is very light as it only weighs 89 grams. This awesome and affordable torch lighter is simply perfect for your cigar lover friend.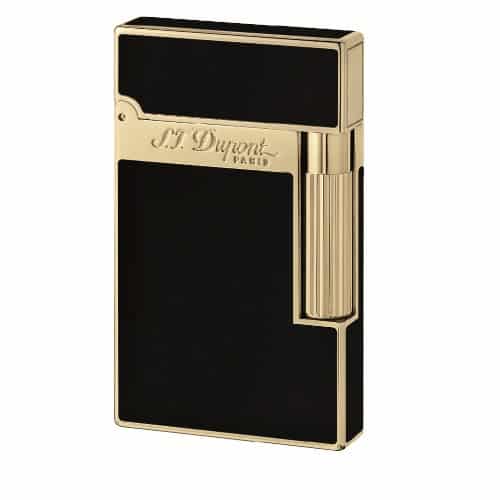 This is a quintessential S.T. Dupont's lighter, with its famous opening "cling" recognized by those in the know. The balanced proportions of this lighter make it the most universal S.T. Dupont, showcasing pure lines, adorned with noble materials that also feature a single gentle or double flame, depending on the model you choose. 
#12 A Portable Leather Humidifier
This exquisite portable humidifier can hold 5 cigars at a time and comes with a humidifier and hygrometer. The leather outside and the cedar wood inside will keep your cigars fresh, and it is also packaged in a stylish gift box that your cigar lover friend will appreciate. 
#13 Another Great Cigar Sign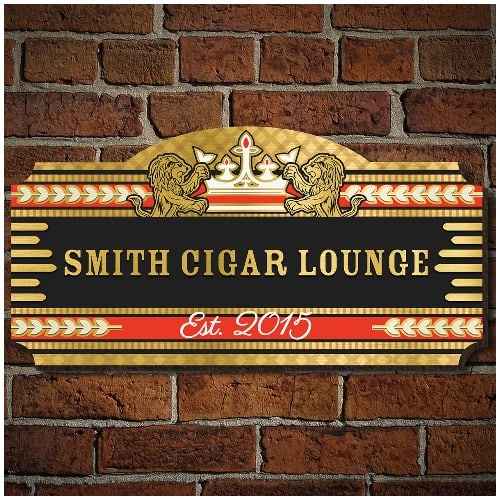 Every cigar lover has a special place in their heart for cigar bands. They're the first step in enjoying this hobby, and you can help them capture that feeling of unwrapping a night of relaxation with this cigar gift.
This personalized sign will make your friends feel like they're about to take in the best smoke of his life! Perfect to have around the house, but better if they have their own cigar lounge!
#14 Personalized Portable Single Cigar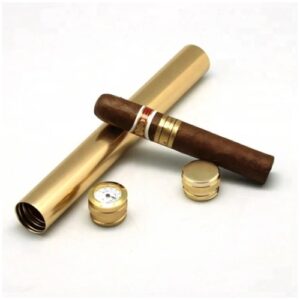 Golden moments will have a completely different meaning when you present your loved one with this personalized portable single cigar. It's made from aluminum in gold color, and you can add up to 2 lines of 30 characters per line to personalize it as you want.
#15 The Perfect Cigar Starter Pack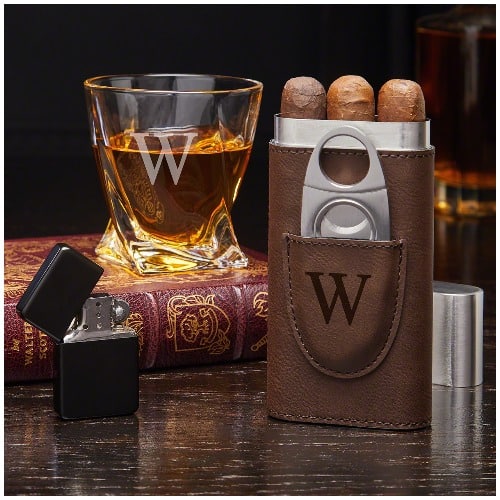 Every classy gentleman enjoys relaxing with a glass of bourbon and a cigar. And that's exactly what they'll do with this engraved whiskey and cigar gift set.
The beautiful glass is as breathtakingly attractive as it is functional, making it easier to grasp than a typical rounded glass. The cigar case will house his stogies safely, and it even comes with a cigar cutter and a flip-top lighter to replace the one he keeps misplacing.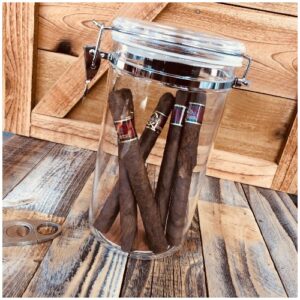 This acrylic jar humidor will allow your friend or loved one to proudly show off their stash of cigars at all times. This humidor allows cigars to be the centerpiece wherever they are stored.
ade of durable acrylic, this humidor is both simple and portable and can store up to 25 cigars at the perfect humidity. It has an easy-to-use clasp and rubber seal that keeps the jar airtight. 
#17 The Perfect Relaxation Set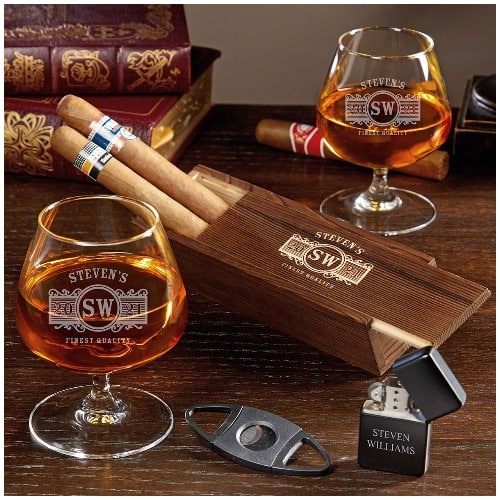 For the refined person, an engraved cognac gift set will let them choose exactly how they're going to relax that night. The snifter is perfect for enhancing the aroma of his favorite brandy while they can pull their favorite cigar out of the cigar box.
Or they can use their new cigar cutter and personalized lighter to enjoy the taste of their preferred stogie! This set is perfect as a gift because each piece can come with a special engraving.
#18 Double Cigar Holder And Coaster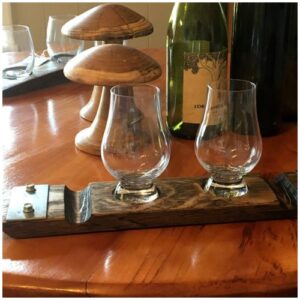 This double cigar holder and whiskey coaster gift is perfect for any home or office too. It's handcrafted from a barrel stave, and features galvanized steel from the barrel rings. You can order this gift with glasses included and have it personalized as well to make it extra special.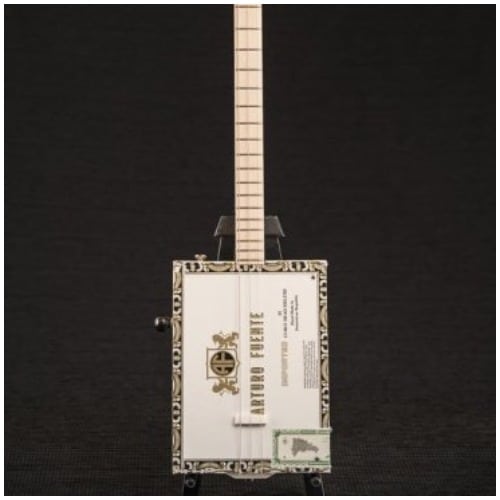 The "Pure & Simple" C. B. Gitty 3 String Fretless Slide Guitar Kit assembles easily using only a few screwdrivers and a small hammer to build the traditional "stick on top" style of cigar box guitar, like so many mountain dulcimers, and your loved one will be able to also.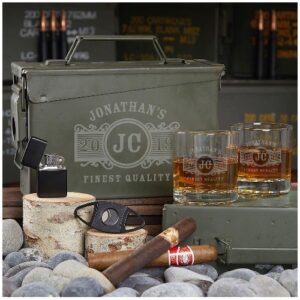 Made in the USA, this 30 Cal Ammo Can Gift Box Set is a gift no one can forget. It's perfect for storing cigars, ammo, or their favorite kind of liquor!
Along with the ammo box, the gift set includes timeless whiskey glasses, a dapper cigar cutter, and a matching Zippo-style lighter. It's certain to be appreciated by fathers or anyone who loves the military in your life. This creative gift set for men is something to be remembered.
#21 Engraved Cigar Shadow Box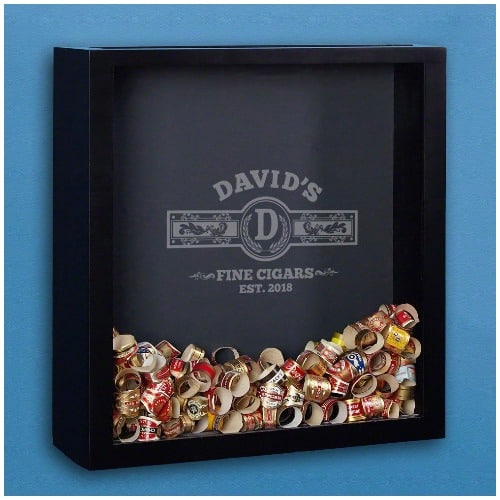 Shadow boxes make great gifts for cigar lovers because it is a way to appreciate their cigars without actually having to smoke one right away, taking the decorative part of their cigar hobby and turning it into decoration!
With a custom-made shadow box, anyone will be able to show off all the different brands of cigars they ever had! It's a great way to visualize just how long and important their hobby is! 
#22 Personalized Whiskey Stones
These personalized whiskey stones are the perfect addition to any whiskey and cigar lover arsenal. Designed to keep their whiskey cold without diluting, these stones are a great and unique gift for all drinkers! Add three chilled stones to your next drink, let stand for 5 minutes, and accompany them with your favorite cigar! They can also be personalized with their initials and a design around them. 
#23 An Awesome Ashtray Set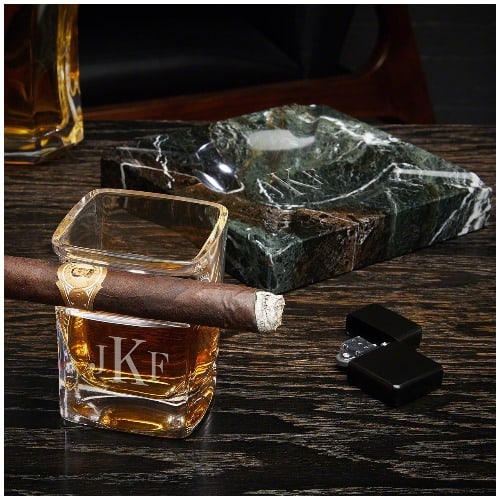 A cigar lover is always on the search to upgrade their lifestyle, so help them achieve that status with this custom whiskey cigar glass! They'll be able to enjoy their favorite spirit and cigar without needing both hands, and the beautifully marble ashtray and flip-top lighter make this a perfect set for any cigar lover. The included engraving will ensure this is something they will use for ages! 
#24 An Engraved Torch Lighter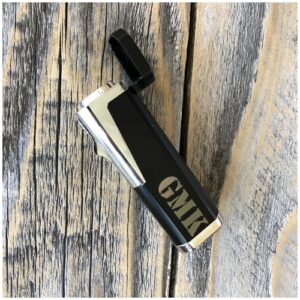 Give them gift to set on fire their spirit with the kind of torch that will make his cigar sizzle. This engraved torch lighter has a triple torch flame with a retractable built-in cutter and comes in a black gift box for an epic presentation. This personalized lighter will impress their friends during any cigar party with its adjustable flame height and butane refill! 
#25 Vintage Ashtray Egyptian Pyramid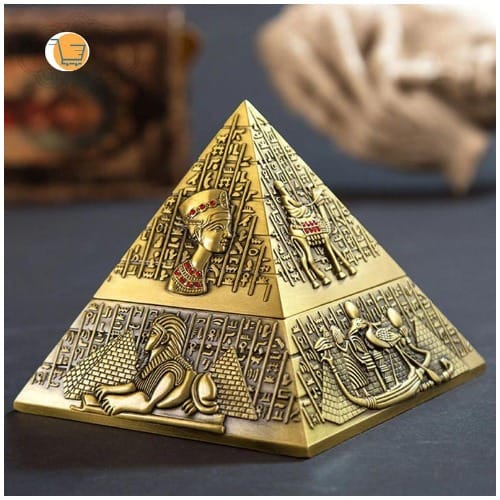 Add some elegance to your friend's inner decor with this unique pyramid home decor ashtray! It's the perfect piece of art for keeping your table and carpet clean while smoking, and a masterpiece for smokers and decor enthusiasts, featuring a surface which is carefully polished and sculptured in a beautiful Egyptian pyramid shape for added mystery. It has retro carvings and clamshell design, easy to clean and use! 
#26 Waterproof Cigar Travel Humidor
This is a Travel Humidor System known for its durability, able to take such a beating that it might as well be "indestructible". Unlike other cedar humidors, you don't have to really care for this Travel Humidor. Toss it in your car, boat or backpack and don't worry about it getting destroyed or ruining your cigars.
#27 Personalized Cigar Cutter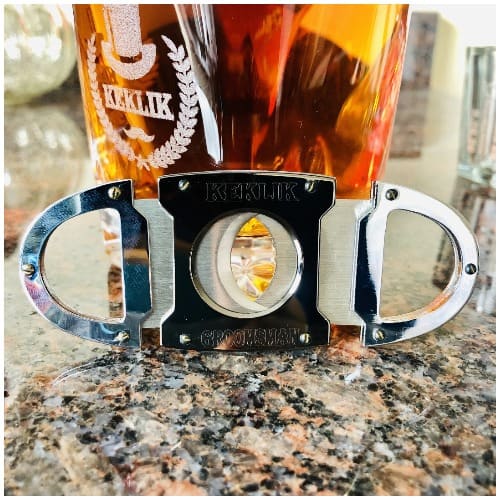 Help your friend toke up their Cuban in the flip of a snip with this great cigar cutter! As efficient as a stogie guillotine, the blade will pierce any tobacco wrap effortlessly. It's one of the best gifts to give with its two toned stainless steel and it can be personalized with 2 lines of up to 10 characters per line!